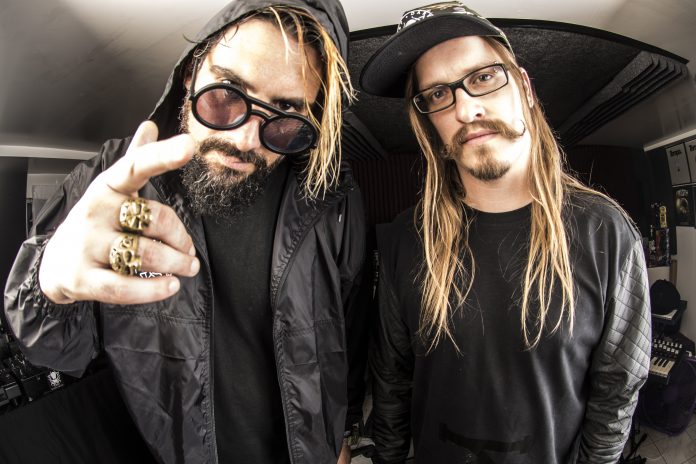 Deep dubstep duo TRUTH is back with Druids, a spellbinding release that puts their distinct soundscapes on full display.
---
Having solidified their place in the dubstep realm as deft engineers of deep basslines, TRUTH returns with four new tracks on their latest release Druids on WAKAAN. Flooded with grimy undulations and unshakeable magnitude, each tune on this EP bears a crippling intensity that'll rattle every bone in your body.

My first and only experience witnessing TRUTH in action was at Bassnectar's Be Interactive event in Nashville last summer. I'll never forget being hit with wave after wave of deep, dark, and dangerous bass – a kind of sound that you can feel reverberate throughout your soul with impenetrable force. Druids delivers this feeling and more as it gallivants through the sonic libraries of middle eastern influences and alien universes. The result is nothing short of pure insanity as each tune tickles your senses and reels you in.
Stream Druids below, download or stream the EP on your favorite platform, and read on for a track-by-track review!
Listen to TRUTH – Druids on Spotify:
---
The story begins with the title track "Druids," an ominous medley of extraterrestrial warbles and grimy basslines.
This squelchy track sets the pace for the rest of the EP with delectable fervor. I'm practically fighting to catch my breath before diving into "Hold Ya Tongue," a rhythmic blend of clipped notes and the occasional run of deep bass. Though flooded with melodic undertones, "Hold Ya Tongue" is a bass-heavy lullaby that is sure to get you grooving.

Arguably my favorite track on Druids, "Anubis" is a relentless onslaught of vicious punches and exotic flavor. TRUTH contrasts stark moments of absolute silence with an energetic slew of filthy bass waves, making this one an absolute heater of a track.

Last but definitely not least is "Seeing Things." Laced with a classic alien trill and interjections of an echoed laugh, this tune serves as evidence that humans are not alone in this universe because who else can perfectly capture this otherworldly sound? What a stunner.
---
TRUTH – Druids EP – Tracklist:
Druids
Hold Ya Tongue
Anubis
Seeing Things
---
Connect with TRUTH on Social Media:
Website | Facebook | Twitter | Instagram | SoundCloud