One of Ophelia Records' most talented duos, Crystal Skies, returns almost a year after their debut EP to give fans one hell of a ride with Collide.
---
After the release of their first EP, Constellations, fans of Ophelia Records have been hooked on Crystal Skies' signature sound that's heard on tracks like "Wait," "Hear Me Now," and "Night Rider." This duo has been making huge strides since the day they started producing, both musically and politically, being outspoken about the ongoing injustice in this country all while making quality tracks. Namely, "Lullaby" was released to raise awareness for racial injustice, donating the proceeds to Black Lives Matter, fighting against police brutality and systemic racism.
Now, Crystal Skies has returned with a fresh EP dubbed Collide which is no different from their awesome releases in the past. From the first track "This Moment (ft. Gallie Fisher)" to the final one, "Crash & Burn," there isn't a note out of place, as each tune flows flawlessly to the next. The EP is filled with beautiful melodies, intense soundscapes, gorgeous vocals, and has vibrant energy from start to finish.
Listen to Crystal Skies' Collide EP on Spotify or your favorite streaming platform, and read on for my take on this amazing release on Ophelia Records!
Stream Crystal Skies – Collide EP on Spotify:
---
The EP starts off beautifully with Gallie Fisher lending her voice to "This Moment" and the cosmic title track "Collide."
Gallie Fisher is not only a common vocalist found on tracks from Ophelia artists, but specifically, she's been featured on the incomparable track "Never Change" on Crystal Skies' previous EP. This time the talented singer is brought back on the opening track "This Moment." With a beautiful piano arpeggio and Fisher's vocals meeting us at the beginning of the track, the setting is immediately set to be very emotional.
Going into the first chorus, Crystal Skies brings back their signature punchy sound filling the speakers with a wall of euphoric sound and aggressive percussions. We can tell from this track alone that the rest of the EP is going to be a journey into emotion, telling stories of love, heartbreak, pain, and acceptance.
"Collide" comes in next with its catchy vocals speaking of intergalactic lovers colliding into each other, despite being planets apart. This previously released track takes you on a journey, with ethereal references and heavenly signs of hope. Guitar riffs and dramatic strings evoke a feeling of intensity and brightness, as they paint a picture of a sort of celestial explosion as lovers meet and emotions pour out.
It's obvious they wanted to create a story of how magical things can be when you try not to control certain aspects of life, including those that deal with finding love. It's a song that says that sometimes when you just let go and let the universe take its course, spectacular things can happen.
Standout track "Human" features singer She Is Jules in an uplifting track about the trials and tribulations of just being human.
"Human" is a tune that brings things back to reality and has a down-to-earth message explaining aspects of navigating life. We're all on this Earth trying our very hardest to make it through each day, and we don't always get things right, but that's OK because we are only human after all.
"Wake up and clock in, coffee half-empty…" the song starts out telling of the day-to-day experiences shared by many. She Is Jules really breathes emotion into this track, expressing how hard it is being human. "It's a lot to be human…," she sings telling a story of how everybody falls down and makes mistakes sometimes. After her hopeful lyrics, we're catapulted into a gorgeous uplifting melody making the song very fun and inspired.
Optimistic lyrics such as "Maybe tomorrow will be better than my yesterday" are riddled throughout the track weaving through the upbeat melodies and gleeful chords. It's so easy to blame ourselves and put yourself down, setting high – maybe unrealistic – expectations for ourselves, comparing things to what we see in movies, TV, and social media.
The EP comes to an outstanding end with baroque-style genre-bending track "Requiem" and emotive vocal track "Crash & Burn."
A mysterious violin meets listeners at the beginning of the aptly-titled track "Requiem" as it takes us on a mystifying journey through baroque-style melodies and hard-hitting beats. It paints a picture of being in an old dark European castle or a church with 100-foot tall organ pipes, while simultaneously bringing it back to a more ravey scene.
The slamming cut time percussions were met with 138+ BPM four-on-the-floor beats, as it moved back and forth from dubstep to tech-trance. The track tells a tale of mystery and darkness while deviating from the normal pace we've been hearing throughout the EP thus far. Some wildly impressive and talented musicality in this song, even as the time signature changed so drastically and repeatedly, the song flowed surprisingly very well.
Going back to that classic melodic sound, an acoustic guitar is introduced at the beginning of the final track "Crash & Burn" which tells a sad story of dealing with sadness and depression. Crystal Skies has always been good with evoking feelings this is a shining example of that. Through the first drop, there are soft chords matching the intensity of the vocalist. The melancholic lyrics continue throughout the track evoking a sense of loneliness, as the chorus talks of crashing and burning after life's hardships. A sad, yet stunning ending to an absolutely outstanding EP.
Crystal Skies is one of the best players in the melodic bass world and this EP really shows why that is.
From the sadness of "Crash & Burn" to the unexpected plays on BPM with "Requiem" to the galactic meaning behind "Collide," everything seems to just be perfect with this release. Crystal Skies have really come a long way in music writing and has proven to be an absolute powerhouse in producing quality melodic bass tracks. After their debut on Ophelia, we had high hopes for this duo and we're pleasantly surprised to see that their light isn't dimming anytime soon.
---
Crystal Skies – Collide EP – Tracklist:
This Moment (ft. Gallie Fisher)
Collide
Human (ft. She Is Jules)
Requiem
Crash & Burn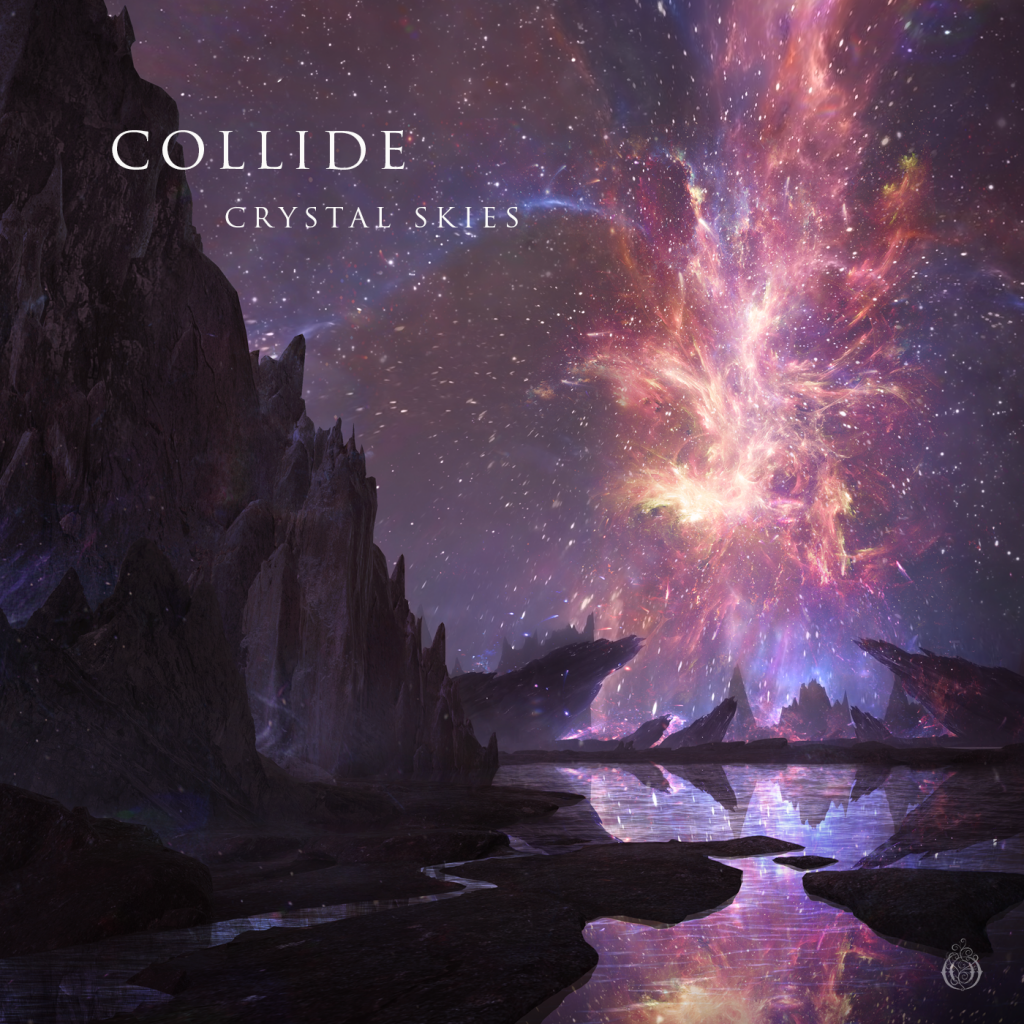 ---
Follow Crystal Skies on Social Media:
Website | Facebook | Twitter | Instagram | SoundCloud