Excision and Wooli gifted the bass music community with a powerful collection of remixes from their Evolution EP that features plenty of talented artists.
---
In September of 2019, Excision and Wooli unveiled a masterpiece of an EP titled Evolution. This four-track release found it's way onto bass music stages across the world and into the playlists of every dubstep fan. Now the duo is back, but this time with a massive team of bass music artists who have brought their A-game to the vision that is the Evolution EP: The Remixes.
Die-hard Excision fans can always count on a round of fantastic remixes for every OG release and every year, the anticipation builds higher than before. This time, the powerhouse duo enlisted artists such as Kompany, Ray Volpe, Samplifire, Must Die!, Hairitage, Hi I'm Ghost, Calcium, and Whales to bring unique and groundbreaking energy to this already massive tracklist. Evolution EP: The Remixes offers eight unique renditions, each artist recreates the atmosphere in ways that are inimitable.
Go ahead and give the full EP a listen on Spotify below or via your favorite streaming platform today, and make sure to keep reading to get a track by track review as you listen along!
Stream Excision and Wooli – Evolution EP: The Remixes on Spotify:
---
The batch of Evolution remixes kick off with bass music favorite Kompany, with his take on "Lockdown."
Kompany's edit of "Lockdown" starts off with the iconic build from the original and the all too familiar breakdown is upgraded by a new, heavy-hitting bass before being remixed into a heavily syncopated hip-hop beat. The track consists of deep and wobbly synths and a crescendo that builds off the massive power of the double drop. With riddim-esque slashes and brief pauses before the beats, this track monumental rework is bound to be a bass stage staple.
Following Kompany, Ray Volpe enters the arena with his remix of "Oxygen." With a deep and brooding baseline and a driving beat that moves the tempo forward, contrary to its original counterpart, he sets the tone for what might be considered, a headbangers paradise. Each beat slashes through the atmosphere of the song like a battle-ax, bringing newfound energy to the original tune.
Up next is Samplifire with an "Evolution" remix that's sure to break necks and bust speakers.
With heavy and deliberate percussion, Samplifire breaks down the beats of "Evolution" with powerful precision. While he keeps true to the original structure of the song, each drop brings colossal power to the track, keeping true to the original setting of the EP. With a mammoth-like roar, Samplifire introduces the second half of his remix, further fragmenting the bass beat we originally knew into a skillful jigsaw puzzle.
Must Die! is up next with his remix of "Another Me." This sad-boy lovechild of Excision, Wooli, and Seven Lions was reworked in a major key shift, lifting the energy of the song before dropping into a heavy and descending battle of soundscapes.
Then Hairitage introduces his "Lockdown" remix. This remix features punchy percussion and brings massive heat as he craftily takes over the tune with his rhythmic precision. His staccato elements and emphasis makes for a truly unique and energetic remix. About three minutes into the track comes one of my favorite drops of this entire EP. With a descending whistle element and a breakdown of the heavy-handed drops, we can really focus on the hip-hop beat elements that make this track so special.
Hi I'm Ghost's remix is the perfect recipe of equal parts heavy drop and melodic vocals.
Keeping true to the original, Hi I'm Ghost begins this remix by spotlighting the beautiful vocals of Julianne Hope. Breaking down the bridge with soft melodic percussion that lightens the energy of the song. The track then builds to the magnificent drop with before breaking down into a percussion-heavy bassline. One aspect that I really appreciate about this track is the perfect balance of vocal emphasis as it brings a new appreciation for the role vocals play in heavier ones such as this.
Up next on this lineup of massive bass artists is Calcium with a remix of "Evolution." With his signature syncopated bass, he brings a unique and powerful take to this bass anthem. His use of synths brings a touch of chaos that other drops just can't compete with and the use of arpeggios adds a new melodic element to the song that is absolutely genius.
Finishing up this slew of remixes is bass artist Whales with a remix of "Another Me." This track is sure to resonate with fans of melodic bass, as it pays homage to the unique structure of melodic bass tunes. With the first drop being a melodic bass dream, the second descends into a heavier one before fading away, giving the space to Dylan Matthew's beautiful vocal performance.
When all is said and done, Evolution EP: The Remixes is a perfect addition to any bass music playlist.
Each artist brought a renewed energy and atmosphere in their recreation of each track, painting brand new soundscapes and settings that are sure to rumble to the bass music community. I personally can't wait to hear these tracks live and I know you can't wait either! So if we all work together, wear our masks and social distance, I'm sure we'll be back in the crowds soon, jamming to our favorite tunes from this EP. Until then, make sure to show some love to the artists and stream the Evolution EP: The Remixes on your favorite platform!
---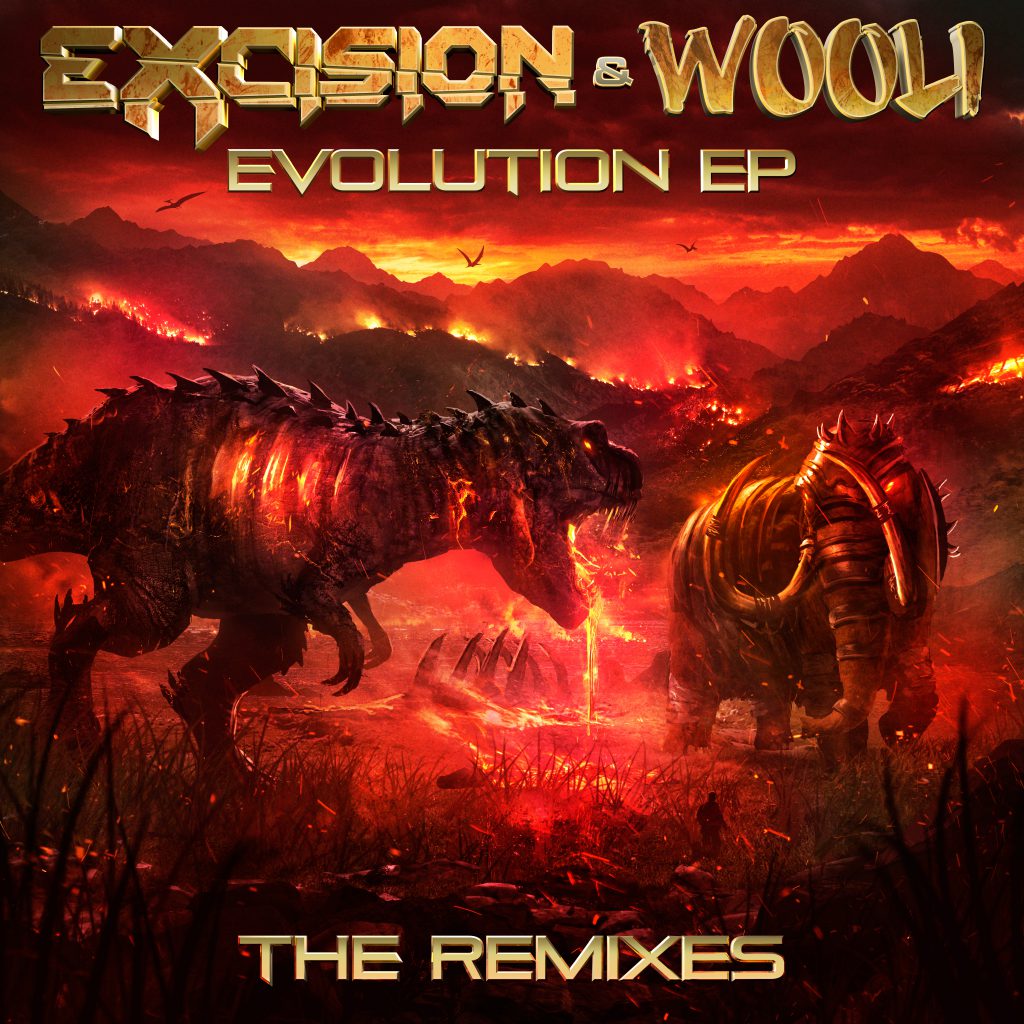 Evolution EP: The Remixes – Tracklist:
Excision & Wooli – Lockdown (Kompany Remix)
Excision & Wooli & Trivecta feat. Julianne Hope (Ray Volpe Remix)
Excision & Wooli feat. Sam King – Evolution (Samplifire Remix)
Excision & Wooli & Seven Lions feat. Dylan Matthew – Another Me (Must Die! Remix)
Excision & Wooli – Lockdown (Haritage Remix)
Excision & Wooli & Trivecta feat. Julianne Hope – Oxygen (Hi I'm Ghost Remix)
Excision & Wooli feat. Sam King – Evolution (Calcium Remix)
Excision & Wooli & Seven Lions feat. Dylan Matthew – Another Me (Whales Remix)
---
Connect With Excision on Social Media:
Facebook | Twitter | Instagram | SoundCloud
Connect With Wooli on Social Media:
Facebook | Twitter | Instagram | SoundCloud