Insomniac and Seven Lions have teamed up to bring a special livestream event filmed at The Gorge straight to your rave caves this weekend!
---
Although Seven Lions' Chronicles 3 event that was slated to happen last month was canceled due to COVID-19, there was still hope from his devoted fanbase that something special could happen at the iconic venue. Today, that wish has been granted as Insomniac and the Seven Lions team found another way to bring the event to life in the form of a livestream experience that was filmed at The Gorge.
On Saturday, August 15 from 6-9pm PDT, Insomniac TV will broadcast a rare two-hour set from Seven Lions that will also feature Gem & Tauri playing in support. While Seven Lions is no stranger to fans of melodic dubstep around the world, Gem & Tauri is a new melodic house and techno duo group made of up Courtney Simmons and Emma Montalvo. Those who have tuned in to their livestreams over the past few months will know about the deep beats they drop while playing that'll put you in the groove in a groove in no time at all, making this a night that will be fantastic from start to finish.
While Gem & Tauri set to get the party started, Seven Lions will surely bring on the feels and plenty of bass in his set as he takes everyone who tunes in on another magical journey. Expect quite a display as well on the stream as the lighting, visuals, and background of the legendary venue will work in synergy with each other to create a memorable experience. You won't want to miss out on this livestream!
Follow Seven Lions on Twitter for the latest updates and make sure you're following Insomniac Events on YouTube and Twitch so you can get a reminder the moment the streams go live!
Catch the action during the Seven Lions x Gem & Tauri Livestream on Insomniac TV:
---
Seven Lions and Gem & Tauri at The Gorge Livestream: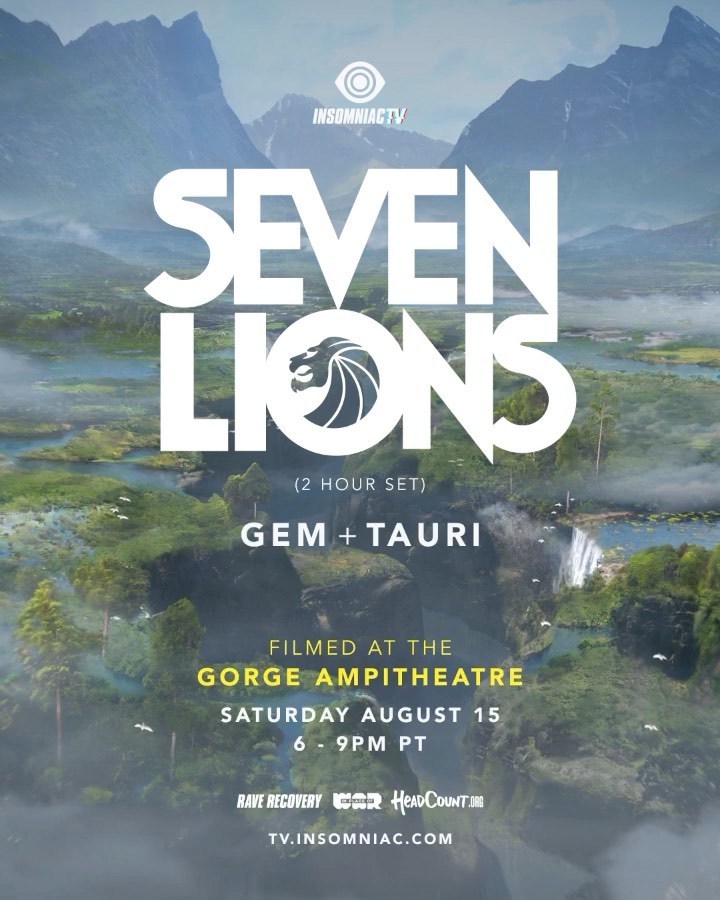 ---
Follow Seven Lions on Social Media:
Website | Facebook | Twitter | Instagram | SoundCloud | YouTube | Twitch
Follow Gem & Tauri on Social Media:
Website | Facebook | Twitter | Instagram | SoundCloud | Twitch