GRL GANG's GRLFEST is sure to dazzle with an awesome lineup featuring sets from artists including JEANIE, Wenzday, Risik, and many more!
---
Since beginning in 2019, GRL GANG has become an incredible community fostering support and empowerment among female artists. From the spectacular mix series to their debut compilation album RIOT, GRL GANG continues to showcase a high level of talent and energy across everything they put out. Now, JEANIE and GRL GANG have announced the lineup for the debut of their livestream festival GRLFEST that's set to run July 18-19 on Twitch.
The festival features a plethora of great artists. Aside from JEANIE, other rising stars like LAYZ and Lizzy Jane will play sets during the festival. The fun doesn't stop there, as the lineup boasts even more great musicians like Wenzday, Austeria, MADGRRL, and Jinx to name a few! The festival is truly a celebration of all the hard work that GRL GANG has done to empower women throughout the dance music community.
GRL GANG will donate 100% of the proceeds from GRLFEST to RAINN, a non-profit working to support victims of sexual assault and abuse around the country. In the wake of recent allegations surrounding prominent members of the bass music scene, it's amazing to see that GRL GANG is so committed to fighting back against sexual misconduct in the dance music scene and beyond!
If you're new to GRL GANG, make sure to head over to their SoundCloud and check out some of the wonderful mixes on the GRL GANG RADIO series. For those interested in joining the community, GRL GANG has a Discord server where female artists and industry workers can connect and share their work. The sky is the limit for this amazingly talented group of women!
RSVP for GRLFEST on Facebook, follow GRL GANG on Twitch to stay up to date on announcements, and let us know who you're most excited to see in the comments below!
Tune in to GRLFEST 2020 on Twitch:
---
GRL GANG GRLFEST 2020 Set Times:
Please note that all times are in EDT, so adjust your schedule accordingly!
---
GRL GANG GRLFEST 2020 Lineup: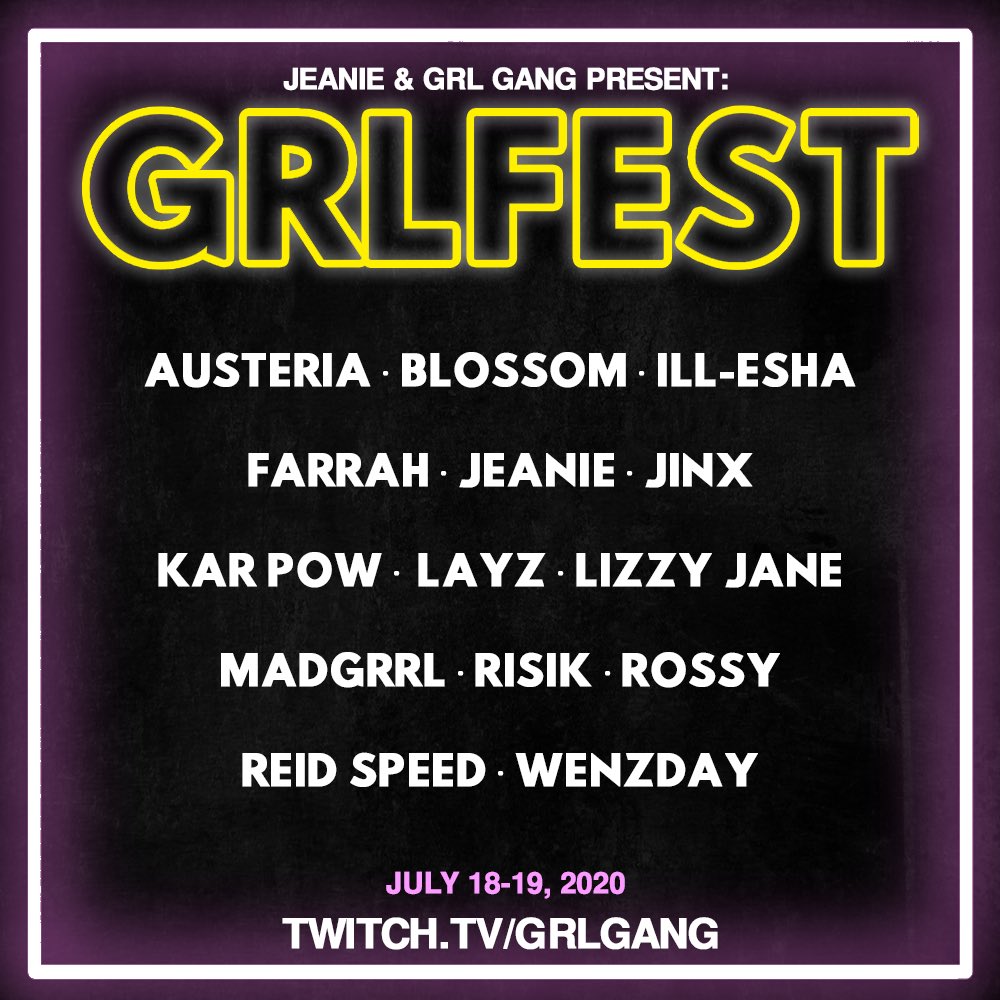 ---
GRL GANG GRLFEST 2020 – Lineup By Artist:
Austeria
Blossom
Ill-esha
Farrah
JEANIE
Jinx
Kar Pow
LAYZ
Lizzy Jane
MADGRRL
Risik
Rossy
Reid Speed
Wenzday
---
Follow GRL GANG on Social Media:
Website | Facebook | Twitter | Instagram | SoundCloud | Twitch