The debut compilation from JEANIE-led collective GRL GANG, RIOT!, is a celebration of female empowerment in dance music. 
---
Since its inception, GRL GANG has worked tirelessly to showcase female producers and DJs around the world. Their extremely popular GRL GANG RADIO, which has over 50,000 plays on SoundCloud, features some of the hottest new acts in the scene including Jessica Audiffred and Lizzy Jane. Now, the JEANIE-led collective has taken a massive step forward with the release of their debut compilation RIOT!
The 10-track album features fourteen artists, each one putting their own spin on bass music to create a wild, energetic album from start to finish. The rhythm and sound design are masterful, and while each artist demonstrates a very unique style, there's a strong sense of unity between the tracks. If this is only the beginning for GRL GANG, then I truly cannot wait to see what else they have in store for us this year.
Stream GRL GANG's dazzling debut RIOT! on SoundCloud below, grab a copy on Bandcamp, and keep reading to hear my take on each track! 
Stream GRL GANG – RIOT! on SoundCloud:
---
RIOT! starts off hot with a wild four-way collaboration.
When JEANIE, Level Up, MADGRRL, and Sippy get together, they're bound to create an absolute banger. "Inferno" is just that, as the high-energy, wobbly track starts the album with a bang. With Level Up supporting the Cyclops Invasion Tour, you'll likely hear this awesome track when it comes to a city near you. Make sure you get there for her set!
Lizzy Jane and Jinx deliver two stunning tracks on this compilation.
Any diehard fans will likely recognize these two artists from GRL GANG Radio and their talents are on full display on RIOT! Lizzy Jane follows the opener with "High Again," where she pairs beautiful synths and dirty basslines to make one of my favorite tracks on the album. The drop has so many small intricate rhythms that really enhance the track.
Jinx puts on an absolute masterclass on "Make You Mine" as the driving, high-tempo beat accentuates the high, buzzy synth lines. The melody on this song is super catchy, and she does an awesome job changing the drums around to change the mood of this song. I'll be sure to keep my eyes on Jinx in the future!
The diversity in sound really shines through on "QUEEN BITCH"
Risik is feeling herself on this one, and the groove that she features on "Queen Bitch" will have you moving as well. It's an awesome track that has elements of house music, bass, and more to create a vibey, genre-defying sound.
LAYZ delivers one of the heaviest tracks on the album in "Umbra," which features a demonic vocal track that drops into a rhythmic explosion of bass. It reminds me of Svdden Death's VOYD, but LAYZ makes this track completely her own with high levels of sound design and a strong command of rhythm.
Zingara delivers some awesome sounds on "Zodiac"
As a huge fan of future bass, "Zodiac" absolutely blew me away. The way Zingara builds this track is spectacular: the light, ethereal synth line gives way so seamlessly to the pounding bass at the drop, and I really love the rhythm changes in the drums during the buildup. This track is a standout and I've had it on repeat all day!
Each artist does a great job building out a unique sound while creating a common thread. 
As the album moves more towards downtempo with "Poison" and "BANSHEE," I can still feel the energy that I felt in the earlier tracks. AUSTERIA does a great job of keeping the drop super minimal, really choosing to focus on the rhythm which she builds so well through her bass and drum design. Space.wolf handles "BANSHEE" a little differently, but also pairs really strong bass and drum design to allow the listener to fall deep into the groove. Both have a little bit of an ominous feeling, which works very nicely within the theme of the album.
Aria Bare and Mirin_doja team up for the album's other collaboration, "Purity (Beg For It)." Right away, the drums on this track grabbed me. It reminds me of a steady hip-hop groove that might change in rhythm but maintains tempo throughout the track. The drums also grabbed me on the album's final track, Z3RØ5um's "Pinging Space (Hyperspeed Edit)". Both songs feature a great relationship between the bass and the drums as well, which really allows the listener to latch on to the rhythm. It's the perfect close to a high-energy, raucous album.
This album couldn't be a more perfect debut for GRL GANG!
JEANIE has worked so hard to create a space where women can feel safe and empowered in dance music, and it's absolutely incredible to see the art that comes out of such a supportive space. I truly expect GRL GANG to take off in 2020, and hopefully, that means more albums like RIOT! in the future as well!
---
RIOT! – Tracklist:
JEANIE, Level Up, MADGRRL, Sippy- Inferno (2:13)
Lizzy Jane- High Again (3:26)
Jinx- Make You Mine (3:17)
Risik- QUEEN BITCH (2:54)
LAYZ- UMBRA (3:45)
Zingara- Zodiac (2:46)
AUSTERIA- Poison (3:39)
space.wolf- BANSHEE (3:22)
Aria Bare, Mirin_doja- Purity (Beg For It) (4:34)
Z3RØ5um- Pinging Space (Hyperspeed Edit) (4:55)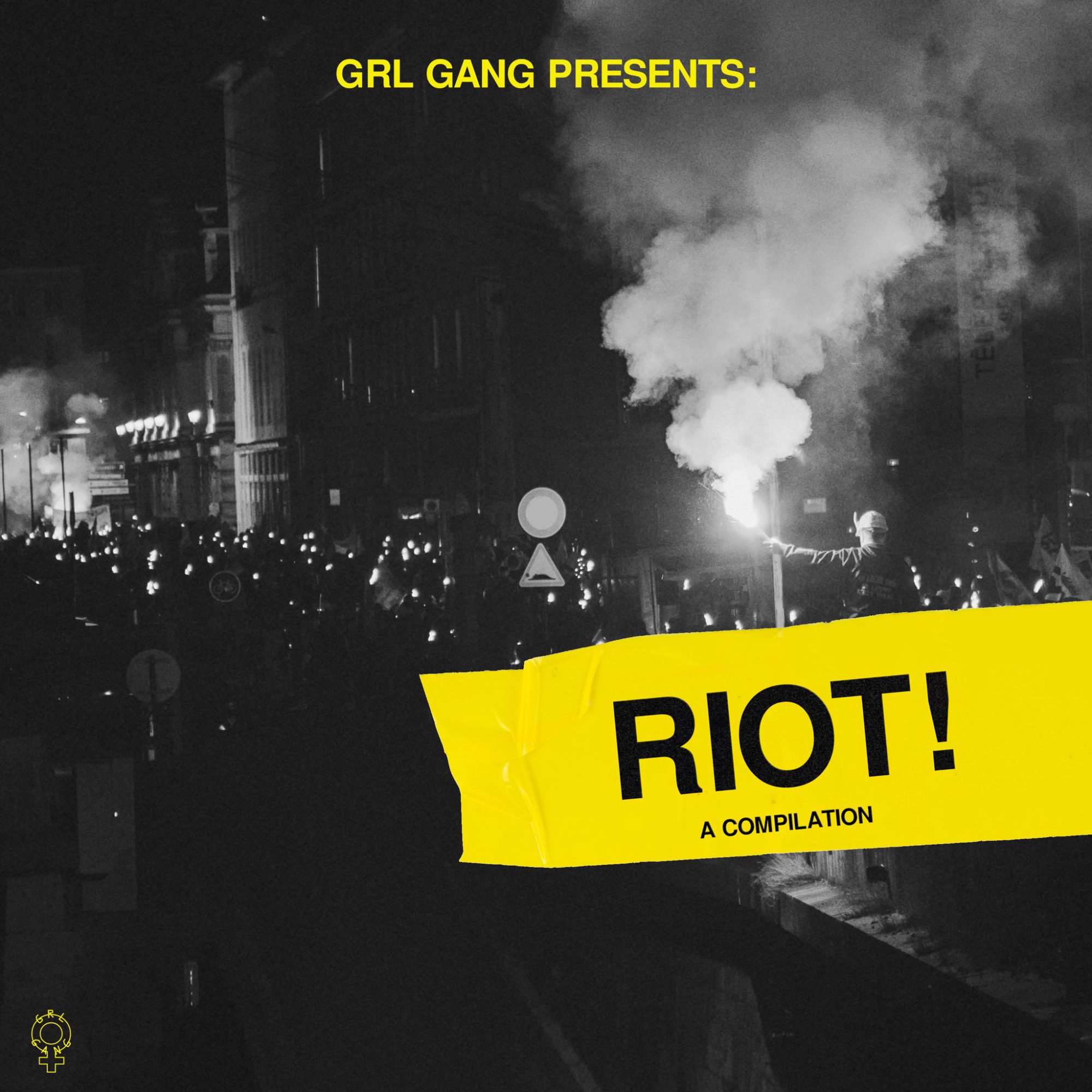 ---
Follow GRL GANG on Social Media:
Website | Facebook | Twitter | Instagram | SoundCloud