We sat down with Lizzy Jane to chat about life in quarantine, XO Radio, her future plans, and so much more!
---
Is there anything Lizzy Jane can't do? Since exploding onto the scene, the Tampa native has had a hand in multiple facets of the dance music industry. Not only is she consistently cooking up incredible tunes, but she also curates artists for her XO Radio mix series, which has showcased dance music's rising stars for over a year!
With releases on Kannibalen, Nightenjin, and GRL GANG, Lizzy Jane's high-energy brand of bass music has already led to tons of success. Intricate synth melodies, heavy bass, and an impressive command of sound design have fans across the scene clamoring from more music from this wickedly talented producer!
Even with the constraints of quarantine, Lizzy Jane hasn't slowed down. We talked with her about her upcoming releases, her foray into live streaming, and which tunes she's been bumping at home. Her answers are thoughtful and packed with some really cool insights, so make sure you keep reading to hear it from Lizzy Jane herself!
Stream EDMID Guest Mix 217 || Lizzy Jane on SoundCloud:
---
Hey Lizzy! Thanks for taking the time to chat with us today. First off, how have you been holding up at home? Can you share how this pandemic has affected you directly?
Hello! Thank you so much for having me on for an interview and guest mix. I have been holding up just fine! Truthfully, my life hasn't changed much aside from the lack of live events and traveling to and from them. My studio is in my house so I am here when I am home regardless. Once I understood the severity of live events, I really had two options on how to approach this change in our music industry: adapt to stay relevant or take a legitimate break from this project.
I definitely wasn't going to choose the second option, so I quickly learned how I could use streaming to stay relevant and really let my fans know more about me (everything from how I work in the DAW to my own music tastes through multi-genre DJ sets.) I feel closer to my fan base than I ever have been. My online presence instead of city-by-city presence has drastically expanded my reach just in this short time by more than I could have imagined.
Your XO Live Sessions series has been a saving grace during quarantine. Does performing in your home vs. a club have any effect on how you approach your sets?
It DEFINITELY does. If you travel to different cities, you can play almost the same set over and over. Whereas online, one person could be tuning into ALL of your sets! It's important, in my opinion, to mix your sets up.
When I am a guest on another artist's or company's event, I play my regular varied club sets packed with my own music so their audience is getting to know the Lizzy Jane project for what it is. Then if they want to know more, when they look me up on Spotify or SoundCloud, my sound is consistent with what they heard.
When I hold my XO LIVE sessions, I play around. I play old throwback sets, half time, dnb, and share a lot of music I made when I was just starting to experiment in electronic music, music that will never be released.
Similarly, your weekly mixes on XO Radio have showcased some of bass music's rising stars for more than a year! What's it like curating artists for this series?
I love it! XO Radio is a weekly mix series dedicated to the up and coming sounds of the EDM World. I have a strong belief that success is built upon quality and consistency. Dr. Fresch's Prescription Mix and a lot of radio shows on Sirius XM (i.e. Slander, Alison Wonderland, 12th Planet's Swamplex Radio) have that success, but they all have guests that have already "made it". I strive to do the same thing at the same level of professionalism but for artists that are just starting to have their first round of big label releases/traction.
After about a year and a half and 57 episodes, I now am starting to see a very consistent, growing crowd that comes to XO RADIO every week to discover new talent. Moore Kismet, SWARM, Matt Doe, The Brig, Duckworthsound, GLD, and many more have been guests on XO RADIO long before the majority of the electronic scene was aware of their brilliant art. This year we've expanded our streaming platforms to Spotify, Apple Music, Audius, and SoundCloud. I am very excited about the future of XO RADIO.
A few months back you released a track on the GRL GANG compilation album RIOT as well as a mix for their radio series. What does being a part of that community mean to you as a rising artist in the scene?
I absolutely adore JEANIE and what she has done for aspiring and rising female producers. GRL GANG is QUICKLY growing and is a safe space for female producers in the electronic music industry. GRL GANG has a discord server that is great. It is an incredibly supportive group of hard-working girls striving to hone their craft and leave a lasting impact on the music industry.
GRL GANG has quickly proven to many people that yes, in fact, girls can make their own music, run a successful brand/corporation, and inspire other females to do the same. I was happy to release "High Again," a song that I otherwise would not have released, on their RIOT! Compilation in honor of International Women's Day. All proceeds were donated to GIRLS INC.
When you're sitting down to create a new tune like "Radial" or "High Again" what's your workflow and studio setup like?
My workflow has changed SO much over the course of the past year. I've been able to apply that knowledge to my workflow effectively in the last six to eight months. With "High Again," I started with a vocal I had recorded a long time ago and really built the whole song on that and a synth I had designed in serum, which I later changed into an arp that would drive the momentum of the song.
I LOVED "Radial" by ISOxo and Knock 2. When it first came out, I was doing a run with Snails for a leg of his World of Slime Tour and I was making bootlegs and edits of the tune. I decided after a month of playing it in every set to finish the bootleg and develop it into a full remix. I was super happy with the turnout and to see such awesome support on it being played out by producers I looked up to.
Now my sessions are very separated. I have three main sessions that all feed into the process of structuring a new tune: 1. Sound Design Sessions 2. Drum Groove Sessions 3. Vocal Sessions.
I will spend time on each session every week. I do sound design sessions in the key of the songs I am working on for the week. When I am happy I can bounce the patch to audio and save it in a smart folder in Ableton so it's nice and easy when I am in the project of a new tune and a lot of the post-processing has already been done. It takes a lot of the stress away thinking "OK, I don't have to sit here and make a song start to finish with no work done already." It is a gradual build and for me, that has led to my best work.
Let's take it back to the earliest days of your career as a DJ and producer. Who were some of the influential artists or people that helped you decide that you wanted to pursue this path in life?
Nitti Gritti, Alison Wonderland, Flume, Culprate, Skrillex, Andy C, Flux Pavillion are the artists that come to mind when I think "OK, ya that's where I want to be by my late 20s." Every artist I look up to for a different reason. They all bring something different to the table that makes them the best in their field, whether it's for their brilliance in production, brand strategy, live performance, working successfully in multiple genres, or vocal work. I use their careers as a reference when taking steps to build the Lizzy Jane project to be the best and most impactful it can be.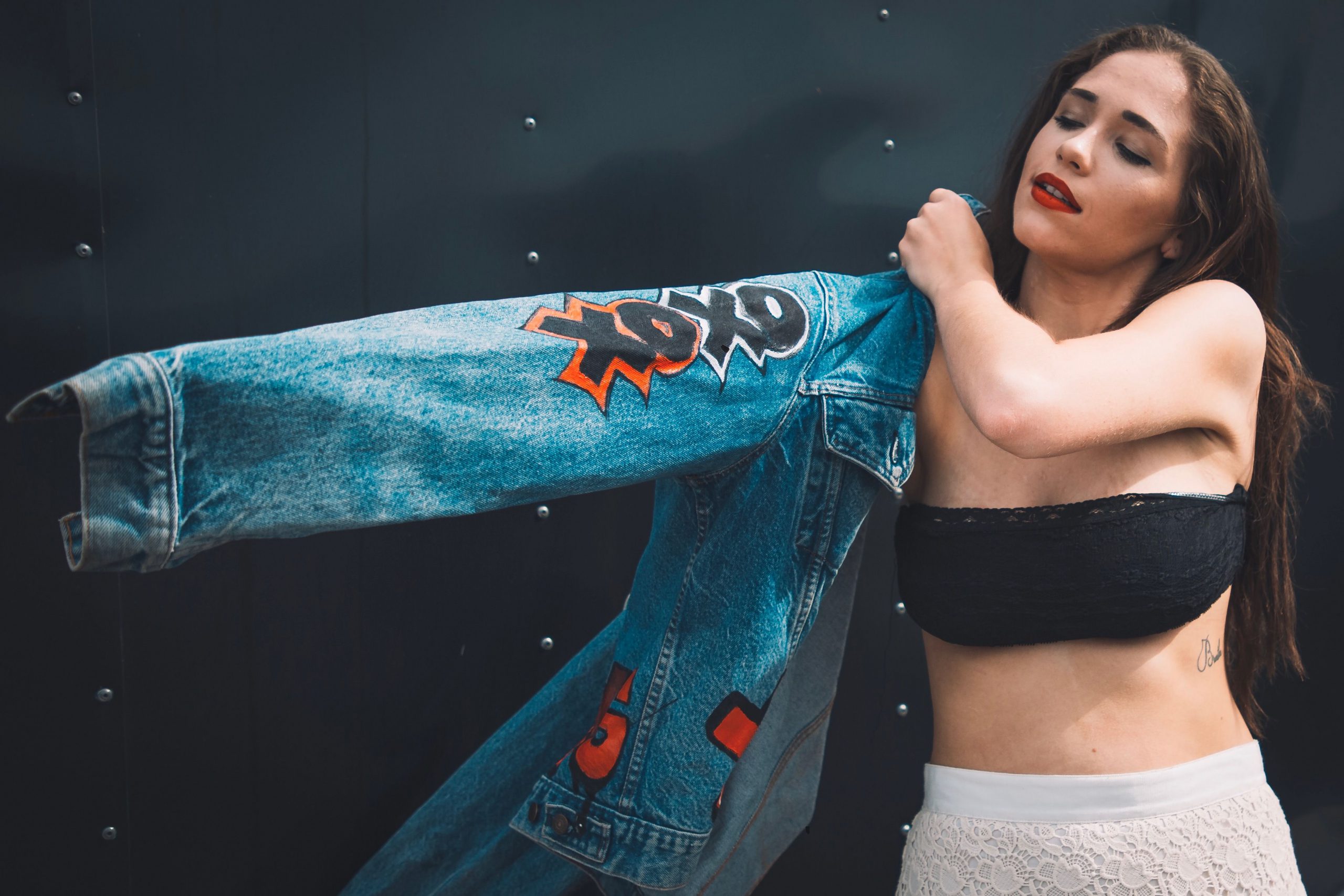 What's been the biggest struggle you've faced in your career so far? How have you overcome it or do you feel as if you're still battling it?
My biggest struggle by far has been creating the music I hear in my head in the DAW. I was classically trained in Piano and Violin since I was four years old. I picked up the Bass when I was 14 and learned using Jazz methodology and techniques. I could score something quicker on sheet music than I could create it in Ableton for SO LONG.
In the last six months, I can confidently say I am creating the music I've always heard in my head. Does it happen successfully with every project? OF COURSE NOT. Am I happy with the past music I have released? Of course, I am. I just knew it wasn't my best. I knew I had more in me. I wanted to use my voice in almost everything and be able to embody that in the cohesive sound I was creating.
Summer 2020 is going to be so exciting for this project. I am so thankful for everyone growing with me and being accepting of my developing sound but this next batch of music is ME. It's my voice, live instruments, and really pretty, wonky sound design. I am SO STOKED.
When you're working on or listening to your own music, who are some artists that you like to listen to when you have some free time? 
I honestly listen to my friends. I listen to XO RADIO and the guests I have had on. I am really digging Moore Kismet, Fools of Wisdom, and SWARM as of lately. For bigger artists, I have had the new Joyryde album on repeat. I really enjoy listening to Awenimus, Chime, Ace Aura, Franky Nuts, Pixel Terror, Chee, and Jessica Audiffred is the world of bass music.
Finally, what can we expect from Lizzy Jane in the coming months? Is there any new music on the way? 
YES YES YES! May 15 is the first solidified release coming up. I'm releasing a fun vocal-infused track before that though.
I have collabs coming out in June and July with artists I've looked up to forever as well as a few official remixes on labels that I've strived to release on. Working with artists like Born I, The Brig, Soltan + more has been so dope. In addition, I am on track to start releasing a lot of the originals I have been playing out this past year as well as wrapping up an EP called Punk Love. xoxo
P.S. I have a lot of vocal features that are coming out this summer.
---
Follow Lizzy Jane on Social Media:
Facebook | Twitter | Instagram | SoundCloud