Queens-based duo Local Dialect release the luscious and melodic Radamanthus/Artemis EP to mark their debut on Grum's Deep State Recordings.
---
When looking at the current landscape of DJs and producers from NYC it seems as if ones based out of Brooklyn have dominated the scene. But Sam and Reed, the duo that makes up Local Dialect, are based in Queens. This gives them the distinct advantage of having found a duplex apartment with basement space that has slowly been built into a robust home studio, with them saying "We love having 24/7 access to the studio so that we can jam whenever inspiration hits and work during odd hours."
RELATED: Grum Discusses Deep State Recordings And What's To Come In 2020
The result of this ease of access in making beats has resulted in a hybrid workflow and approach to music production that has allowed Local Dialect to hit the ground running in 2020. The duo continues to build off a number of remixes and collaborations released across labels including Armada Electronic Elements, Zerothree, and Immersed. Now, they've released what perhaps are their most personal tunes of the year, a luscious and melodic two-track EP on Deep State Recordings dubbed Radamanthus/Artemis.
Purchase or listen to Radamanthus/Artemis on your favorite platform now and read the full review below!
Stream Local Dialect – Radamanthus/Artemis on Spotify:
---
From the first play each of these tracks hit me in the feels, and made me want to get up and dance.
I've found that too many melodic tunes released lately are either highly emotional or very dancey, but rarely both. In this case of this EP, each track hovers that fine line between the two. Something I'd love to see more of from the producers in this area.
"Radamanthus" opens hard and steady; there is no subtle intro, no slow build, and it suits this track perfectly. A variety of synths are then layered onto the driving bassline until there is a medley of sound that is the heart of this track. An ethereal break adds both height and depth to the tune, and will give those on the dance floor a moment to slow down to embrace their crew. Writing this as I listen to the track on repeat is tricky: each replay pushes me harder to get up and move. But, alas, review first, dance later.
For the second track, "Artemis" (named for the Greek Goddess of the Hunt) again starts right in with the beat, but this time a much more gentle snare rather than hard-hitting kicks. Not to worry, the kicks aren't far behind, and then layered synths come in next. While there is a similarity in the rhythm of both tracks, the more gentle build of Artemis moves the listener from emotional listening mode to fast dance mode. Here the break is also ethereal, and also a bit lighter. The build back from this break is a gentle tease as it happens more gradually than anticipated. Patience pays off as the, again, luscious layers each return to sit atop a juicy beat.
Radamanthus/Artemis is a satisfying EP and yet it also leaves me yearning for more. On the latter, I very much look forward to Local Dialect continuing what has been a steady stream of lovely releases so far this year. I'll be anxiously awaiting each new release!
---
Local Dialect – Radamanthus/Artemis – Tracklist:
Radamanthus
Artemis
Radamanthus (Radio Edit)
Artemis (Radio Edit)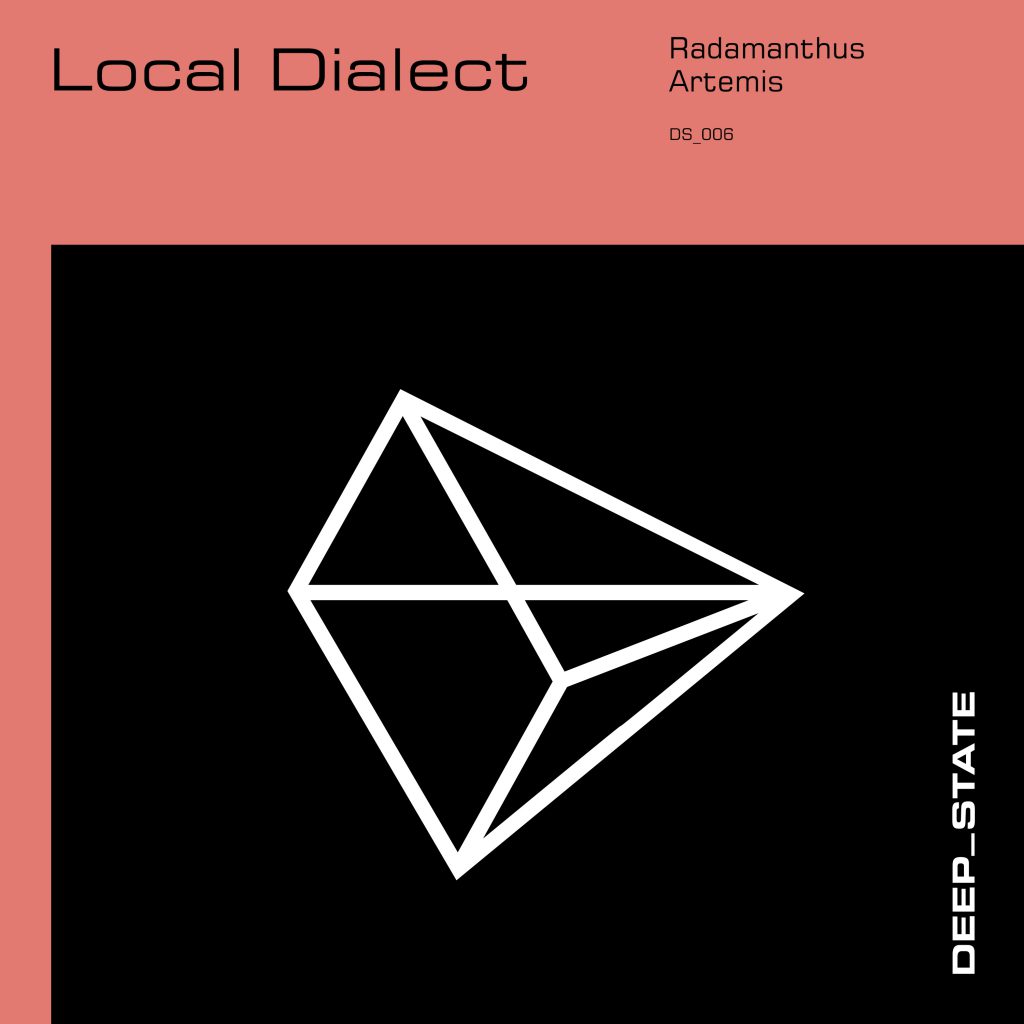 ---