As Jody Wisternoff prepares for Lost Horizon, we linked up to chat about everything from crate-digging to the current state of the world!
---
With an extensive discography that spans back to the '90s, Jody Wisternoff is a man who, since the age of thirteen, has dedicated his entire life to exploring and honing his craft. For the Anjunadeep family, he has become one of our most beloved deep house icons, even co-curating the chart-topping annual Anjunadeep compilation series.
Just last month Jody released his first solo album in eight years and without wasting a single second, Nightwhisper became the talk of the industry. The most heartfelt, intimate, and motivating bodies of work to come out this year. With yet another success under his belt, he looks forward to a new accomplishment in the form of Lost Horizon, a major VR livestream festival that will run on July 3 and 4, featuring a plethora of industry-leading producers.
We had the wonderful opportunity to catch up with Jody Wisternoff ahead of the event, so read on below and make sure to check him out at the Gas Tower stage at Lost Horizon!
Stream Jody Wisternoff – Nightwhisper on Spotify:
---
Hello Jody! Thank you for taking some time to chat with us. First and foremost, how have you and your family been holding up through the Pandemic? 
Jody Wisternoff: It's my pleasure. Thanks for asking. Yep, we've been fine actually. The initial shock when everyone was panic buying was very stressful, and the huge change of lifestyle from traveling every weekend to being permanently at home was obviously disorientating, but we've settled into a nice vibe and to be honest, time seems to be flying.
The kids are maybe spending a little too much time online gaming, but to be honest this is how they've been communicating with their friends so it's cool. Luckily the weather has been amazing in the UK so it's def taken the edge off a little.
As a musician, your livelihood is marked by creativity. But now that we are living a large chunk of life indoors and away from our human counterparts, do you find that inspiration is harder or easier to come by? How has your creative process changed, if at all? 
A bit of both to be honest. It's been nice being able to relax in the studio and just take my time, instead of only having a few days at home in-between touring – so this chilled state of mind can definitely bring out creativity. I've been able to figure out new ways of writing, optimize the studio set-up, learn new DAW's etc etc.. all these things I don't normally get time to do.
However, a great deal of motivation to make dance music is for the dance floor reaction, which is obviously on pause right now. So we've all had to deal with this situation in our own ways. I also find traveling and socializing with the crowd super inspiring. And working on beats whilst flying is one of my favorite things to do, so definitely missing this aspect of life right now! It will all be back soon though 🙂 
Due to the pandemic, we have found ourselves deep in the era of the livestream. How have you adjusted to this specific change in our scene and do you have any favorite livestream moments you would like to share with us?
I was against the whole concept for about a month. To me, it all just felt really depressing to go straight into livestreaming from playing in clubs without any time to adjust or comprehend what was really going on. When I did start doing the streams I had a lovely time though.
Highlights so far have been the 2 crate-digging vinyl mixes done from home whilst chatting a bit on the mic – a great way to stay in touch with the fans and give things a personal touch. But yea, it's been mad having to learn all these news skills over-night, OBS etc…  I'd like to think that when we start touring again properly we can still keep up the home livestreams, to an extent at least.
Looking at some of your most recent mixes for SET SanFran and Anjunadeep, you really are all about the crate digging and we love it! What are some of your favorite vinyl gems from the past that you have unearthed recently, and what makes them resonate with you?
Thanks :)) I love pulling out a lot of stuff from the early '90s which was an incredible and fast-evolving time for electronic dance music. So many styles were being created and getting played concurrently.
From the hardcore Belgian rave stuff like Frank De Wulf and all the guys on R&S stuff to the early UK breakbeat / proto jungle (heavily inspired by the Belgian's). People like Shut Up and Dance and the bass-driven UK bleepy house on labels like Warp, right up to the first progressive house tracks on labels such as Guerilla + the german melodic trance on Sven Vath's Eye Q and Harthouse.
The variety and innovation during this period was mindblowing, laying the foundations for everything that has happened since.  
You have been invited to perform during what is being dubbed, the largest VR music and arts festival, Lost Horizon. This is a deeply immersive and completely interactive experience where viewers will feel like they are submerged among all the action! Can you spill some exciting details about your inclusion in this event and what does being part of this project mean to you?
Yes yes, this is an amazing concept and I'm super happy to be involved !!! Nick and I played loads of unreleased Way Out West tracks in our set and I can't wait to see what the visuals and everything else look like! The line-up for the event is absolutely insane.
The team has done an incredible job across the board and it's such an honor to be part of this. I love how super creative people have become during the pandemic, it's really brought the best out in people 😉 
What are some of the interactive details that Lost Horizon will feature that you are excited about the most?
I'm just excited about wandering around the site in VR. I've done a bit of VR gaming in the past so I know how trippy and immersive the whole experience is likely to be!! Cannot wait :))
While livestreams are the safest bet, in the U.S. we are starting to see nightclubs reopening, drive-in festivals popping up, and even some regular festivals determined to go on as planned. How is the re-opening process going over in Bristol and what are your thoughts about bringing back the festival and club scene this quick?
I've been chatting to my agent about this and in the UK it looks like the plan/proposal being put to the government is to have all venues open by November, with saliva and temperature checks at the entry point.
Social distancing in venues isn't practical and this seems like the best way forward until there is a vaccine / proper treatment. Obviously I cannot wait to start playing in hot steamy packed out clubs again, but only when safety measures like this are implemented or COVID cases are majorly lowered across the board.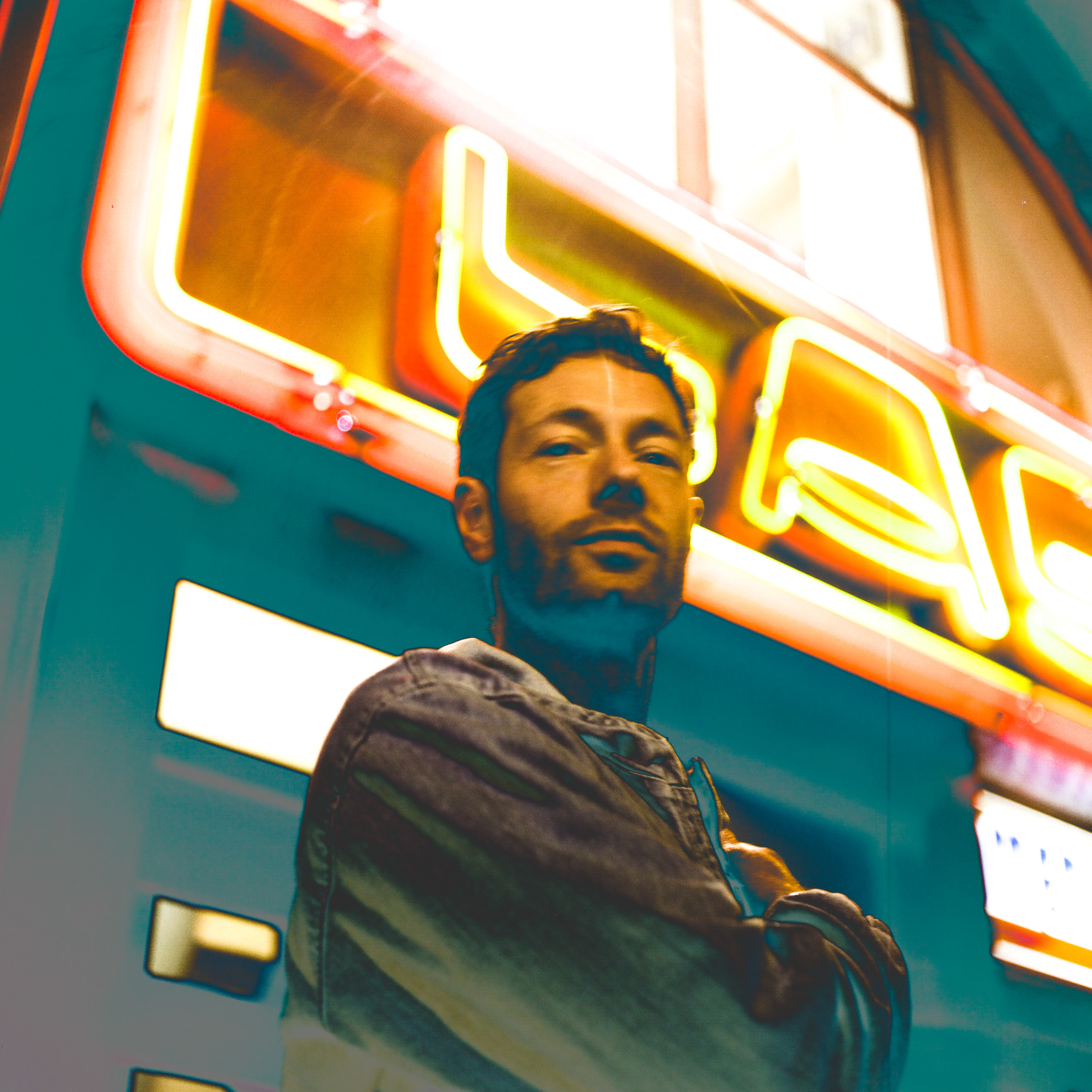 You recently released a brand new LP, Nightwhisper. What was the most challenging track to produce on that album and why?
"For Those We Knew" probably went through the most revisions before I finally nailed it. The middle section where the chord change happens was actually a totally different track originally which I bolted on, and this section really helped give the song more movement and evolution.
Mimi's amazing vocals also took a while to get right. Originally we had an actual chorus which in some ways really worked but ultimately detracted from the ethereal vibe of the song, and the decision to remove this was a last-minute thing .. so yea, a lot of editing and thought went into this one.
Your father passed away last year and to honor his memory you produced the breathtaking "For Those We Knew". Can you talk about the healing powers of music and offer up any advice to those among us who may be going through the same type of loss?
Thank you very much. For me, the process of being creative and the focus that it requires is a form of meditation. This really helped me last year when my dad was dying. To be able to take myself away from the harshness of reality and just lose myself in the beautiful world of music.
This is a universal situation and many people benefit from the mood-altering qualities of sound, which is one of the reasons I'm so heavily drawn towards its power. I've found it to be extremely calming during the stressful periods of the pandemic. Also, going through old records and just bathing in the feels 🙂 
One of my favorite tracks from 'Nightwhisper' is "Story Of Light." The string detail gets me every time I listen! Can you talk about the story behind "Story of Light"?
Thanks! This was my attempt at trying to come up with something as epic as Tinlicker's "Need to Feel Loved" remix, which was the biggest tune of mine and James's sets every time we played together. I wanted to make something dramatic and powerful. The live cello was actually one of the final elements to be added.
I'd been testing out versions of the track throughout the year and always felt it was missing something. A guy called Michael Spleit introduced himself to me in Albania at the Anjunadeep Openair event and told me about his classically trained Cello skills. I sent him a bunch of ideas, and he delivered big time! On the album his wonderful playing graces "Morning U", "For Those We Knew", and of course "Story of Light."
Finally, you had made a post about your hometown of Bristol taking down the statue of 17th-century slave trader and murderer, Edward Colston. This marks a step in the right direction for the BLM movement that is happening all over the world. Can you tell us your thoughts on why we ALL need to remain vocal and supportive of this movement? And what are some other things that are happening in Bristol to help end systemic racism?
Yeps, that's right. It's important for everyone to maintain support constantly. Not just for a short while until the next big world news story takes our attention someplace else. In Bristol, I think they are also finally renaming the Colston Hall which people have been petitioning to happen for years. I'm not sure what else is actively being done but hopefully, there are many positive moves being made. 
---
Follow Jody Wisternoff on Social Media:
Website | Facebook | Twitter | Instagram | SoundCloud