Robin Collings, founding director of Glastonbury Shangri-La and Lost Horizon, talks virtual reality, collaborating across borders, and more!
---
Looking for something different to spice up your music regimen this weekend? Look no further than this weekend's Lost Horizon virtual reality festival taking place July 3-4! Brought to you by Robin Collings and the innovative team that usually puts on the famed Glastonbury Shangri-La field. It features some of the heaviest hitters in electronic music, including Carl Cox, Fatboy Slim, Peggy Gou, Jamie Jones, Seth Troxler, Noisia, and more.
With a view towards making it as easy as possible to participate, Lost Horizon offers an abundance of access points for fans. Whether you use a virtual reality headset, desktop PC, or even just your mobile device, there is a multitude of ways that attendees can engage. The event is also free to attend, though organizers will be fundraising donations for Amnesty International and The Big Issue, a UK magazine fighting against homelessness.
Get a sneak peek at the festival grounds by watching Lost Horizon's "First Reveal" on YouTube, RSVP on Facebook now, and read on below for our in-depth interview with Robin Collings, a founding director of Glastonbury Shangri-LA!
---
Hi Robin! Thanks for taking the time to chat with us today. You've been with Shangri-La for many years now and preceding that you also had event production experience. What drew you to the Shangri-La team and what's kept you there?
I was a founding director… We were part of the peripheral crew around Lost Vagueness, the iconic 'Naughty Corner' pioneers… in fact, I used to produce a rave-circus called Bassline Circus and we lent our tent to the festival a few times. We saw that Lost Vagueness was coming to an end for various reasons so we went to Michael Eavis' house and had a cup of tea and asked if we could take the field on. We were the young travelers at the time! 
Shangri-La has developed over the years and it's such an amazing family of creative and incredibly skilled and brilliant people! That's what makes it! It really is unique. 
This year would have been the 11th year of Shangri-La at Glastonbury, what led your team to decide to move forward with a Virtual Reality version of your signature production and why call it "Lost Horizon"?
When it dawned on us that the whole festival community was on hold for the year… we felt we just had to react… 'Mutate to survive' as they say! 
There is such incredible creativity involved in Shangri-La, we just felt like we NEEDED to create a platform for it… We're not the kind of people to be sitting around waiting to be 'allowed' to get back on it. 
There is no horizon in the digital world!… Lost Horizon is the book in which the concept of 'Shangri-La' was first conceived… a mystical, heavenly valley that captivated people!… When Kaye Dunnings (LH and Shangri-La's Creative Director) came up with it, it just felt perfect!  
A virtual festival of this size must have taken a huge amount of coordination in order to get just the graphics and tech side together. What was the biggest challenge that your team has had to overcome in organizing something of this scale on such a relatively short timeline?
Yes, it's been HUGE! Organising green screen live recording / streaming studios across the world… Barcelona, Ibiza, Bristol, London, LA, NYC, Seoul, and so many other places… 
The biggest challenge has been not being together! There are people around the globe working on this which is wicked! Things just get lost in translation between time zones… and it's a new process for us… suddenly gravity and mud isn't an issue but scaling and ratios and render times are critical! 
The energy of a whole family of people working together to create something beautiful gets you through the tough times… whether you're in a field or VR! In some ways it is similar… long days and late nights pushing yourself to the limit for the sake of the best party possible! 
What has been the most enjoyable aspect of organizing Lost Horizon? What surprised you the most?
The platform is constantly surprising me… we had a pre-party there last week just to test it out and… it's INCREDIBLE! The detail and the graphics and sheer depth of it is inspiring… every time I go in it's more detailed and beautiful and there is more incredible art in there… actually hanging out with people in there is MAD! You can dance and chat and party!
I noticed that many of Shangri-La's beloved features, like the immersive 360-degree Gas Tower stage and last year's slogan "Don't Be A Dick", could be seen on the virtual grounds. What are some other favorite elements that will carry over? 
We've tried to make it distinct from Shangri-La so as not to muddy the water too much but yes, there's a lot of inspiration and clearly the Gas Tower is something that we have built in the real world too! The reality is that Shangri-La is created by a huge team of incredible artists… and that team is here creating this, so a lot of the visual language of that team travels with them!
I'm really excited about mixed reality… the next level for me is synchronised raves in the physical realm and the Virtual… simultaneous and parallel… video wall windows allowing people to look from one dimension into the other and dance side by side with someone on the other side of the planet! Interacting with them! That's the dream!
How did the move from physical to VR change the way that you thought about the production elements and lineup?
Event Production is so very physical… it's about structures and sound and lighting and video, safety and it's about making all of the heavy work as invisible and magical as possible… The VR world is much freer in some ways because it's not physical… Gravity just isn't an issue in the VR world! The sky's the limit! … but in truth we're still creating a visual and musical feast… a show with a strong political and aesthetic narrative and some depth. 
Last year's theme for Shangri-La was focused on the environment and recycling. What is this year's theme and how will that be reflected in the production and programming?
There is so much going on in the world!! So much! The environment is still the big issue… and the truth. The assault on the truth right now is threatening democracy and our ability to think critically and live freely… Race and Gender politics are literal revolutions happening around us right now… it's hard to narrow it down to one issue right now… I guess we are creating a platform where art, music and politics can blend.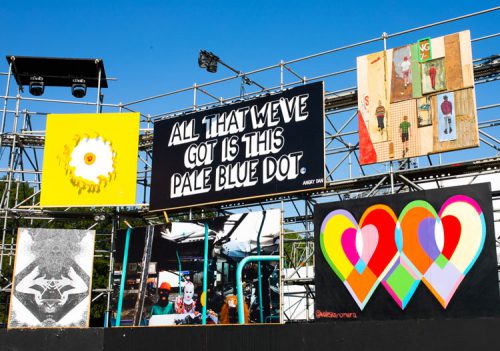 Shangri-La is known at Glastonbury to be a space not just for music and art, but for politically conscious gathering and dialogue. How will this dialogue amongst attendees be facilitated in the digital sphere?
In one sense, the ability to create your own avatar detached from your physical form has never been more timely… it will allow people to re-imagine themselves for a brief moment… and in a really fluid way, you can just change it to your party if you want. That feels like something so relevant at the moment and hopefully, it will be freeing! 7
There is a risk that the anonymity of the platform will make some people lose their sense of community and social responsibility but to be frank, I think the energy of our core message and team is so strong it will feel out of place and it won't turn into a troll fest. There are no opportunities for violence in the game… I believe in our audience. 
Observers have commented that streaming activity overall during the quarantine period seems to be past its zenith. Does your team have any concerns about this "stream fatigue" phenomenon with respect to Lost Horizon's viewership?
No, I think that's why we didn't just do a stream! No spectators, get involved! 
Lots of people will stream the incredible music we have programmed but I really think that when people see what is happening they will get involved. It's Free! 
Finally, what else is on the horizon for your team? Can we expect to see more this summer?
Yes… we are busily planning our next move! We'd really like to tour a project next year and mix Virtual and Physical events in real-time… and we have some more really exciting events in the Lost Horizon world lined up! Watch this space! 
---
Connect with Lost Horizon on Social Media:
Website | Facebook | Twitter | Instagram | YouTube
Connect with Glastonbury Shangri-La on Social Media: