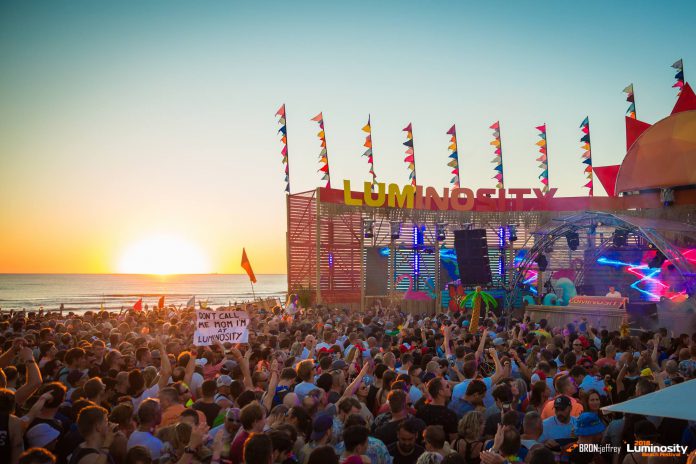 While the Dutch beaches did not host trance's elites for Luminosity Beach Festival, they brought the world together in the digital realm!
---
Even in the era of the COVID-19 pandemic, dance music brands are working hard to satisfy their fans around the world. Insomniac was on top of it early with their festival branded livestreams. Others like Defected Records or Drumcode have pooled their talents together to bring fans the beauty of the music they can offer. This past weekend saw the Dutch take center stage with three industry titans: Awakenings Online Weekender, DefQon.1 At Home, and Luminosity Beach Festival Broadcast.
For the established trance fan, Luminosity is an easy mecca affair – as it gathers the genres best and brightest for a few days in the summer sun near Amsterdam each year. This year, all hands went to curating a stellar cast of characters to take the reins digitally – and the lineup did not disappoint. For the unfamiliar take note – this is one of the few festivals that still has little rival around the world. The uniquely different beach atmosphere and intimate mood make Luminosity events a brand that's unlike others.
What was your favorite set from last weekend? Who surprised you the most? Let us know in the comments! Also feel free to join in on the conversation on Facebook!
Luminosity Beach Festival 2020 Livesets
THURSDAY – 25 JUNE 2020
---
Activa
SoundCloud | Twitch | YouTube | Facebook Video
---
Alex Wright
SoundCloud | Twitch | YouTube | Facebook Video
---
Artento Divini
SoundCloud | Twitch | YouTube | Facebook Video
---
Billy Gillies
SoundCloud | Twitch | YouTube | Facebook Video
---
Craig Connelly
SoundCloud | Twitch | YouTube | Facebook Video
---
Daniel Lesden
SoundCloud | Twitch | YouTube | Facebook Video
---
David Rust
SoundCloud | Twitch | YouTube | Facebook Video
---
Gai Barone
SoundCloud | Twitch | YouTube | Facebook Video
---
Glynn Alan
SoundCloud | Twitch | YouTube | Facebook Video
---
Jak Aggas
SoundCloud | Twitch | YouTube | Facebook Video
---
John 00 Fleming
SoundCloud | Twitch | YouTube | Facebook Video
---
Maria Healy
SoundCloud | Twitch | YouTube | Facebook Video
---
Mark Sherry
SoundCloud | Twitch | YouTube | Facebook Video
---
Paul Denton
SoundCloud | Twitch | YouTube | Facebook Video
---
Paul Oakenfold presents Perfecto Spectacular
SoundCloud | Twitch | YouTube | Facebook Video
---
Paul Thomas
SoundCloud | Twitch | YouTube | Facebook Video
---
Renegade System
SoundCloud | Twitch | YouTube | Facebook Video
---
Richard Durand
SoundCloud | Twitch | YouTube | Facebook Video
---
Sunny Lax
SoundCloud | Twitch | YouTube | Facebook Video
---
Tim Penner
SoundCloud | Twitch | YouTube | Facebook Video
---
FRIDAY – 26 JUNE 2020
Ahmed Romel
SoundCloud | Twitch | YouTube | Facebook Video
---
Alan Morris
SoundCloud | Twitch | YouTube | Facebook Video
---
Alex di Stefano
SoundCloud | Twitch | YouTube | Facebook Video
---
Asteroid
SoundCloud | Twitch | YouTube | Facebook Video
---
Cor Fijneman (Classics Set)
SoundCloud | Twitch | YouTube | Facebook Video
---
Danny Eaton
SoundCloud | Twitch | YouTube | Facebook Video
---
Daxson
SoundCloud | Twitch | YouTube | Facebook Video
---
Fred Baker (Producer Set)
SoundCloud | Twitch | YouTube | Facebook Video
---
John Askew
SoundCloud | Twitch | YouTube | Facebook Video
---
Kai Tracid
SoundCloud | Twitch | YouTube | Facebook Video
---
Kolonie
SoundCloud | Twitch | YouTube | Facebook Video
---
Lost Witness
SoundCloud | Twitch | YouTube | Facebook Video
---
Lostly
SoundCloud | Twitch | YouTube | Facebook Video
---
M.I.K.E. Push
SoundCloud | Twitch | YouTube | Facebook Video
---
Matt Bukovski
SoundCloud | Twitch | YouTube | Facebook Video
---
ReOrder
SoundCloud | Twitch | YouTube | Facebook Video
---
Roger Shah presents Sunlounger
SoundCloud | Twitch | YouTube | Facebook Video
---
Sean Tyas
SoundCloud | Twitch | YouTube | Facebook Video
---
Steve Allen
SoundCloud | Twitch | YouTube | Facebook Video
---
Super8 & Tab present Anjunabeats Classics
SoundCloud | Twitch | YouTube | Facebook Video
---
Will Atkinson
SoundCloud | Twitch | YouTube | Facebook Video
---
SATURDAY – 27 JUNE 2020
Binary Finary
SoundCloud | Twitch | YouTube | Facebook Video
---
Bryan Kearney
SoundCloud | Twitch | YouTube | Facebook Video
---
Cold Blue
SoundCloud | Twitch | YouTube | Facebook Video
---
Dezza
SoundCloud | Twitch | YouTube | Facebook Video
---
Factor B
SoundCloud | Twitch | YouTube | Facebook Video
---
Ferry Corsten
SoundCloud | Twitch | YouTube | Facebook Video
---
Fuenka
SoundCloud | Twitch | YouTube | Facebook Video
---
Gabriel & Dresden
SoundCloud | Twitch | YouTube | Facebook Video
---
Indecent Noise
SoundCloud | Twitch | YouTube | Facebook Video
---
Johan Gielen
SoundCloud | Twitch | YouTube | Facebook Video
---
John O'Callaghan
SoundCloud | Twitch | YouTube | Facebook Video
---
Jordan Suckley
SoundCloud | Twitch | YouTube | Facebook Video
---
Jorn van Deynhoven
SoundCloud | Twitch | YouTube | Facebook Video
---
Ram (25 Years)
SoundCloud | Twitch | YouTube | Facebook Video
---
Scot Project
SoundCloud | Twitch | YouTube | Facebook Video
---
Sebastian Brandt (Producer Set)
SoundCloud | Twitch | YouTube | Facebook Video
---
Shugz
SoundCloud | Twitch | YouTube | Facebook Video
---
Signum
SoundCloud | Twitch | YouTube | Facebook Video
---
Sneijder
SoundCloud | Twitch | YouTube | Facebook Video
---
Suncatcher & Exolight present Sunlight State
SoundCloud | Twitch | YouTube | Facebook Video
---
Temple One
SoundCloud | Twitch | YouTube | Facebook Video
---
The Space Brothers
SoundCloud | Twitch | YouTube | Facebook Video
---
SUNDAY – 28 JUNE 2020
Ciaran McAuley
SoundCloud | Twitch | YouTube | Facebook Video
---
Dan Stone
SoundCloud | Twitch | YouTube | Facebook Video
---
Daniel Skyver
SoundCloud | Twitch | YouTube | Facebook Video
---
Ferry Tayle
SoundCloud | Twitch | YouTube | Facebook Video
---
Giuseppe Ottaviani
SoundCloud | Twitch | YouTube | Facebook Video
---
Jonas Steur (Classics Set)
SoundCloud | Twitch | YouTube | Facebook Video
---
Kaimo K
SoundCloud | Twitch | YouTube | Facebook Video
---
Martin Roth
SoundCloud | Twitch | YouTube | Facebook Video
---
Metta & Glyde
SoundCloud | Twitch | YouTube | Facebook Video
---
Oliver Smith
SoundCloud | Twitch | YouTube | Facebook Video
---
Paul Webster
SoundCloud | Twitch | YouTube | Facebook Video
---
Sander van Doorn (Classics Set)
SoundCloud | Twitch | YouTube | Facebook Video
---
Simon O'Shine
SoundCloud | Twitch | YouTube | Facebook Video
---
Slam Duck
SoundCloud | Twitch | YouTube | Facebook Video
---
Xijaro & Pitch
SoundCloud | Twitch | YouTube | Facebook Video
---
Connect with Luminosity Events on Social Media: