Sebastian Brandt, Kai Tracid, The Space Brothers, and more have been announced for Luminosity Beach Festival 2020 Broadcast!
---
Each year, trance families from around the world descend onto The Netherlands to attend the beachside trance paradise that is Luminosity Beach Festival. Unfortunately, like many other festivals, this year's celebrations were canceled due to the Coronavirus pandemic. However, just because the festival isn't taking place doesn't mean that you won't be getting a much-needed dose of trance.
The Luminosity crew has worked to give fans the next best thing and are now bringing the festivities to each trance fan in the form of the Luminosity Beach Festival 2020 Broadcast! From July 25-28, Trance Family members will want to get ready to make margaritas and pretend to sip them on Bloemendaal Beach as you trance out to some of the most influential names in the scene.
Whether you're looking for classics, progressive, alter-egos, duos, tech, hard, or any and everything in between, between the 75+ names, there is truly something for everyone! Notable standouts who will be streaming over the course of the weekend include Gai Barone, John 00 Fleming, John O'Callaghan, John Askew, and Indecent Noise. But the lineup doesn't stop there as progressive lovers will enjoy the sounds of Tim Penner and Dezza, while Anjuna Family members will surely want to tune in for Oliver Smith, Gabriel & Dresden, and Sunny Lax as well!
The lineup is unique from other festivals that have headed to the digital realm as there are both audio and video streams taking place. And if you are planning on trancing out and would like to chat with others, there's also an official chat on Woov!
Read on for the full lineup of artists who will be playing, head over to YouTube or Twitch to catch the action this weekend, and let us know if you're excited for in the comments!
Watch the Luminosity Beach Festival 2020 Broadcast on Twitch:
---
Luminosity Beach Festival 2020 Broadcast – Full Schedule:
(Please note that all times are in CEST)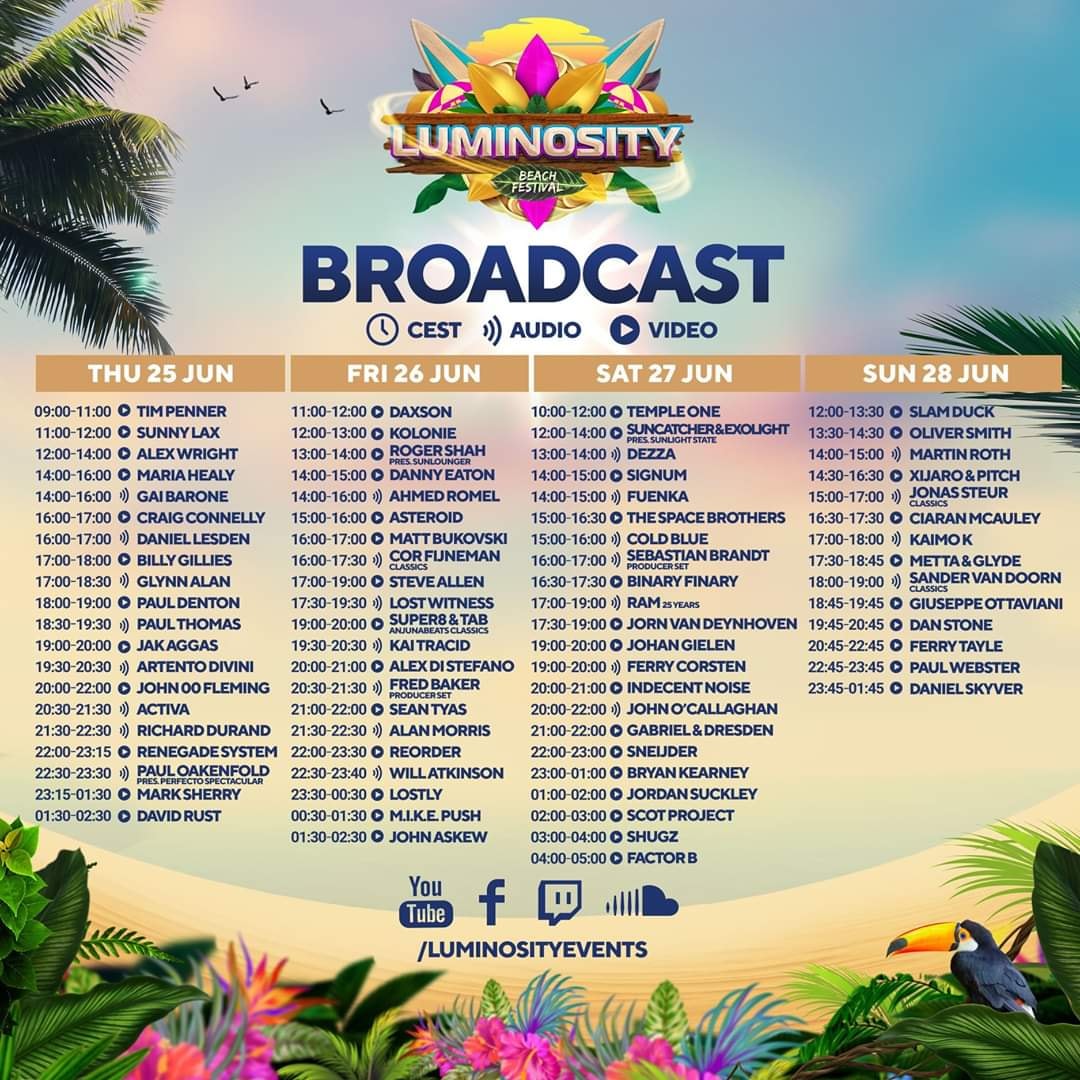 ---
Connect with Luminosity Events on Social Media: