Luca Schreiner has been rising through the ranks of the scene and just released "I Don't Fuck With You," one his most unique singles yet.
---
Hailing from Germany, Luca Schreiner is an artist to watch in the dance music scene. A decorated producer whose dad has worked in the music industry for decades, Luca Schreiner began producing at a young age and worked behind the scenes for several years. He released his first single back in 2016, and he's been on a steady upward trajectory ever since.
During this time, Luca Schreiner fully capitalized on his talent for memorable and well-produced remixes that fans of all genres of music can enjoy. He has remixed artists including Louis Tomlinson, Tungevaag & Raaban, Why Don't We, James Arthur, and Clean Bandit. He began the decade with a remix of Sam Fischer's "This City" before releasing two original singles: "By Your Side" and "I Don't Fuck With You." Both tracks showcase his top-notch production talent combined with his ear for catchy, irresistible electronic music.
Looking to get the background on his latest tunes, production style, and more, we caught up with Luca Schreiner for a chat. Check out his single below and read on to learn more about this rising star in the scene.
Watch the lyric video for "I Don't Fuck With You" on YouTube below, stream and purchase it on all platforms now, and keep reading for our interview with Luca Schreiner!
---
Hi Luca, thanks for taking the time to chat with us today! Let's start by talking about your latest single "I Don't Fuck With You." What's the story behind this track and the message that you're trying to convey?
Hi, thanks so much for having me! "
IDFWY" is about a love/hate relationship between
two people really. I feel like most of us can relate to the story in a certain way. All of
us probably have that one person we are annoyed with but at the same time can
'
t really 
let go of. What I love
most about "IDFWY" is the fact that there is a male and
female singer on the song. I think that really transfers the idea of a conversation going on between the two. 
It's an impressive follow-up to "By Your Side," another single from earlier this year. How would you compare these two tracks, and what are some of your favorite qualities of each?
I think they have a lot of similarities when it comes to their style and general feel. To me, "IDFWY" is just a little more emotional in a way due to having a male and female singer on it. I also think that the drop in "IDFWY" hits a little harder and gives more of a "dance" type of feeling. But in the end, I love both songs and I think both have a super catchy vocal and melody to it.
Both tracks include memorable and powerful female vocal features. What are some qualities that you look for when choosing vocals for your productions?
To me, it's very important to have a clean yet strong and characteristic voice on my songs. I think my productions really live from their vocals, emotions, and feelings that come through them. So it's always a big challenge to find great singers for my productions who can really lift the whole production to another level and I'm so happy to have found such amazing singers for "By Your Side" and "IDFWY."
You released a remix of Sam Fischer's "The City" in February. You've also remixed songs by artists like Clean Bandit, James Arthur, and Tungevaag & Raaban, many of which have seen massive streaming numbers. What is your creative process like behind these remixes?
When it comes to remixing, I always try to stay close to the original vibe whilst still bringing in my own twist to it. So in other words, to me, a remix has to sound like an alternative production of the original which could have also worked as the original song.
Do you have more remixes coming up this year? Looking into the future, what are some other artists or songs that you'd like to remix someday?
Yeah, definitely. I'm literally constantly working on new remixes and already can't wait until they'll get released. It would be an absolute dream for me to remix The Chainsmokers or one of Kygo's songs. All three of them are huge role models for me.
Considering festival season this year is effectively canceled, what are some ways that you're spending your extra time at home? What do you miss most about being on the road?
I'm actually cooking really often lately. It's funny cause I do see similarities to producing music. It's like different spices and ingredients mixed together can turn into a tasteful dish. But like in music, if there's too much going on or if spices don't work together it can also end up in the trash too! I do really miss traveling and playing in front of people. It's a unique feeling that can hardly be replicated through live streams or online sets.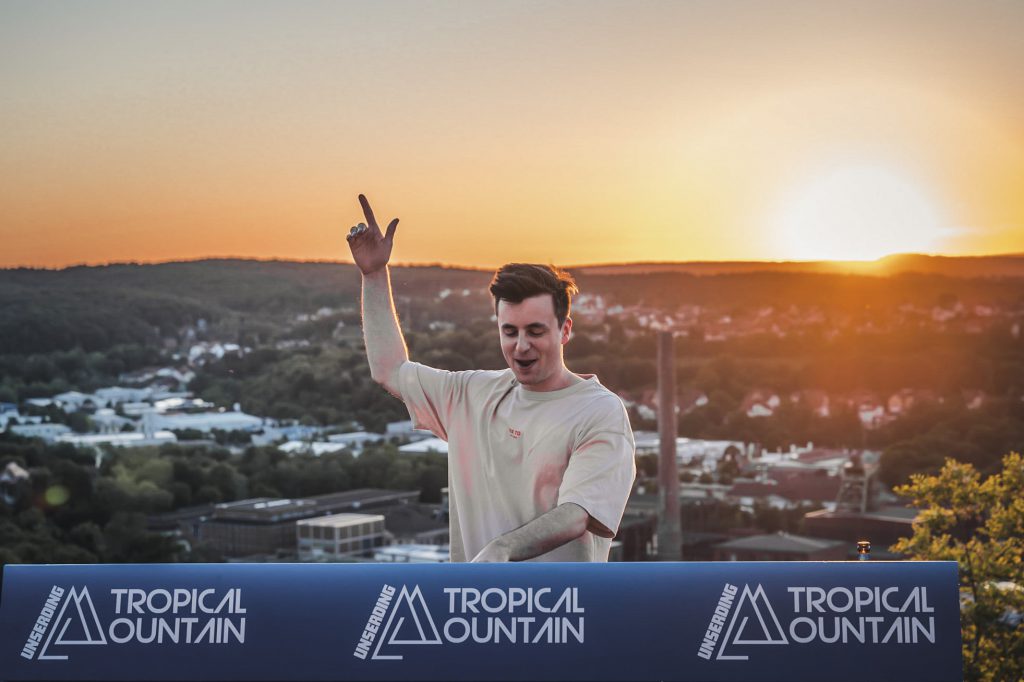 What are some of your favorite events or cities that you've played previously? Are there any that you dream of playing one day?
Playing at Marquee in New York still has a special place in my heart, since it was my very first and at the same time the biggest US show so far. There are definitely some festivals on my bucket list, including Tomorrowland and the Ultra Music Festival in Miami.
Looking back at "Missing," your first original track release in 2016, what are some ways that your music production style has changed or improved?
I think if you look back to "Missing," my production style really has changed a lot. I definitely moved to a more dance-pop kind of style over the years, which is a genre I absolutely love to produce. But looking at the future stuff that I'm about to release I'll kinda go back to a bit more house and dance-focused styles again.
On the other hand, where do you see your music, and the music scene as a whole, heading in the future following the COVID-19 pandemic?
I really hope that all of us get through this as soon as possible. Especially the clubs and festivals – they have a super hard time due to COVID-19 and I'm afraid some of them won't make it till next year. I think more than ever it's time to stand together and support each other so we can hopefully have clubs reopening and festivals rescheduling really soon!
Lastly, what is a message you can share with your fans while we're all at home with no live music this summer?
There's a lot of new music coming your way! Since all festivals and club gigs have been canceled I'm really taking my time to work hard in the studio. So get excited for a lot of new Luca Schreiner music this summer!
---
Connect with Luca Schreiner on Social Media:
Facebook | Twitter | Instagram | SoundCloud | YouTube