Techno powerhouse Ellen Allien helps us escape our own planet's binds with her latest, otherworldly LP AurAA.
---
When we covered the last album from Ellen Allien, Alientronic, we described it as perfect for "someone who stares at the unknown reaches of spaces searching for a signal." This description holds true for her latest release, AurAA, as well. Except now it seems that we'd all like to consider taking a journey away from Earth and it's nice to have a new soundtrack for that journey.
Out now on BPitch, AurAA adds to Ellen Allien's quarter-century legacy of stunning techno tunes. This the third album from Ellen Allien in three years; it is raw, emotive, and capable of transporting you from reality and into an electrified fantasy. AurAA explores the notion of unseen energies controlling our planet, the type of energy you will want to tap after listening through the LP.
Listen to AurAA on Spotify below, download or stream the album on your favorite platform, and read on for our take on the latest from Ellen Allien!
Stream Ellen Allien – AurAA on Spotify:
---
Straightaway the album opens with a deep and intoxicating beat that will take you from your seat.
"Hello Planet Earth" (Breath Mix) kicks off the album and sets up the forthcoming tracks quite nicely. The opening beats awaken the listener while the rest of the track is a bit more soothing, carrying your aural starship into outer space. The track contains some stylized vocals that invoke the sounds of aliens. Or at least what we might think they sound like.
Next up is "In Music I Trust" where we're greeted with some "bleeps and bloops" that are, again, quite alien-like, yet very familiar to many a techno fan. This builds into a luscious vocals-as-melody body for the track – a signature style for Ellen. The track also picks up the beat and begins to energize the listener. 
"True Romantics" and "Traum" play as two sides of the same coin.
Where the former forces you into your body, the latter takes you out and into the heavens. Traum is German for dream, so this makes a lot of sense. Are you ready for your transcendence into the next astral plane? Once you've reached this new plane, "Walking In The Dark" will guide you on this atmospheric travel while dialing up the beats just a little further.
It's at this point that you will find yourself as far away from planet Earth as you can imagine.
You'll keep enjoying this blissful escape even as the return trip begins with "Confusion." From floating and dancing in space, this tune is much more hypnotic with a steady repetitive beat and vocal samples. Your confusion will end with the dance floor format of "Hello Planet Earth" which layers on so many classic techno sounds that it creates its own unique sound profile. When all the layers come together, it personally throws me back to my electronic roots in the fast-paced sounds of Orbital from the '90s.
As we journey back to the third rock from the sun, "I Can't See You" picks up the pace just as our starship would as it reenters the atmosphere. It's a frenetic, complex track with wistful vocals and energetic beats. And as we finally complete our trip, the aptly named "Human" finally grounds us with a beatless segue and its drone-like soundscape. The limited vocals sound like a reminder to disembark our starship safely and serve to send us back into the everyday rhythms of Earthly life.
Ellen Allien's German techno pedigree was already well established and AurAA just continues to impress and ensure her place in electronic music history. If you haven't been paying attention to the sounds she's been releasing over the course of her career, now is the time to immerse yourself in them!
---
Ellen Allien – AurAA – Tracklist:
Hello Planet Earth (Breath Mix)
In Music I Trust
True Romantics
Traum
Walking In The Dark
Confusion
Hello Planet Earth
I Can't See You
Human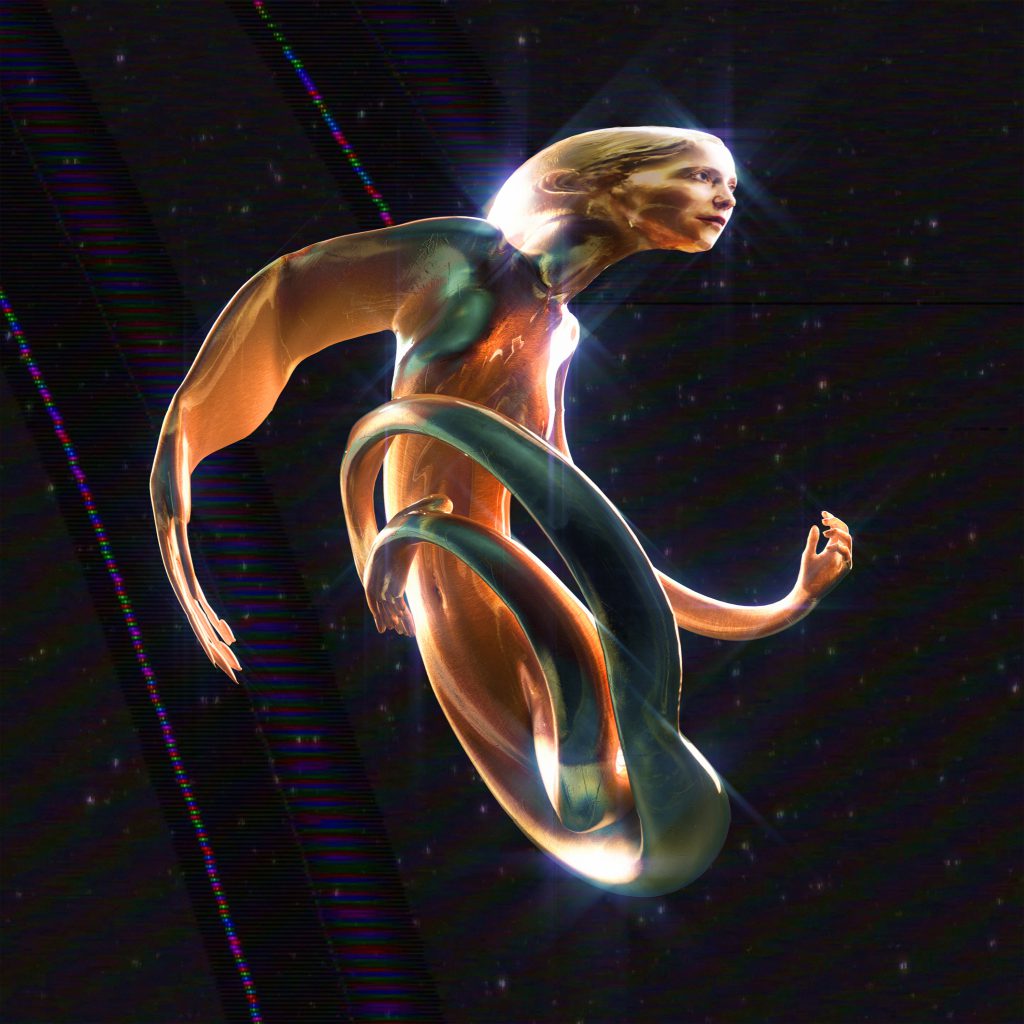 ---
Follow Ellen Allien on Social Media:
Website | Facebook | Twitter | Instagram | SoundCloud | YouTube |