Ready for another offering to the bass gods ahead of Dirtybird Campout West? Check out this sick mix from Anna Morgan!
---
While Dirtybird Campout West may be known for its sick house music lineups, the dark side of the festival is just as jam-packed with talent that you simply cannot ignore. Providing the festival with a dose of bass music of all styles is the Bass Lodge, home to plenty of artists that have been making serious waves in the scene like Anna Morgan.
Coming off sick performances at Shambhala and Future Forest this summer along with a string of other shows as well, we've been paying close attention to Anna Morgan lately and have been nothing but impressed. Co-Founder of Worst Behavior Records with fellow female bass artist Bell Curve, she continues to bring her best to the table as she takes the stage all over the globe.
Featuring 44 tracks of unadulterated electronic bliss ahead of Dirtybird Campout West, Anna Morgan brings everyone from TroyBoi and Yheti to Hudson Mohawke and Ivy Lab into the mix. Of course, she's graced us with some of her own tracks too, so keep an ear out for her track "Grace", as well as some remixes inside. Known for bringing some emotion to her sets as she guides listeners on a journey deep into sound, this mix is one that you should take a listen to.
Tune in to Anna Morgan's Dirtybird Campout West mix below, let us know what your thoughts are on her style behind the decks, and grab your tickets to the festival today via Eventbrite!
---
Stream Anna Morgan – Dirtybird Campout West 2018 Mix Series on SoundCloud:
---
"Our label "Worst behavior" basically means being unapologetically true to your artistic vision. I had a really fun time doing just that making this mix for Dirtybird Camp Out West, presenting my hybrid flow, a current interpretation of the hardcore continuum, while simultaneously sharing my story, friends, community, and inspirations. Shout out EDM ID for premiering this mix, and Dirty Bird & Claude Von Stroke for championing the underground and holding down to the values of Peace, Love, Unity & Respect <3"

– Anna Morgan
---
Tracklist:
Halogenix- Raeph
Troyboi- Do you? (OAKK Bootleg)
Sam Binga ft TT-The Artist- Bad Bish
DJ Shiftee- Bubble Up
Subreachers- Pistol Grip ( DJ Madd Spooky Flip)
Stranjah- JWBRKR
Nicki Minaj- I am your leader ft Cam'ron & Rick Ross
Hudson Mohawke- Cbat
Tre Oh Fie- Neva Seen
Fixate X Dismantal- Fire Water
6BLOCC- How you like me now
Fixate x Skeptical- The Rig Monkey
Sharkweek- Super Ugly (Josh E Wink Remix)
Mel G ft Nikes- Bounce
Jlin- Never Created, Never Destroyed
Kabuki, Stray, DBridge- With U
Landlord's House Coat- Watch Yo Step (Itoa remix)
Itoa- Turbo Sideman
Ghostwhip- Gant Man's Lighter
Philip D Kick- Vibe Off ft DJ Spinn
Anna Morgan- Grace (A.Fruit remix)
DJ Rashad- Acid Bit Ft. Addison Groove
Joy Orbson x Boddika- Mercy (Slick Shoota VIP)
Jlin & Zora Jones- Dark Matter
MC Bin Ladin- BOLOLOHAHA (Nikes bootleg)
Sam Binga & Om Unit- Windmill Kick
PEAS- Just some Iranian Shit
Cadenza & Nasher-Gyal Town
Luke Leadbelly & Samurai Breaks-Send Back
soon- lunar twist
Musical Mob- Pulse X (Anna Morgan Remix)
Rico Nasty- Smack A Bitch
Richie Brains- Dem a talk bout
Metafloor- Mo Power (Moresounds)
landlord's Housecoat- Eviction Notice
Lamont- Titanic (Anna Morgan Remix)
Hoverboots- Polygon
Sinjin Hawke-Nailgun
Yheti- Hey
OAKK- Talk to me
Lakeway-Out of touch
Ivy Lab- Thirsty
Chango- ClikClak
Fixate- Ripgroove Flip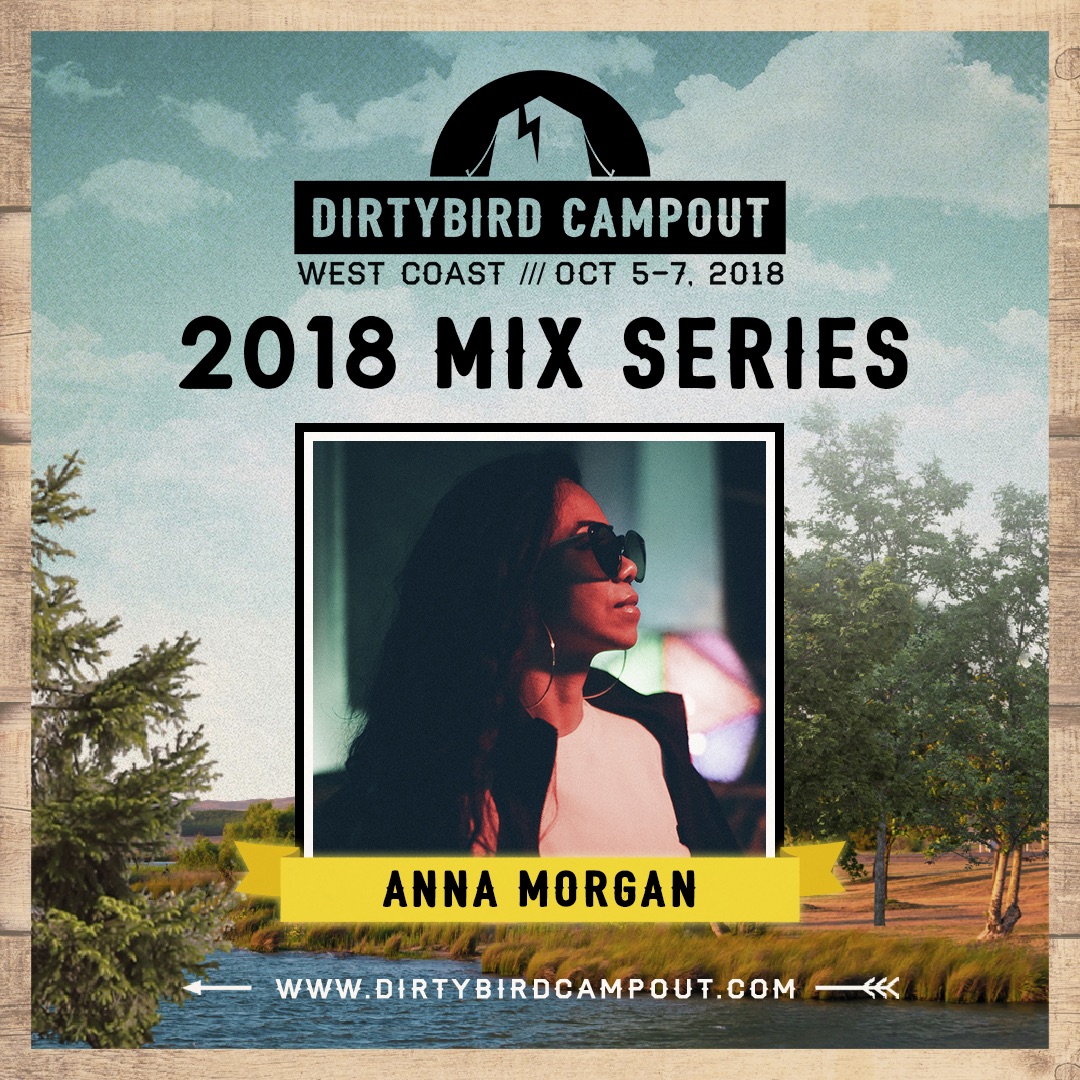 ---
Connect with Anna Morgan on Social Media:
Facebook | Twitter | Instagram | SoundCloud | Mixcloud
Connect with Dirtybird Campout on Social Media:
Website | Facebook | Twitter | Instagram | SoundCloud