Super8 & Tab sat down to chat about These Little Stories (Part 1), celebrating memories with fans through music, and more!
---
In the face of all the adversity this year, Super8 & Tab have continued to drive forward with their signature "hybrid trance" sound, one that really adds another dimension to trance while also inspiring the next generation of artists. After all, it's been a year since they've launched Scorchin' Records and the duo recently launched their next label imprint, Scorchin' Progressive. The new imprint to show a deeper side of trance with artists such as Dreams, Reznor, Tom Klay, and Francesco Sambero.
Other than music and music labels, the Finnish duo has been hard at work producing their latest release, These Little Stories (Part 1) which focuses on the memories they have been making with their fans. In the track, "Rooftops," it is hard not to picture yourself on one somewhere with Super8 & Tab dancing the night away.
With stay-at-home life continuing into the summer, we caught up with Super8 & Tab to get inside scoop on their recent collaboration with Armin Van Buuren, their work as label owners, life in quarantine, and more! Be sure to check out These Little Stories (Part 1) and read on for the full conversation.
Listen to Super8 & Tab – These Little Stories (Part 1) on Spotify:
---
Hey Super8 & Tab, thanks for speaking with us today and congrats on your new album, These Little Stories (Part 1). While it might not have been released under the most ideal circumstances, what has the response been like so far?
Feedback has been amazing! And yes we where hoping to be on the road with this album to play it live to all our fans around the world but it is what it is. Its been busy first part of the year so it's nice to take some time off and actually spend weekends with our families! 
We love how the concept of the album was inspired by your friends, family, and fans. You also encouraged fans to share their Super8 & Tab stories, can you share one or two of the most memorable ones?
Our fans and their stories really inspire us and this album is dedicated to all of them!
There are so many stories and they all are equally important. It can be someone waking up every morning to our tracks or they have theme song which they always listen before they go out. We have heard stories how people get married, having birth of their first baby or how our music helping them to get trough some difficult times in their life. We love hearing these stories!
When you look back at your own stories is there a specific moment that stands out to you as special as artists? 
Obviously our kids and family are special to us. Everyday is special when kids are growing and learning new things! Also every show we do is very special for us. We always remind ourselves how lucky we are that people come to see us playing our music all around the world. It's amazing feeling everytime! When you have travel, play music, and you meet new and old friends and you hear their stories it really goes under your skin.  
There were a few collabs in this album including one with Armin Van Buuren called Leka. What was the collaborative process like when working with Armin on the tune? Is there a story behind "Leka"?
To finding the right type of demo to start with took some time but after that it was really fast process. Every version was a little bit different when we send it back and forth. It was a fun project to work with and we are very proud of the result! 'LEKA' is a Finnish word for sledgehammer and it is also Dutch slang word meaning wonderful etc. So what started as a project name actually stayed and on top of that was a double meaning for it. (laughs) But yeah, this is another tune we cannot wait to start playing live!
You also collaborated with Christina Novelli for the first time as well on the album. When you're approaching tracks with singers/songwriters, what is that process?
Usually, we invite artists to our studio but this was a bit different approach than what we normally do. We got this wonderful topline from her and we fell in love with it right away. After a few months of work, we built production around it and sent it back to her and she really like it too! Luckily, we had few live road tests before the COVID19 lockdown.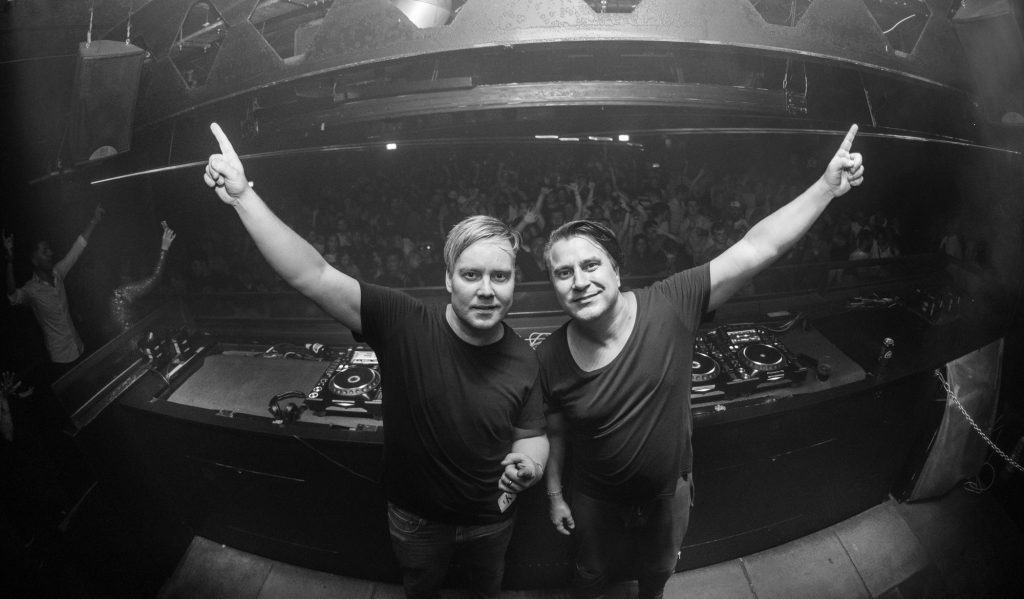 The album also reflects Super8 & Tab's wide musical abilities to make not just progressive trance but also big room or chill. After so many years in the scene that is ever-evolving, what is your stance on the importance of classifying music in genres?
Albums are a great platform for artists to showcase other sides of their musical inspirations. It's also referring and inspiring to break your daily habits. And yes, the dance music scene is in constant moves and that's why we call our music 'Hybrid Trance'. It's always changing but still keeping the trance in a core of everything.
Scorchin' Records has featured a bevy of artists like Sodality, Emerge, and Avenia among others. What's the process like when looking tunes to release on the label? Is there a moment when you're listening to a demo and it just clicks that you should sign the tune?
We get a lot of good music every week. We listen and reply to every track that gets sent to us. We feel it's our responsibility to get back to the artists as we know how much effort they put into every track. We have all been there!
When we started our international music career, we got a lot of support and advice from other producers like Above & Beyond. Now it's our time to give back to new talents and Scorchin' Records is all about that! The Scorchin' label is growing slowly as we like to be as a family and really help each other on the scene because together we can make a difference.
We just started Scorchin' Progressive a few weeks ago which showcase a bit deeper side of trance. We already signed great artists like Dreams, Francesco Sambero, Reznor, and Tom Klay. So stay tuned!
We've also been enjoying your livestreams while we all remain stuck in quarantine. What are your thoughts on artists using platforms like Twitch, and can you share what your experience has been like so far online?
The COVID19 lockdown really put everyone in a new situation. At first it was a bit weird to play music alone to the camera but Twitch is a great platform to do live streaming as the community is so welcoming and friendly. Chat is going crazy and people are tuning in from all around the world. I'm sure streaming is here to stay even when clubs and festivals are opening again.
How have you managed your time during the quarantine to stay healthy both mentally and physically?
Tab: To be honest, I was 2.5 months on and off ill. I took the COVID-19 test and it was negative. For the few last weeks, I've been feeling better. Luckily, we have more time to be home with our families so that's a huge bonus of being off from touring. And now summer is here and days are longer (18hours daylight) in Helsinki. We (me and Super8) have plenty of sunlight to brighten our days! We hope this will be over soon and people can get back to their daily routines. However, we also hope the community building during these times has some value in a future! 
Finally, when quarantine ends and we can experience music live again, what would be the first song you would play on the decks and why?
Ohh soooo many tunes to play but first thing came to my mind was 'Live for Tonight' featuring Jess Ball. I'm sure it will be hard to stop playing once we start!
And to our fans, take care and be safe! Remember to check your friends how they are doing too!
---
Follow Super8 & Tab on Social Media:
Website | Facebook | Twitter | Instagram | SoundCloud | YouTube