Fans are flocking to Gabriel & Dresden's Twitch channel to dance their worries away from the safety of their Rave Cave during Club Quarantine.
---
Life as we knew it has changed within the blink of an eye once the COVID-19 pandemic took hold of the world. With no festivals, concerts, or club nights until further notice, the only thing that keeps us all going and has not failed us since the beginning of its creation: Music… and a lot of it.
It's almost overwhelming how much good music we're surrounded by now with artists like Above & Beyond, Lane 8, and Seven Lions continue to play outstanding sets you'd never hear otherwise. Other artists have also begun streaming seemingly non-stop to keep the energy up for both themselves as well as their fans, but one of the first to truly dominate the virtual space is iconic duo, Gabriel & Dresden.
As soon after the cancellation of events began to happen back in March, Dave Dresden gathered his daughter's stuffed animals and joined in too. On March 19, the first-ever edition of Club Quarantine was completed. Clocking in at over five hours, fans everywhere were relieved that they were still able to see Dave's smiling face. This was extra special for many considering the unfortunate timing of the COVID-19 outbreak happening in the middle of Gabriel & Dresden's Remedy album tour.
Since then, Dave Dresden has made it a point to stream incredible sets on Twitch, sometimes lasting up to 12 hours long, and fostering a following of people who look forward to his shows every week. Now, over a month later, the show has become a phenomenon with a thriving Facebook group, a seemingly never-ending Quarantrain that raids channels, and a home for other artists in the AnjunaFamily.
Since opening its doors, the Club Quarantine group on Facebook has swelled to over 2,000 members and has provided an intimate relationship with the duo and other Anjuna artists.
Throughout the run of Club Quarantine, there have been a few things that have just left me in complete awe and the community on Facebook has proven we're all in this together as one big family. Aside from supporting the absolutely scorching sets, they've done everything from creating merch to show support to coming together to buy Dave a new sound card for his streaming setup.
Club Quarantine has generated plenty of hype within the Anjuna community as well, even gaining attention from the label's biggest artists. Everyone from Ilan Bluestone and Spencer Brown to Andrew Bayer and Matt Fax have joined in on the fun and watched the shows with fellow fans. This, in turn, has generated a much more intimate connection between these artists and the community as a whole. Josh Gabriel (Dave's counterpart in Gabriel & Dresden) even took the time to help a lost connection between two fans in hopes of finding their soulmate!
Through Club Quarantine, fans have also shown support for other, lesser-known artists streaming on Twitch.
One of the coolest things about Twitch is the ability for streamers to raid their friends and other channels on the platform. For those who are unaware of this feature, a "raid" happens when a streamer sends the viewers from their channel to another channel of their choosing.
During the episode of Club Quarantine on April 12, a group of dedicated fans decided to use this feature to keep the party going after Dave ended his stream. From then on, the aptly dubbed Quarantrain has been influencing streamers to raid lesser-known artists and has been doing so continuously ever since with no signs of stopping anytime soon.
The Quarantrain has "Conductors" who lead the group in deciding which channel to raid and the streamer follows their lead. Stopping through the streams of artists like coffeeandtrance and Achilles along with supporters of Club Quarantine including Xijaro & Pitch and Somna, they always make sure to pull into the station when Dave gets on. This a great example of how positivity and togetherness can affect even those outside of the fan group and that's really what Club Quarantine is about.
As we now enter the third month of Club Quarantine, the show has come such a long way to become something truly polished.
Since their initial two-week run, Gabriel & Dresden have established a weekly schedule for the show: Techno on Tuesdays, Current Trance on Fridays, Classics on Saturdays, and Deep Sets on Sundays. Pre-parties have been getting scheduled by artists like Fatum as well so fans can gear up for the show, highly anticipated Armada Music newcomer AVIRA made his debut during an episode, and even Hardwell shows up to cheer Dave on (and also gives statistical information in the chat)!
With so much going on in the world, people are looking for a place to escape from it all – a place of solace – and Club Quarantine has provided that.
These weekly streams have provided fans with new friendships, a better understanding of artists and knowledge of incredible music, as well as inside jokes (#PineconeGang), Andrew Bayer saying the wildest things in the chat, and so much more. All this while Dave spins lengthy sets with fantastic track selection to make Club Quarantine a respected weekly music event recognized by artists even outside the Anjunafamily.
For me, tuning into a Club Quarantine episode and seeing the chat light up with messages of positivity and wholesomeness really has lifted my spirits. It's something I look forward to and love tuning in to four times a week. If there's one thing we're learning through these unprecedented times it's that music conquers all and can bring us together no matter the circumstance.
So whether you're riding The Quarantrain or bopping along with Dave on the 10th hour of his stream, it's safe to say there is an amazing group of people in the Club Quarantine family. Dave really has shown us that love and positivity is all you need to get through such tough times, and I can't thank him enough for everything he has done.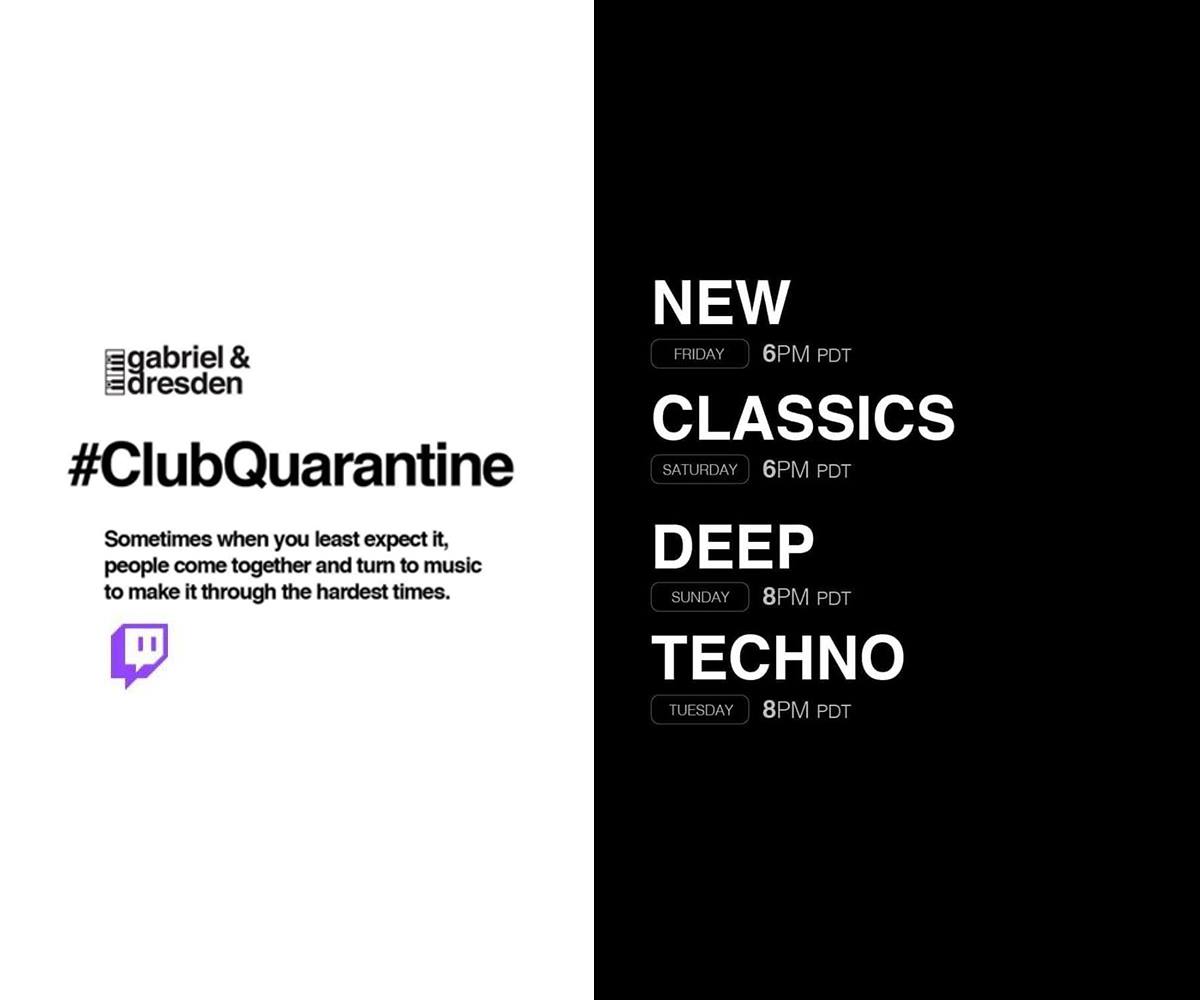 ---
Follow Gabriel & Dresden on Social Media: