Vampa returns to Kannibalen Records for the release of the Dark Matter EP featuring two tracks that bring a unique bass music vibe.
---
Hailing from Chicago, Vampa has been steadily rising in the bass music scene for several years. Starting with "Chillin, Killin" on Kannibalen Records' All I Want For Christmas is Bass compilation in 2018, she has since released tracks on Big Beat Records, Deadbeats, and Boogie T's Drama Club Recordings. Her first release of 2020 is a big one: a two-track EP on Kannibalen titled Dark Matter.
Dark Matter features two tunes that capture a heavy, spiritual vibe influenced by the heavier and deeper side of the genre. Vampa's music combines both new and old school dubstep elements, and she often samples her own voice on her tracks to create a one-of-a-kind sound.
We caught up with Vampa to ask a few questions about Dark Matter, her career progression, advice for upcoming producers, and more. Listen to the full EP below, download or stream it on your favorite platform, and keep reading for our interview with this exciting up-and-coming bass music artist!
Stream Vampa – Dark Matter on Spotify:
---
Congratulations on the release of your EP Dark Matter! This is your first EP release on Kannibalen Records and the follow up to your 2018 Kannibalen single "Chillin, Killin". What has it been like to work with them and have their support?
Black Tiger Sex Machine has been an inspiration to me for years. Back when I was playing to rooms of ten people, their tracks were always on my playlist, making this a very "full circle" moment in my life. From their production to their live performance, they are considered top tier artists in the industry and amazing people off stage as well.
Touring with them opened my eyes to just how hard they work every single day to make their dreams a reality. I believe it's important to surround yourself with artists who inspire you, as they can provide insight into how to allocate your energy for optimal results and translate a vision into a working piece of art to share with your fans. I am greatly honored to have their support along my journey, as they are truly masters of their craft! 
The EP features "Dark Matter" and "Masquerade", with both tracks showcasing a multi-genre bass music sound. How did you ultimately select these two songs for the EP and what are your favorite qualities of each?
From the start, I knew that I wanted to include tracks that encompass a different vibe. To me, Dark Matter is a feeling of vastness; embracing the unknown and coming to accept one's darkness as means of triumph and evolution. Dark Matter is highly spiritual in nature, opening up the floor to personal reflection, encouraging others to appreciate the challenges they've been through, and welcoming uncertainty about their future with excitement. In the end, light cannot exist without the contrast of darkness, and the times where I've felt my lowest have taught me how to better navigate my life.
The lyrics of "Dark Matter" are my favorite on the EP for these reasons. Comparatively, "Masquerade" moves beyond that self-reflection and embodies one's connection to others around them. This track is about finding love and investing oneself in the right people. Sometimes it can be hard to tell if someone's intentions are pure, and that wonder of "are they who they say they are?" is indicated in the track title.
"Masquerade" represents a very personal and recent experience in my life, and I love that I was able to work through these feelings and communicate that experience via music. I adore this track for its relatability and relevance to what many of us have gone through in the realm of love.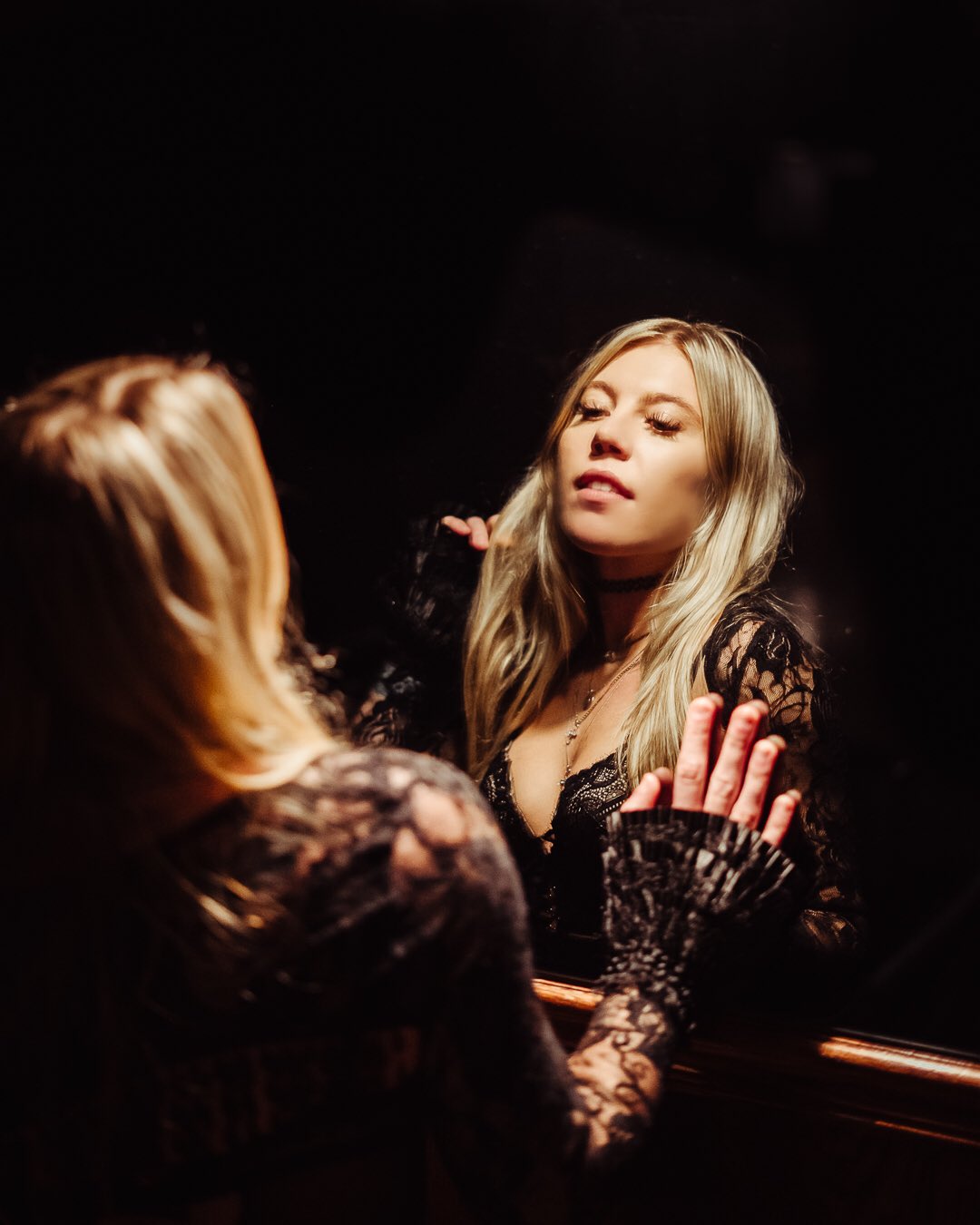 Many of your tracks, including both on Dark Matter, feature your own vocals. What are some other elements that make your music stand out?
A lot of people have pointed out that they love how my music bridges the gap between older sounding dubstep and new wave dubstep. As someone who grew up listening to artists like Zeds Dead (people who I consider incredible producers in this space), that is the biggest compliment in my book.
To me, that type of dubstep can be appreciated by anyone, as it isn't always just music to headbang and mosh to, which is super prevalent in the industry these days. Headbanging can be a very liberating feeling, one that I appreciate for getting me into my groove and making me feel like a badass.
However, I also love those moments within a set where you get time to breathe, to reflect, think about your life, and let out a lot of pent up emotion. Since I play a lot of heavy tunes, it makes me happy to give the audience an opportunity to relax and vibe. I believe this type of throwback sound makes my music stand out. 
Last year, you released the Haunting EP on Deadbeats. How has your music grown since 2019 and what can listeners expect from Vampa in the future?
As time has passed, I feel like I'm slowly moving into a harder sound. With each release, I can hear the evolution. Haunting was a more wonky vibe, while this one encompasses a darker type of dubstep. I am definitely still experimenting with my sound, and I can see that in future releases I will aim to keep pushing that boundary of how hard I can go, while still remaining true to that older style dubstep sound I grew up appreciating so much. 
Finally, what's some advice you have for up and coming producers trying to improve their music during quarantine? 
PRACTICE, PRACTICE, PRACTICE! Not often does the world get to take a break and allow us to try new things and experiment in areas we've always wanted to. Taking full advantage of the downtime you have in your day can only push you further towards your goal.
Personally, I have always struggled with trying to make something perfect from the start, but I've recognized how this has cut off that creative force that lets me try new things just for the heck of it. If that means you're not always just trying to finish a tune, but instead spending the whole day sound designing or watching tutorials and taking notes, that's still progress!
Any amount of effort you put in now means future results, so don't be afraid to let yourself spend hours on something that at the time seems irrelevant. Learning is learning! 🙂 
---
Follow Vampa on Social Media:
Facebook | Twitter | Instagram | SoundCloud