Tell the suckas to duck off, because Boogie T is back with his latest EP Old Gold that just dropped today on Drama Club Recordings!
---
Boogie T is back at it again! The Louisiana-native dropped his Old Gold EP today on his label Drama Club Recordings. This marks his second release in two months following the release of his hip-hop project, Sweet T, at the end of September. Now, after continued success with his group Boogie T.rio and a well-received entry into the rap game, Boogie has returned to his roots and released his first multi-track dubstep project since 2017's Soul'd Out.
If you're looking for a crash course in Boogie T's trademark wonky, wobbly dubstep sound, look no further. Fans should recognize many of these tracks, as he has used a number of them in mixes and live sets including his recent guest mix on Insomniac's Night Owl Radio. The EP even includes a collaboration with Subdocta, another master of the wobble sound. You can catch both of them on tour with Ganja White Night when they hit a city near you this fall!
Stream Old Gold on Spotify below and keep reading for my take on Boogie T's most recent masterpiece!
Stream Boogie T – Old Gold on Spotify:
---
The EP starts off with a bang on "Bad Mon Choon."
Get ready to wobble, folks. "Bad Mon Choon" is, in a way, the quintessential Boogie T dubstep track as it starts off slowly, with a light synth line and driving beat underneath. Then, after a quick eight bar build-up, Boogie goes crazy with an absolutely infectious riddim-laced drop. It's fun and should have his fans bopping their heads when he throws it down at his live shows! A bad mon choon indeed.
Boogie pulls the tempo back on "Mountain G.O.A.T."
Don't let the slower tempo confuse you: this track is just as much of a banger as any of the others on the EP. Boogie has a lot of fun with the vocal samples on this one, which has become something of a trademark for him on his previous releases. It's a great follow-up to the opener and plays nicely into the wonky, glitchy overall sound on the record.
"Duck Duck Goose" is the grooviest instruction manual of all time!
This is how talented Boogie T is: he can take a person reciting the rules of "Duck Duck Goose" and turn it into an absolute jam. This is the most vocal-laden track on the EP and he does a masterful job balancing the rules of the game with the sounds of chaos as children play. It's fun and light-hearted, yet Boogie builds a deep groove that's sure to become a fan favorite.
The EP closes with "Bambaata," a collaboration with Subdocta that's sure to turn some heads. 
The opening strains of this song lead seamlessly into a rolling guitar line from Boogie T and from there, all hell breaks loose. The intro will have you thinking of old-school Nintendo and a quick build-up leads into a crazy, bass-fueled drop. I've heard this one in a couple recent mixes and sets, and it's extremely satisfying to hear the track in its entirety. I hope he drops it when I see him later this month!
---
Boogie T – Old Gold – Tracklist:
Bad Mon Choon – 3:46
Mountain G.O.A.T – 3:12
Duck Duck Goose – 3:45
Bambaata (w/ Subdocta) – 4:04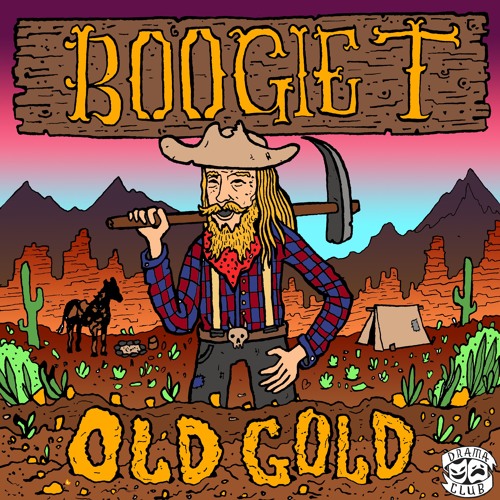 ---
Follow Boogie T on Social Media:
Website | Facebook | Twitter | Instagram | SoundCloud