Chocolate Puma has been a force in dance music since the '90s and they just revealed their Tonco Tone imprint under Spinnin' Records.
---
Dynamic duo Chocolate Puma has a story unlike any other artist. Rene ter Horst and Gaston Steenkist first started producing together in the early nineties under several different projects. They found massive success in "Give It Up" in 1993 as The Good Men and "Who Do You Love Now?" as Riva in 2001, with both tracks reaching a worldwide audience.
They debuted the Chocolate Puma project in 2001, and nearly twenty years later, Rene and Gaston continue to be one of Europe's most popular dance music acts. They've turned into a staple of Spinnin' Records over the years, releasing several EPs and unforgettable tunes like "I Can't Understand" with Firebeatz. Along with consistent track releases on prestigious labels including Mixmash, Musical Freedom, and more, they've also found a home on Heldeep Records via collabs with artists like Oliver Heldens and Moksi.
Earlier this year, Chocolate Puma revealed Tonco Tone, their very own record imprint under the Spinnin' Records umbrella. The label has already released unique tunes including "Megablast" and "Elderly People" featuring Carta, and plenty of more music is on the way. They were scheduled to make their first-ever appearance at Ultra Music Festival this year, and we caught up with Rene and Gaston to chat about the record label, their decorated history, plans for the future, and more.
Listen to "Elderly People" by Chocolate Puma and Carta on Spotify:
---
Thanks for chatting with us today Chocolate Puma! Your new record label Tonco Tone focuses on house music that's unusual and extraordinary. What's some advice you have for producers that hope to one day release on Tonco Tone?
Be original, do whatever YOU like. Don't try to make a track that was already made before by someone else, make sure we can dance to it, and above all, enjoy making it.
Tell us about the debut single "Megablast". How did you choose this as the first release on Tonco Tone, and what are your favorite qualities about the track?
When we do a live DJ set we sometimes start with a very powerful first track, just to let the people know we are in the house. That's kinda what we did with Megablast as a first release, to let people know Tonco Tone is here!
You also released "Soul Fifty" with Firebeatz earlier this year, one of many collaborations with them. What are your studio sessions like when you collaborate?
First of all, Firebeatz are super good friends and we always have a lot of fun together in the studio. Most of the time we start by talking about music and tracks that we like at the moment. Then we order food, mostly hot Thai soup or curry (or both).
Then we start fooling around with sounds and rhythms, having a blast together. At one point though we all get serious and finish the track. This whole process can last days or even weeks.
Being together since the nineties, what are some ways in which you keep the production process exciting and continue to stay motivated and produce new ideas?
We're always open-minded about new things, whether it be software, new music, or working together with young producers. We try to keep it fresh and that way it stays interesting and fun for us.
In 2018, the A Journey Through House compilations were released, which feature dozens of tracks from your past projects like Jark Prongo, The Good Men, and Riva. How important is it for you to shine a spotlight on this music and educate listeners on your history?
That is very important for us because it's our history. It is what made us who we are now and we're very proud of it. We are very happy that it is all available on all portals now, as back in the days when we produced those tracks it wasn't available digitally. If you wanted to play our music you had to buy the 12" vinyl and if you missed it, there was no way to get it anymore. Sold out really meant sold out back then!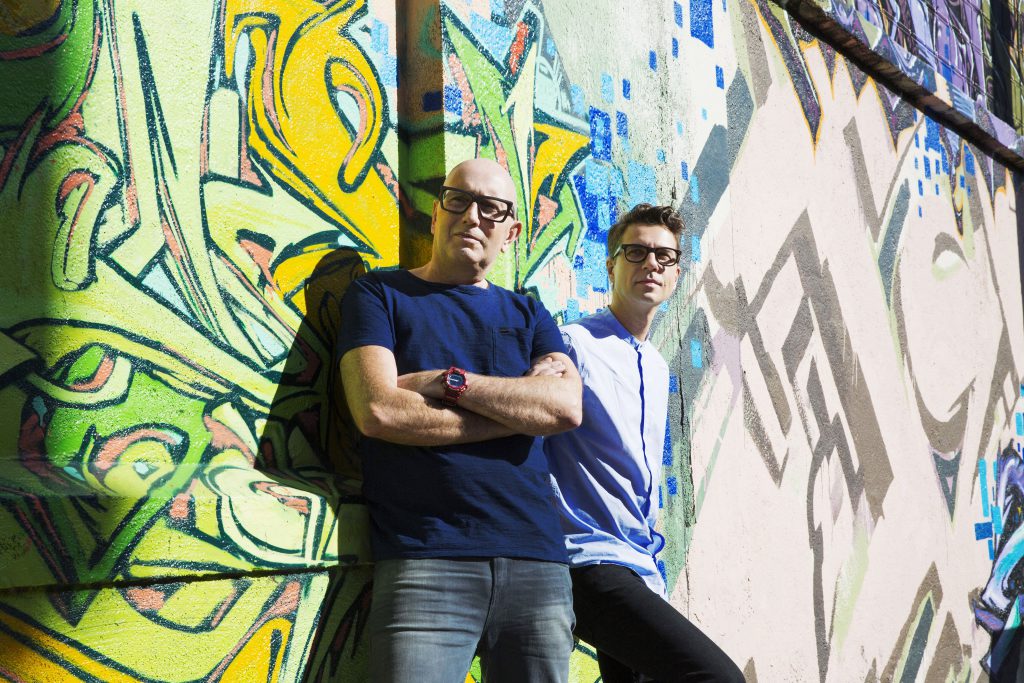 Your decorated careers have even included many radio hits that nearly reached #1 on the charts. Having been through so much as artists, what are some of the biggest difficulties you both have faced over the decades?
As every young artist, we also had our fair share of people that didn't have our best interest at heart. Not that we got really screwed over, but there were some bumps in the road. What is important though is that we learned from these situations. Another thing that can sometimes be difficult is if you experience some kind of writer's block. We think every artist can relate to that. Luckily we always have been able to get our creativity flowing again.
While today, electronic music is basically mainstream, the culture was very underground when you first started. Now that you've seen it all, what's your favorite and least favorite thing that's changed in dance music throughout the years?
Back in the days we sometimes found that house music or dance music deserved a much bigger audience than only the underground. Now the whole world knows house music or EDM or whatever you want to call it. So I guess that's one of our favorite things that happened. Another super nice thing is that we do not have to carry big boxes of records anymore and that we can produce anywhere, anytime, and play our music for a crowd like 5 minutes after it was made.
Least favorite is that we see a lot of young producers and DJs sometimes think about the business, career moves, and appearance a bit too much. Yes at some point it may be wise to have a manager, a videographer, or even a tour manager, but never let it be more important than the actual music and having fun making it.
Now that you have your own label in Tonco Tone, what excites you most about both the future of the label and of electronic music as a whole?
As always, we cannot wait to hear all that exciting new music!
You were scheduled to play at Firebeatz & Friends during Miami Music Week and make your debut at Ultra Music Festival this year. While this is obviously disappointing, what are some ways that you're staying positive and active while dealing with the coronavirus pandemic?
There is literally nothing you can do about the situation besides making sure you and your loved ones stay safe. We're in this together and in a weird way that also kinda helps to stay positive. We have lots of time to contemplate life, finish music, and catch up on some sleep. We look forward to playing Ultra Miami, Tomorrowland, and many more in 2021!
Lastly, what's a message that you can share with your fans during this difficult time?
We're in this together and hopefully, our music can bring you some joy!
---
Connect with Chocolate Puma on Social Media:
Website | Facebook | Twitter | Instagram | SoundCloud | YouTube