Pasquale Rotella and the Insomniac crew are helping you beat the coronavirus quarantine blues with sets from past editions of EDC Las Vegas and more!
---
The past few weeks have seen some of the most difficult moments surface as the entire dance music community has been rocked by the coronavirus pandemic currently sweeping the planet. Festivals have been cancelled or postponed, jobs have been lost, and the world as we know it will never truly be the same. But the community has come together during these dark times and now Insomniac is helping as well.
The past few days have seen a serious influx of artists and promoters flocking to streaming platforms like Twitch, YouTube, and Facebook to connect with their fans and cope together. Whether it's production tips, livestreams with some dope beats, or simply chatting with fans, it helps bring the entire community together during one of the toughest situations we've ever experienced.
One of the first livestreams that helped many through that initial weekend of terrible news came from Insomniac as they hosted their Factory 93 show with Maceo Plex and Doc Martin. Now, they've announced that they'll be hosting two straight weeks of nonstop performances from past editions of EDC Las Vegas, EDC Orlando, EDC Mexico, HARD Summer, and Okeechobee dating back to 2015.
Taking place from March 19 – 31, their streams on YouTube and Twitch will be running 24/7 and taking you back to sets where plenty of magical memories were made. While a schedule is yet to surface (we'll update if and when it does), we're sure that there will be plenty of fantastic beats to get down and dirty with to help beat those quarantine blues.
Stay tuned for more updates from Insomniac, make sure you're continuing to practice social distancing, and don't forget to wash your hands. We're gonna make it through this together!
Watch Insomniac Rewind on YouTube:
---
Watch Insomniac Rewind on Twitch:
Watch live video from Insomniac_Events on www.twitch.tv
---
Insomniac Rewind Broadcast Schedule: All Times in PT
THURSDAY – MARCH 19
11:00am-12:16pm – EDC Mexico 2020 – Armin van Buuren
12:16pm-1:17pm – EDC Mexico 2020 – Tweekacore
1:17pm-2:15pm – EDC Mexico 2020 – Big Wild
2:15pm-3:31pm – EDC Mexico 2020 – DJ AniMe
3:31pm-5:30pm – EDC Las Vegas 2017 – Illenium
5:30pm-6:43pm – EDC Las Vegas 2017 – Mija
6:43pm-8:09pm – EDC Las Vegas 2017 – Dillon Francis
8:09pm-9:12pm – EDC Las Vegas 2017 – Excision
9:12pm-10:00pm – EDC Las Vegas 2017 – Billy Kenny
10:00pm-10:56pm – EDC Mexico 2020 – Party Favor
10:56pm-11:50pm – EDC Mexico 2020 – Elohim
11:51pm-12:46am – EDC Mexico 2020 – Danny Howard
FRIDAY – MARCH 20
12:46pm-2:13am – EDC Mexico 2020 – JAUZ
2:13am-3:24am – EDC Mexico 2020 – Lil Texas
3:25am-4:15am – EDC Mexico 2020 – Kutski
4:15am-5:28am – EDC Las Vegas 2017 – Afrojack
5:28am-6:26am – EDC Las Vegas 2017 – Alison Wonderland b2b Diplo b2b Jauz
6:26am-7:26am – EDC Las Vegas 2017 – Dirty Phonics b2b Habstrakt
7:26am-8:50am – EDC Las Vegas 2017 – Alesso
8:50am-10:22am – EDC Las Vegas 2017 – Above & Beyond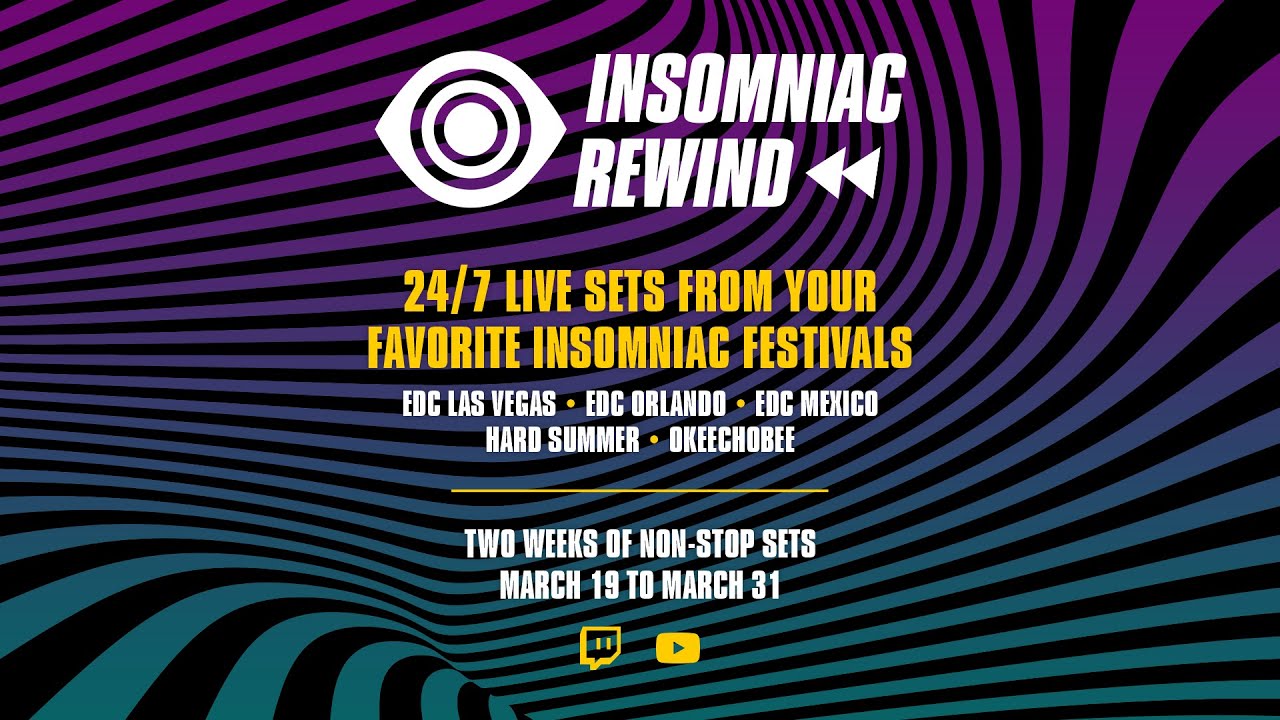 ---
Connect with Insomniac Events on Social Media: