Whether you're a single pringle or a chip on lock there are many ways to express your love throughout festival season.
---
Recently I saw a tweet from Said the Sky that prompted a conversation, stating "Say I love you without using those 3 words. Go.." that tons of his fans responded to. Some were jokes, while others were thoughtful but most of all it really got me thinking about the different ways we all say, "I Love You."
A love language can be shown through gifts, acts of service, words of affirmation, quality time, and/or physical touch. These create meaningful interactions and memories that really imprint themselves on to our hearts to build lifelong bonds.
With Valentine's Day coming up this week and a variety of events you could be attending. I wanted to compile a list exemplifying a variety of love languages that we should all keep in mind not just this weekend but throughout festival season.
While nothing really beats the direct line of just telling people that you love them, actions speak louder than words. Read on for some great examples of how you can express your love to your friends, strangers, or that special someone.
Five Ways to Say 'I Love You' Without Using Those Words: Festival Edition
---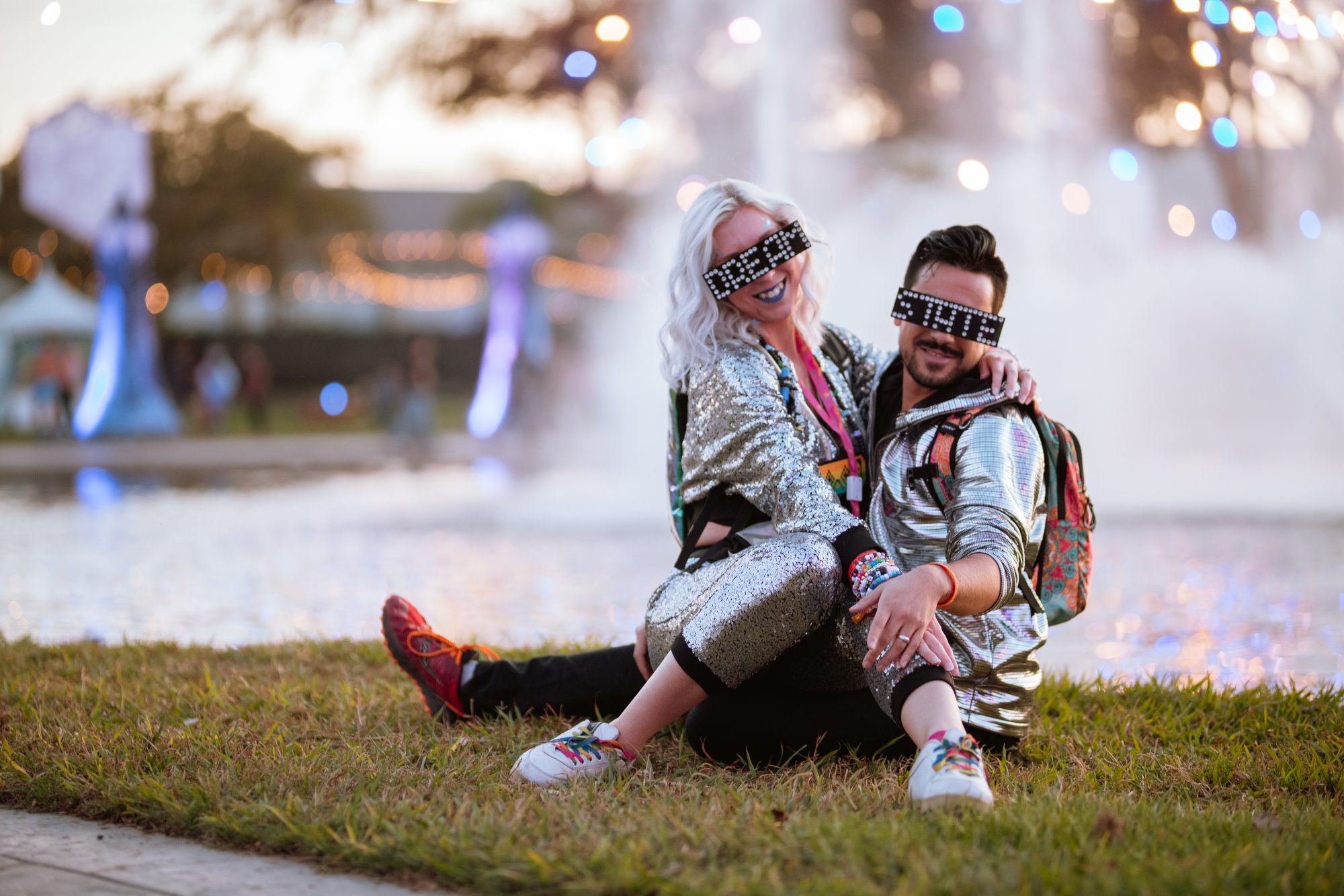 Buy a ticket for that special someone to see a show with you!
When you go to a show or festival there's a good chance that most everyone around you has at least one thing in common: you all like the music that's playing. So whether you're trying to establish a new connection or just spend some quality time with the ones you love a ticket is always a sure bet to express your feelings and develop a closer bond.
The nice thing about this gesture is that you can add any number of activities to supplement your time. Go get some food beforehand or maybe a late-night snack after the show. If you've ever checked your steps after a festival then you know in many cases you walk more than five miles without really noticing. Not to mention all the calories you burn from dancing too. So be sure to balance out the burn with some nutritional calories, plus smoothies are delicious.
While any show or festival would do the trick, the ones that are catered to their favorite artists or genres are always a hit. Additionally, events like Crush always have some love in the air.
---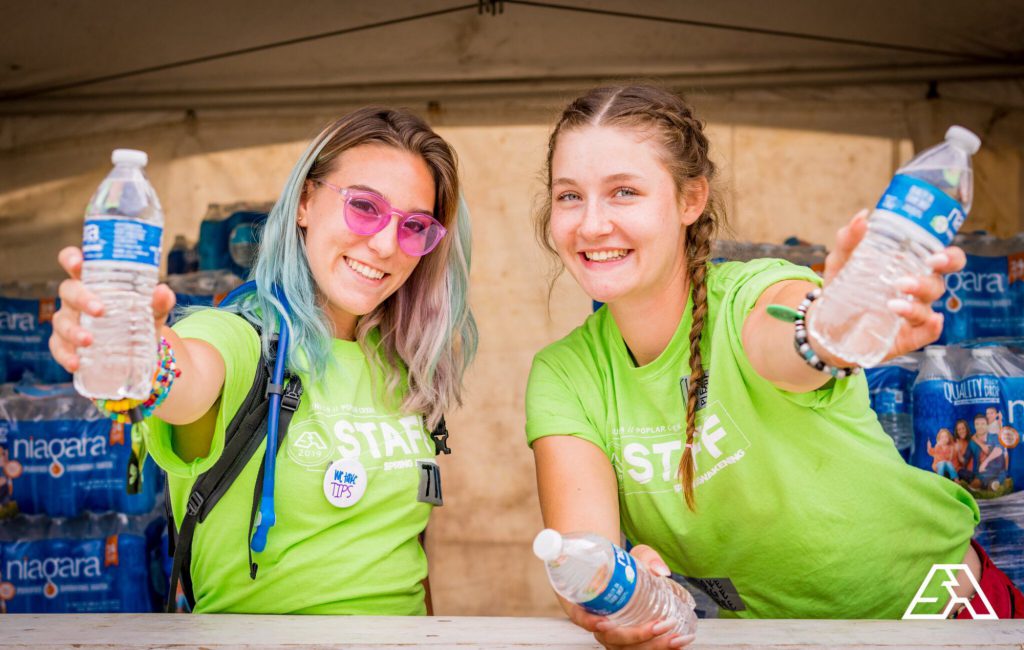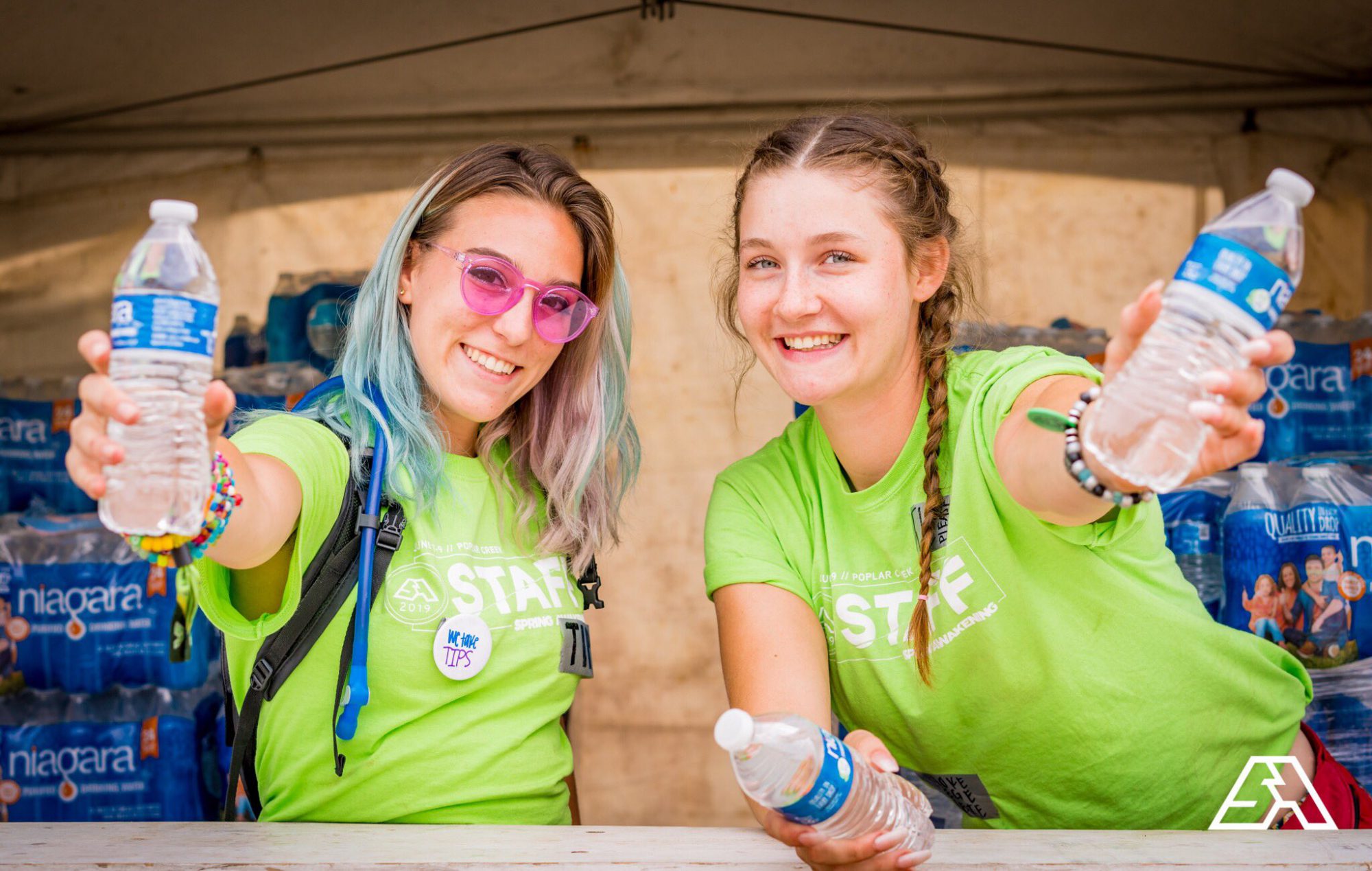 Check-in on them and show them you care.
Do you need water? Have you eaten? Text me when you get home? How are you feeling? Do you need anything? All of these questions are ways that we show our friends and loved ones that we care about them.
Staying hydrated at events is an absolute necessity and having water on hand could save someone's life too. Offering them water from your Hydration Pack, taking their pack or bottle with you when you go to refill, or even just bringing bottles of water back when you run to the restroom will go a long way to keeping your fam safer at events.
With so many sets to catch it's easy to lose track of time and friends who are struggling might have a hard time expressing that they need help. That's why it is important to stay alert and remember that sometimes all it takes is for the question to be asked. Take care of the people you love.
---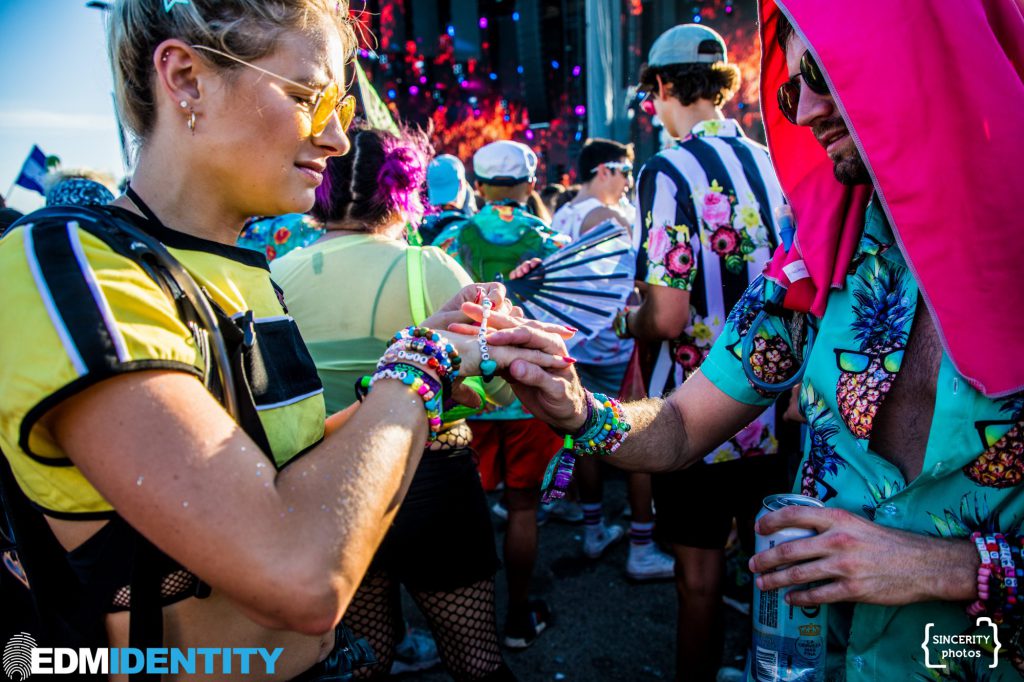 Small acts of kindness go a long way.
Many times it's the smallest actions that can really mean the most to the people around us. If I have the thought to compliment someone, I usually say it out loud because you never know when you might see that person again, what they're going through, and what that positivity might mean to them right at that moment. It takes less than five seconds to say that someone's outfit looks good or their makeup is on point.
Let's not forget one of the OG raver moves is to make and give kandi to your friends or strangers you meet. These little pieces of yourself and time can express a shared interest in music, a compliment or even some pretty funny jokes. At Desert Hearts a group had a label maker and would make nicknames or phrases they could stick to people. At Electric Forest and some other festivals, writing positive affirmations on clothespins and then secretly pinning them on people is a pretty popular tradition.
Other small acts have been made easier through technology. Both popular rideshare apps like Lyft and Uber have made it extremely easy to split costs with friends. Calling a rideshare service on their behalf takes a little more coordinating but nothing says "I love you" quite like making sure your friends have a safe ride home.
---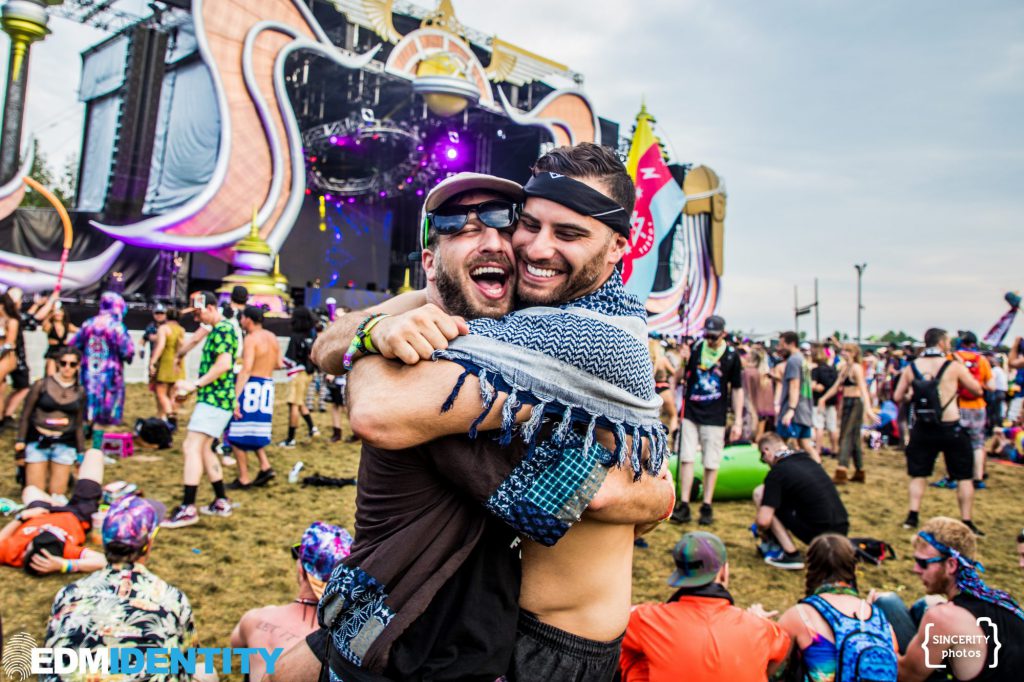 Never underestimate the power of a hug, but don't forget about consent!
We as a society, especially in the United States, don't spend enough time hugging, in my opinion. In fact, if it wasn't for festivals I might go a whole week without hugging someone. This physical contact that helps relieve stress, can reduce anxiety, can make you happier, may boost your immune system, and actually helps you communicate emotion. In fact hugs are a pivotal factor in our childhood development and yet we get less and less of it as we grow up.
I remember an instance at Life is Beautiful a couple of years ago where I saw a man dressed as a Care Bear. I half-jokingly yelled, "bear hug," and at first he seemed a little caught off guard but shrugged and came in for a hug. We were only hugging for a couple of seconds when I realized he was crying. When we finally let go he said, "what was that?" I told him it was just a hug but he said it was something special and we parted ways.
While hugs and physical touch are powerful ways to show affection it is also important that we always have the consent of the people we choose to touch. For any variety of reasons a person may not like being touched and asking "can I hug you?" takes two seconds and will save you from making someone else uncomfortable or hurting someone's show or festival experience.
---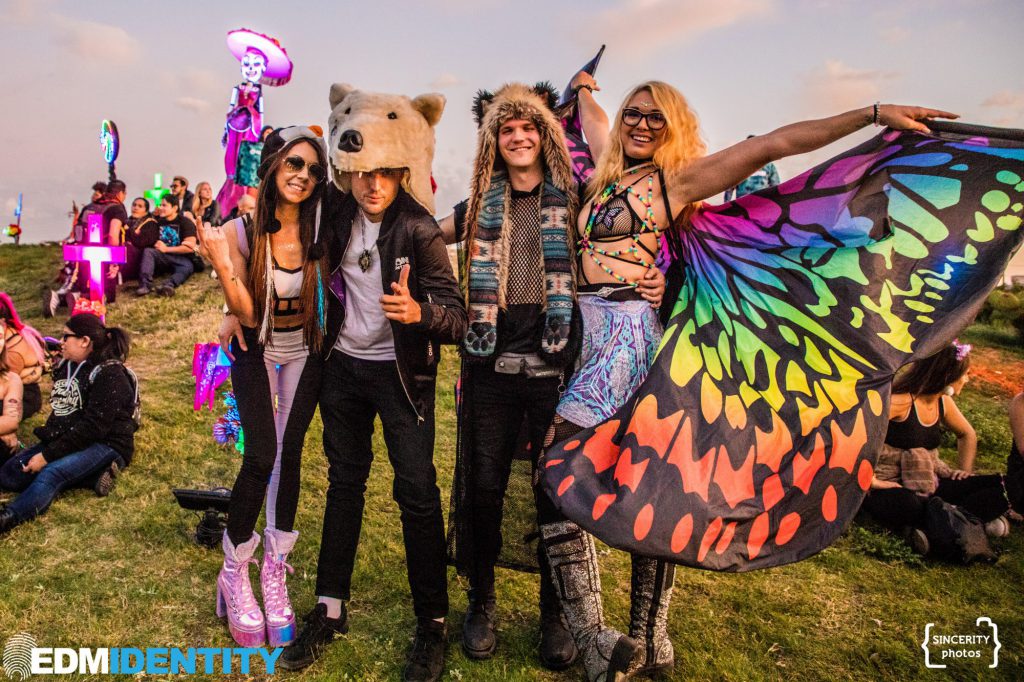 Capture moments and share them with your friends after the show.
It's normally on the walk back to the car or inside the Uber that I realize I didn't take a single photo or maybe I didn't even record a single song. While it's great if you really want to focus on living in the moment, the truth is that we all live different moments all the time. Sometimes you capture it and sometimes your friend captures it. Regardless of how or what was recorded you should set up a shared Google Photos gallery or an iCloud Share with your friends to make sure you all get some keepsakes from the weekend.
This past year I saw a lot of festivals make use of photo booths and many events have even started staffing workers by art so that attendees have someone to take their photo. This is also an area where technology has made it easier to connect with each other. Companies like Snapfish, Shutterfly, Google Photos, and a few others make it even easier to share memories by allowing you to get photos and memory books printed quickly.
Let us know how you say "I Love You" without using those three words in the comments!
---
Connect with Insomniac Events on Social Media: