Looking for that perfect hydration pack to rock with you during festival season this year? We've got some picks that you'll definitely want to check out!
---
While earplugs might be the most important festival accessory to rock when you're heading to the stage this season, a solid hydration pack comes in a close second. Aside from the most important benefit, keeping you hydrated, these bags also will save you some money that would otherwise be spent on water bottles and securely store your belongings while you dance away to the beat.
This year has seen some new contenders like Lunchbox and RaveRunner arrive on the scene to give those looking for anti-theft features and high-quality materials something to think about purchasing. Tried and true brands like Vibedration and Camelbak continue to be seen at festivals near and far as well, and while they may lack some features they make up for it in availability and variety.
To help you figure out which hydration bag to splurge on this season, we've compiled some of our favorites that might suit your needs as an attendee. As always, check your event's allowed and prohibited item list to find out the maximum amount of backpack pockets or hydration bladder capacity to help you make the right choice. Check out our picks below and let us know which hydration bag you rock at events or plan on purchasing in the comments below!
The Essential Festival Hydration Pack Staff Picks for 2019
---

Keep pace during festival season with the RaveRunner by GenZ
After an increase in thefts at festivals, it's been great to see the community respond with some new bags to help keep your belongings safe while dancing the day away. One of the emerging brands in the scene that has been helping change the game is GenZ with the RaveRunner.
Looking to fit everyone's festival needs, the RaveRunner features a large hydration bladder that can be filled with ease and multiple storage pockets that are protected by anti-theft measures. Additionally, you can customize the RaveRunner to your own style or brand with their skins that are printed on demand and fun accessories like the UnderGlow lighting.
Read our full review of the RaveRunner from EDC Las Vegas to go in-depth on the details of the bag and see if it's the right one for you!
Pictured: RaveRunner by GenZ – $69 via LiveGenZ.com
---

Another top contender in the Anti-Theft Hydration Pack space is Lunchbox
If you've been on social media in any capacity this festival season then you've likely encountered Lunchbox. Breaking onto the scene with a heavily supported Kickstarter, this Anti-Theft Hydration Pack is made for festival attendees by festival attendees so you know its full of features catered specifically for the scene.
Standing out with its clean look, quick filling bladder, and high-quality materials, the Lunchbox is a solid addition to your festival gear collection as it will protect your belongings from opportunistic thieves. Whether you plan to deck it out with one of their stylish skins and lace in some EL Wire or rock it plain for that incognito look, this is one of the most stylish bags on the market today.
Read our full review of the Lunchbox to see how it holds up at a festival and what makes this bag truly stand out from the rest!
Pictured: Lunchbox  – $99 via Lunchbox
---

This latest bag from Vibedration is out of this world!
Vibedration is a staple in the scene for any festival fashionista wanting to look cute while keeping hydrated. Although these funky bags have become known for their trendy patterns, they're also some of the most durable hydration bags in the game. Pictured above, this All-Access Space Alien bag may look like just a backpack but it also fits a whopping 2.0L of water, allowing you to spend more time dancing and less time waiting in line to refill your pack.
The pack itself also features two zipper water-resistant compartments to keep your valuables safe and dry. Although we're personally in love with this alien print, this bag also comes in other designs (including cheetah print!) to suit any style. If you care about looking good half as much as we hope you care about staying hydrated at the festival, Vibedration bags are your best bet!
Looking for last-minute shipping? Grab a similar style on Amazon!
Pictured: All-Access 2.0L Space Alien Water Backpack – $69.99 via Vibedration and use code EDMIDENTITY for a discount!
---
SoJourner has the perfect bag for your trip to a galaxy far, far away.
If you're looking for a lightweight, stylish hydration bag that won't break the bank then this galaxy print hydration bag from SoJourner is a great choice. Featuring an athletic cut, 2 Liter bladder that will keep you from having to refill often, multiple pockets that are spacious, you won't want to leave home without this bag!
Of course, if dancing among the stars isn't something you're keen on there are plenty of other prints to choose from as well to fit your outfit. Let us know if you go with the galaxy edition, a holographic look, or want to double down with some extra glitter!
Pictured: Sojourner Rave Hydration Pack 2L – $39 via Amazon
---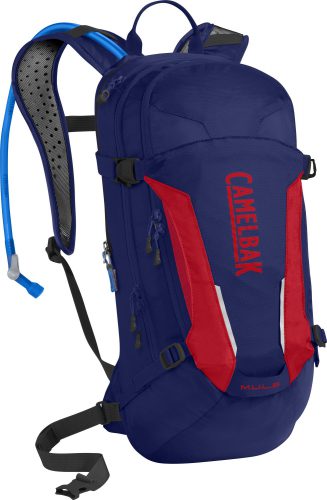 The tried and true Camelbak M.U.L.E. continues to be a must-have for those long-haul, multi-day festivals
While other contenders have appeared this year to cater more towards those who are actually attending festivals, we still highly recommend the Camelbak M.U.L.E. as a go-to hydration pack. Not only does it deliver a perfect blend of storage and bladder size, but you also will know that the pack is quality as it comes from one of the top brands in the game.
This is the perfect bag to take when you plan on leaving for the festival and not planning on returning to camp for the rest of the day, as all your belongings will fit in its spacious pockets. It is also the largest hydration bag that you can take into events like EDC Las Vegas and Nocturnal Wonderland while also being perfect for experiences like Burning Man.
Pictured: Camelbak M.U.L.E. – $84.99 – $140.99 via Amazon
---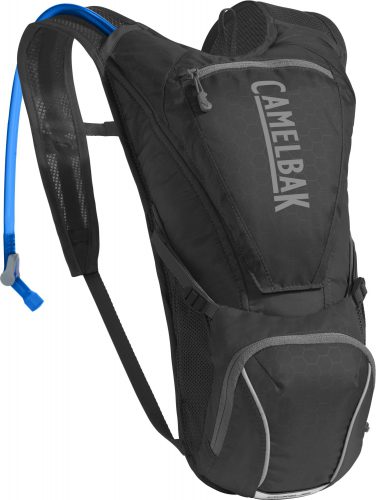 Camelbak Rogue is a no-nonsense hydration bag perfect for day-long festivals
While the Camelbak M.U.L.E. is the bag perfect for those long-haul trips, the Rogue offers the same type of quality with a smaller bladder and less storage space. If you are riding out to a festival solo and don't plan on bringing more than a few small personal belongings, the Rogue will definitely be the right fit for you!
There are a variety of color options available that include eye-popping blues and greens along with an incognito black as well.
The sleeker option of the Camelbak Rogue gives you the same reservoir system found in the M.U.L.E, but with a slightly smaller 2.5L bladder. There are two pockets for things like your keys, chapstick, but do make sure to read our guide on how to keep your valuables safe before throwing anything important in there.
The Rogue does give you the flexibility of picking out a few color choices besides black, including green, blue and red. The smaller size and the mesh back are perfect for those looking for a one-day event or small festival who don't need to carry a lot beside a ton of water.
Pictured: Camelbak Rogue – $48.00 – $70.00 via Amazon
---
Stay hydrated this festival season and let us know in the comments what new hydration bag you'll be showing off!