Artists including Tinlicker, Yotto, Monolink, Qrion, and many more will be heading to the Albanian Riviera this June for Anjunadeep Explorations!
---
After a stunning debut edition of Anjunadeep Explorations and pre-sale that saw packages sell out quickly last year, the hype surrounding its return to the Albanian Riviera on June 18-23 grew with each passing day. Now, those who decided that they'd be joining in on the adventure have received even more exciting news as the initial lineup for the multi-day experience has been unveiled.
Taking the stage will be some fantastic artists who call Anjunadeep home including Luttrell, Eli & Fur, boerd, and Cubicolor. Additionally, the Anjunadeep crew has announced that 16BL, Tinlicker, and Yotto will be carrying crowds into the earliest hours of the morning with sunrise sets that will surely be memorable ones.
We can't wait to see what fresh faces on Anjunadeep like Joseph Ray and Monolink will bring to this year's edition. And of course, you won't want to miss performances from Jody Wisternoff, Ben Bohmer, and James Grant (who will be playing a massive five-hour set).
Related: Looking for a taste of what's in store if you make the trip to the Albanian Riviera? Read this review that highlights some of the finer moments from this year's edition!
There are also some new names who will be playing at this year's edition of Anjunadeep Explorations that are exciting to see on the lineup. Qrion, Jerro, and Nox Vahn all had impressive sets and stunning releases in 2019 that we simply couldn't get enough of, so expect some magic when they take the stage.
Phase One tickets for Anjunadeep Explorations 2020 are currently SOLD OUT. If you're still hoping to attend and missed the boat during the pre-sale, don't fret as they've opened up a waitlist for phase two passes.
---
Anjunadeep presents: Explorations 2020 – Initial Lineup: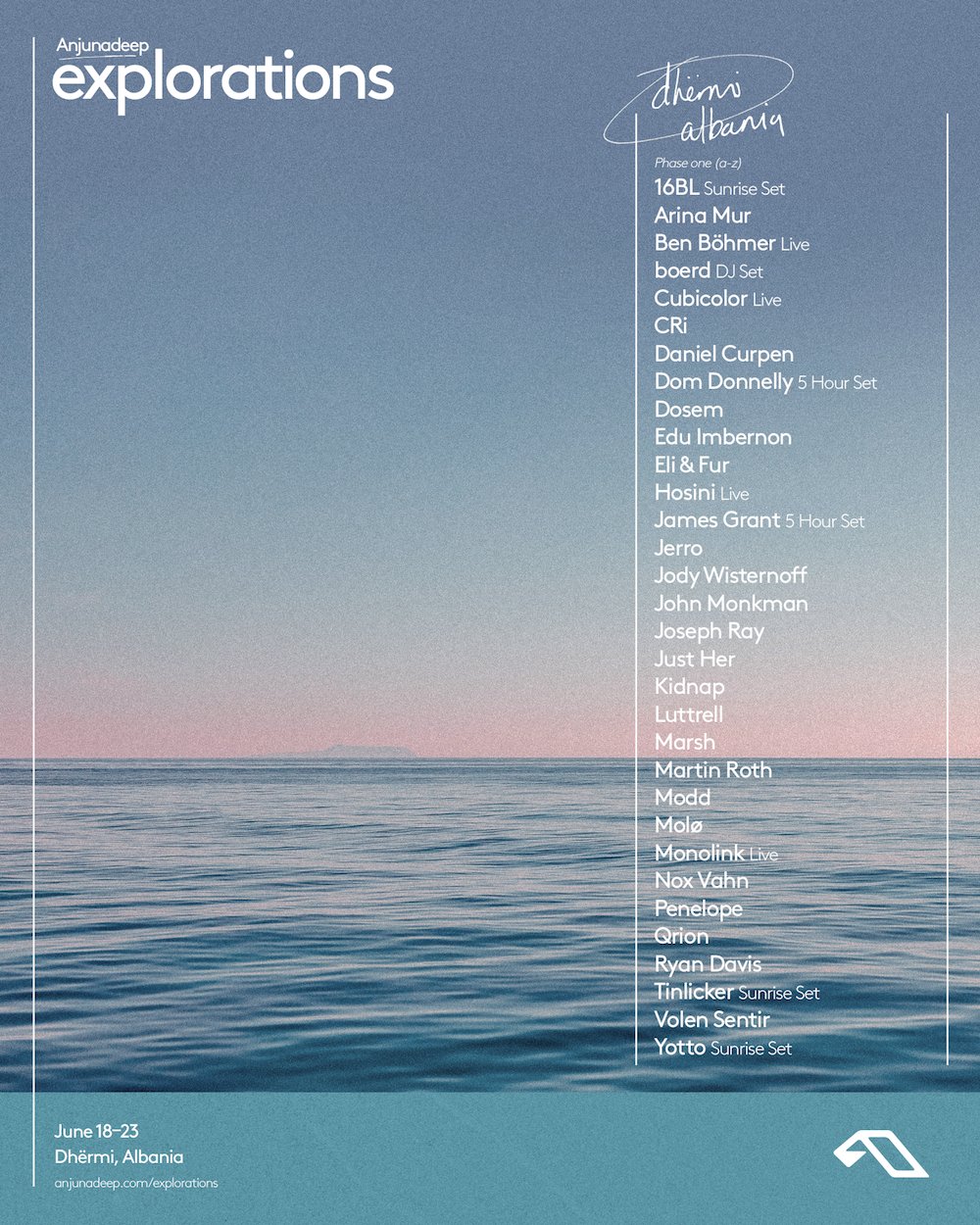 ---
Anjunadeep presents: Explorations 2020 – Lineup By Artist:
16BL (Sunrise Set)
Arina Mur
Ben Böhmer (Live)
boerd (DJ Set)
CRi
Cubicolor (Live)
Daniel Curpen
Dom Donnelly (5 Hour Set)
Dosem
Edu Imbernon
Eli & Fur
Hosini (Live)
James Grant (5 Hour Set)
Jerro
Jody Wisternoff
John Monkman
Joseph Ray
Just Her
Luttrell
Marsh
Martin Roth
Modd
Molo
Monolink (Live)
Nox Vahn
Penelope
Qrion
Ryan Davis
Tinlicker (Sunrise Set)
Volen Sentir
Yotto (Sunrise Set)
+ More artists to be announced!
---
Connect with Anjunadeep on Social Media:
Website | Facebook | Twitter | Instagram | SoundCloud | YouTube
Connect with Anjunadeep Explorations on Social Media: