For our final interview of 2019, we caught up with Tinlicker to look back at their breakout year that featured the release of This is Not Our Universe!
---
While 2019 may have had many spectacular moments, it was Tinlicker who would become the talk of the town with the release of their debut album on Anjunabeats, This Is Not Our Universe. With a spectacular array of exciting floor-filling tunes intertwined with emotionally engaging melodic masterpieces, we are still picking up our jaws off of the floor after listening to it in full.
Related: Want to dive deep into the sounds on This Is Not Our Universe? Read our full review of the album and start your exploration!
But their year wasn't just defined by the debut album, because beyond that release Tinlicker has been having the time of their lives rocking the stage around the globe. Their sets have moved crowds at renowned festivals like Tomorrowland and at milestone shows like ABGT350 in Prague. Additionally, they dominated the decks during both the Anjunabeats North American Tour and their very own that will carry them into 2020.
When reflecting on this year, there's no doubt that Tinlicker has so much to smile about and we know that 2020 is going to be an even greater one. Listen to This Is Not Our Universe below and read on for our final interview of the decade!
Stream Tinlicker – This Is Not Our Universe on Spotify:
---
First and foremost, congratulations on the completion and success of This Is Not Our Universe! I would imagine that producing an album would come with many phases of creative evolution. So I wonder, what was your vision going into the project and how did the final result compare to what you had originally planned for?
Thank you very much! Our vision was to make an album that you could either listen to or dance to. Most of the songs work in both the club or on your couch. We hear that fans listen to our album in many different ways. While relaxing, running, working, or driving, etc. So I guess our mission was accomplished. Now its just time to wait for the first TINOU baby. 😛
And of course, the album captures a chapter from our lives. The things we were going through and mattered to us at that time are reflected in the music. It was a bit of a stressful period and in the end, we rented a little house somewhere in the Netherlands to be able to take some distance from all the distractions and this is where we created most of the songs. 
In addition to releasing your highly anticipated album, you have also embarked out quite an extensive promotional tour. Looking back at the many shows you played were there any specific ones that stuck out more than the rest?
I think the Group Therapy 350 Weekender in Prague where we played both the arena and closed the Deep stage was the cherry on top of the cake. Ending the weekend with everybody there was a special moment.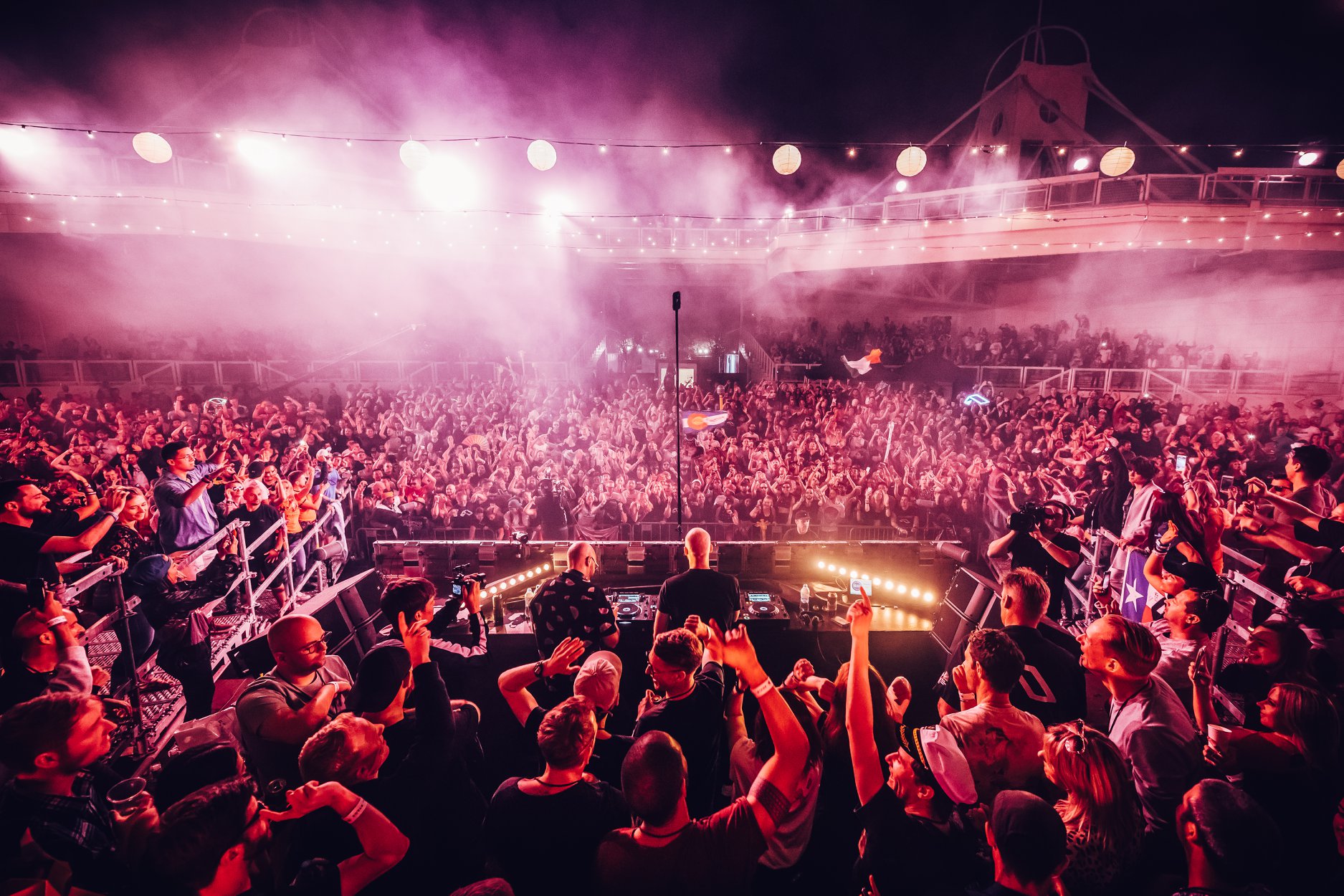 "Neko" is one of the shining stars on an album that delivers thirteen amazing dance floor offerings. When developing "Neko", what were some of the most challenging aspects of its production and what kind of response are you looking for when it comes to delivering this tune on the dance floor?
We like to play and produce quite a broad spectrum. So we take people on a journey of what we love in dance music and tell a complete story. "Neko" was one of the last songs that we finished because we felt like the album needed a grand final before the lights fade. You need the descents to appreciate the ascents. Production-wise the most challenging aspects are what keeps it interesting. 
You recently released a beautiful remix of CUT_'s "Out Of Touch" and mentioned on social media that you had fallen in love with the original. What was it that stood out to you the most about the original track and can you talk about the specific elements that you changed to put the Tinlicker stamp on it?
The chords progression in combination with Belle's voice and lyrics are what make it stand out. She makes it feel real. We tried to keep that core feeling and just make it a bit more dancefloor while still keeping the song intact. 
Dance music has a way of healing the soul and lifting us from the trenches. From your vantage point, why do you think that dance music has such an uplifting effect on its listeners in comparison to other genres outside the realm of electronic dance music?
That's a hard question. Maybe it's the combination of energy with the heartbeat-like rhythm that allows you to get into this state which enables you to make the melodic/lyrical stories your own and slowly give understanding to those parts that need healing.  
For the holiday season this year, you reached out to your fans and asked them to send you their own singing or dancing video for your song  "Need You". Can you talk about why fan participation is so important to you and what it means to see your fans connect with your music on such a special level?
Fans allow you to follow your dream and live from the music. Without them, it would just be a hobby. Seeing them connect and make our music their own gives every song a lot more meaning. Sometimes it even feels a song is almost more theirs then it is ours because of the things it helped them with. 
The official music video for "Need You" is incredibly mentally stimulating. Can you talk about what is happening in the video and how the visuals were developed?
We don't actually know how it is developed but the melting/merging and growing of the ice reflects the paths in life. However cliche it might sound. Everything evolves and when you are about to lose grip you need to 'hold on' long enough for the beauty to reappear. 
Your presence and popularity in the scene continues to flourish and grow with each passing day. Can you talk about a point in your career when you were able to look at each other and think, "this has become bigger than what we had ever imagined"? Can you paint us a picture of that moment?
It's the moment when Jordi farts in the studio. It's always a lot bigger than he expects it to be… [Laughs] No, just kidding, I think it still needs to sink in, but as mentioned 'above' the reactions after closing the Prague show was 'beyond' expected.
When you look back at your history together and compare it to where you are today what are some of the lessons you have learned along the way? Can you talk about the biggest hurdles you have had to leap over?
Stick to what you love making even though it doesn't really fit into the existing boxes/frames that are there. This makes it hard in the beginning because people find it strange and don't know where to place it. So getting our music heard and released wasn't the easiest task. However, now that we got that chance and are walking our own path this obstacle of being different is actually our biggest strength.
So here we are in the middle of the holiday season and even with quite the crazy tour schedule, I was wondering if you have any special family traditions that you simply can't miss out on? 
Spend enough time with our loved ones before they forget who we are.
Finally, since we are at the end of 2019, what are some new goals you would like to achieve in the upcoming year both personally and professionally? 
Just keep challenging ourselves both musically and personally in ways that make us a happier person. How and what that is we don't know yet, but we've got a whole holiday to think about that. 😉
---
Connect with Tinlicker on Social Media:
Website | Facebook | Twitter | Instagram | SoundCloud | YouTube