As the year comes to a close mau5trap is showing off that the future of the label is brighter than ever with the release of We Are Friends Vol. 9.
---
Year after year, mau5trap has proven its dominance over dance music with its quality releases and the label has grown to become one of the most respected imprints with many talented artists among their ranks. Now, we have been blessed with the ninth edition of their We Are Friends compilation series and it's an absolute stunner.
This twenty-three track selection highlights not only a monstrous tune from label boss deadmau5 but also some of the brightest new producers on the label. We Are Friends Vol. 9 welcomes a bevy of talented rising stars like HVDES, Donny Carr, ASHE, IMANU, Bentley Dean, and more to the mix. However, not to be outdone by all of the newly minted talents are mau5trap mainstays Mr. Bill, Julian Gray, Jay Robinson, and monstergetdown. 
Check out the album on Spotify now, download or stream it on your favorite platform, and read on to take a deeper dive into the latest edition of We Are Friends on mau5trap.
Stream We Are Your Friends Vol. 9 on Spotify:
---
Right off the bat, We Are Friends Vol. 9 opens with "ASEED" by none other than the head mau5 himself.
"ASEED" is a gritty and emotive track is chock-full of modular synth stabs and bubbling bass lines that are definitive of deadmau5's one of a kind productions. I can't think of a better way to kick off the compilation than this sonic journey into the world of mau5trap.
Next up comes "Human" by Canadian producer ASHE. Not to be confused with the vocalist, ASHE brings a powerful production style that truly leaves him in a league of his own. "Human" is defined by echoing bass kicks and building energy throughout that takes listeners on an auditory adventure — a perfect track for those late-night warehouse vibes, and fans of industrialized dance music. I can not wait to see what the new year brings for the budding producer. 
2019 was a massive year for Los Angeles based producer monstergetdown and his track with C.H.A.Y. further proves that point.
He teamed up with fellow up and comer C.H.A.Y for an absolute smash hit "Wanted." The house vibes are strong with this track as they combine rolling basslines, and timeless kick-snare-clap combinations sure to pack dance floors from coast to coast.
The sixth track landing on We Are Friends Vol. 9 comes from none other than emerging producer Donny Carr with his single "Luna Brave." Carr's signature progressive sound immediately drew me in as I embarked on this epic eight and a half minute journey into the world of Carr's masterful production. "Luna Brave" carries with it the energy of a producer well beyond his years, and I can not wait to see what is to come from Carr as he continues to propel himself into the mainstream. 
One of the most powerful tracks on this year's compilation comes from Ghost Dance, and his massive electro smash "Release The Pressure."
Ghost Dance is the type of producer that comes from a seasoned background in all things dance music. His contribution to We Are Friends is primed and ready to destroy dance floors of massive proportion. His expertly crafted synth leads drive home an enormous bass drop that can turn even the most massive crowds on their heads. "Release the Pressure" is the most rave centric track in this collection putting forth classic, electro elements to induce pure dance floor euphoria. 
Even from the early days of mau5trap, the imprint has been renowned for their expertise in all things electro.
That mastery still rings true today with the inclusion of 23-year-old Michigan based producer KEETZ. His track "London1790" perfectly walks the line between melodic and dark tech house. KEETZ brings unstoppable energy to the compilation that aligns perfectly with the iconic sounds of mau5trap and has carved out a space for himself that leaves me confident we will be seeing more of him in the new year. 
One of the immediately recognizable names I came across on We Are Friends Vol. 9 comes from the legendary Mr. Bill.
In a compilation defined by mau5trap's signature tech-house and electro sound, Mr. Bill teamed up with bandoum for an absolute smasher of a Leftfield Bass tune dubbed "Lotus." The duo expertly crafts unmatched bass lines, drum fills, and just the right amount of wobble for one of the best tracks on the entire album. In a room full of house heads, Mr. Bill and bandoum stand out in the best way possible. 
Finally, one of my favorite tracks from the entirety of the album comes from none other than Jay Robinson with his fiery remix of "Plastic Wrap" by Joy Downer. 
This tech-house heater delivers Robinson's signature sound while honoring the original vocal and bass line laid out by Joy Downer. Despite all of the passion that has been definitive of We Are Friends Vol. 009, this second to last track delivers a vibe perfect for those intimate nights on the dance floor. Sure to keep your feet grooving into the wee hours. 
Without a doubt, We Are Friends Vol. 9 delivers some of the brightest new stars in dance music along with some seasoned veterans.
mau5trap has never been a label to rest on their laurels when it comes to seeking out the latest and greatest in dance music. So if this edition of We Are Friends is any indication as to where the imprint is taking us in the new year then I can confidently say there is nothing but tasty tunes ahead!
---
Tracklist:
deadmau5 – ASEED
ASHE – Human
Bentley Dean – 1348
C.H.A.Y. & Monstergetdown – Wanted
Corvad – I Am Control
Donny Carr – Luna Brave
Egomorph – Magmagat
FLIP-FLOP – Kuta
Floret Loret – Embers
Ghost Dance – Release the Pressure
HVDES – Let Me Go
IMANU & Buunshin – Overwerk
KEETZ – London1970
Kindrid – Subconscious
Low Poly – Afters
Maison Ware – Shibuya
Mr. Bill & bandoum – Lotus
One True God – Come To Me
Posij – Airwolf Six
Speaker Honey – Shoyu
SVNF8 – Facing Reality
Joy Downer – Plastic Wrap (Jay Robinson Remix)
Matt Lange – Space Between (Julian Gray Remix)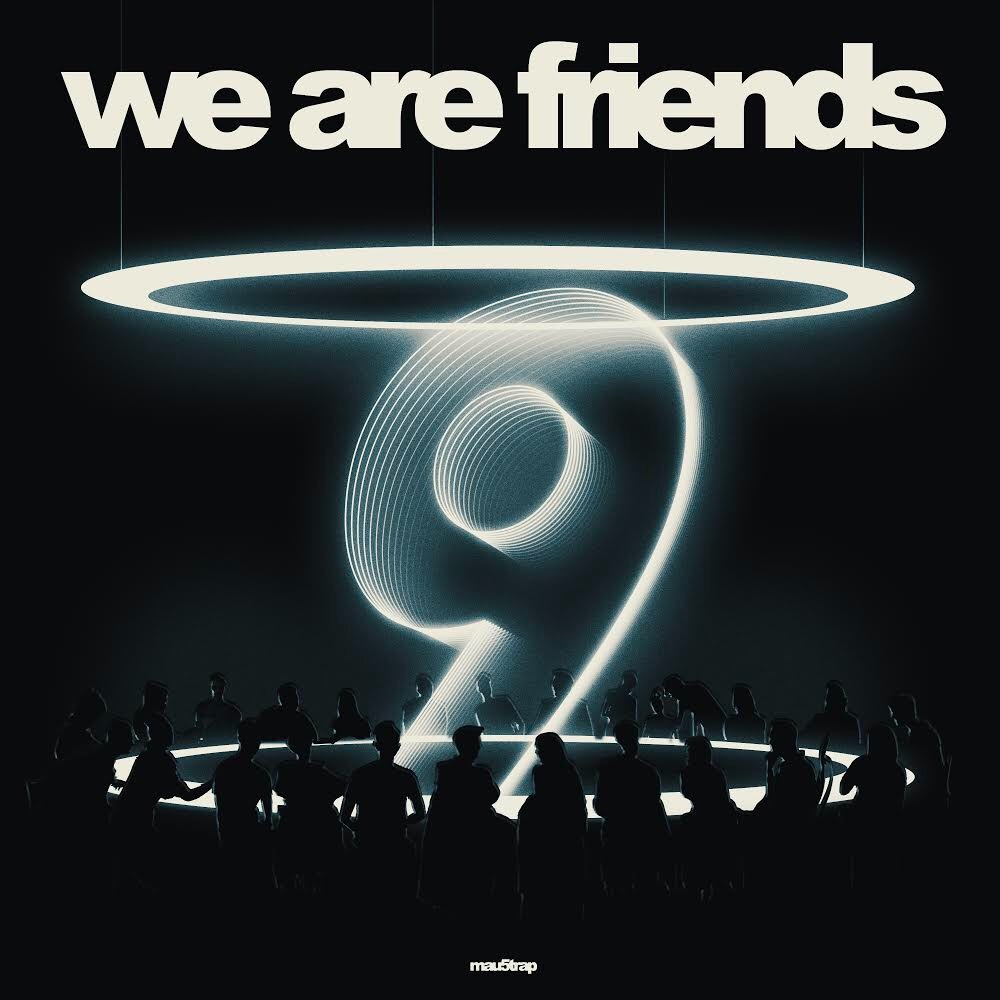 ---
Follow mau5trap on Social Media:
Website | Facebook | Twitter | Instagram | SoundCloud