Maria Healy sat down with us before her b2b set at Dreamstate SoCal to discuss her experience, signing to Music First Agency, and hit track "Sweetheart"!
---
It's safe to say that 2019 has been an incredible year from Irish trance star Maria Healy! Her accomplishments included melodic track "Sweetheart" reaching #1 on the Beatport trance charts, signing to the revered Music First Agency, being nominated for IDMA's top female trance artist, and landed at the #39 spot on Trance Podium's list as well. These accomplishments all happened alongside a prolific touring schedule that saw Maria Healy playing festivals like Luminosity, Liberation, Cream, and Dreamstate SoCal.
Though she is known to drop some heavy tech-trance bangers in her set, where Maria excels in her ability to create uplifting and melodic beauties. The soundscapes she forms in each trance are emotional and her ability to weave such moving pieces interspersed within those aforementioned tech trance tracks makes her stand out from the crowd. This keen ability has garnered the attention and support from the likes of trance virtuosos such as John O'Callaghan, Bryan Kearney, and Giusseppe Ottaviani, to name a few.
While already a shining star in her own right signing to Music First Agency will help catapult her sound to new heights and new international audiences without a doubt. This is nothing but music to my ears as it's time the world hears what Maria Healy has to offer. Right before her Dreamstate debut, we sat down to reflect on her massive accomplishments in 2019!
Stream Maria Healy & Ashley Smith Live at Dreamstate SoCal 2019:
---
Hi Maria. Thanks for taking the time to sit down with us. It's amazing we're here at Dreamstate SoCal. How does it feel to be getting ready to make your debut at this massive festival?
I woke up this morning and had butterflies in my stomach. It's great to be here [at the meet and greet] and meet everyone and get prepared before the actual festival. I think it's kind of helped take the nerves off. I'm ready now and I can't wait to get there. 
You're going to be playing b2b with fellow tech-trance artist Ashley Smith. How do you prepare for b2b vs playing solo?
To be honest, I've only ever done off the cuff back to backs with other DJs, not on this big of a level. I went to Glasgow about two weeks ago and we did kind of a run-through because we want to be well prepared. We also have the collab, which is taking a little bit longer than expected but we are going to drop the collab at our set tonight. It's still not fully finished but it's a playable version.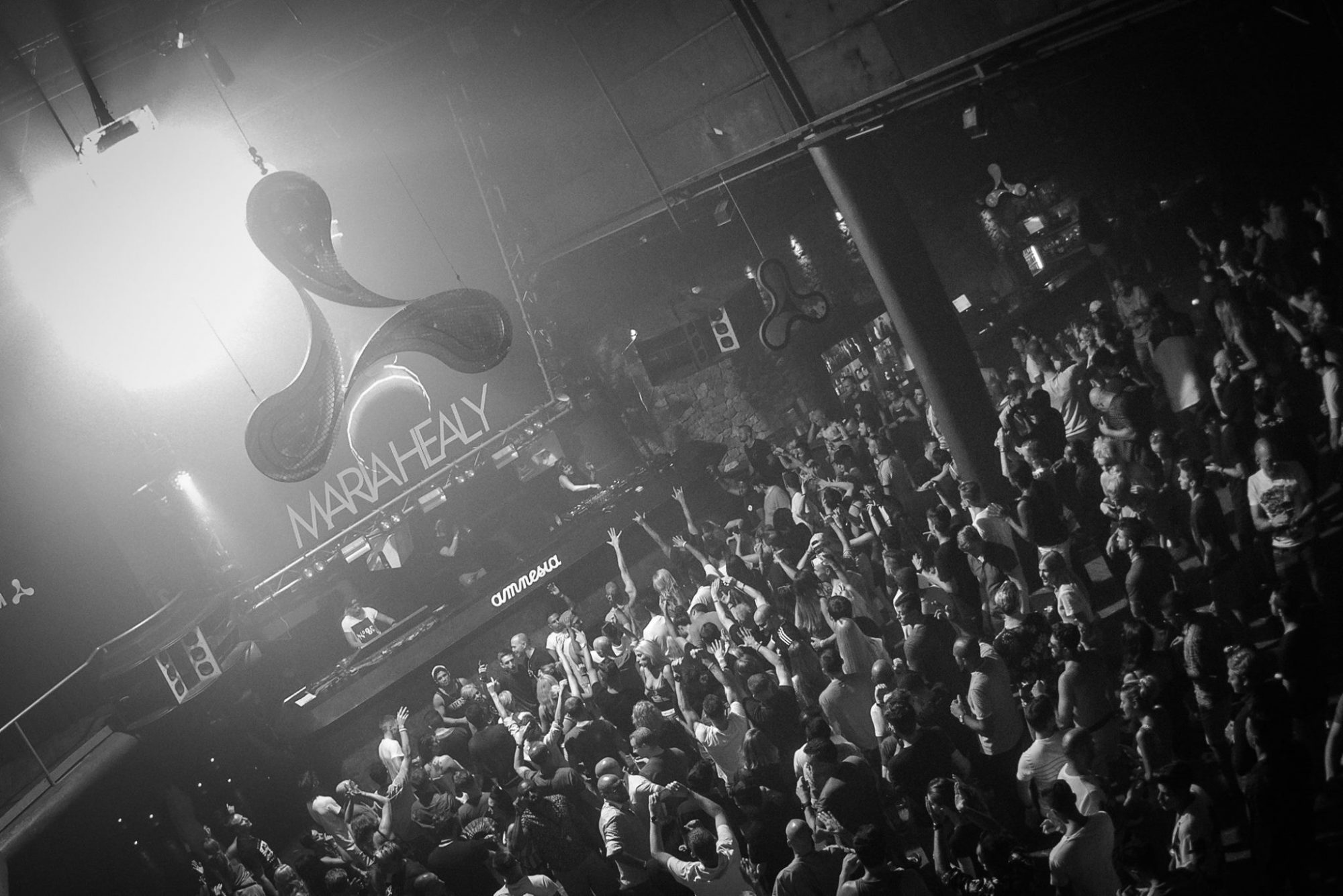 You've had quite a year! First off you were recently signed to Music First Agency, a label that hosts some of the current best trance artists! What does signing to an agency mean for you?
I've been working with Music First, unofficially, for a while. I don't know if anyone really noticed but some people just associated me with Music First a lot but now we've made it official. It feels like a dream! I was working with Music First for years and for years Neal always had my back. Now it's official and it feels more real to me and it gives me more confidence in myself. 
Also, what about Music First resonated with you?
I absolutely love Subculture and Music First as well, of course, and I want to associate myself with them. They're also my friends. Factor B, Bryan Kearney, Cold Blue, etc., these are the guys I look up to and it feels crazy good to be on the same roster as these great artists.
Speaking of accomplishments, your track "Sweetheart" made #1 on Beatport's top 100 trance tracks. What about the composition of this track do you think gave it so much support?
All these great things have been happening and when that hit number one, I was like "Oh shit!"
It's all about the melody. When I send a track to John [O'Callaghan], it's usually a "yes" or a "no" and when I sent this to one over, he just sent back "Signed" and after that he really got behind the track as well. Then Armin played it on ASOT and it had loads of good promo. So everyone just got behind me and I'm so thankful! 
What's the story behind that massive track?
To be honest the melody was going to be on a different track but I sort of sat there into what it is now, with the intro, hook and vocal. It all just came together. In Ireland, we always say things like, "Aww he's a little sweetheart" or "That's a little sweetheart" and I was like "Aww, that melody is a little sweetheart" and so that's why it's the title of the song. 
We've noticed that many of the Irish trance artists flock toward creating hard, more banging tech trance tunes. What is it about that sound that pulled you in?
I do like tech trance but to be honest, I'm more into the melodic and uplifting. I do like the tech but if you really want to describe my sound it would be more of the uplifting though I can dish out the techy goods. I think a lot of it as well, like Shugz from Northern Ireland, they're really pushing that sound. As well as Bryan and Joint Operations Centre. It's not my main thing but I do like it. 
Other than trance, what genres do you enjoy?
I actually started listening to progressive before I listened to trance. Then I went from progressive to hard house and when I turned 15, I started buying a lot of hard house vinyl. After that, I started listening to Paul van Dyk and Armin and I don't stray too far from there. I also love Grum and love Orkidea's sets so I still listen to progressive. If I do ever get to do a longer set or an open to close, you'll get to hear some of my progressive choices as well. 
You used to produce your own radio shows, first Magnetic and then HeavensGate. Would you consider going back to the radio show/podcast format?
What happened was, when I was doing Magnetic, I was doing another radio show HeavensGate at the same time so I was doing two radio shows a month. I ended up wanting to spend more of my time on production rather than the radio shows. To be honest, I'm quite picky with tracks and it was getting to a point where I was really struggling to find tracks that I really loved. Unless I really like a song then I don't want to play it. I might reconsider a radio show though. 
If someone was interested in getting acclimated to your sound, what three tracks of yours would you recommend?
Definitely "Sweetheart"! Also, "Kingfisher" and "Desiderata" (Giuseppe Ottaviani Remix) because everything Giuseppe touches is gold. He's such a genius.
I ask this question a lot to artists who are pretty active on social media. How do you feel social media has changed the way DJ/producers market themselves and how do you feel this has affected the electronic music industry as a whole?
People and followers nowadays want to know the DJ better. When I was growing up, I had only seen a DJ on a flyer and I'd go to the gig and see them but there was no direct contact. Now getting to know a person and having direct contact makes it seem like you're friends with them and those are the supporters that come to your gig. There are some DJ/producers that don't have an online presence, but for me, I actually like social media. I enjoy using social media as it's a direct connection and it doesn't take much hassle to reply to questions and people appreciate it when you do. 
It's interesting as some artists agree with you that it can be positive and others view it as a double-edged sword. There have been mentions of fans or supporters who can become too invested and take things too personally, especially when an artist they like tries something new. 
Yea, that's true but I try to keep everything positive. I am overall a positive person but if I have something negative I'll deal with that on my own and not be a keyboard warrior. 
Finally, with 2019 winding down, what can fans and supporters expect for 2020?
I'm already so excited for 2020 because in the past my career has always been up and down and now I have so many things in the works that I'm not allowed to say yet. I have so many things lined up and loads of shows I'm so excited about that. I have had a great year and it will be hard to top but I think 2020 will be better. 
---
Follow Maria Healy on Social Media:
Facebook | Twitter | Instagram | SoundCloud