Coming off another EP release on Ganja White Night's SubCarbon Records, we sat down with West Coast Wobble-master SubDocta before his show in Bloomington, Illinois.
---
SubDocta first exploded onto the dubstep scene in 2017 when his song "2009 Was Tight" caught the attention of the bass music community. The track was supported by Bassnectar at Freestyle Sessions 2017, and since then, SubDocta has consistently been climbing the ranks within the dubstep world.
Heavily influenced by the 2009 era of dubstep, SubDocta makes a unique hybrid style of bass music that he has coined "West Coast Wobble". He's released music under Bassrush Records and Borgore's Fresh Blood imprint, but he's most at home on Ganja White Night's SubCarbon Records. With two EP's released on SubCarbon, SubDocta often supports Ganja on tour, and they have over thirty shows scheduled on "The One Tour" this upcoming fall.
In addition to the tour, he'll also be performing at festivals including Lost Lands, Wakaan, and Freaky Deaky later this year. 2009 was tight, but 2019 has been huge for SubDocta, and we sat down with him before his show with Space Laces at the Castle Theatre in Bloomington, Illinois.
Buy tickets now to "The One Tour" featuring Ganja White Night, Boogie T, Jantsen, and SubDocta this upcoming fall, and keep reading for our exclusive interview with SubDocta!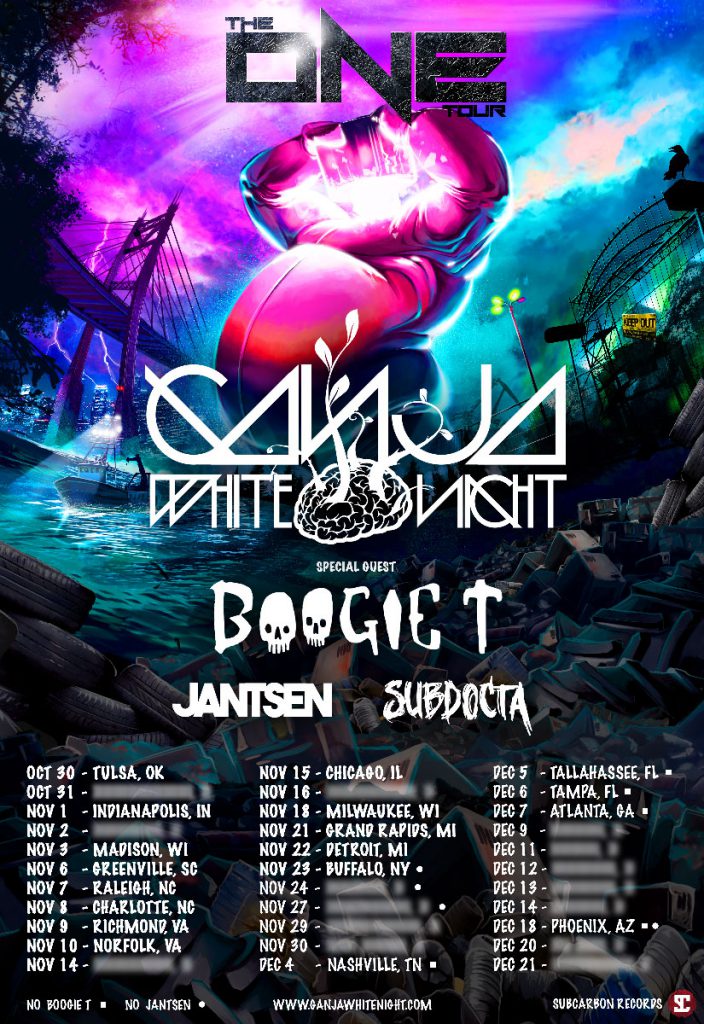 ---
Thanks for sitting down with us today, SubDocta!
Yeah, of course!
Tell us a little bit about your unique "West Coast Wobble" sound. How would you describe your style of bass music and who are some of your biggest influences?
It all kinda started as a joke… because when I was coming up, it was all about West Coast BASS. G Jones, Bleep Bloop and Eprom were all getting big. That 808 saw wave sound was taking over the west coast. 
And I was just a dubstep dude struggling to get shows. That was kinda when it died, and trap was big along with this "west coast bass" thing. So I was like… ya know what? West Coast Wobble, that sounds funny, and I'm gonna roll with it.
Some of my biggest influences are the OG guys that are still out there crushing it today. Rusko and Joker were some of the first dubstep artists I ever heard in like 2008. And Ganja White Night, too. "Strawberry Cough" was one of the first tracks I heard and now I'm a part of Subcarbon. It's fucking insane! It's a trip man. 
What's cool is like Rusko, Caspa, Ganja… these guys that have been doing it for 15 years are some of the nicest people I've met in the scene. They have that passion. They really do it for the culture. It's not just a phase or a clout chasing thing. They really love it, and that's why they're still relevant 15 years later.
You released your latest EP, Swonkle, last month on Ganja White Night's Subcarbon Records. Being your second release with the label and previously supporting them on tour, what has Ganja's support meant to you and your career?
Honestly, it's everything. I had a Skype interview with them last year when I was on the Opiuo tour and they were still living in Belgium. I was so nervous! I had never talked to these guys. This was around the time that a lot of people were doing shitty things in the industry, and it was almost like a vetting process. Like, yeah, he has cool music, but is he a dude that we want as part of our team?
I had to wake up at like 6 AM, because they were in Belgium. I didn't really sleep that night! It's been crazy man, they've helped me out more than I could ever thank them for.
Although your first release came in 2016, you've had no shortage of music releases with three EPs released in the last 12 months. How have you been able to release so much music so quickly?
I honestly don't know! I don't create music to release it. To me, this is art. I have to do this. It's like why people paint or write poetry. I have to do it, or I'll go crazy! Before you know it, I'm sitting on like 20 tracks. Sometimes I don't know how it happens.
What's your production process like? How do you start a track when you're looking at a blank slate, and what are some of your favorite plugins?
Honestly, I don't have a specific way that I start tracks. Sometimes I'll just mess around on my keyboard and come up with a melody. Sometimes I'll just cruise through samples and find a cool drum sound or drum loop, and build off of that. Sometimes it's the intro, sometimes it's the drop or the buildup. It's whatever sparks my creativity.
Lately, I've been really into Operator. I've slept on a lot of Ableton's stock plugins because they were kinda hard for me to understand when I was first starting. I've learned a lot on how to really use Ableton stock stuff, and get a lot of sounds that I never could off of an expensive plugin.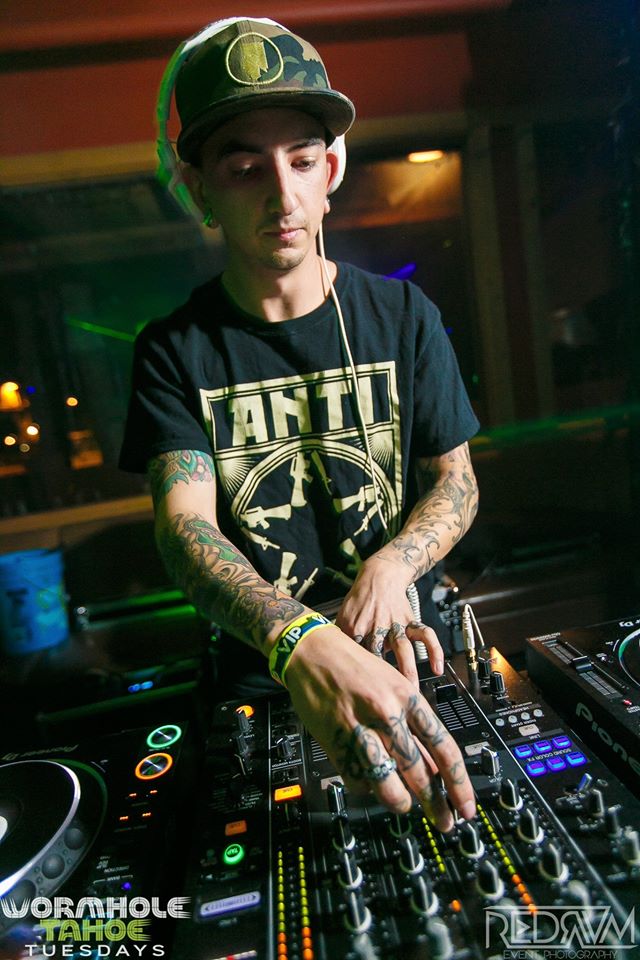 Tell us a bit about your history as an audio engineer. How does that knowledge help you in the studio, and what initially made you decide to start making you own music?
So I kinda started this both at the same time. I was in college, and I just started DJing for fun. Sitting in my dorm room, smoking weed, playing Skate 3, and learning how to DJ.
With a controller? What'd you have?
A little Vestax Typhoon! I started doing house parties and things like that. At the same time, I was taking recording classes at the college I was at. They didn't have a full program, so I ended up getting a job as a stagehand at a local venue, and worked my way up from there. I took that route more seriously for a lot of years. I was a production manager for a 1,200 cap venue, and I was touring with a big rock band as an audio engineer.
That just took precedence until I reached that point where I have to go all in. I have to try it all for myself. It's kinda a catch-22 because I've been really picky with things that others might not be picky about. It's nitpicky things that I've learned over the years, or sometimes it's unlearning how they do things in pro audio compared to music production, or in the studio versus live.
What venue were you working at for all those years?
It's called The Knitting Factory. There's one in Brooklyn, Spokane, Boise, and Reno.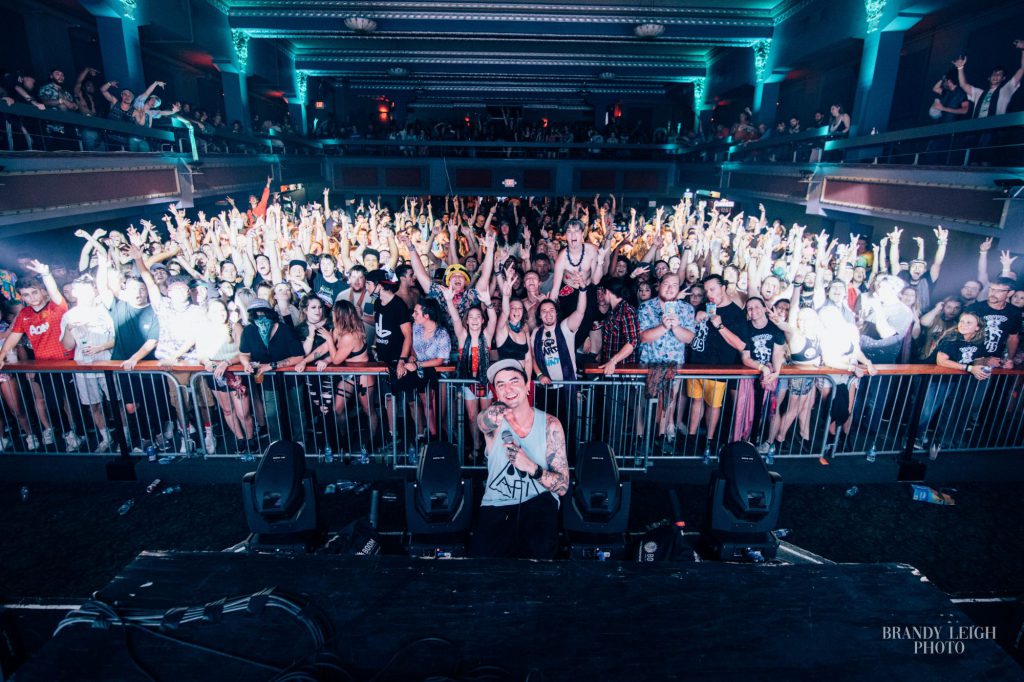 With a set before Space Laces today and an opening slot earlier this year on Excision's Apex Tour, what's it like to share the stage with artists you've been listening to for years?
It's really crazy man! I never expected to get to any level, let alone where I am today. It's really humbling, too. These guys are all super nice. It's very rare to meet a dickhead artist, especially one that's been doing it for so long.
Although summer is wrapping up, festival season is still going strong for you. How excited are you for your appearances at Lost Lands and Wakaan? Anything special planned for those sets?
Lost Lands is gonna be cool! I wanna bring a different sound or style – kinda like I do for every set. Some things seem to be very played out these days. I'm almost 30, and like, I wanna keep it interesting! Lots of variation, and musicality is important to me. I just wanna be, maybe 30% different than anyone else.
That's important at somewhere like Lost Lands, where you might be hearing some of the same songs all weekend.
Exactly, and same with Wakaan. They're going to be mostly original sets, and I don't do that very often. It's just one of those times where I think that'd be appropriate.
As opposed to an all original set at these festivals, what's an average set like for you? What's the split between your music and others' music?
It all depends. If its a 90 minute set, it might be like 60% mine. If it's a 60-75 minute set, it might be like 70%/30%.
And if it's a 90 minute set, you're throwing some drum n bass in, right?
I throw some drum n bass in every single set now! It's starting to work a lot better than it used to. If you sprinkle it in correctly, it works. If you come out playing some Noisia for your first track, it might not work. You gotta tip-toe your way into it.
Do you have any unreleased DnB tracks that you might be releasing later?
Yeah, I have a four- or five-track drum n bass/halftime EP. It'll be coming out on Dirt Monkey's label before the end of the year!
Lost Lands and Wakaan will be some of the biggest shows in your career yet – what are some other festivals or venues that you'd like to play one day?
I definitely have dreams to play at Red Rocks and The Gorge. Or Berkeley Theatre. I was able to check Bill Graham off my list this year. I've seen Jack White, Arctic Monkeys, Tool… some massive artists at that venue, and I got to play up there on the same stage during Excision's tour.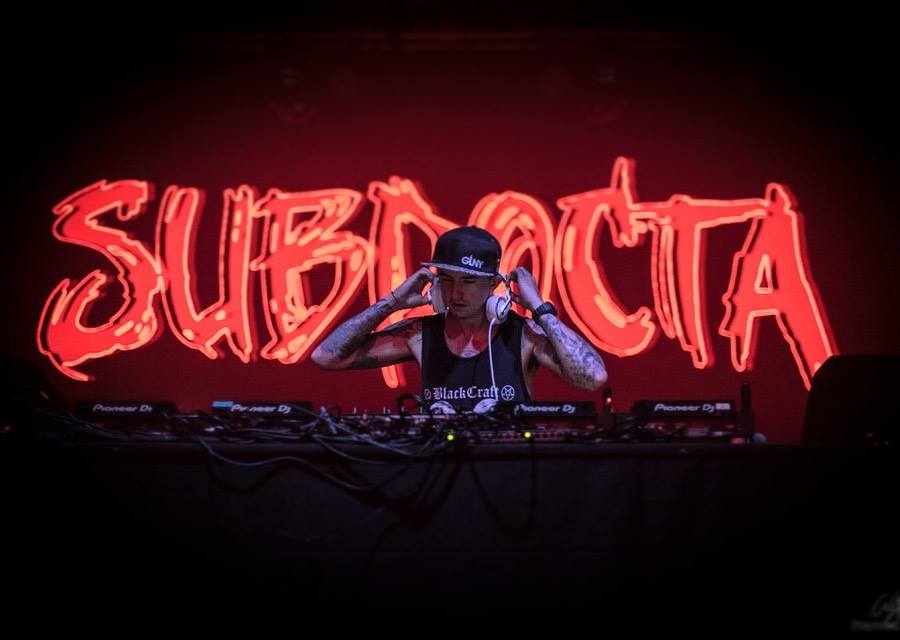 You're very active on Twitter. What's your favorite part being able to interact directly with your fans through social media?
It's really cool. For me, I just wouldn't be here if it wasn't for all these people. I get to travel to all these places and now I have new friends! Touring artists often talk about being so lonely. Of course we all go through that, but I have pockets of people throughout the country that I can now call friends, which is awesome.
One of the themes on your Twitter is your love of dogs. Although they're all amazing, what's your favorite kind of dog and why?
I like big dogs! I like big dogs that can hang on hikes and adventures. I grew up with Bernese Mountain Dogs, and they were gentle, docile beasts.
What do you have back at home now?
I have an Australian Shepherd, German Pointer mix. My roommate has a Lab and Pit mix.
Lastly, anything else you'd like to share with our readers?
Do whatever you want! You only have one chance at this shit, so make it count.
---
Follow SubDocta on Social Media:
Facebook | Twitter | Instagram | SoundCloud