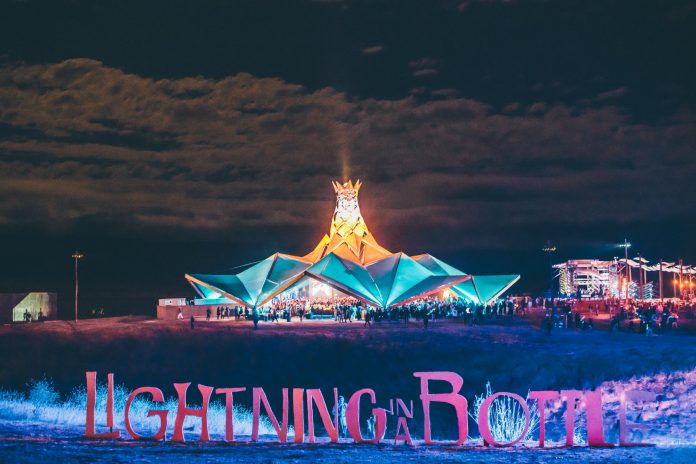 If you're looking to secure your spot next May at Lightning in a Bottle, get ready because tickets will be on sale again starting on November 7!
---
As 2019 comes to a close, news and updates surrounding the festivals set to take place in 2020 are already starting to blossom. This included one of the most beloved West Coast festivals, Lightning in a Bottle, which is set to make its return to Buena Vista Lake in Kern County, CA on May 20-25, 2020!
Hosted by the DoLaB, LiB features a wide range of live and electronic music and promotes art, self-transformation, and community. With lake parties by day and dance parties by night, the festival as truly grown to become the ultimate getaway to kick-off the summer season. Now, after announcing that they'd be returning to their original dates and releasing a batch of early-bird tickets, they've dropped more details for the 2020 edition.
Related: Check out Zach's experience at the festival last year for his take on LiB!
Mark your calendars for Thursday, November 7 at 10am PST, because that's the day that Lightning in a Bottle will open up their ticket sales for the 2020 edition via their website. All passes including 4 and 5-day general tickets, layaway plans, vehicle passes, and boutique camping packages will be available. Get the breakdown of all the different offerings below!
Lightning in a Bottle Ticket Sale Info
---
General On-Sale Festival Passes
These passes are your tickets onto the ground and include walk-in camping access. 5-Day passes grant early festival access on Wednesday, May 20. 4-Day passes will grant access on Thursday, May 21.
Tier 1 prices will start at $389 plus fees for 5-days and $319 plus fees for 4-days.
---
Patron Experience
This year, LiB will be offering a new experience for their most devout attendees. Dubbed the Patron Experience, this ticket will cost $999 and grant those who purchase access to the festival starting on Wednesday, May 20. Additionally, the DoLaB will be giving these attendees a limited edition commemorative item, as well as exclusive onsite experiences as thanks.
---
Layaway Ticketing 
LiB is offering payment plans for interested attendees, allowing you to break up your ticket price into four installments!
For Tier 1 5-Day Passes, the first deposit for $90 opens on November 7, then recurring payments will be due on 2/12 for $90, 3/11 for $90, and 4/8 for $92.21.
For Tier 1 4-day Passes, the first deposit for $110 opens on November 7, then recurring payments will be due on 2/12 for $110, 3/11 for $110, and 4/8 for $104.30.
---
Vehicle Passes
For those of you planning to camp alongside your vehicle, you will need a car camping pass for $130. There are also passes for RVs available ranging from $355 to $1200 depending on power capabilities, size, and campsite location.
---
Boutique Camping Packages
Lightning in a Bottle will also open their sales for boutique camping set-ups for those looking to upgrade to tents with power, beds, and more. Make sure to check out the luxurious packages for more details as these packages range from $1500-$3030 and offer an enhanced experience in a well-equipped private campground.
---
Lightning in a Bottle 2020 – Essential Info:
Date: May 20-25, 2020
Ages: All ages
Venue Address: 13601 Ironbark RD, Bakersfield, California 93311
Tickets: Purchase HERE
Facebook Event Page: RSVP HERE
---
Connect with Lightning in a Bottle on Social Media: