With over 40 years of collective production experience, Armin and Benno continue their craft under GAIA – a creative hub for a duo – in performance and in production.
---
If a name is our link to an identity, is this the definition of Armin van Buuren and Benno de Goeij's zeitgeist for dance music culture? Could GAIA really stir the pot with something unique – a venture of veteran talents that understand the broad strokes of dance music? Could it break the creative barrier of focusing only towards commercial success and instead be a true art project?
In reality, we have to allow artists to free themselves from the shackles of their fame. To open up new avenues of expression that may not be the norm of what fans expect. Let's examine the roots of GAIA, what makes the project so special, and find out how the project evokes passion, not ego!
Defining a zeitgeist, exploring collaborations, and the winds of change in Armin's career.
When one looks at the annals of Armin van Buuren's career it would be hard to miss how the early years laid the foundation for his success.  In those years, vinyl ruled the day and Armin, as a young producer/DJ, explored all options in his productions. Unsurprising, Armin peered beyond his home market and found success with alternative names such as Perpetuous Dreamer and Rising Star, and collaborative efforts like Major League and Alibi with Tiësto or Wodka Wasters with Olav Basoski. Yet, none rose to fame quite like his year 2000 alias: GAIA.
The GAIA project grew out of necessity. Licensing restrictions at the time hampered Armin's ability to play tracks under his own name on compilations in the United States. An alias was the simplest method to work around the issue, and so GAIA was born and out popped the "4 Elements" single. As a genesis point, Armin produced the track as an anthem for the 4 Elements night in 2000 at Ahoy in Rotterdam. Then, as suddenly as it appeared, the alias went dark – until it reappeared in 2009.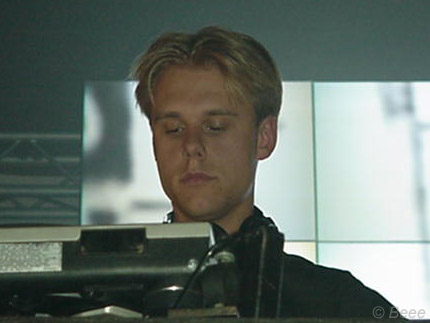 Phoenix from the ashes: GAIA rises in a new form.
Working with Benno de Goeij of Rank 1, Armin reinvigorated GAIA with 2009's Tuvan. Instantly the alias spread like wildfire as people were hungry for the GAIA sound. The ensuing years continued Armin and Benno's collaborations launching the singles: Aisha (used as an anthem for SAIL Amsterdam), Stellar, Status Excessu D [an A State Of Trance anthem for the 500th episode anniversary], the French sing-along J'ai Envie De Toi, Humming The Lights, the energetic Empire Of Hearts, In Principio, Carnation, Inyathi, Saint Vitus, and Crossfire.
During all that time, the duo continued to keep themselves occupied in the studio, crafting music for Trancefamily to enjoy. In 2014, GAIA donned the now-famous dark black robes and rocked the A State Of Trance hosted stage at Ultra Music Festival. GAIA performances became rare treats to the masses – once in Europe during Amsterdam Dance Event in 2014, a few surprises during A State of Trance hosted events such as Australia 2015, EDC Las Vegas 2016, and of course a famous encounter during Dreamstate Southern California in 2017.
GAIA continues to evolve their palette and has now released their long-awaited album Moons Of Jupiter.
In late 2018 Armin and Benno shattered the collective consciousness announcing a special GAIA performance at Paradiso during Amsterdam Dance Event. Fans knew to expect something interesting and energetic, and rumblings of a load of new music helped increase the atmosphere as the show came up.
For yet another time, Benno and Armin donned the black robes and took to the stage. The result: a confused crowd, unsure of this new experience playing out before them. Hit singles appeared in this performance near its later segments, but darker, atmospheric pieces took hold for much of the experience.
This was unexpected and the response settled into the collective thought of: "Was this a misfire?" What did GAIA center the performance on? Debuting the new works from the upcoming debut album under the alias: Moons of Jupiter. Now released, you can read our full thoughts on this album from one of trance's most renowned duos as we stay tuned as we hope that this is just a start of more to come from GAIA in future years.
---
Follow GAIA on Social Media: