Following the release of his second studio album Alive and Feeling Fine, we talked with Lost Frequencies about his new music and live performances before his set in Chicago.
---
One of the most unique artists in the global electronic music landscape is Lost Frequencies. The Belgian DJ and producer has become a staple at his hometown festival Tomorrowland every year where he's curated some amazing lineups and is known across the world for his productions that combine electronic music and live instrumentation.
His second studio album, Alive and Feeling Fine, was released earlier in October and was met with praise from his fans and tastemakers alike. The two-sided album includes over twenty tracks that span from his hit "Crazy" with Zonderling to a remix of "American Boy" by Estelle and Kanye West.
Following the album release, he's currently touring across North America on the Lost Frequencies Live tour. After a busy summer performing at festivals all over Europe, Lost Frequencies will play a few shows in the States before finishing the year strong with more headlining shows back home. Before an amazing set at Chicago's Concord Music Hall earlier this month, we sat down with him to talk about the new album, his favorite shows of 2019, and more.
Stream Lost Frequencies – Alive and Feeling Fine on Spotify:
---
The first disc on Alive and Feeling Fine features previously released singles like "Crazy" with Zonderling, as well as plenty of brand new original productions. How long has this album been in the works?
I didn't really ever start working on the album – I just make a lot of singles, a lot of tracks for myself, and also a lot of tracks where I have fun producing music! I'm always trying to find different approaches to making music. For example, there's "Before Today" on the album, where the BPM changes throughout the track. So it's my work from 2017-2019, and a lot of it fits together production-wise, so we released the album.
Alive and Feeling Fine features vocals from Kyla La Grange, Aloe Blacc, and James Blunt. How do you choose vocalists to sing on your tracks? What are some things that you look for when scouting talent?
I'm looking for a warm vocal or one that I just really have a crush on. The collab with Kyla La Grange was actually ready for the previous album, but I wasn't 100% sure about it yet. It's a bit more electronic and weird. Later, I called Throttle and asked if he wanted to work on the track since I wasn't sure where it was going. We finished the track together, and now it's on the album.
Throttle is actually on tour with you as well, how has that been?
It's been amazing. I've known Robbie for three or four years now. He's super nice and really talented, and people have been having a great time during his set. It's been fun – he goes out there and plays a lot of his own stuff, and then I come out and play a lot of mine.
His new EP came out yesterday! It's really cool.
Yeah! He tried a lot of new stuff also. It's always nice to see artists grow.
What was it like working with James Blunt?
Working with James Blunt was great – it was 100% good vibes. He was so cool and relaxed. It really stuck with me how popular he is but still so chilled out. Working with him was an amazing memory, and now, every time I play the track I get a 'good vibe' feeling.
Do you have a certain vocalist that you'd like to work with one day?
I'd really love to work with MØ.
I really love the vibes on "Paninaro" – can you share some production secrets with us? How were you able to write such an emotional track? 
I think what makes it most emotional is the singing sample on top. It's a sample from "Paninaro" by the Pet Shop Boys, an old track from the 90s. I had to re-record the vocals, but I really wanted to use that sample. I tried a few things, put some chords in, and had fun with it.
The second disc on the album, consisting of ten tracks, has several remixes and alternate mixes of your songs. How did you decide to release those tracks? Do you have a certain song on there that's your favorite?
"Sun in Shining – Deluxe Remix" for sure. It's the last song of the show tonight! It's one of my favorite moments in the show. It was released two months ago, and everyone already sings along when I play it. It's such an amazing moment – I get the chills every time and just keep smiling.
I wanted to release that CD because Lost Frequencies is two parts. The more radio-friendly CD #1, while CD #2 is what it's like to see Lost Frequencies live. More electronic and more energy, but there's still vocals and melodies.
You had a crazy summer in Europe, hitting up a lot of festivals including Parookaville, Exit Festival, and many more. I'm sure having your own stage at Tomorrowland was an awesome memory, but what's a lesser-known festival that you had a memorable time playing at this year?
I did a festival in Italy called Nameless Festival. It was the only festival I did in Italy, and the crowd there is great. It was one of our favorite shows of the summer. Everyone was singing along to the melodies, chords, and vocals. It was really amazing.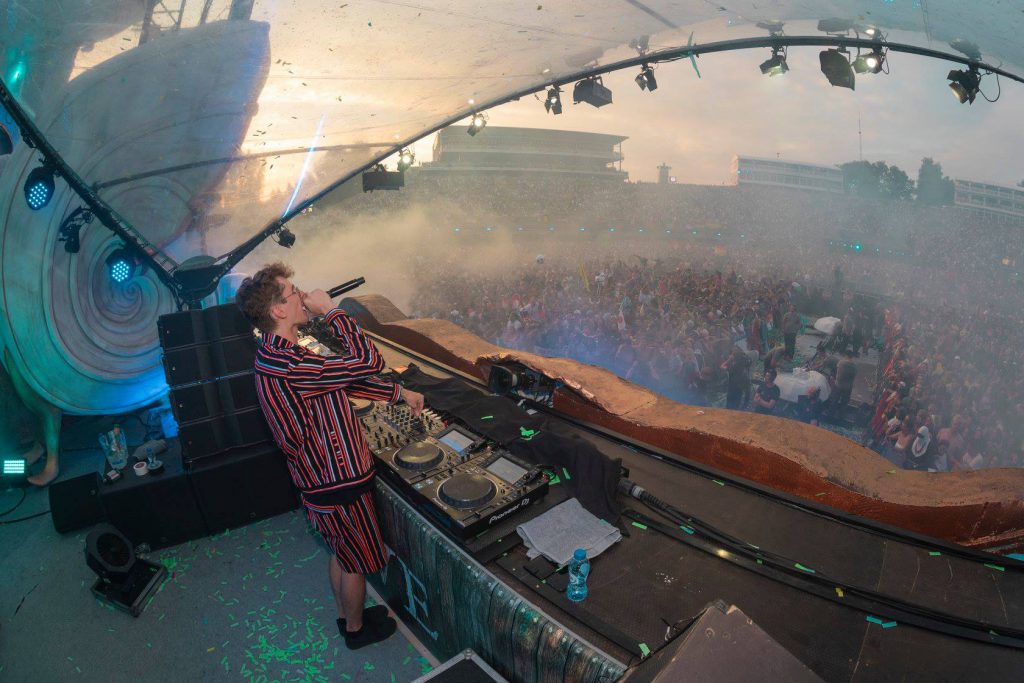 Is Tomorrowland a highlight for you each year? Is that something you always look forward to?
Yeah, it's literally 40 minutes away from my home. It's an event that's broadcast worldwide every year, and sometimes I forget how big it really is. It's easy for me to just go and enjoy the festival! I've been going there for the last five years and know the owner and even some of the security guards on stage now.
It's the first weekend of your North American tour, which goes through the end of October. Looking towards these next few weeks, what are you most excited for while visiting the States?
Visiting San Francisco. It was the first show that sold out, so I'm super excited to see all those people that bought tickets two months before!
Your shows on this tour are "Lost Frequencies Live". For those who may not have caught you live before, what do these live performances entail and what can fans expect on this tour?
There are three of us: a drummer, a guitarist, and I do all the keyboards. I don't have a DJ booth or CDJs. I bring two guest singers with me too, so there's five of us total on stage. It's a completely different approach than a DJ set. It's still electronic music, but it's played live.
Do you have any performers that you draw inspiration from?
My biggest inspiration is Netsky, one of my best friends in the music industry. When we were making "Here With You", he encouraged me to try out a live show for the first time.
I know you come from a very musical background – what instruments do you play during the show?
I have keyboards and a lot of hardware on stage with me. I can do sound design during the show, and play with sounds with reverb and delay. 
Now that your album is released and you have several tour dates lined up for the rest of 2019, how do you plan to spend the first few months of 2020? 
Relaxing for sure! The summer started super early for me. Then, summer ended and it was straight to the studio for rehearsals for the tour. Now, the album's out and the shows started, so it's time to take a few weeks off after this.
Finally, if you could give new producers who are looking to make their break in the dance music scene one piece of advice, what would it be?
Do something different! I follow a lot of music blogs and Instagram accounts where they show new tricks and stuff, and it always sounds the same. The guys that are doing something original don't really show you how to do it – that's why it's original. Come up with different FX, sounds, arrangements, and mix different genres!
---
Connect with Lost Frequencies on Social Media:
Website | Facebook | Twitter | Instagram | SoundCloud | YouTube