Despite crazy weather and the collapse of the Freedom Stage, Tomorrowland and their 15-year celebration remained focused on uniting People of Tomorrow from around the world!
---
For many festival-goers, Tomorrowland has occupied a space on their bucket list at some time, and I am no different. For years, I longed to attend the event and experience the massive Disneyland-esque festivities. To my surprise, the universe and my schedule finally aligned in such a way that I was completely free during weekend two and I jumped at the chance to finally take the leap to Boom, Belgium.
Somehow, my fellow team member Lisa was able to get tickets and lodging through the Global Journey sale and with that, my Tomorrowland 2019 Weekend 2 journey would commence! No longer would I have to livestream at home or longingly watch the after movie and I was beyond excited to finally experience this immersive festival for myself!
Lisa was able to secure a Global Journey bus package which included lodging and it was a great, worry-free way to travel to the festival!
For those outside of Belgium and especially outside of Europe, it's been said that the easiest way to secure tickets via the official channels is to buy a Global Journey package. Global Journey is an all-encompassing travel package that covers your travel into and leaving Tomorrowland.
There are multiple packages that range from trains to flights but we opted for the bus package. To be fair, to say we chose this option isn't quite accurate. The Tomorrowland sales are infamous for selling out in mere minutes, so sometimes you have to grab what you can and hopefully, it's within your price range. At the time of the purchase there weren't many other options, so let's just say that the bus package chose us rather than us choosing it.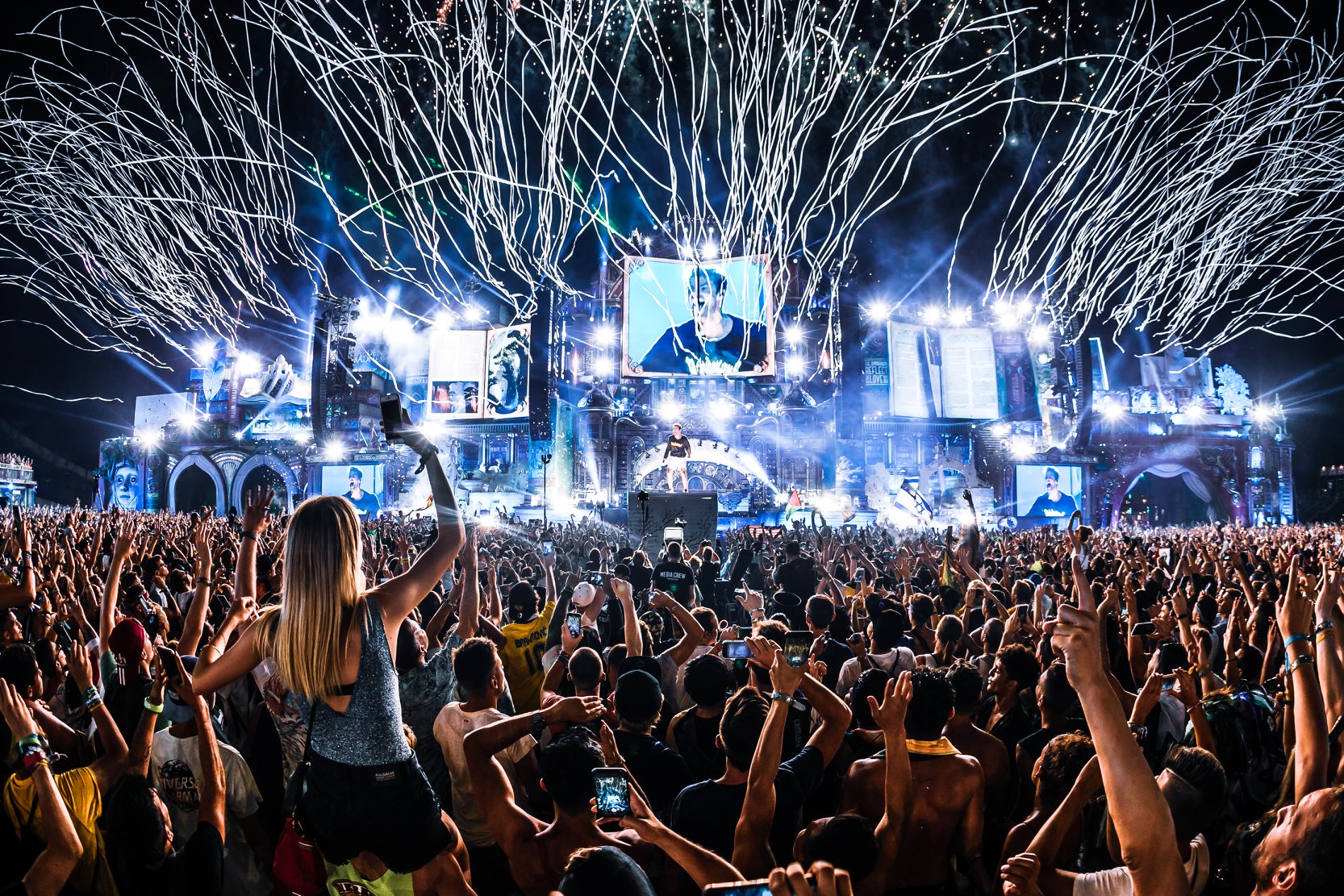 The Global Journey Package was a dream.
Before Tomorrowland, information about where to meet for our bus was sent to Lisa's account as she was the main ticket buyer. When we arrived, we were met with numerous Tomorrowland "experience-makers" to point us in the right direction. Our meeting point was in Amsterdam but there were numerous meeting points to choose from, which makes the experience that much easier to personalize to your needs.
At the meetup location, we received some goodies including a Tomorrowland gym tote, dice game, journal, and wristband that allowed us on the bus to and from the festival. We also received vouchers for food and drink as we waited to board the bus. The boarding process was a bit chaotic but everything was smooth afterward. During that time, Belgium was experiencing a heatwave, and the AC in the bus was either low or nonexistent – so it was very warm inside the bus, though cooler than the outside.
Almost halfway through our journey from Amsterdam to Boom, we stopped at a beautiful outdoor restaurant and were welcomed with delicious food and a DJ spinning electro house bangers. The food was amazing but as I have a mild nut allergy, I had to flag down one of the chefs to ask which dishes included nuts and as one did, it was good that I asked. After lunch, we boarded the bus to our final destination.
When we got off the bus we were informally greeted by elderly neighbors sitting outside their homes, waving and welcoming us to Tomorrowland.
It was an amazing sight to see as in many instances the community seemed fully immersed in and accepting of Tomorrowland. Despite the fact that there were two weekends of booming music playing alongside residential neighborhoods, every person we met outside of the festival was very excited to hear we had traveled all the way from Los Angeles to experience a festival in their neighborhood.
Additionally, when walking through the neighborhood to attend press-oriented events, we noticed numerous Tomorrowland flags in the windows of those same neighborhoods. This was in stark contrast to other events that take place in neighborhoods that don't seem to have the same buy-in and reverence from the community as Tomorrowland does.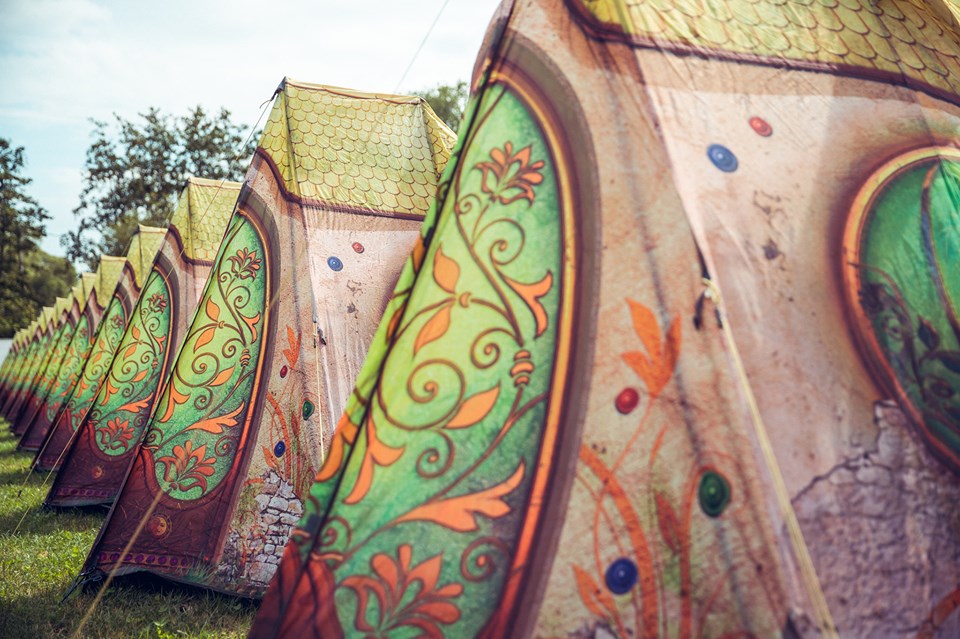 I have to admit I'm not much of a camper, so when we opted for Camp2Camp I was a bit unsure – but I was up for the challenge.
I've definitely camped before but don't have extensive camping experiences. That being said, I have only camped at a festival once and it was a wonderful mid-tier glamping experience at Defqon.1 2018.
For Tomorrowland, there are multiple housing options including hostels, hotels, and camping. Within the camping option, you have higher-end, expensive options such as mansions, lodges, and various types of glamping; Magnificent Greens, which had the option for you to bring your own tent or reserve pre-pitched tents; Friendship Camping for large groups to camp together; and a new edition for this year called Camp2Camp.
The Camp2Camp concept is all about recycling products and there is a Camp2Camp booth where you can borrow sleeping bags, mattresses, and other necessities. This year, the Camp2Camp concept expanded to include camping options in the form of the staff setting up pre-pitched Tomorrowland tents. I love the concept and it was fun seeing the different types of tents Tomorrowland had used over the years.
Even though I ended up enjoying my stay in camping, I doubt that I would camp again.
You definitely have a different perspective of Tomorrowland by staying in the camping community but things such as having limited showers that only opened Friday through Sunday from 6 AM to 3 PM was bothersome. I know there were outside showers open at all hours, but I never actually found them despite asking about them twice. That, coupled with the extreme temperatures put me off of camping in the future.
On Thursday and Friday, the weather ranged from a high of 90-105 degrees during the day to about 80 at night, which was very stuffy to sleep in. I do want to acknowledge that on Thursday they did offer special 2-for-1 water deals that were very affordable. Friday and  Saturday ushered in torrential rain and as our tents weren't waterproof, all of our belongings were soaked and smelly for the remainder of the event despite attempts to put up tarps and ponchos around the top of our tents.
I definitely recommend camping at least once if you don't mind the possibility of extreme weather and I'm happy I experienced the community that came from staying in Dreamville. Also, it should be noted that Weekend 1 had perfect weather, so us Weekend 2 attendees were just unlucky.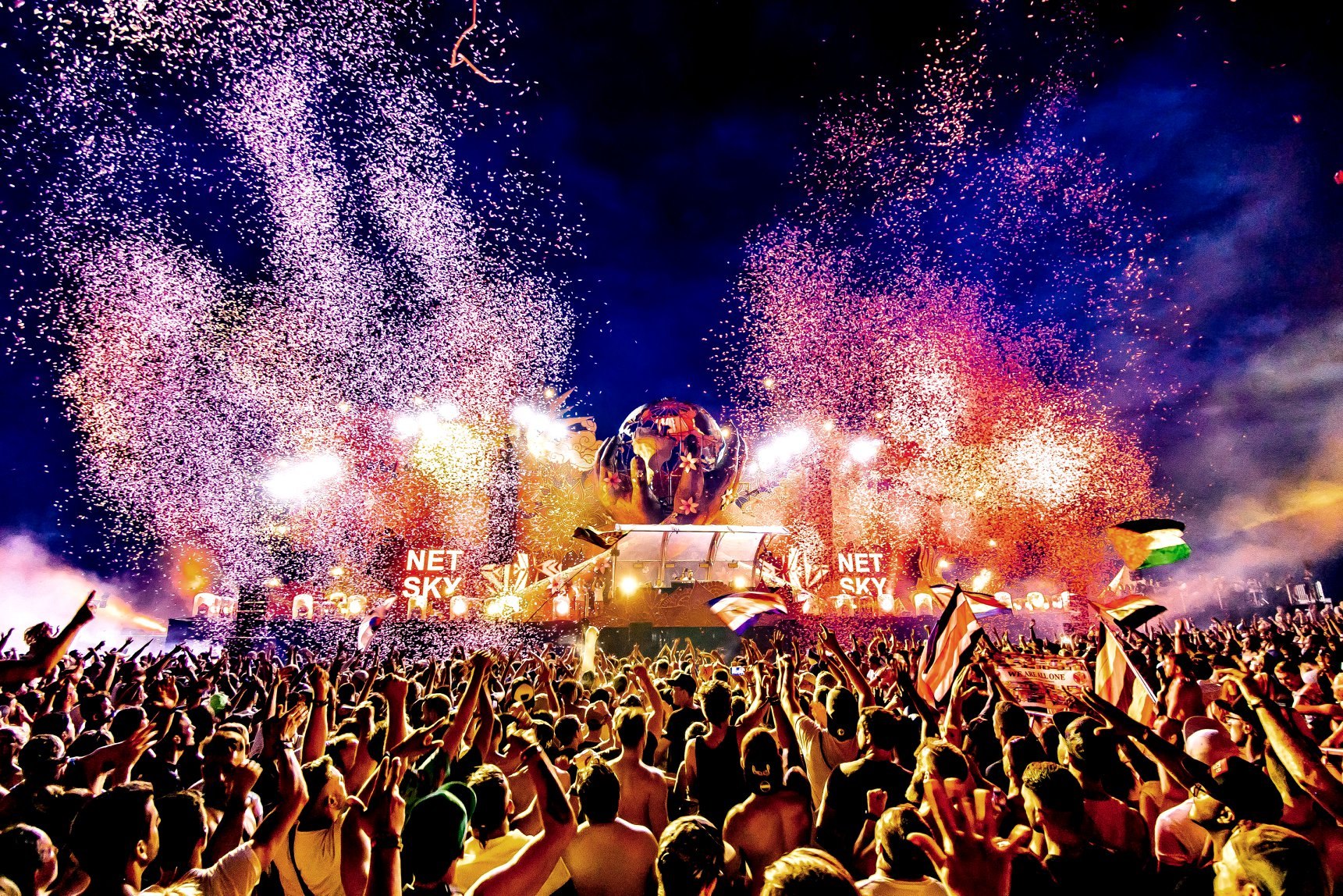 On Thursday, those staying in any on-site housing options were invited to a Tomorrowland pre-party event called The Gathering.
To get to The Gathering, you go through Dreamville, which is the on-site community at Tomorrowland. In Dreamville, there are various marketplaces, supermarkets, charging stations, salons, and more. Additionally, you were able to participate in fitness and yoga classes, eat at various food stalls, and watch as Dreamville radio was recorded.
Tomorrowland operates on a cashless system (1 pearl was equivalent to 1.6 Euro), so it was important to make sure wristbands were topped up with funds before heading to the event. However, there were multiple top-up stations throughout Dreamville and the festival itself in case more funds are needed. It was an amazing and expansive ecosystem and really made you feel as though you were living in this world.
The Gathering is the opening ceremony for Tomorrowland, so the People of Tomorrow gather around one stage to watch various artists from multiple genres light up the stage. It is also such an amazing deal as it's basically an extra day of celebration! There were also surprise performers such as Netsky and W&W who popped up to celebrate 15 years of Tomorrowland.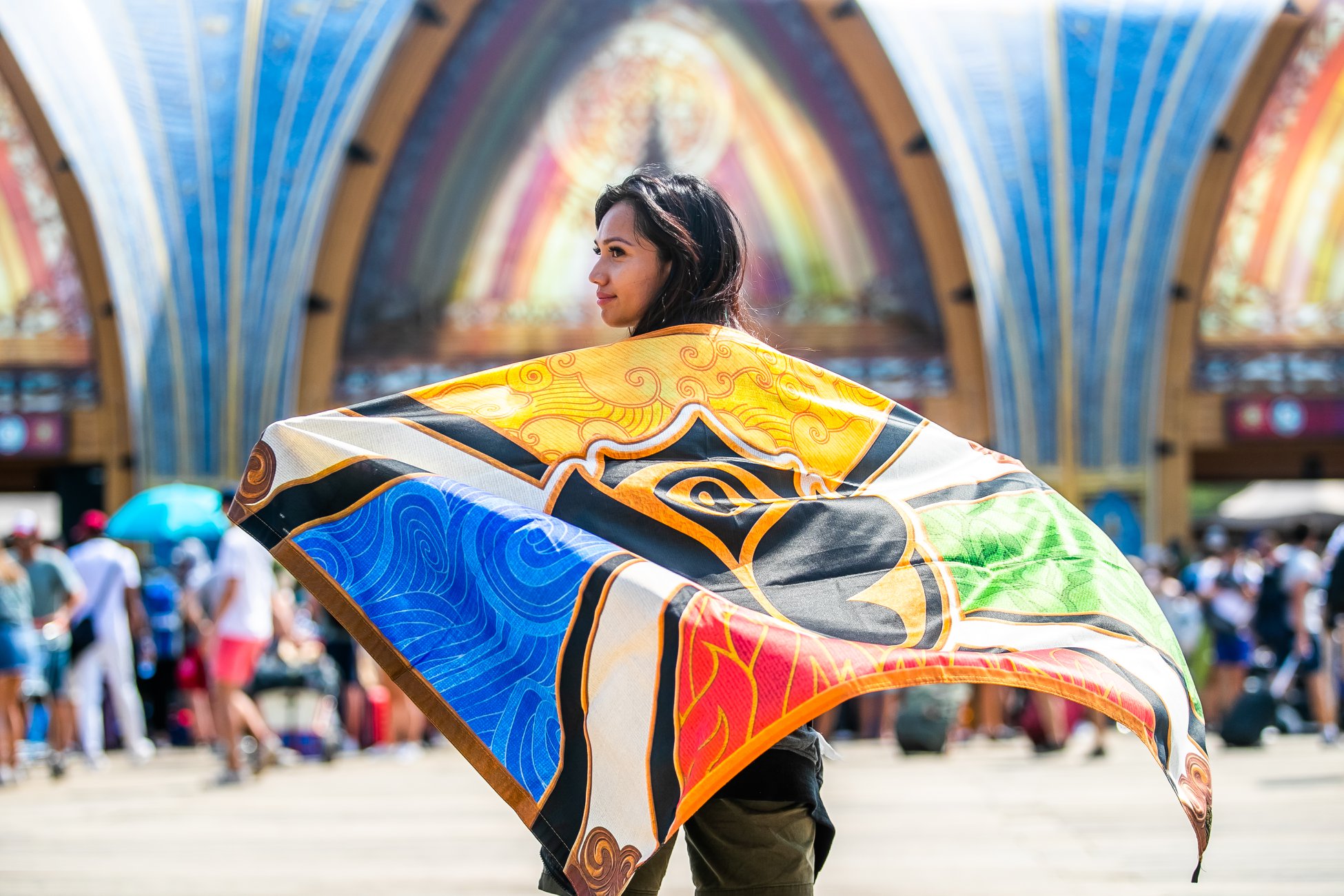 When I first stepped into the Tomorrowland festival grounds, it was as though I was transported to a different world.
The Tomorrowland team does an amazing job making you feel as though you are fully immersed in the festival. Each year they pick a theme and sprinkle reminders throughout the event. This year's theme was a repeat of 2015's Book of Wisdom and the main stage reflected the theme.
Related: Check out Lisa's Tomorrowland review for a more in-depth look at the main stage.
The theme, coupled with the expansive nature of the event, completely unique stages, multiple side-excursions, and performers create a truly amazing experience. Even though I tried hard, I was only able to attend sets at about half of the stages but to be honest, I'm OK with that. I didn't want to stress about seeing everything and was more focused on being present and enjoying the moment.
I have spent the past few years focused primarily on trance and hard dance events, so Tomorrowland 2019 was my first multi-genre festival in quite some time.
Because of that, I made sure to attend as many house and techno stages and sets as possible. On Friday, I spent an exorbitant amount of time at the Atmosphere stage. This stage looks like a tent and is dark inside so whenever the LED lights and lasers would flash on the ceiling or in the tent, and it was incredible. I caught acts such as Joyhauser and UNER there but the act that blew me away was ANNA. After hearing much about her from friends, I was happy to finally hear her dark brooding techno style and absolutely fell in love.
I kept that interest going by also checking out the underground sounds of Boris Brejcha, Kölsch, and the energetic Charlotte de Witte at various points throughout the day. Sprinkled in between I also was able to see Mark with a K make his main stage debut and Don Diablo pack the Lotus Stage.
The first day was supposed to end with Eric Prydz and his HOLOSPHERE but due to the collapse of the Freedom Stage, the crew was unable to rebuild it in time.
On Thursday we were all informed that HOLOSPHERE was no longer occurring and to say I was not disappointed would be a lie. However, due to the collapse of the Freedom Stage, Tomorrowland had no choice but to cancel the setup and I appreciate that they put the safety of attendees above everything else.
I was also impressed that they were able to modify the Freedom Stage area by making an outdoor stage. Was it ideal? No. Was it the best they could do in a short amount of time? Yes, and it was a very good setup.
I stopped by Eric Prydz' set to check out his tunes and see the setup and then left to see Dr. Peacock close out the Q-dance stage. Q-dance is known for their extravagant setups and lighting and as this was the first year of having a dedicated stage all three days, they pulled out all the stops. They brought over the master sword portion of the UV stage from Defqon.1 2019 and seeing it lit up at night and paired with the extreme laser show that occurred during Dr. Peacock's set was nothing short of breathtaking. For me, it was the best way to end night one!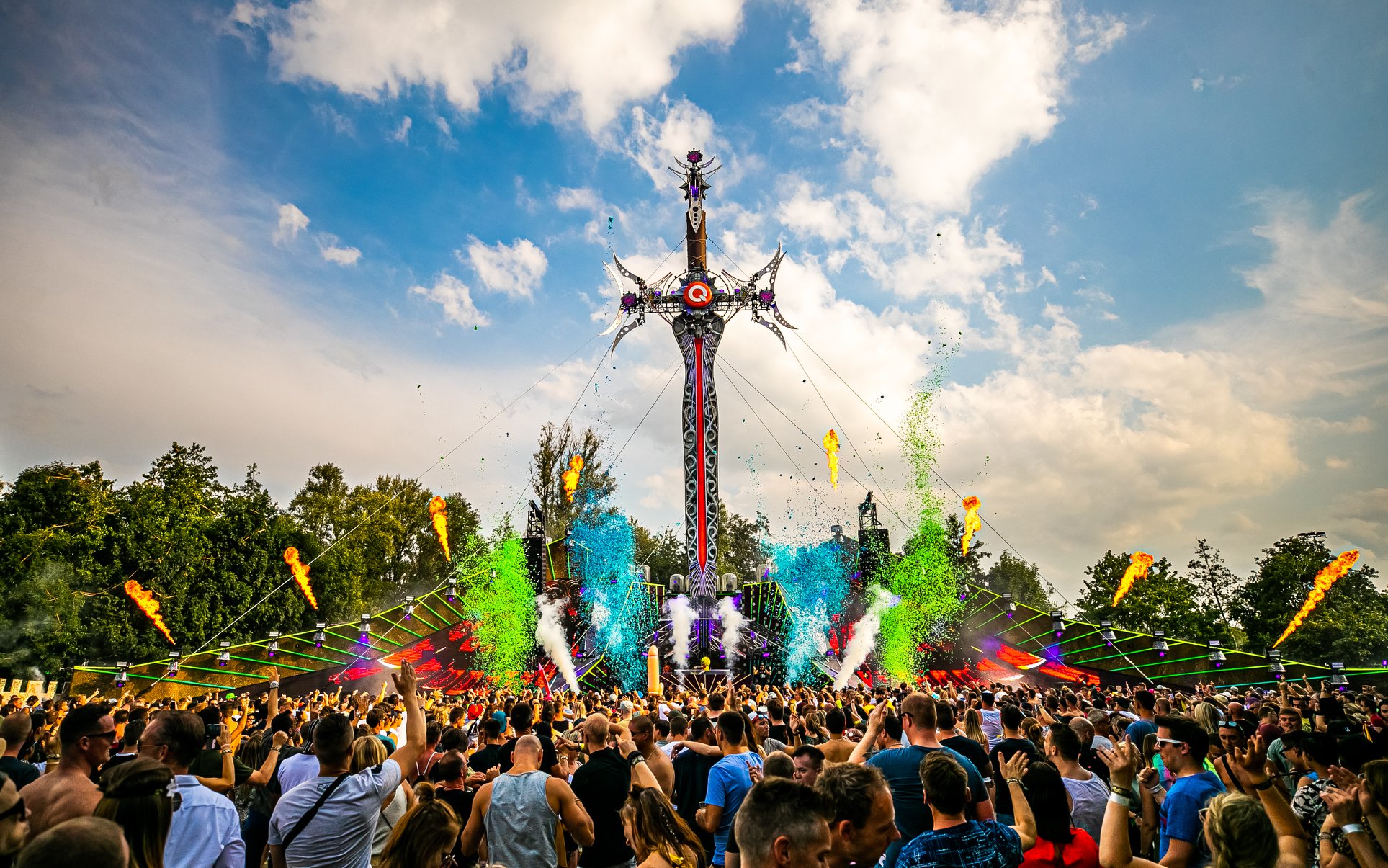 Although I tried hard to avoid trance during the festival, day two was spent almost entirely at the FSOE stage.
There's something about a stage that begins with groovy progressive and escalates to euphoric and emotional sounds that always hooks me in. Unfortunately, as Saturday was the heaviest rain day and Future Sound of Egypt (FSOE) was located at the outdoor Kara Savi stage, I feel attendance was negatively affected at the beginning of the day – but that also meant more dancing room for me!
FSOE started with the amazing progressive set from Mr. FSOE himself, Fadi of Aly & Fila. It was so great to hear the type of deep sounds you typically don't hear from them unless they're playing an OTC set and it was especially nice to see the crowd get into it when he dropped some dirty techno. He was then followed by my two very favorite sets of the night Gai Barone followed by Paul Thomas b2b John "00" Fleming. Both sets were filled with dark and groovy progressive bangers and both acts exuded so much happiness and excitement that they warmed the crowd despite the rain.
The only time I left the stage was to attend a bit of KELTEK's set at Q-dance but otherwise, the rest of my day was filled with Ferry Corsten, Roger Shah, M.I.K.E. Push, James Dymond vs Sneijder, and Ferry Tayle vs Dan Stone.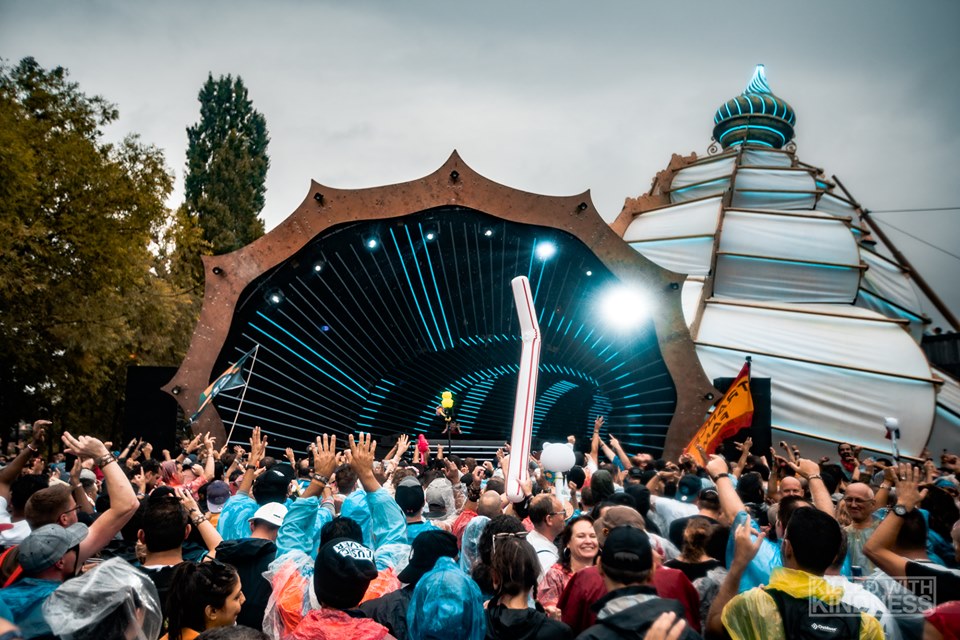 The music on the third day was on point, of course, but the two most unique experiences were watching Symphony of Unity and eating at Aperto.
When I first watched the Tomorrowland documentary This Was Tomorrow, I fell in love with the Symphony of Unity portion and was beyond excited to find they would be having an orchestral portion during Tomorrowland this year. After attending shows such as Pete Tong and The Heritage Orchestra presents Ibiza Classics, I longed to hear more orchestral arrangements of electronic tracks!
The 2019 Symphony of Unity was superb as they played emotional, moving renditions of "Children", "Opus", and even Fisher's "Losin' It" among other tracks. The best part of the set was when Susana came on stage to sing Shivers; her voice backed by the orchestra was an amazing sound to hear.
Shortly after that awe-inspiring performance, I ventured over to Aperto with friends.
While the food was good, what stood out more was the view. Aperto is located with a view of the main stage so it was quite the experience eating lamb and appetizers while hearing and seeing Solomun and Netsky play in the foreground. I would definitely recommend taking part of at least one food experience at the various eateries if you can!
Finally, ending the night with a special 15 years of Tomorrowland celebration with Armin van Buuren was the icing on the top of a fantastic musical journey. Over the weekend, he played three different sets and this one was filled with most of his classic trance tracks that helped shape me into trance lover I am now!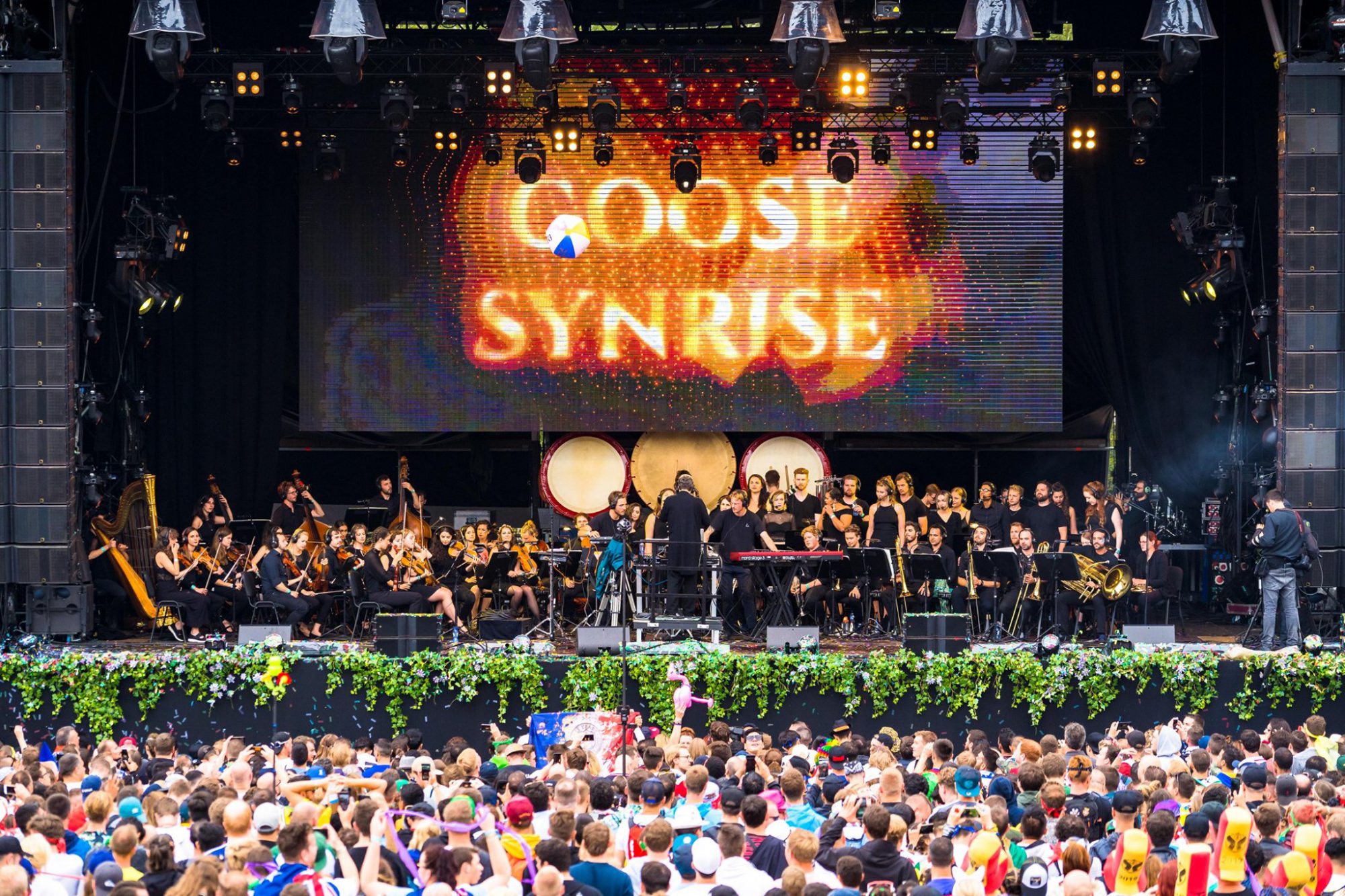 This is just a fraction of the sights, sounds, and experiences that occurred during the weekend.
Tomorrowland does an amazing job making sure that each attendee's experience is unique. With multiple excursions, stages, eateries, and secrets to discover all around, it's impossible to participate in every aspect of the festival and that's something I love. It's clear that the team does not skimp on the immersive festival experience, as shown through the unique themed tickets, global journey goodies, amazing stage designs and so much more.
There were definitely some setbacks over the course of the weekend, but those did not take away from my experience as a whole.
For example, even though it was raining, at least I was dancing to some of my favorite artists. Or because HOLOSPHERE didn't happen, it allowed me to check out Dr. Peacock's fantastic set that I might otherwise have missed. Each time there was a setback, I reminded myself how amazing it was that I was at this epic festival and how if I didn't like one experience, there were many others to explore.
Tomorrowland is not something you can merely read about or watch a video of to truly understand.
It is a festival that you must attend to feel the full range of emotions and even after making the journey one time, you likely won't even scratch the surface of what is offered there. The warmth and positivity I felt from almost every person I encountered was palpable, and was something I'll never. I would not hesitate to recommend that any festival lover attend at least once. I can't wait to make a return trip myself in the future!
Want a glimpse of the festivities? Watch the Tomorrowland 2019 Aftermovie:
---
Connect with Tomorrowland on Social Media: