Ben Gold sat down with us before his epic set at ASOT 900 Mexico to discuss his latest album Sound Advice (Chapter Two), FUTURECODE, and his take on social media. 
---
Ben Gold has been a household name in the trance scene for quite some time. Responsible for such hits as the melodic "All or Nothing" with Christina Novelli, phenomenal remix of Marcel Wood's "Cherry Blossom," powerful anthem for A State of Trance 750 "I'm In A State of Trance" and so many more, it's no wonder why he was dubbed "The Future of Trance" by powerhouse label Armada Music.
Well, the future is now and Ben Gold has further expanded his reach this year! He is certainly living up to the label bestowed upon him as he's traveled around the world spreading the trance gospel. This year he's been spotted gracing the stages of massive events such as Untold Festival, A State of Trance 900, and Mysteryland, among many others.
As if that was not enough he has been creating and releasing great music at a massive amount this year! 2019 has seen Ben Gold collaborate with fellow melodic maestro Omnia to create FUTURECODE and release tracks such as "Dancing in the Rain" and "Trinity". He also hit the coveted Beatport #1 spot with his "Jetlag (Remix)" alongside master remixer Allen Watts. Additionally, just last month Ben Gold released Sound Advice (Chapter Two), the second part of his debut album, which received numerous rave reviews.
At ASOT 900 Mexico, we sat down with the very booked and busy Ben Gold to talk about Sound Advice (Chapter Two), FUTURECODE, the effects of social media on body image, and so much more. Take a listen to his latest album, grab a copy for yourself, and read on for the full chat!
Stream Ben Gold – Sound Advice (Chapter Two) on Spotify:
---
You've just released your latest album, Sound Advice (Chapter Two). You released the first part late last year which was focused on live instruments, whereas this one is focused more on the dancefloor. Why the distinction between the two and why did you choose to split the album into two parts as opposed to melding those concepts together?
The idea of doing a standard album of 15 or so tracks, all in one go, just didn't excite me. We came up with the idea, it's not an original idea, but we came up with the idea at Armada to create like a mini-album series each with their own theme. Each took like six months to do and I think that's just the perfect amount of time to still love the records when you finish the album.
I was worried if I was to sit down and start doing a 15 track album, that by the time I got to the end that perhaps I'd be sick and tired of some of them. I feel, as a producer, I'm always improving with every record from a technical point of view. So I think by the time I got to the 15th track I would have learned so much that I'd want to go and redo one again and then redo two and three and then it's never-ending. By splitting them up and giving them a theme and also a timeframe meant that I had to get it done. And as I said, by the time I finished the album, I still love every record.
So it's nice that you were able to release a little bit here and then a little bit there and kind of kept the production fire going.
I also had the FUTURECODE project going on in between. The original plan was to release Sound Advice (Chapter One), then get straight into Sound Advice (Chapter Two), but it didn't quite work out that way. FUTURECODE came in the middle, which kind of was a mini-album in itself anyway because we wrote six brand new records. Actually, if you think about it, I've done three album projects in the space of 18 months. And I've never been so productive in the studio in all my life as a producer. So maybe I blame a move the Amsterdam, maybe that has something to do with it.
Over the past few months, you've been dropping Sound Advice (Chapter Two) songs in your sets and even played numerous tracks in your Armada Invites set. Upon the album's release, some of the final tracks sound different from what we heard in your sets. Did the audience reception affect how you altered tracks while they were works in progress?
The clubbier records on the album, "Why You El," "Sapphire," "Step Inside," these records were certainly tweaked a lot more because they were designed for the dancefloor through and through. Although the album is a lot more dancefloor driven than Chapter One, tracks like "The City Sleeps Tonight," "Come Home," and "Take Me to Heaven" were vocal records. I think when you write a vocal record, the idea is that you want to make it accessible for radio, Spotify, Apple Music; you want to be able to enjoy it in that environment, as well as on the dance floor. 
"Ghost" is a completely different track on the album and definitely sticks out from the rest of the tracks as it isn't much of a dancefloor track. Why did you include this slower, more downtempo track in Sound Advice (Chapter Two) which is more of an uptempo, dancefloor album?
Louise Rademakers, she wrote the amazing record.  Ruben and I, we work well together; we have history. We wrote a record on Chapter One [called "Two], as well as "Trinity," "Bomb Squad Kittens," and "Era Festivus". This was our fifth outing and it's just so easy to make music with him because we have the same vision; I know what he wants, he knows what I want. But with "Ghost" we didn't want to make a dancefloor record. Actually, what's interesting about this one, in particular, is that we will make a very nice club mix. It's in the works and I'm very excited. Unfortunately, it's not ready just yet but it will be soon.
On Chapter One, I included an acoustic version of "There Will Be Angels" and it was completely just stripped back piano, a very small bit of violin, and vocals. I really liked that just to listen to so I wanted to do something similar to Chapter Two. Now, "Ghost" was the last record that was finished for the album. And it was tight; we just made the deadline. 
It's just testing yourself in the studio, it would have been easy for us to write another "Bomb Squad Kittens" or "Two" or a "Trinity". Well not "easy," but easier. But "Ghost" certainly presented some new challenges. Because as you say, it's not a dancefloor record now, but as I said, it will be!
In July we saw you return to Garuda with "Sapphire (Recut)," which is an updated version of your 2010 track "Sapphire". Why did you decide to revisit that track after so many years and could we see you return to Garuda for more tracks in the future?
I have some of the best memories of my career of being on Garuda, and working alongside Gareth, both in the studio from a label point of view and also touring the world and supporting him on his shows. Garuda will always have a special place in my heart; I love that sound. "Sapphire (Recut)" came around because I just wanted to do a new version for my sets. I found the song file so I was able to get the bassline exactly the same, and take out little bits but most of it was recreated. 
I was with Gareth and I said, "Oh, look, I've just remade Sapphire" and he's like "Send it, send it, send it. Look I want to put it out on Garuda." I wanted it as part of my album but we were able to work it out so it came out just before the album. You know, maybe I'm working on something for Garuda right now. Maybe I am, maybe I'm not. [Laughs]
US fans are itching for a FUTURECODE debut. Both you and Omnia teased us by both appearing on the Electric Fairy Tale lineup yet not playing together as FUTURECODE. Do you plan on making an official US debut anytime soon?
When we started we wrote six brand new records for our A State of Trance debut set to close the main stage of Utrecht. We designed everything from the logo, the branding, the colors, the "F" symbol, the sounds; everything was designed, but what we didn't plan for was the hype. 
You put a lot into it for something you didn't think would be so big.
Well, I think if you're going to do something, you need to do it right, no matter what you do. Take your time, patience is key. That one hour set that we did took 3-4 months in the making so we're at a stage now where we have no new music. We just actually were talking about it yesterday over dinner and we have a bunch of ideas in mind.
We just came off an Asia Tour where we did a run of four shows in seven days: Jakarta, Bangkok, and two shows in Taiwan; amazing shows. It was a bit of an eye-opener because we stepped outside of our A State of Trance set and played a few other kinds of tracks and it got us a little bit excited. So now we think before we go into the studio again, let's have a real idea of where we want to go with the sound.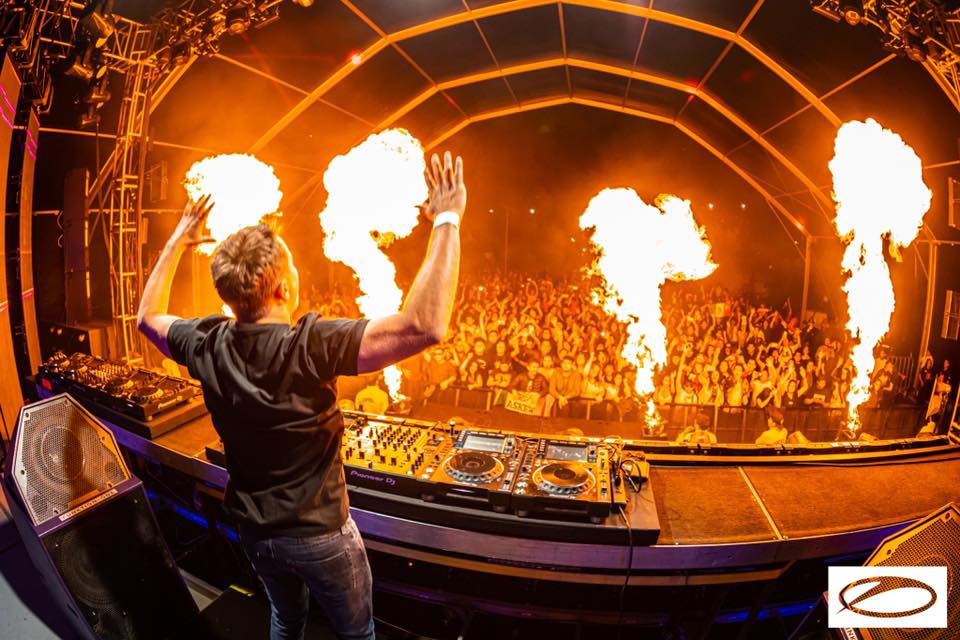 You're pretty active on social media and recently you stated that the life of a DJ/producer is not as glamorous as social media makes it out to be. How do you feel social media has changed the way DJ/producers market themselves and how do you feel this has affected the electronic music industry as a whole?
I think it's something that has a huge influence, especially in other genres, particularly on the main stage. You know, you now have DJ/performers like Timmy Trumpet and Steve Aoki. It's not just music, though, I think it's influenced everything: fashion, music, everything.
I love it and I hate it. It took me a while to realize the best way for me to use social media. For example, I don't talk to the camera too much and the reason I don't do that is that I don't feel too comfortable doing it, so I found other ways to get my stories across. I've noticed my Instagram growing at rates that it's never grown before so I feel that I'm doing something right.
But just going back to what you said about being on the other side of Instagram or Facebook. What these platforms do is show you a screenshot of one second onstage, the "money shot". Now everyone seeks to find that image and just post that image, but what people don't see that beforehand might not be as glamorous. 
Rest and recovery is key. I mean, you have to understand your body. After a big weekend like this, I'm not going to go into studio Monday, right? I'm actually on a bit of a holiday, after Mexico. I'm gonna go to Santa Monica and lie on the beach, get some vitamin D and just rest my body.
I also don't drink too much when I'm touring. We went on a really nice run on Santa Monica Beach last week and it's also been six months since I've stopped smoking. You need to have a healthy mind and healthy body, so you can perform with the best. You need to be able to give 100% because if you don't, there's always someone just waiting in the wings to steal your spot.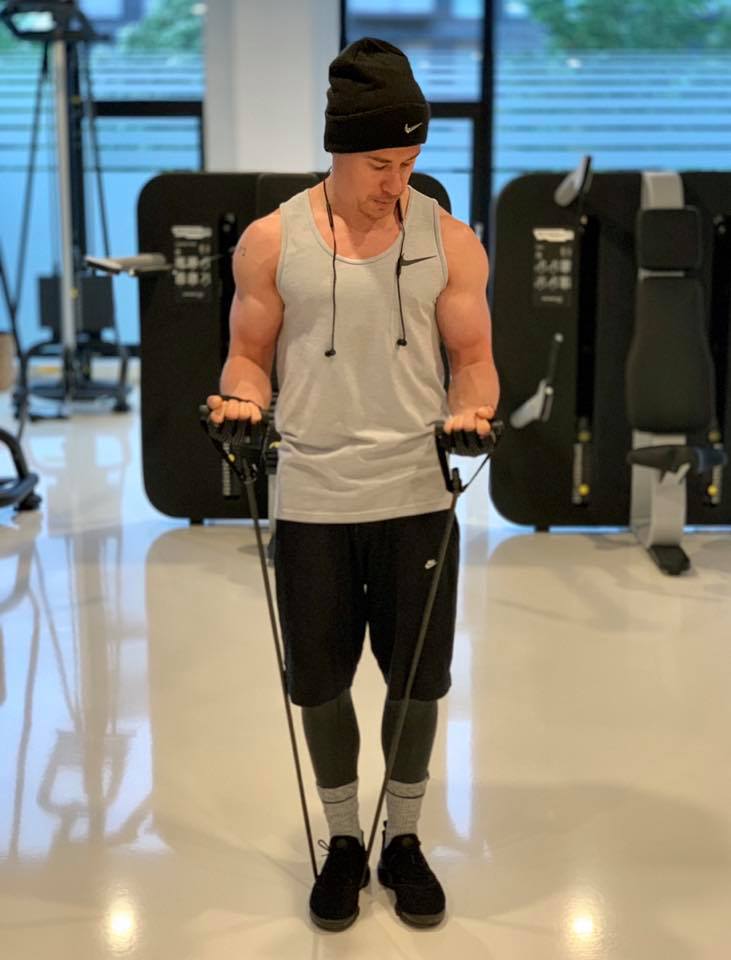 In that same vein, on your social posts you've been pretty open about taking time to relax – you've shown pictures laying out on the beach, enjoying Vegas, etc. Why do you feel it's important to share your self-care days and why is so important for artists to really manage their self-care?
Because it's real. I think there's so much 'fake' online. Let's look at influencers, for example. They spend four hours getting one picture ready, and do they really look like that in real life? Or have they gone on a couple of apps, shaped their body to look a little bit better, put a couple of filters on you know. So you're seeing this fake image.
I just think that it's important to show that we are humans, too. I'm just like you and this is my job and this is what I do. Would you work 12 hour days, five days in a row and then not take a day off? You can't. You may be able to do it for one week, but you can't do that for two or three weeks. You need to learn to understand your body. That's why the gym is so good; I think it's good for your body and good for your mind. I go to the gym when I feel great and I go to the gym when I feel really rubbish but I'm always gonna leave feeling great.
When we interviewed you last October we asked about your favorite discovery or aspect of Amsterdam. At that time you had lived there less than a year and didn't have an answer yet. Now that you've been in Amsterdam for over a year, what is your favorite discovery or aspect so far?
I'm enjoying being in the dance music capital of the world, to be honest. The opportunities there and the traffic that comes through Amsterdam from talented DJs, songwriters, singers, videographers, and creative people, everyone's there. I think I'm definitely relishing in that and I think that's kind of shown in my production. You surround yourself with people that you want to be like. Amsterdam has been kind to me so far. So thank you, dank je Netherlands.
Any last words for supporters of your music?
Thank you for your support, thank you to your readers, to everyone who follows me and comes to my shows, and buys a ticket. I really appreciate it and without you guys, we wouldn't be doing this job. So may long it continue and "Until We Meet Again."
---
Follow Ben Gold on Social Media:
Facebook | Twitter | Instagram | SoundCloud