Pegboard Nerds commemorate their 2nd Annual Nerds Week by giving listeners Heart of the Universe, their brand new EP out now on Monstercat.
---
Ever since Danish-Norweigian duo, Pegboard Nerds began down their path in the dance music scene, they have effortlessly weaved their branding and music together to see success with massive releases and shows that keep us coming back for more. Now, the Nerds are now back with their 2nd Annual Nerds week and their brand new EP, Heart of the Universe, a testament to their continuous hard work as DJs.
The Pegboard Nerds are showing no signs of slowing down anytime soon as their video game infused style continues to captivate fans all over the globe. One of the first standout artists to grace Monstercat, they've cultivated their sound to bring the world powerful releases that interlace gaming elements and bring out the inner nerd in all of us. Last year, they returned to their familiar home with the Full Hearts EP and are back again with another four-track offering that features tracks like "Crying Shame" and "Solo".
Take a listen to the Heart of the Universe EP below, download or stream the release on your favorite platform, and read on for my take on this massive release!
Listen to Pegboard Nerds – Heart of the Universe EP on Spotify:
---
Pegboard Nerds start off the EP with "Crying Shame," which is easily one of my favorite tunes of the project.
The Pegboard Nerds enlisted NERVO for vocals on "Crying Shame" and they truly deliver! I'd say their vocals elevate this song to the next level alone. The production on this is fantastic as well and it works perfectly as the intro song to the EP since sets the stage for what's to come.
The Nerds continue the EP in style, a collaborative effort between them and the infamous Ragga Twins on "Computa Hakka". The song combines the rasta elements that Ragga Twins are known for but also the heavy bass elements that Pegboard Nerds have mastered over the years.
The third track, "Solo" slows things down. It's a light-hearted track that provides lush vocals from Maria Lynn and an energetic production from The Nerds. It shows that The Nerds are exceptionally versatile in producing and can deliver an EP that has something for everyone on it!
Concluding this phenomenal EP is "Exterminate," a heavy dubstep-infused tune that ends the EP with a bang!
"Exterminate" was the first single off this EP and delivers monstrous bass, quick-panning synths, and unique vocal samples, one of which was a yodel that I found to be comical. The Pegboard Nerds know how to close out an EP in the best way possible and they do so by giving us a dose of heaviness that will have you expending all your energy as you headbang away.
What do you think of Heart of the Universe? Let us know in the comments below!
---
Pegboard Nerds – Heart Of The Universe EP – Tracklist:
Pegboard Nerds – Crying Shame (feat. NERVO)
Pegboard Nerds – Computa Hakka (feat. Ragga Twins)
Pegboard Nerds – Solo (feat. Maria Lynn)
Pegboard Nerds – Exterminate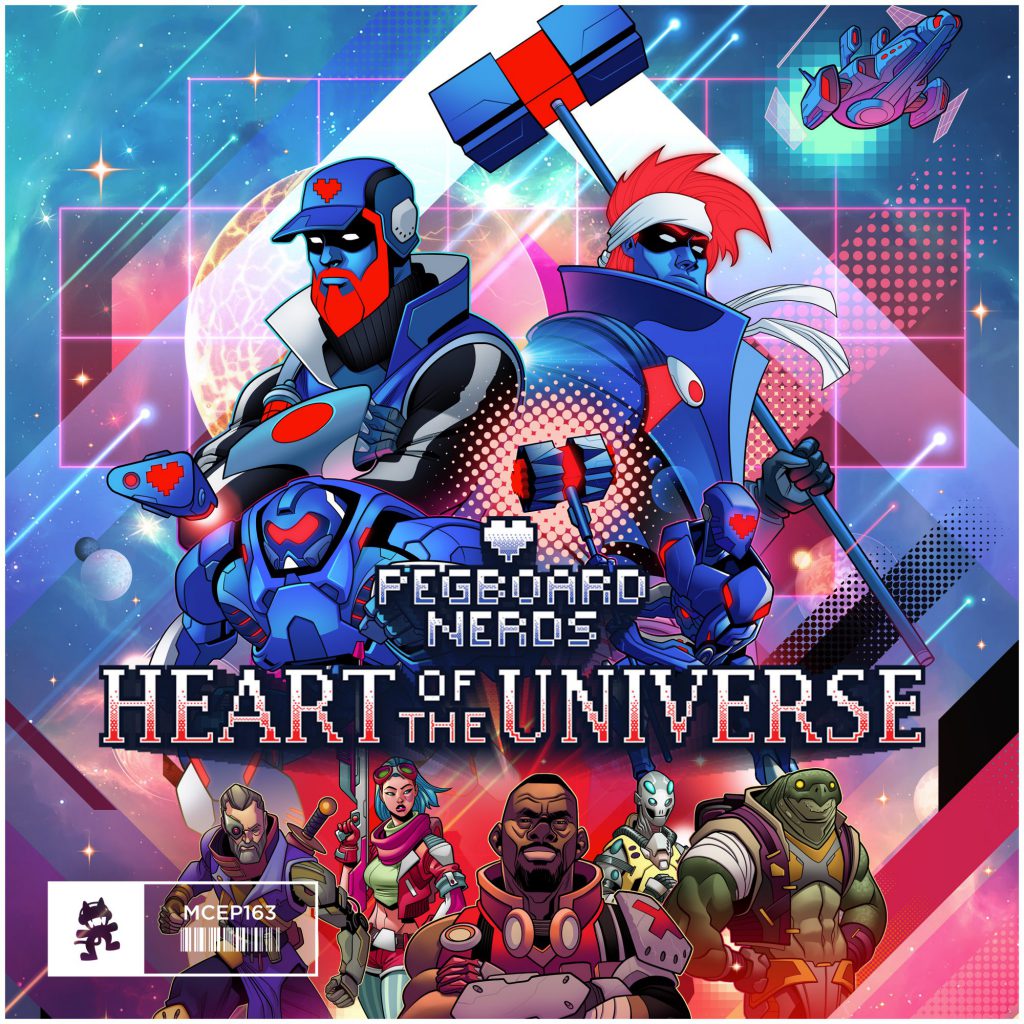 ---
Follow Pegboard Nerds on Social Media:
Website | Facebook | Twitter | Instagram | SoundCloud | YouTube