NERVO give us the details on how they balance gigging and motherhood, upcoming Tomorrowland performance, and new tune "Worlds Collide"!
---
When it comes to women in the dance music scene, few are as dynamic as Australian duo NERVO. Over the years twin sisters Olivia and Miriam Nervo have worked with a variety of artists while also churning out some hits of their own. Mainstays in the electronic music scene, they've put out hits like "Revolution" while also flexing their songwriting muscle on tunes for Armin van Buuren, Avicii, David Guetta, and more. Most recently, they dropped a fresh tune to add to your summer playlist, "Worlds Collide" that's out now on Thrive Music.
Aside from their work in the studio, NERVO also keep crowds dancing away at festivals all over the world. This year, they'll be heading back to Tomorrowland and hosting their own stage in July before jumping across the pond to Las Vegas for Life Is Beautiful in September. To make their run of shows this summer even more impressive, they'll be balancing their lives as artists and mothers as both sisters gave birth to beautiful babies earlier this year.
With so many new tunes released this year and plenty of shows on the way, we wanted to catch up and chat with NERVO. Take a listen to "Worlds Collide" below and read on for details on their upcoming performance at Tomorrowland Belgium, how they're balancing life as moms, and their goals for the remainder of the year!
Stream NERVO – Worlds Collide on YouTube:
---
Hi NERVO, thanks for chatting with us today! You kicked off the new year with the announcement that you were both bringing babies into the world. How did you prepare for the changes that have come to your schedules, and has it been hard finding a balance of work and family life?
The babies are now here and we are learning how to manage being first-time mums and touring artists. It has definitely been an adjustment we are loving it so so much! Funnily enough, motherhood has taught us to prioritize better and we think we may have actually become more productive. Who knew!
We think being a mother is truly one of the most rewarding "jobs". Our little girls bring so much joy to our lives. Their noises, their little faces, the way they cuddle, the way they learn something new each day. It really is a beautiful thing. As far as the future goes we are just going to keep on keeping on. We are still making music and touring and plan to continue doing so. The pace is a little slower – we might not accept a double up show – but all-in-all our lives just feel more enriched and we're very happy!
On the music front, you just released "Worlds Collide" on Thrive Music. What was the production process like on the track and is there a story behind the meaning of the title?
We've had a great year getting to know VNL (Volleyball Nations League) and were honored when they asked us to be brand ambassadors and with that write their theme song. The song is about people coming together and worlds colliding for the better. Kind of like what sport and music do all around the world!
Last month you dropped track "Sober," which features a country-like sound with guitar riffs, whistling, and lyrics that hit home which differs from your tracks like "Habit" or "The Other Boys". Were you two looking to experiment with new sounds or did the lyrics have an impact on the production?
We wanted to make a record that worked on the dance floor for the summer but also had some lyrical substance. We've all had those SOBERing moments when you realize a relationship isn't what you thought it was and this is what this song is about. It's a melancholy summer song. Hopefully, people will be able to relate while having a dance at the same time.
You have performed at Tomorrowland Belgium countless times in the past and even had a #NERVONation stage in 2018. What were some advantages or disadvantages to curating/hosting a stage compared to just playing the festival in a more standard sense?
Playing a main stage set is always a bit nerve wracking but curating your own stage is even more so. We put so much time, love and energy into picking the lineup, working on the production, etc. Luckily the Tomorrowland promoters are like unicorns in the business and they give us a lot of freedom and support. We're super proud to have two live acts (Sofi Tukker and Tinie Tempah). Everyone on the line up are friends and collaborators. It's going to be a great day!
Speaking of Tomorrowland Belgium, you'll be performing not only in Belgium but also at the Tomorrowland UNITE event in Spain the day before as well. How do you prepare almost b2b sets and what makes Tomorrowland so special to NERVO?
We always want to improve and are constantly working on new mashups or remixes and new songs to test in each different country. We think the key to being prepared is to have a lot of music ready to go in case we need to change the vibe. Crowds are always different so depending on the vibe we like to mix things up from show to show.  We tend to plan the beginning and the end of our sets but we like to feel the crowd for the most part and keep it as spontaneous as possible.
We love to mess things up with a sit-down or some fun commands on the microphone and see the crowd amped! We played Unite Malta last year and it was great! It's such a good idea to let other people who perhaps couldn't get tickets to the main Tomorrowland in Belgium experience the rave. We are looking forward to playing with the other headliners and are trying really hard to finish an idea we have done with Quintino so we can debut it at the show!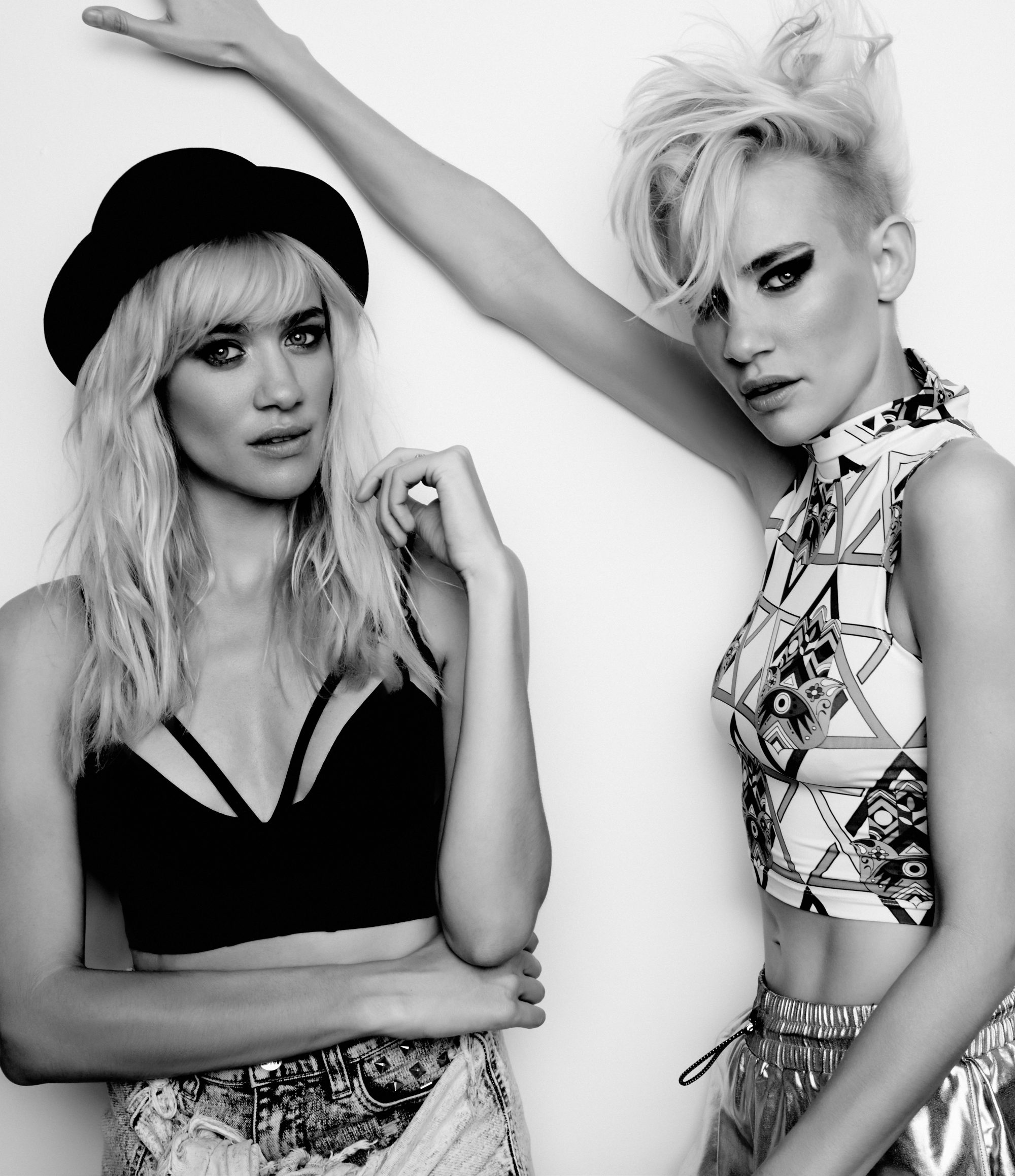 As fans of The Prodigy, the passing of Keith Flint must have been very hard on you both. We've seen many artists speak about their mental health becoming impacted by life in the industry. Have you experienced that during points in your career and in what ways do you feel the music industry can help more artists stay mentally fit?
Yes, we can remember the very first festival we went to in Melbourne – we were so inspired by The Prodigy.  It was very difficult to see an idol pass as well as the likes of Avicii and others that have struggled with the same issue. Perhaps people don't realize the amount of stress and pressure that comes with being on tour all the time.
So yes we have experienced exhaustion and times where it has been very difficult, but we always try and balance the best we can and really make sure to take a month off in December/January to spend with family. That helps refresh us for the upcoming year. It's important to recognize what you need to decompress.
Last year was a huge one for NERVO with the creation of your own label Got Me Baby! and now halfway through 2019, you're clearly riding that wave of success with your new tunes and more. What are some goals you hope to achieve in the latter half of the year and in the future?
We have quite a few upcoming releases that we were working very hard on, so right now all our energy is going into that. We have our residencies and we're loving throwing our NERVOnation parties around the world which will definitely carry over into next year along with a whole lot of festivals which were super stoked about all summer long.
On a personal level, we have toured some amazing places around the world and are still visiting places we have never been to before.  The gigs are great!  We have new families now so that is all part of our life now.  Of course it would be nice to win a Grammy, have ten number one's etc., but all in all, we're having a great time and feel very lucky to do music for a living and continue that run into 2019 and beyond!
Finally, we heard that you both enjoy a nice pizza! If you could create the perfect pizza, which toppings would be on it?
Liv: Vegetarian with ham and salami. Thin base or stone baked of course. No fat base (unless its cheesy filled crusts!).
Mim: Diavola or Picante. Basically anything with chili salty meat and black olives. But then I also love BBQ chicken pizza with green peppers and pineapple. Can I have three choices please ? 😉
---
Connect with NERVO on Social Media:
Website | Facebook | Twitter | Instagram | SoundCloud