The countdown to Life is Beautiful is almost over. To help you get prepped we've compiled all the essential information you need for this year's edition!
---
With Life is Beautiful just a few days away it's time to dial in those last-minute weekend details. The three-day festival returns to Downtown Las Vegas the weekend of September 20-22 and will host headliners Chance The Rapper, The Black Keys, and Post Malone. There is also a ton of great music in the undercard as well as comedy, speakers, art, and food to dive into.
Related: Check out our top artists to see at this year's Life is Beautiful or take a look at some things to do outside the festival!
Life is Beautiful is truly more than just a music festival so be sure to check out everything that makes the festival so unique. Be sure to go over the rest of our essentials guide to make sure you're weekend goes off without a hitch.
---
Life is Beautiful 2019 Essential Info:
Dates: September 20-22, 2019
Hours: Festival gates will be open each day from 2:00 PM – 1:00 AM.
Venue Address: Life Is Beautiful encompasses 18 city blocks in Downtown Las Vegas, extending from 7th to 11th Streets and from Mesquite to Carson Avenues. The festival entrances are located at Fremont & 7th Street and Fremont & 11th Street.
Tickets: Purchase HERE
Facebook Event Page: RSVP HERE
Acceptable Forms of Identification for Entry
Life is Beautiful is an all-ages festival. Everyone two years of age and over will need a festival wristband.
You must be 21+ to drink alcohol.
---
Life is Beautiful 2019 Set Times:
Head over to their website or install the app to make your own personalized schedule, or save the images below for the music set times each day!
---
Life is Beautiful 2019 Music & After Party Info: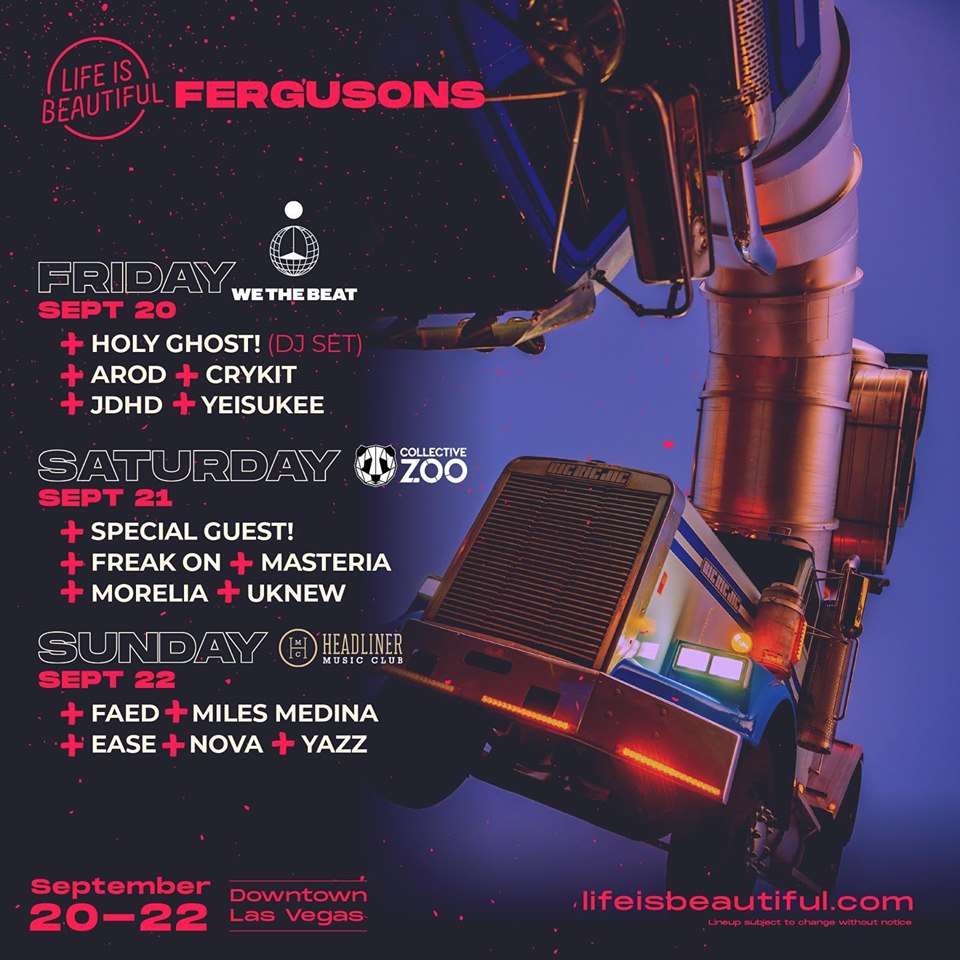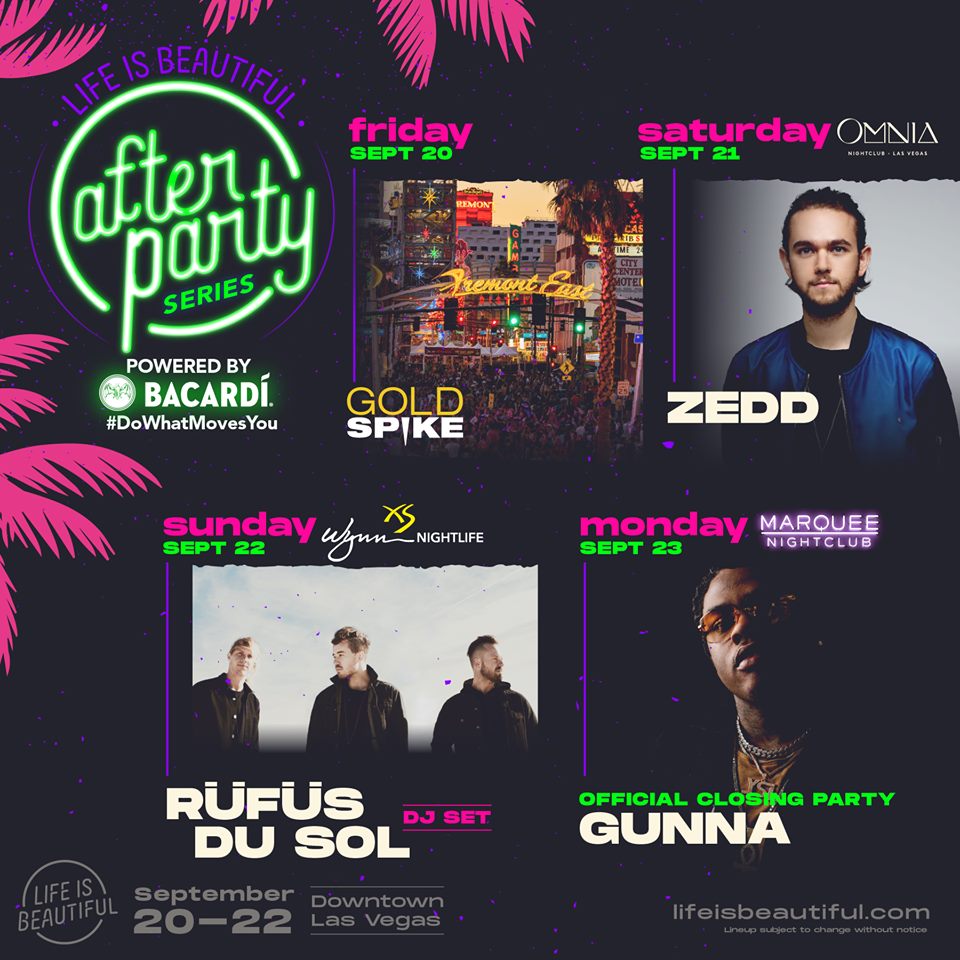 ---
Life is Beautiful 2019 Festival Map:
All maps can be found on the Life is Beautiful App!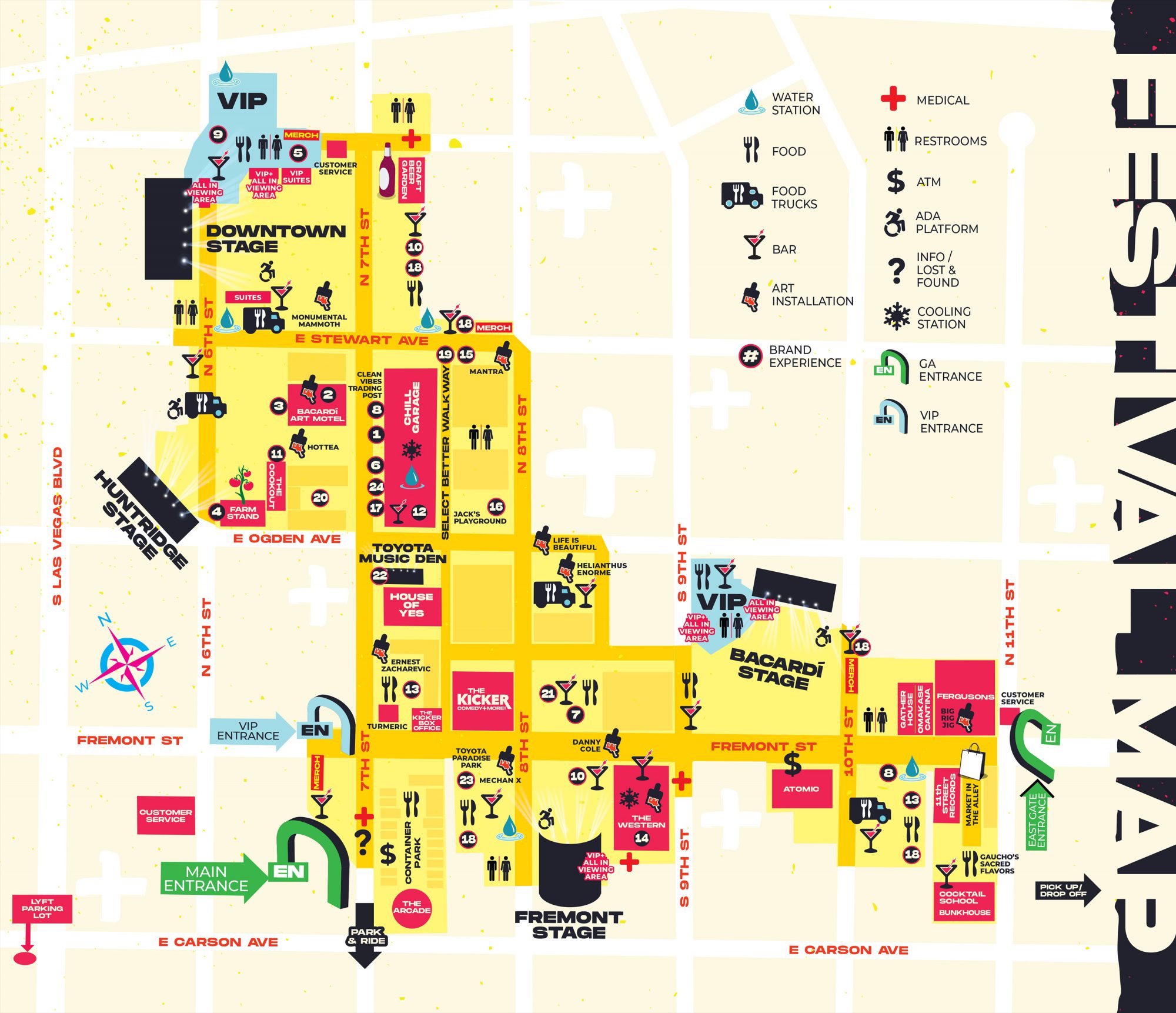 ---
Dos & Don'ts:
Permitted Items
Two factory-sealed water bottles up to 1 liter each
Empty reusable water bottle
Small bags, purses and totes up to 6" x 8" x 3"
Drawstring bags and other bags with one singular opening (no pockets) up to 13" x 16"
Clear backpacks and bags with multiple pockets
Hydration packs emptied of all liquid, that have no more than two pockets in addition to the one holding the water reservoir, and have a gear capacity of no more than 2.5L/150 cubic inches
Blankets
Portable phone chargers
Binoculars
Personal cameras (no detachable lens)
Sealed over-the-counter medications
Sealed cigarettes
Lighters
Sealed sunscreen lotion (non-aerosol)
E-cigs, Vapes, Juuls, or any type of electronic cigarette (juices and refills must be sealed)
Sealed hand sanitizer
Sealed eye drops
Sealed tampons
Chapstick
Gum
Prohibited Items
Unsealed water bottles
Weapons of ANY kind including pepper spray and pocket knives
Drones or remote flying devices
Illegal substances or paraphernalia
Professional radios or walkie-talkies.
Non-clear backpacks and bags with multiple pockets larger than 6" x 8" x 3"
Hydration packs with more than two pockets in addition to the one holding the water reservoir, and a gear capacity larger than 2.5L/150 cubic inches
Drawstring bags and other bags with more than one singular opening (pockets) larger than 13" x 16"
Professional video/audio recording equipment
Strollers
Any and all camera accessories, such as selfie sticks, tripods, monopods, gopro mounts and attachments, detachable lenses, or other commercial equipment
Professional still camera equipment with a detachable lens longer than 2 inches, big zooms or commercial-use rigs
Aerosol cans and sprays (including sunscreen and personal beauty products)
Bicycles inside festival grounds, Skateboards, hoverboards, scooters, segways, wagons, carts or any other personal motorized vehicles
Lawn furniture, chairs, tents, canopies, or shade structures of any kind Picnic baskets and Coolers (exceptions may be made for medical use)
Pets
Air horns, fireworks, sparklers, and explosives
Musical instruments
Laptop computers or Tablets
Laser pointers
Glass or can containers of any kind
Markers, sharpies, paint pens or spray paint
Sharp objects, large chains or spiked jewelry
LED Poi, LED Whips
Face masks
Hula-Hoops
Totems or flags
Umbrellas or parasols
Outside food or beverage of any kind, except 2 factory sealed bottles of water (up to 1 liter)
Unauthorized/unlicensed vending
Promotional items, samples, giveaways, flyers, stickers.
Water guns, water balloons or any other kind of water projectile Soccer balls, footballs, frisbees, or other projectiles
Large Inflatables or inflatable pool toys.
Native American headdresses or any disrespectful signs or apparel
Bag Policy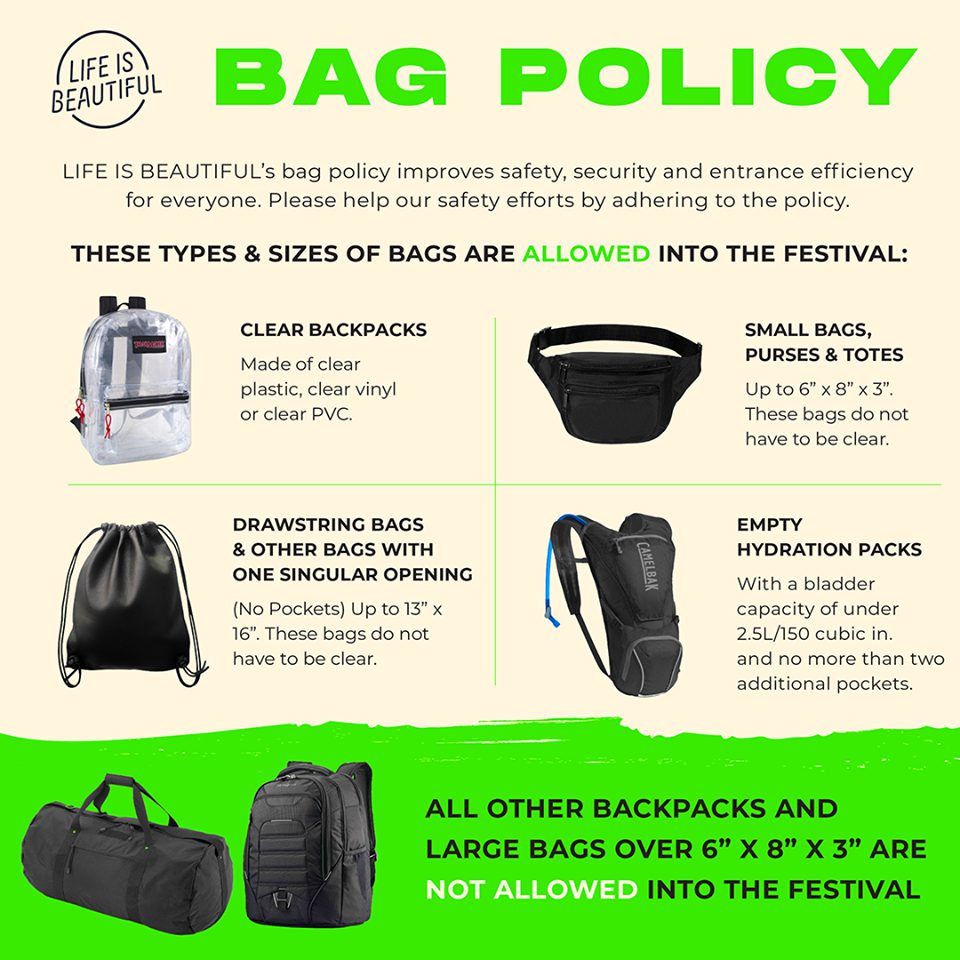 ---
Reminder To Mind Your Belongings:
Unfortunately, many people have reported pickpockets, bag slashings, and theft of wallets, smartphones, purses, and other valuables during this festival season. While this small number of bad apples in the bunch doesn't define an entire crowd, there are opportunistic people who come to these events to take advantage of unsuspecting partygoers and it's important to be mindful of your valuables while at Life is Beautiful.
Looking for tips to keep your belongings safe? Check our post highlighting some ideas!
---
Connect with Life is Beautiful on Social Media:
Website | Facebook | Twitter | Instagram | Facebook Event Page