Excision and Wooli dropped their highly anticipated Evolution EP and it is easily one of the best of the year with its blend of lush melodies and tremendous bass!
---
It's a true treat when two incredible artists come together to collaborate on a body of work as it typically benefits fans of each artist and the scene alike. Today, after much anticipation, bass music heavyweights Excision and Wooli have added their names to the list of epic releases this year with their collaborative EP, Evolution that already has the entire scene buzzing about it.
Related: Check out our recent interview with Wooli himself where he goes into detail on the Evolution EP and how it came about!
On one side, Wooli has had an extraordinary year already that has been full of massive sets and releases that the bass community has soaked up. The other side, Excision, has been busy as well with the release of a remix package of his album Apex as well as a collab EP with Dion Timmer titled Breaking Through. Excision is also gearing up for his annual festival, Lost Lands, where both him and Wooli will be performing, so this collaborative EP is just about the icing on the cake.
Listen to the Evolution EP on Spotify below, download or stream the release on your favorite platform, and read on for my review of these tracks!
Listen to Excision & Wooli – Evolution EP on Spotify:
---
The EP kicks off with the high-octane tune, "Lockdown".
Just from the first track alone, you can tell that this EP is going to be a wild ride. "Lockdown" combines Excision's truly remarkable sound design and ability to create these insane soundscapes with the hard-hitting synths of Wooli. I've already heard this song in a few select sets and it was a hit! There's no doubt that with this official release of the song, it'll be a tune played in just about every bass DJs set. It's a masterful work between both artists and a great way to kick off this EP!
Excision, Wooli, and Trivecta immediately slow it down with track number two, "Oxygen", and I gladly welcome this beautiful song! 
Providing a very stark contrast to the intro song off the EP, is "Oxygen," a melodic track that has beautiful vocals from Julianne Hope. Excision and Wooli enlist the help of Trivecta on this one as well and the song blew me away on first listen! I was expecting it to drop into a heavy, headbanging drop, but it never did – and I was absolutely okay with it. Instead, it's a heartfelt song that demonstrates the versatility that these artists have. It definitely puts you in your feels and I love it!
"Evolution," the title track of the EP, puts you back in the prehistoric days with its outstanding sound design!
"Evolution," the third track of the EP, brings life into the album artwork that is used. Both Excision and Wooli have animal counterparts, Excision has always represented himself as a massive Tyrannosaurus Rex and Wooli has represented himself as a Wooly Mammoth. Both animals are prehistoric beasts that never should've met, but on "Evolution" they do. The track is a heavy tune that is boosted with some vocals from Sam King. From the intro to the end of the song, you're taken back to a prehistoric time for an immersive listening experience!
The final song off the EP, "Another Me," combines all of the three previous songs into one melodic, yet bass-heavy tune!
Rounding out this amazing EP is "Another Me". The lead single off the EP that was released last week features a beautiful blend of elements from none other than Seven Lions and vocalist Dylan Matthew. It's a song that puts you in your feels instantly, but also has a whopping side of bass that comes out of nowhere courtesy of Wooli and Excision. It's something you can cry to but also headbang to!
Overall, the Evolution EP is one of the best I've heard so far this year. It is the perfect crossover of bass-heavy, headbanging tunes, and also songs that contain beautiful melodies as well. Well done Excision and Wooli!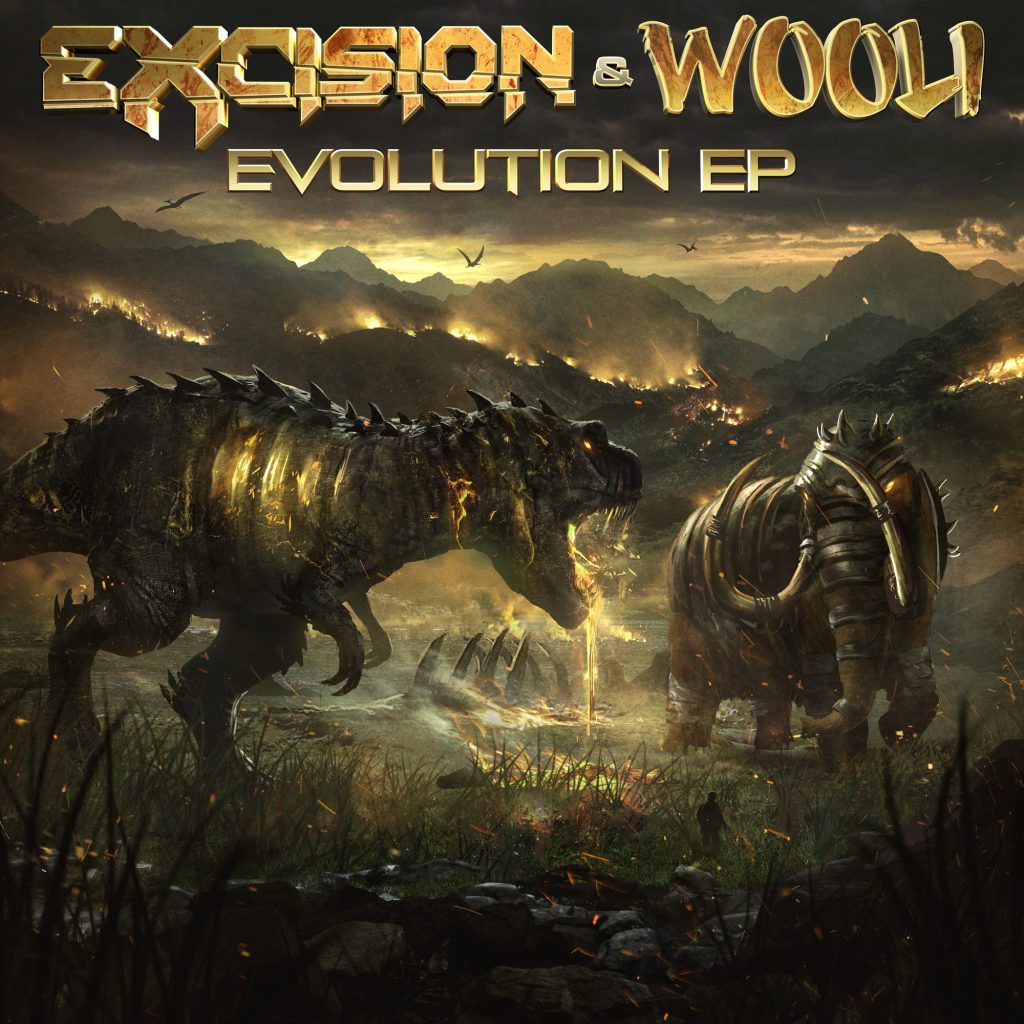 ---
Connect with Excision on Social Media:
Website | Facebook | Twitter | Instagram | SoundCloud | YouTube
Connect with Wooli on Social Media:
Website | Facebook | Twitter | Instagram | SoundCloud