We sat down with Wooli at North Coast Music Festival and talked about headlining the Voyage Tour, Excision, melodic dubstep, finance, and tech house.
---
Anyone following the dubstep scene over the last few years should be familiar with Wooli. One of the genre's most recognized names and most popular rising stars, his first tracks came in 2016 via collaborations with Jantsen and Kompany. He proved that he was here to stay with a strong 2017, as he was responsible for some of the most recognizable drops in that time period with "WDGAF", "Back", and "Voodoo".
More recently, Wooli has started to explore a more melodic side of his music while maintaining his style of dubstep that he's referred to as "Briddim". This started with "Falling", his collaboration with Trivecta, and continued with "Island", a collaboration between Wooli, Trivecta, and Seven Lions. Now, he's joined forces with Seven Lions and Excision to release "Another Me", a brand new collaboration featuring vocalist Dylan Matthew.
We sat down with Wooli before his set at Chicago's North Coast Music Festival where he kicked off a busy Labor Day Weekend before going back home to New York to play his first Electric Zoo. These festivals and more are stops on his Voyage Tour, which is currently travelling across America with opening sets from Trivecta, Computa, and Warez.
Grab tickets to Wooli's Voyage Tour via his website, stream or download his new collaboration with Seven Lions and Excision "Another Me", and read on for how he's accomplished so much in his young and exciting career!
Stream Wooli – The Voyage Mix on SoundCloud:
https://soundcloud.com/woolimusic/the-voyage-mix
---
My first time seeing you was way back in March 2016 playing a set early in the night at Bear Grillz' event on Tuesday of Miami Music Week. Your rise within the bass scene has been meteoric since then. In fact, you only started seriously producing about three years ago. How have you been able to achieve so much so fast?
It just comes down to a lot of practice. I kinda have a compulsive quality when it comes to anything technological or regarding computers. Like, if I'm playing video games, I have to be the best.
You were semi-pro, right?
Yeah! Making music is kinda like a video game to me. I wanna figure out new things that will separate me from all the others that are making music. I'm finding new things all the time.
Looking back on the last few years, what are some of the most important pieces of advice that you could share with young producers looking to take a similar path?
I would say be really patient and don't just post all your music instantly. Find yourself, and find a product that you're happy with that stands up to music being played by the bigger guys. Then, when you're being supported by some touring artists, you can really come out the gates and people will want to know who you are. Give yourself some kind of way to be found.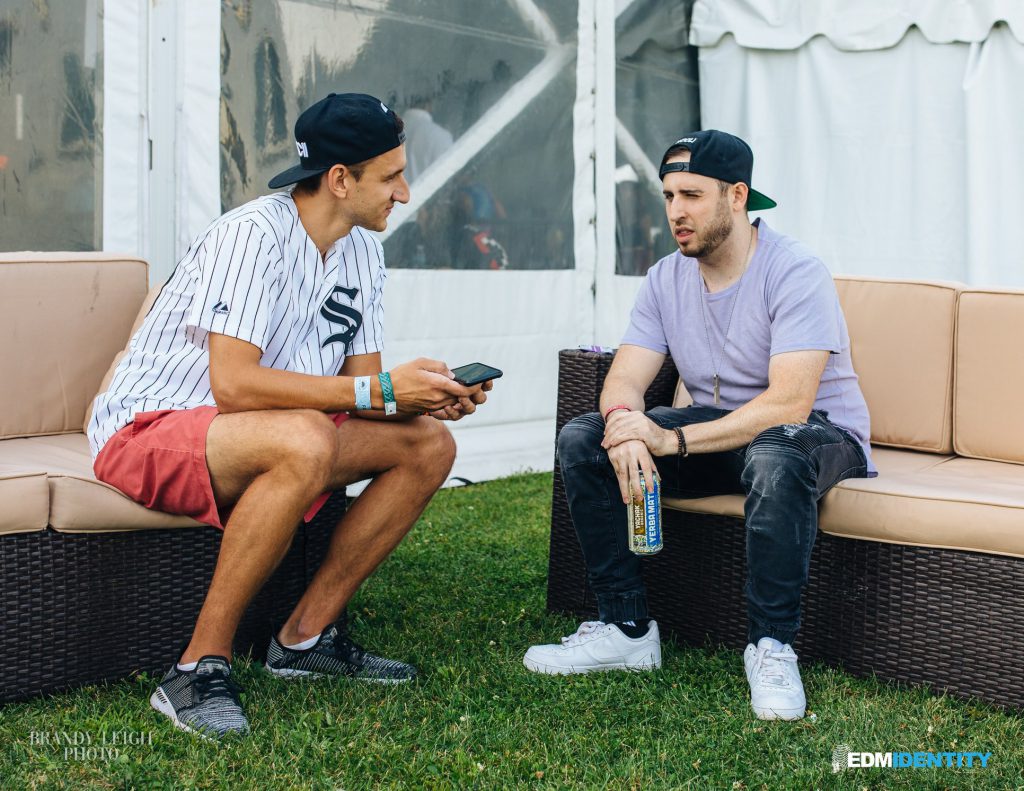 Tell us a little bit about your background as a local house DJ in your hometown of Rochester, New York and how you utilize that experience today as a touring dubstep artist.
I think that learning how to mix properly, especially house music on whatever equipment was available, really helped me become a better DJ and be more comfortable behind the decks. I was never nervous to DJ because I had the practice and I was comfortable using CDJs that didn't sync or didn't even have a BPM on it.
Rochester doesn't have a really big dubstep scene, so I was kinda forced to play house music – specifically tech house. It was a lot of fun, but dubstep was still my main passion. Eventually, I wanted to play dubstep, so I learned how to make my own music in order to play my own music.
Your music is generally brostep, or "briddim", as you prefer to call it, as well as some melodic pieces with Trivecta and Seven Lions. Given that your music has continued to grow and diversify, where do you see Wooli's music headed in the future?
I really like what I'm doing now with having both melodic and heavy drops in the same song. It definitely feels like more of a complete track as opposed to a dubstep banger that just goes off live. So, keep finding really good vocalists. Like the one with Dylan Matthew that we put out today.
I really wanna keep exploring this and see how far I can take it; where I can show my melodic side and heavy side, or my psytrance side and heavy side. Blending genres in the same song to give the listener a little ride rather than just what's expected.
How about some tech house from Wooli?
I have some tech house music that I've never put out! I do a bunch of genres just for fun and to test myself. I like seeing how far I can go outside of dubstep or melodic dubstep and still sound decent. I don't see me releasing that anytime soon, though.
Coming from an accounting background, I have to pick your brain on your finance career. How were you able to balance full-time financial advisor work while playing at major festivals and going on bus tours?
As of now, I stopped prospecting clients. Being a financial advisor, you make your own hours. If you're not getting new clients or building your business, you're really not making any more money. I've been able to keep the clients I have now along with music and it's actually been pretty easy.
It really helped me with the business side of music. A lot of people who are just focusing on music don't have that side to make smart financial or business-related decisions. I do think that's been helping me invest in the right places.
Everything I make from my music, I re-invest in the music brand. I don't pocket it; I'll buy new visuals or a new VST. Re-investing is really important if you want to see your music project grow.
Do the clients that you've retained know how successful you are as a touring DJ?
Only one person found me! We get taken out to lunch meetings where companies try to sell us on putting our clients in specific portfolios or mutual funds. We'll go out to lunch a few times a week and one guy randomly pulled up my Instagram and I was like…shit, you found me. You kinda have to live a double life.
Would you have ever been happy solely working in the finance world, or did you always feel like music was your calling?
I wasn't having fun. My father started the business. It wasn't just to make him happy, but I didn't have a clear path of what I wanted to do. So I went into finance, and it makes good money if you're a hard worker. I recently found that I'm just better at making music than I was at being a financial advisor. I'm way happier, and it's a lot more fun.
You're currently on the Voyage Tour that includes festival stops like Moonrise, Dancefestopia, and Electric Zoo. What have you done to prepare for this tour and ensure your fans have an unforgettable experience?
Before I went on this tour, I tried to stock up as much unreleased music as I could. Like, 12 or 13 songs. I really focused on making a lot of melodic stuff that I can throw in and give people more of a journey, which is why it's called the Voyage Tour.
The support that we have – Warez, Computa, Trivecta – they're all killing it right now. Trivecta's got his melodic stuff and live guitar, and Computa and Warez have always been awesome producers.
When you see a lot of dubstep tours, it's kinda one-note, just a bunch of dubstep people. I saw some other tours that were successful that I kinda envied, like when Seven Lions went on the road with Kill The Noise and Tritonal. There's a lot of different music that you're gonna hear and there's some of everything. I tried to model it after that regarding who I would bring on tour.
What's been the craziest experience on the tour so far? I'm particularly curious how your show was at The Loft in Minneapolis. I love that venue.
That was a sweatbox! But it was really fun. We've been really lucky, selling out the last five or six shows. I would say LA's been the best stop so far. No one's sold out The Avalon in a while and they told me it was one of their biggest shows since 2010. It feels good to pull that kind of crowd in LA, especially when there was so much competition.
When I found out all the different shows going on that weekend, I was kinda bummed because I really wanted to sell that show out. Said The Sky was at Academy, Nitti Gritti was at Exchange, and Bass Canyon was going on. I thought we wouldn't do well with ticket sales but they ended up having the longest line around the building that they had in years.
As you said, many of the tour dates have sold out so far. Any specific cities or shows you're looking forward to on the rest of the tour?
Electric Zoo – I'll be on the Ophelia Takeover stage. We just put out of a song on Ophelia today – "Another Me" with Seven Lions, Excision, and Dylan Matthew.
Montreal is always a special place – the crowd is just super intelligent. A lot of people agree that it's the bass capital of the world right now. Denver has a really good scene and it's the bass capital of the United States, but of the world, no one compares to Montreal. They're so goofy and crazy, and they know every single drop before it even happens.
Today's a big day for you! Not only are you playing at North Coast, but "Another Me," your brand new collab with Seven Lions and Excision, just came out. How did this specific collaboration come about and what does it mean to you to work with such legends?
The song started as just a collaboration between me and Excision. There was a demo I had, and we added a vocal that Excision gave us. We went up to his house and basically wrote a whole EP there.
Seven Lions and Excision had never worked together and for my old raver self, I really wanted to make that happen. Like, I know fans are gonna love it, and I'm personally gonna love it. So I sent it over to Seven Lions and he started working on it. It came together with cool flow, then I went in on the dubstep drop kinda like what I did on "Island".
People are either gonna love it or hate it. I think the majority of people love it, but there's always gonna be some people that are melodic dubstep purists and think the heavy drop ruins the song. I kinda started a troll where I ruin everyone's drop. Like, on "Falling" I ruin Trivecta's drop, I ruined "Island," and now I ruined this one! I got a song with William Black that's melodic and heavy too.
Talking about your old raver self, what does it mean to you to play Electric Zoo specifically? Didn't you use to go there every year?
My first year was 2011 – I saw Skrillex, 12th Planet, and Excision b2b Datsik. It was a lot of stuff that I wasn't really used to, and that's when I started listening to dubstep more. That was also one of the first major festivals that I went to, and I went every year until 2016. I didn't go in 2017. And now, this is my first year playing it.
It's one of those bucket list festivals. There's only two: EZoo and Ultra. Ultra is one that my rave family would travel to. If I can play a show at Ultra that'd be sick. They don't have much dubstep right now but there's still some here and there.
Speaking of collabs, what other collaborations do you have on the horizon? That William Black song you mentioned isn't released yet right?
Right. I put out The Voyage Mix, which was teasing a lot of my unreleased stuff. That's what the goal was, to put those out there and build interest in the tour. There's the William Black song and there are some solo melodic songs that are kind of a "sad boi" vibe like Said the Sky and Illenium. Basically, like really emotional lyrics with purely melodic drops.
I have some heavy music I wrote in Australia with a kid named AVANCE. I think there are 10 or 11 songs left to put out. I have the rest of the EP with Excision – we have three more songs that we were playing out at Bass Canyon.
https://twitter.com/Excision/status/1169401941111255040
In terms of original releases and more new music, what can your fans expect in 2019 and beyond?
I kinda stumbled into this more melodic and heavy side after doing a song with Trivecta. Maybe I'll do another collab with someone that has a different style, and I find out I want to explore it. I like exploring different formulas and styles.
Definitely want to keep seeing how far I can push the melodic and heavy side, and bring out some vocalists people wouldn't really expect.
Any vocalists on your radar specifically?
Man, I always wanted to make a song with Ellie Goulding. She's always had a voice that I was really attracted to. That would definitely be the bucket list.
Lastly, anything else you'd like to share with your fans or people following their dreams?
It sounds cliche, but don't give up. I was always just a rave kid and then I decided I wanted to play my own music. Things can really pop off if you try hard enough. There are so many people trying to make it but if you want it bad enough you can find a way to make it work.
---
Connect with Wooli on Social Media:
Website | Facebook | Twitter | Instagram | SoundCloud