Riot Ten is best known for his neck-breaking hard bass music, and he showcases that sound and much more on his debut album "Hype or Die: Nightmares".
---
Currently on the Hype or Die tour that has been hitting festivals and events across the nation, today Riot Ten released his highly-anticipated debut album: Hype or Die: Nightmares. Out now on Dim Mak Records, the ten-track album is definitely his most ambitious release to date.
Known mostly for his harsh and abrasive style of bass music, Hype or Die: Nightmares showcases that signature Riot Ten sound and much more. With several collabs on the album, expect to hear bass house, dubstep, trap, and hip-hop, with even with some R&B and lo-fi beats sprinkled in, too.
Listen to Riot Ten's Hype or Die: Nightmares album on Spotify below, stream and purchase it on all platforms, and purchase tickets to the Hype or Die tour!
---
Riot Ten's set was one of my favorites at Electric Forest but I have to say this album was not what I was expecting.
I've found that Riot Ten is actually a pretty polarizing figure in the bass music scene. His style is very unique and most people either love him or hate him. His music kind of falls somewhere between dubstep and hard trap and his sets have a much different vibe than others. His style is instantly recognizable, and he's one of my favorite bass artists in the scene today.
The intro track, "Mayhem," runs through several genres in a minute and a half. This accurately describes the rest of the album.
"Glocks" with SAYMYNAME starts the album off with a hard trap banger that's been well received by fans since being released as a single a few weeks ago. "Hyphy" with YDG comes next, which along with "Bodies" and "Showdown" represent the album's most dubstep-oriented tracks.
Riot Ten definitely wants to show the world that he's a true artist and not just a bass music DJ that makes bangers. I would say he succeeded on this release, but in my opinion, the result isn't overly impressive. On "Freaky" and "No Ceilings," Riot Ten is no longer focused on a hard-hitting drop and instead has delivered tracks that are entirely focused on hip-hop. These songs are decent, but it's simply not what I came here for.
The album takes more twist and turns towards the end with "Freaky" VIP showing off a more fun, bass house side to Riot Ten's music. Next comes "Never Win," which has an emo rap/R&B kind of feel. The album then closes with "Nightmares" which gives listeners a lo-fi, hip-hop beat.
Hype or Die: Nightmares definitely proves that Riot Ten is here to stay as an artist but this release left me wanting more.
To be clear, I'm all for artists making whatever music they want and utilizing their talents in whatever way they feel is right. Riot Ten has been executing his style so well lately and I was ready to quietly lose my mind at home while listening to Hype or Die: Nightmares but it just missed the mark for me.
For me, Riot Ten's music is what I'm listening to at the gym or when I'm feeling especially angry at the world. While there were definitely solid tracks on this album and I'm glad he took some risks, I would just rather have a release full of bangers like his two most recent EPs, Hype or Die: Genesis and Hype or Die: Sun City. That won't stop me from catching him live in Chicago to get a dose of his sound when the Hype or Die tour stops by!
---
Riot Ten – Hype or Die: Nightmares – Tracklist:
Mayhem (Intro)
Glocks (feat. SAYMYNAME & Milano The Don)
Hyphy (feat. YDG)
Bodies (feat. TITUS)
Freaky (feat. Whookilledkenny)
No Ceilings (feat. Le$Laflame)
Showdown (feat. Throwdown & Atarii)
Freaky – VIP (feat. Whookilledkenny)
Never Win (feat. blvkkhvrt.)
Nightmares (Alone In The Dark)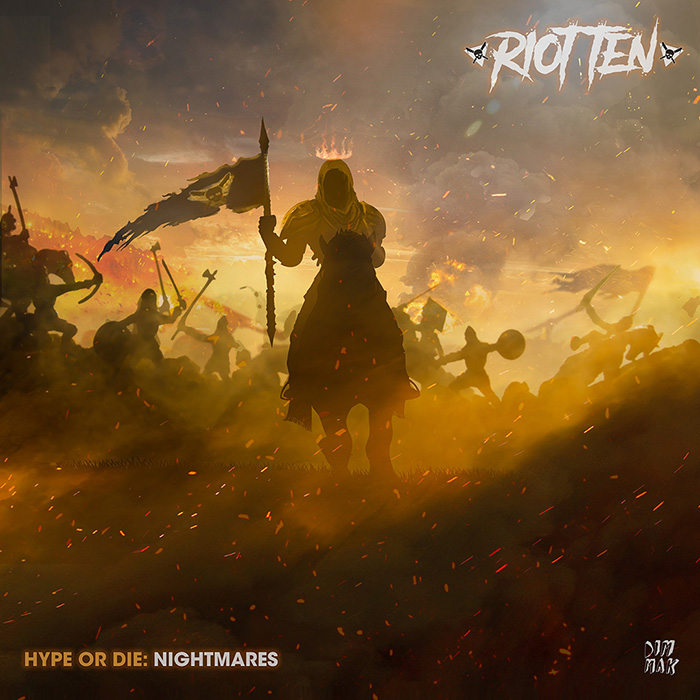 ---
Follow Riot Ten on Social Media
Website | Facebook | Twitter | Instagram | SoundCloud