Twin brothers Birthdayy Partyy have taken the Chicago scene by storm and have caught the attention of several popular artists with their unique bass house sound.
---
Birthdayy Partyy has a style of house music that is instantly recognizable. Whether you know them from one of their popular remixes or from an appearance at festivals like EDC Las Vegas, they have taken the scene by storm over the past few years.
Hailing from Chicago, they've performed multiple sets at Concord Music Hall, The Mid, and Sound-Bar, sharing the stage with headliners including Joyryde, Zeds Dead, Habstrakt, and Malaa. Combining this with two appearances at EDC Las Vegas and two Spring Awakening main stage slots, Birthdayy Partyy has been steadily on the rise since their inception.
Well known for their nostalgic remixes of tracks like Gwen Stefani's "Hollaback Girl", Birthdayy Partyy has had a strong 2019 in terms of original tracks. With "Love Overdose" featuring Dusty Bits and "Cake" featuring Born I, Birthdayy Partyy consistently prove their production skills with every new release. Now, the brothers have a hit a new milestone, as they've just released a remix of "All Of Your Heart" by Odd Mob on Spinnin' Deep.
We sat down with Bryan and Jon after an epic set in Chicago at North Coast Music Festival, where later that night they'd be opening for Tchami at Concord Music Hall. Take a listen to their exclusive guest mix below and read on for our interview!
Stream EDMID Guest Mix 184 || Birthdayy Partyy on SoundCloud:
---
You guys both had successful solo careers as Hi Five (Bryan) and Who Cares (Jon) before ultimately finding even more success as a duo. How did you originally decide to focus on this project as opposed to continuing on as solo artists?
Jon: We kind of realized that we were both going the same direction. It was kind of like, why would we focus on two separate projects when we're making the same type of stuff and collaborating all the time? And, we filled some of the holes in each others' production.
Your music is a unique blend of bass house, dubstep, house music, and more. How would you describe the music you make?
Bryan: House music, bass music, and everything in between! With nostalgia and confetti. We pull influences from our bass music upbringing, Chicago's house music history, and sprinkle in some funk and disco.
Tell us a little bit about the concept behind 'Birthdayy Partyy'. Why did you guys choose that name for your project, and what does 'Birthdayy Partyy' represent to you?
J: Right when we had the idea to start a duo, I was bullshitting with some friends at Autograf's art space here in Chicago. I was talking to this dude, and he was like, "if I was ever a DJ, I would want my name to be Birthday Party. Because who doesn't want to go to a birthday party?" I stopped him and explained the whole duo thing with me and Bryan, and he was like, that name's yours now! Run with it. 
B: We had been planning a duo project for a while. We probably had six tracks together that were unreleased. We had been working on this idea of figuring out branding, figuring out a release, and really starting it at the right time.
You've released remixes of popular tracks such as "Hollaback Girl", "Pump Up The Jam", and "Get The Party Started". How do you guys decide what tracks to remix?
J: Is it a banger?! It's kind of whatever catches our fancy at the time. 
B: Part of our brand is a little bit of nostalgia, and we've been pulling specifically from mid-2000s pop and rap. We weren't even huge into that music at the time but it just reminds us of a simpler time. It's something that will kinda jar people and give them a sense of familiarity. We've been trying to have this part of our project that's somewhat familiar, even if you haven't heard of us.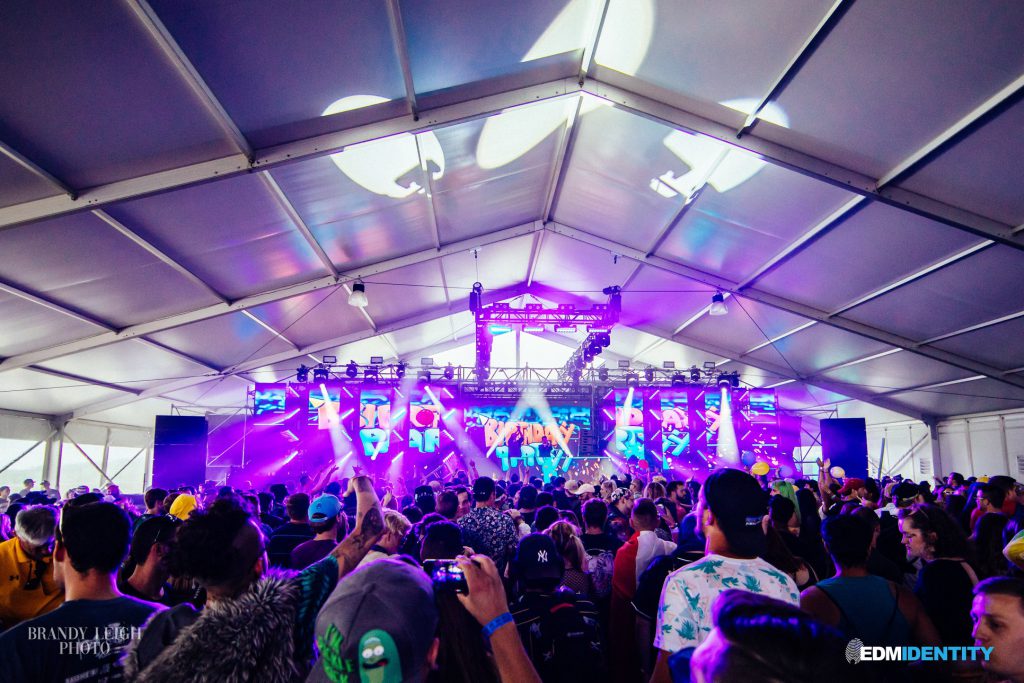 What's a track or artist that you guys would like to put your spin on in the future?
B: We'd like to do some official remixes for people we really look up to. Jauz or Zeds Dead would be cool. 
J: Looking towards the past, "One, Two Step" by Ciara would be fun.
B: That could be cool. Really anything that will connect with our audience, even if it isn't just that genre that we've been tending to produce. Any kind of nostalgia that will fit the Birthdayy Partyy brand.
You've also released some awesome originals including "Day Drink", "Unwrapped", and most recently, "Pajama Time". What's the process like when starting these tracks? Is there a particular routine you guys go through when working on a new song?
J: A lot of our stuff starts with… I'm not sure, maybe "writing exercises" is the right word. It's starting things just to get into your creative groove. Some of them pan out, and some of them don't. Make art, and rather than worrying if it's good or not, just go ahead and make more art.
Do you have any resources or writing exercises that you would recommend?
J: 74 Creative Strategies for Electronic Music Producers. It's the best!
B: It's a book specifically on electronic music production in the context of Ableton live, but the skills will apply to whatever interface you're using. It gives a lot of ideas on how you can get yourself out of ruts and start ideas in ways that you're not used to so you can push yourself out of your habits and out of your comfort zone.
You've had some live tutorials on Facebook before, and been featured on some panels to discuss music production. what does it mean to you to share your production knowledge with people?
B: We're trying to give people what we didn't have. We've learned everything off of YouTube. We didn't really have a local resource to teach us production. We want to give people a resource so that those that are willing to put in work will be able to see results.
What's one YouTube channel that you'd say is your favorite?
B: SadowickProduction. He has these ultimate Ableton live courses that are really good, and it goes through everything from small personal settings to how to build a drum rack. We specifically recommend Ableton because it helps with your workflow. It's easy to save your processing and presets and use them for other things. 
J: For me, it's either for Virtual Riot's channel or Disciple's channel. They really show that you don't need a lot to make music. They made a video that was making dubstep under $200 and it wasn't bad! Obviously, it wasn't totally Virtual Riot quality, but that's a really high bar. They made it on a $200 set up, including a monitor and speakers and software. A lot of their videos show how you can go out of your comfort zone.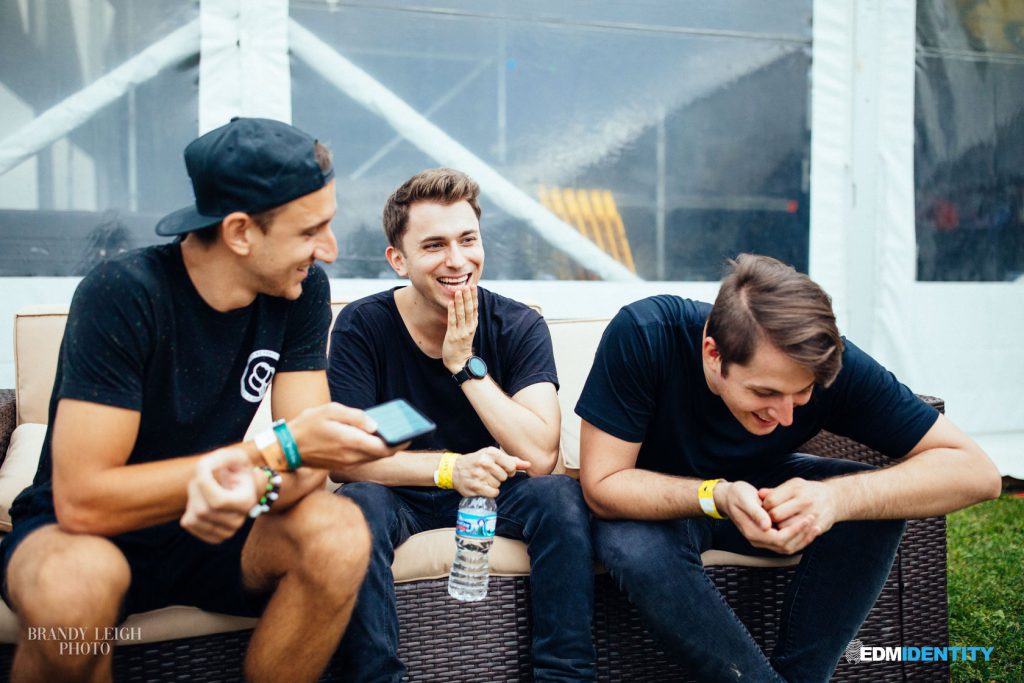 Do you guys each have individual responsibilities that you excel at in the production process?
B: Jon is really good at finding things by accident and absurd experimentation. For me, it's kind of a strength and a weakness to always be able to put things in a context or a formula. Making things glue together and make sense is kind of my strong suit, and Jon will find the crazy things that are just cool on their own. Then, we'll pick out the best parts and put it into a format that makes sense in the EDM context.
Recently, Holy Goof featured you guys in his BBC1 Essential Mix. You've also received support over the years on Zeds Dead, Jauz, and MAKJ's radio shows, as well as a play from Don Diablo on the Tomorrowland Musical Freedom stage! What's your secret to getting your tracks noticed by major artists?
B: A lot of it was from record pools, which is something we don't really do much of. I know specifically, the Don Diablo support was from a record pool called DJ City. I think the main thing is having something that will get people's attention. The remixes can be really easy to get people's attention because it has that bit of nostalgia, which then helps the project overall get attention. Give something that's gonna stick out and not just blend in like everything else.
You guys are very active in the Chicago scene, often providing direct support for major artists like Zeds Dead and Tchami. What's some advice you have for up and coming artists trying to break through their local scene like you guys have done so successfully?
J: Relationships over connections. It's not about getting a plug that one time. It's about building a relationship with somebody that's gonna last and help you for years. It's not meeting someone and asking them to put you in an opening slot. You need to be more focused on your long-term career and build a relationship beyond just someone that can get you things. Friendships are so important and they've done so much for us.
B: And you can do that in a local scene by simply going and supporting and attending shows. All it takes is a quick handshake when you're out there. You don't need to bother people and be like "book me, book me!" It's about being active in the scene, and the scene will support you back.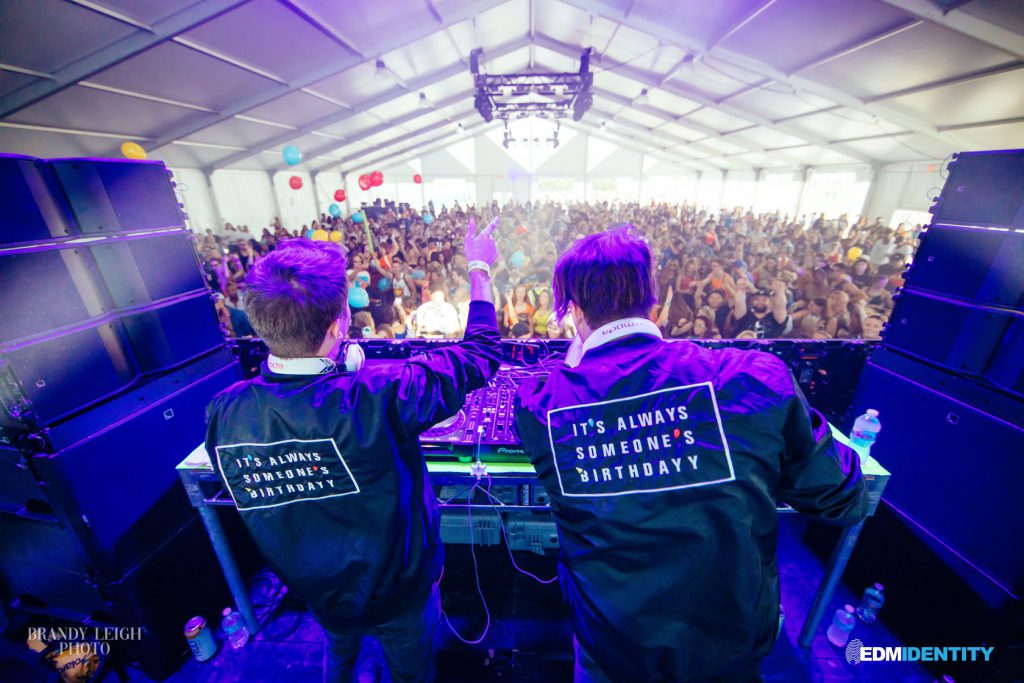 This year, you've played at both Spring Awakening and North Coast, two festivals that I'm sure you attended as fans years ago. Is that surreal for you guys? What do you guys feel when you're up there?
B: It's cool, and it's something we've had our eye on for a while. We still attend the festivals on the days we don't play. We're often doing the shows that we'd be attending anyways. That goes back to being active in the scene! It's definitely crazy to be able to play the stages that we would've just been attending in years past.
J: It's kind of a trip to see things from both a fan perspective and artist perspective. Like, I was in that crowd last night! Then the next day, we get to play there for a packed crowd. It's kind of indescribable. 
You've played EDC Las Vegas two years in a row now. Looking towards the future, what are some festivals or events that are on your bucket list?
B: Another EDC – hopefully, a few more! We've also been looking at Electric Zoo since they featured us in their Zookeepers mix.
J: I personally would love Shambhala.
B: Something in L.A. as well would be really cool, too.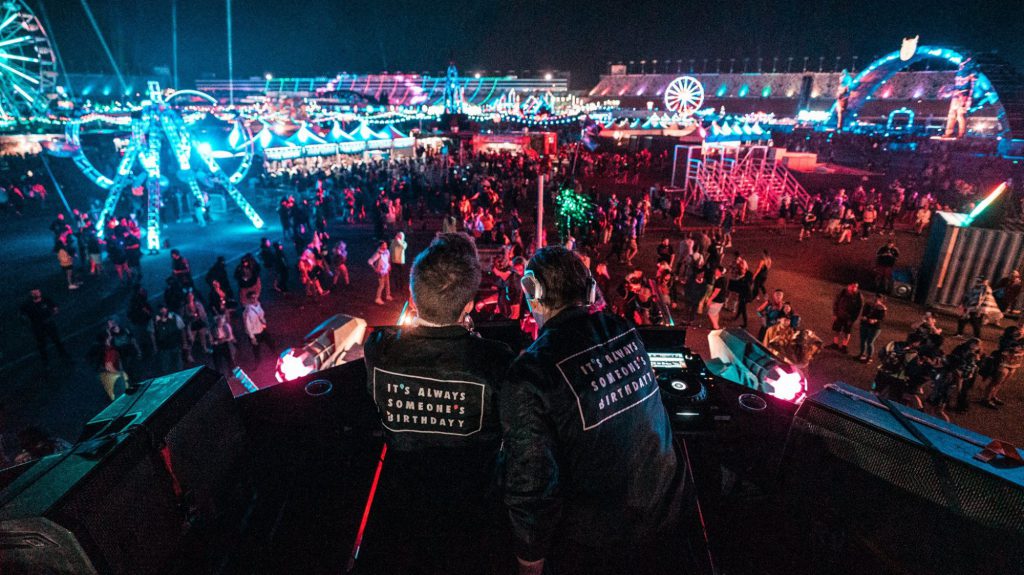 What can we expect from Birthdayy Partyy in the future? Any big collabs in the works?
B: Yes, but none that we can talk about! We've got a release coming on a label that we've been fans of for a while. We've been working hard, and next year will be big for collabs.
J: And, this upcoming Friday, we have a remix coming out on Spinnin' Deep for our friends Odd Mob!
Lastly, any other messages for your fans and aspiring producers that follow you?
B: Work hard.
J: And make more art.
B: And partyy.
---
Follow Birthdayy Partyy on Social Media:
Website | Facebook | Twitter | Instagram | SoundCloud | YouTube