Shambhala Music Festival has been on my bucket list forever and this weekend of music, love, and community was so much more than I could have imagined.
---
It was a long drive from Seattle to the farm. We left around 2am Thursday and were wrapping up our shopping in Spokane only a couple hours away from Shambhala. Our timing couldn't have been better and as we approached the border crossing there were only seven cars in front of us. By the time our car was inspected the line was well over 50 cars.
Once we had crossed over into Canada, the rest of the drive was very short, and in less than an hour, we had arrived to the single road entrance. We followed the directions of the staff to get in line for the campgrounds and parked our car. The day was sunny and many of the cars around us were making conversations, playing games, and setting up umbrellas and chairs. We had plenty of time to stop by Reception and withdraw money from an ATM as our time in line would take about six hours.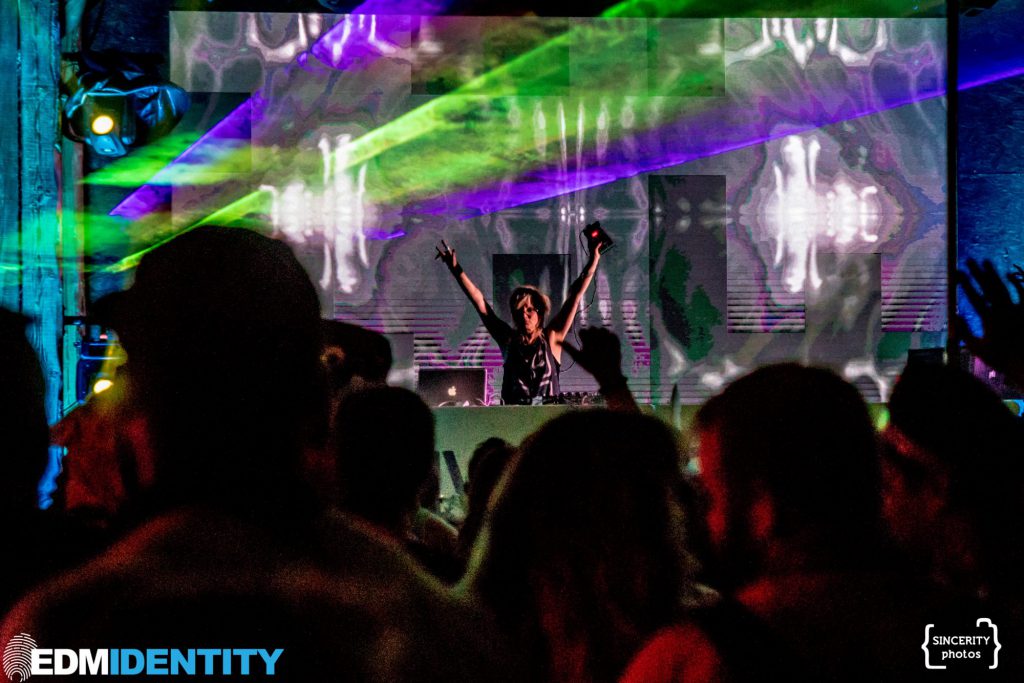 While everyone is waiting in line it's the perfect opportunity to introduce yourself and get to know your potential neighbors 
At first, it wasn't apparent why this was happening, but we quickly figured out the system. Basically, they fill lines of cars and then clear each line in order. This system ensures that every car gets into the campground in the exact order in which they arrived. As the line next to us cleared, we realized that no one was in one of the cars and the rest of the cars in the line had to drive around it. The passengers had gotten out, walked into the festival, and returned shortly after their line had cleared. Definitely something to consider knowing how long it took us.
We followed the flags until we found a corner space to set up camp. Since it was already close to 11pm and we wanted to catch Abelation and Tynan we did the bare minimum, locked the car, and started making the walk toward the glowing lights in the distance. Both sets were a great introduction to the AMP Stage and a powerful display of the PK Speakers. Afterward, we headed over to the Living Room for one of my favorites sets: DJ Laura Low. Not only were her visuals vibrant, colorful, and full of sacred geometry, but her variety of deep techno and live mixing was the perfect welcome on the first night.
The next day was perfect for exploration. We walked down the path from our campsite toward the festival entrance and clouds lined both sides of the gate we would use all weekend. At night they softly glowed, a comforting way to enter the grounds. Past the entrance were a number of vendors selling clothes, jewelry, and other accessories. At the end of the row was the Harm Reduction tent, ANKORS.
The harm reduction and approach to safety was beyond anything I've ever seen and honestly made me sad that this isn't the standard.
Each day, this line would fill up and stay full most of the day before sets started. This booth would use a mass spectrometer as well as liquid litmus tests to test any substances you had either bought or had found. The approach was always safety first. They didn't recommend or give suggestions – they simply provided the scientific breakdown of whatever you gave them. The amount of relief this service offered was incredibly freeing and many other attendees in line explained what great peace of mind the results gave them.
More importantly, ANKORS provided statistical and substance information to attendees. They had cards with educational information as well as displaying the weekend's result in aggregate so that attendees were aware of anything that might be circulating with adulteration while warning us of any dangerous substances that had been found on site.
Behind the ANKORS tent was a private consumption trailer. The trailer was staffed and a place that you could choose to consume any substance without judgment or repercussion. Both the testing center and trailer would offer optional surveys simply tracking what you were taking, where you obtained it, and other demographic info. These services as a baseline helped shape an open, honest discussion about drug use that I've never seen anywhere else.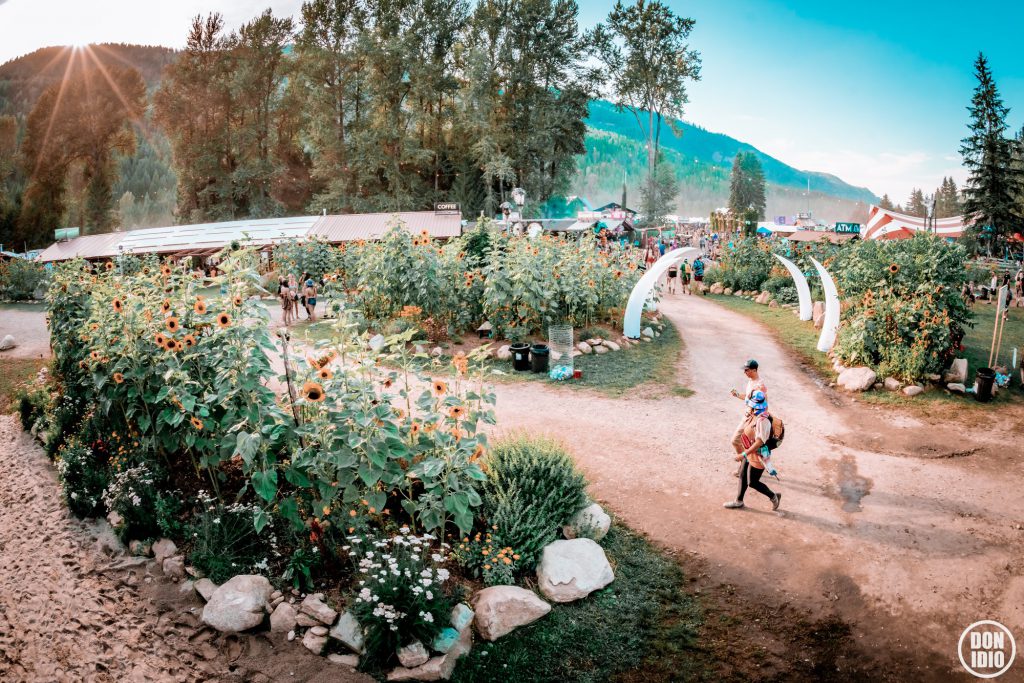 The Sanctuary wasn't just a place to lay down and chill – it was a place you could come and talk where you could be heard and listened to.
Directly next to this booth was The Sanctuary and medical team home base. The Sanctuary was full of beds, fans, and blankets. It was a place that anyone could go if they were having a hard time on whatever substance they had consumed or a place they could come and just be recognized. Their goal was set on safety and any vulnerable population could come and even just talk about their problems whether they felt unsafe or couldn't find their friends. Both The Sanctuary Staff and medical teams were exemplary with how they treated attendees and I once again wondered why these services can't just be a festival standard.
The main area of the festival acted as a nexus where each stage was a branch. There were sunflower patches, a cafeteria-style seating area, more vendors, and multiple river access points. We got the most incredible pad thai and continued to wander the grounds taking in a multitude of art pieces and various sets throughout the day. The music really felt like it was running 24/7, or at least very close to it.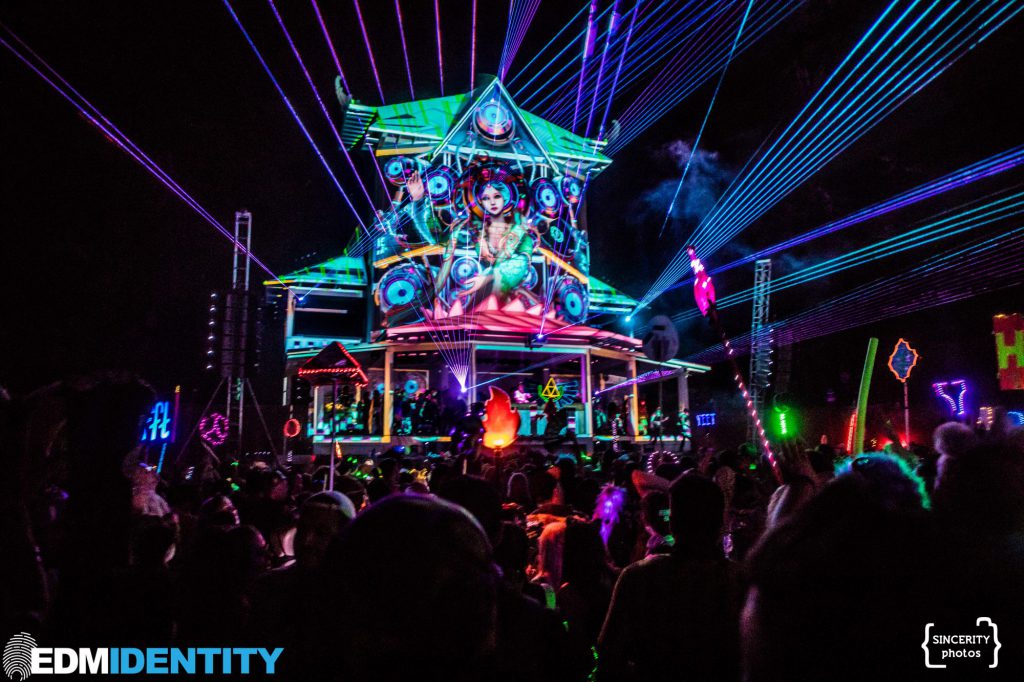 We spent the vast majority of our time at the Pagoda stage throughout the weekend.
We got ready for the night and regrouped at Pagoda for Noizu. Having just seen him at Hard Summer, I knew it would be a huge dance party, and I wasn't disappointed. We took a short break by going to The Village for Stylus. This stage was the giant half-sphere that reminded you of a jungle gym with moving pieces and was surrounded by trees. At some point, the crowd started hotboxing the area and I watched as the gentleman in front of us lit four blunts in his mouth, handed them out and proceeded to light more, which he passed around.
Back at Pagoda, we caught the end of Anna Lunoe and stayed for Justin Martin, Zhu, Anti Up and AC Slater. During this time our group split up and came back together many times, getting smoothies, food, or warmer clothes at any given moment. By this time, the festival had already begun to feel like home and I never really worried about losing track of anyone. As the dark sky began to lighten we headed over to The Living Room for Sabo and to watch the sunrise.
As the sun rose, it was the first time I saw the river and it hardened my resolve to get in the water the next day.
On each side of The Living Room, there were towers that overlooked the stage on one side and the river behind it. I looked up into the tower and saw three friends sitting facing the water, Rachel, Rob, and Jonathan from Canada. I started a conversation with them by asking Rob for a light show. We talked about festivals and sets that we were excited about, discovering we had very similar tastes. I would run into them one other time before we left the farm. Little did I know they had met my friends Carley and Shane at Bass Canyon last year, a fact I didn't know until I got home. I definitely understand the small world concept, but moments and connections like these are definitely a part of the magic at Shambhala.
Saturday, Shambhala hosted a mixer for the media and it was a chance to meet other photographers, writers, and the directors of many of the programs at Shambhala. It's where I learned that the farm has a rich history of involvement and growth. For many years the festival was only run by family members and you definitely got the sense of trust and openness that each member felt on the grounds. It was a great way to start my day as I headed next to the river.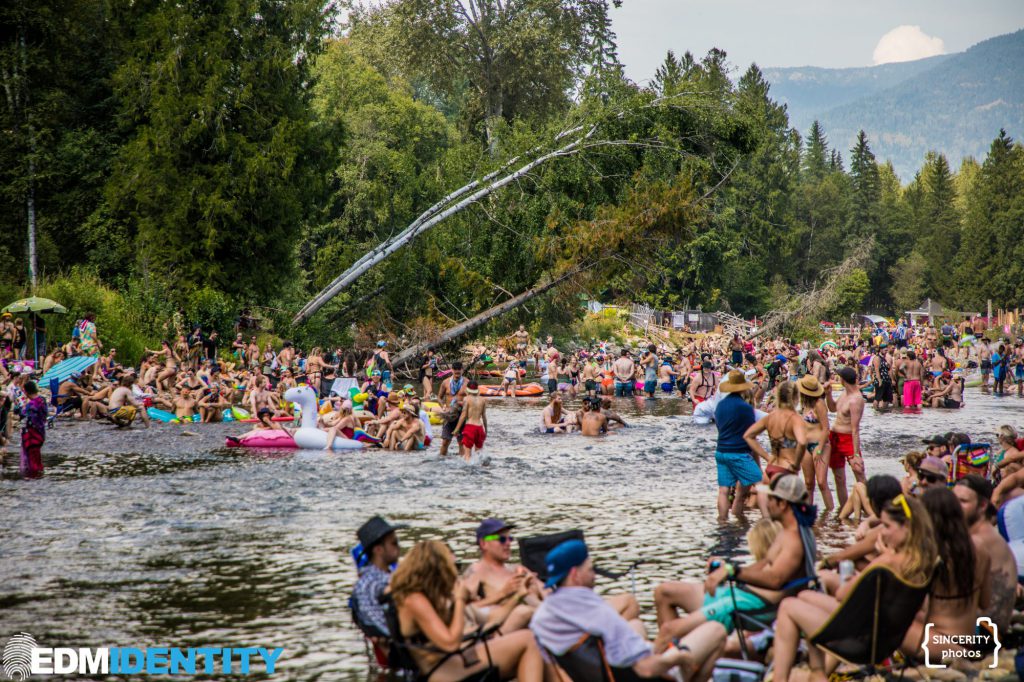 Crossing the river with my camera garnered me way more support than I would have expected.
The river was much longer than I expected and ran toward a place people lovingly called Muscle Beach. Upriver I could see The Living Room access and a variety of river activities. There were people jumping off tree branches into deeper water, a bunch of guests floating towards me and beyond, as well as people just sunbathing. The river was much deeper in some parts than others but nothing really seemed off-limits. As you approached the water there were signs reminding you that there were no lifeguards.
As I gathered up the courage to cross the river, camera in hand, I was surprised at how many people took notice. I very carefully took my time as the running river was moving faster than it looked. It was also much colder than it looked. By the time I reached the other side, I was cheered by people on both sides of the river. It's a small thing but supporting strangers seemed like a big theme of the weekend and I loved it. Setting my things down, I took a quick dip into the water and it was refreshing – freezing, but incredible to feel the sun begin drying me almost immediately.
I'm glad we went to the river during the day because from here on out it was just rain at varying levels of strength.
Donning ponchos and various warm accessories, we headed to The Fractal Forest for SkiiTour. Unfortunately, their set was cut extremely short due to lightning. If you've ever been to a festival in the rain then you know that from the time lightning is sighted, they have to wait a set amount of time to ensure the lightning is moving away from the stage. We all had the option of leaving but as the mud was getting worse we didn't really see the point.
This was probably one of my favorite moments. Without music, the crowd went a little wild. You had group songs break out, you had people in the ADA area literally sing out the ABC's which ended with the whole crowd singing along. There was a decent amount of "Skii-Heads," completely decked out in ski gear that surrounded a guy's phone listening to SkiiTour's set at Shambhala last year. This was a highlight of hilarity for me. It was beautiful to just see people come together and make the best of a situation completely out of our hands.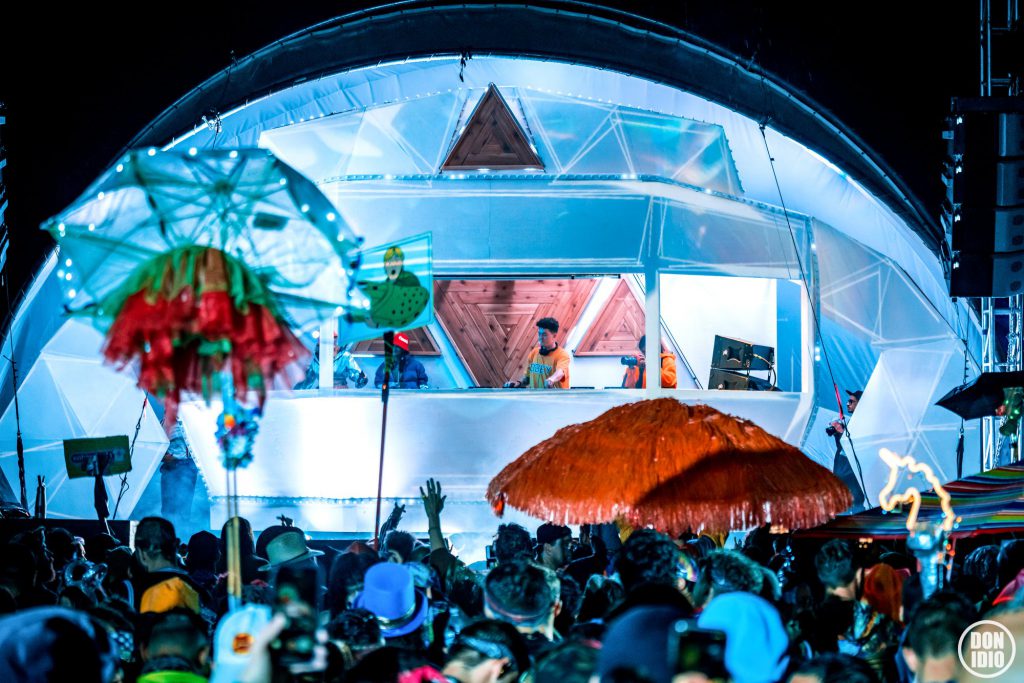 The rest of the night was full of unexpected sets really highlighting more of the uniqueness of this festival.
Once again we were back at Pagoda for CharlestheFirst. It was a very downtempo set, but his visuals fully leveraged the Pagoda house for projections. There was a moment when the whole building looked like a galaxy and I was just in awe. Grandtheft played a set that was fun and so different than what I imagined. They mostly dropped G-House and other house mixes I was pleasantly surprised by, all of this leading to my most highly anticipated set with Billy Kenny.
By this time we were ready to get out of the rain and very thankful that the AMP Stage was mostly covered by a tent. Billy Kenny hasn't been able to perform in the US for a while now so it was an absolute treat getting to see him. Early on in his set, he dropped Eric Prydz's Opus and it was absolutely beautiful. I recorded the whole intro and have watched it a couple of times now. It was the perfect ending to the third day.
The last day always comes way too quick and the constant rain was at an all-new high.
It was aggressive at times and then would slowly lull into a sprinkle but the water was basically constant. Surrounded by trees in every direction, the mix of heat and cool air created a mist that seemed to surround us. It was eerie and beautiful. We kept hoping that the rain would stop but weather reports told us that it would be like this until much later into the night. It was hard to motivate us out from under the protection of our canopies and the first sets we wanted to catch weren't until later.
In between rain breaks, we began the process of packing up camp. We had heard horror stories of how long it took to leave last year and could not afford to be stuck. We reduced ourselves to one canopy and waited until it was time for Subtronics. This was another one of my favorite sets and the energy of the crowd was contagious even though it was still raining.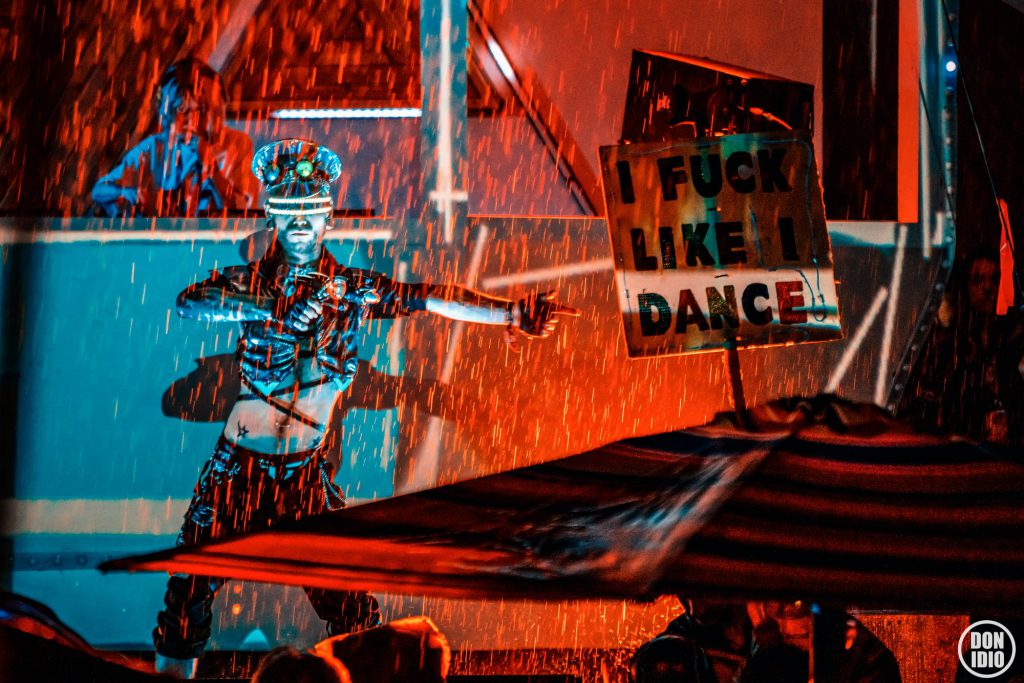 Within the Pagoda area was a fountain and many people climbed, sat on, or leaned on during the sets.
At one point, a woman standing next to it was asked by a stranger above her if she wanted to sit down. She considered it for a moment and said no because her shoes were muddy and she didn't want to do that to the lower levels. They then proceeded to tell her that it wasn't any trouble and that they could help her climb it if she wanted. It was a notably accepting and kind exchange that once again made me feel at home.
Zeds Dead was the last set we saw before calling it a night and was definitely a top contender for favorite set of the weekend. Once again the projections in combination with the lasers, sparklers, and smoke created a production that was inspired. As we walked back to the camp for the night, there was so much to reflect on, so much to embrace but each and every moment truly brought a smile to my face.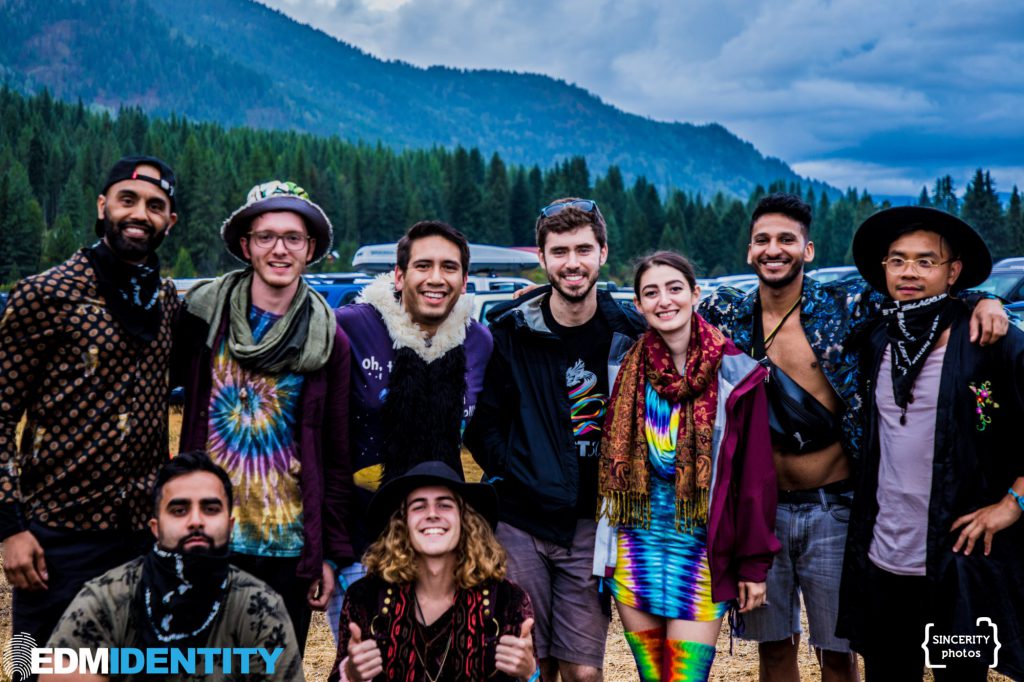 I first heard about Shambhala in 2015 a year after I had started attending festivals.
It sounded like such a magical place and I told myself, "One day, one day I'll go." I've been to a lot of festivals and this one jumped straight up my favorites list. The venue and atmosphere were amazing, and the music and production outstanding, while the community (including staff) serve as the linchpins to the very core of Shambhala. This festival is an absolute gem and I can't wait to go back and welcome as many friends as I can to this place I now call home.
---
Connect with Shambhala on Social Media: