The 2019 edition of Mysteryland was nothing short of amazing. A revamped venue, bigger production, and larger than life sets defined this year's festival!
---
Mysteryland 2019 brought together party animals from over 100 different countries to The Netherlands for three days of dancing in one massive celebration of life. Taking place in Haarlemmermeer, about 30 minutes South West of Amsterdam, I was lucky enough to attend the longest-running electronic music festival in the Netherlands for the second year in a row.
As house music continues to take center stage across the U.S. it is a similar story throughout Europe. This year's lineup was packed with show-stopping sets from some personal favorites including Solardo, Nora En Pure, Claptone, and Tchami X Malaa. Yet the big names didn't stop there as I was treated to massive performances from living legends such as Eric Morillo, Groove Armada, BT, and Skream!
Mysteryland has proved once again that every day is a gift, and what better way to embrace that gift than dancing to some of our favorite DJs with our best friends? While the music was certainly front and center, join me as I dig into all of the magnificent things that made Mysteryland 2019 one for the history books!
Five Things We Loved About Mysteryland 2019
---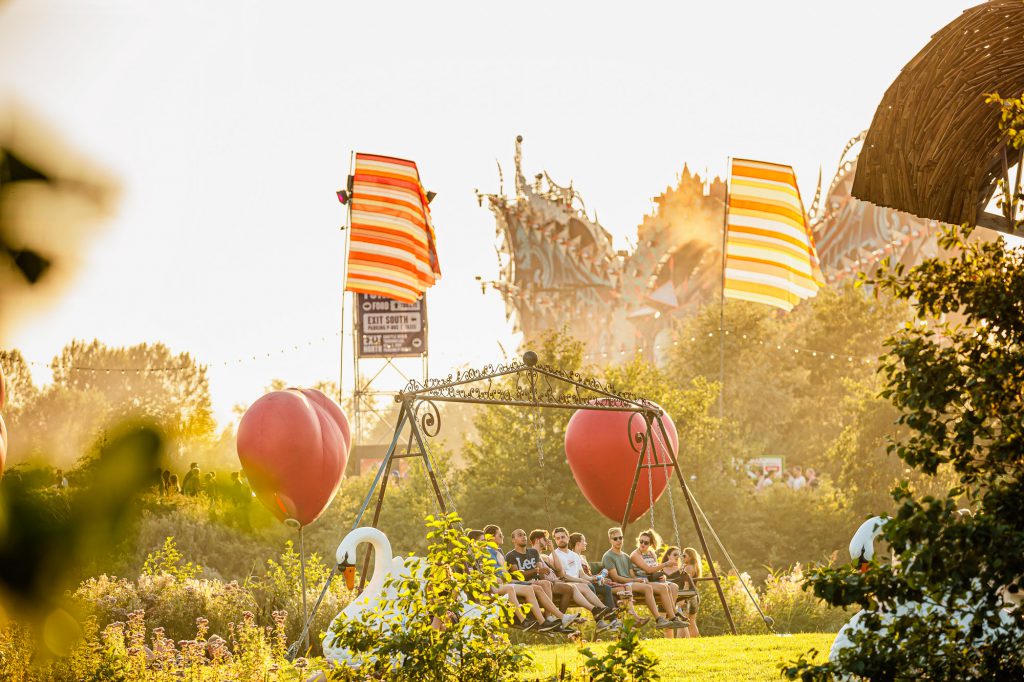 Attention to Detail Throughout the Venue
In contrast from Mysteryland last year, it seemed as if every inch of the grounds had been reconsidered. From more dramatic art installations peppering the pathways between stages to the addition of more water refill stations (effectively rendering shorter lines), every aspect of the event had been upgraded.
In 2018 it seemed almost impossible to find a trash can. This year they were abundant, which made for a much more pleasant experience as we wandered from stage to stage. However it must be noted, trash on the ground is still a major issue at European Festivals.
Mysteryland's careful consideration didn't leave out the eleven stages scattered across the massive park. From the show-stopping Mardi Gras theme of the Main Stage to the quaint flowers and sun adorning the Healing Garden stage, each of the eleven stages had been elevated to the fullest. Thousands of lights, dozens of lasers, and enough CO2 to keep even the most seasoned of ravers content and smiling from ear to ear.
At Mysteryland their motto is "Today Is A Gift" and that is exactly what it felt like to be back at the iconic festival.
---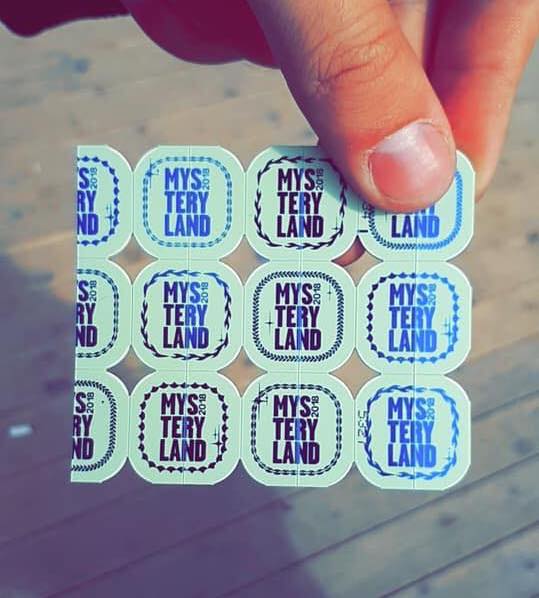 Cashless Everything
One massive difference between American festivals I've attended and Mysteryland is that once you're on site your cash is no longer valid… well sort of. In what I inferred as an attempt to dissuade thieves, no food, drink, or merch vendors accept cash or cards. The only way to purchase anything inside Mysteryland is to take your cash or debit card to a token dispenser and buy sheets of tokens that are in turn exchanged for products.
Depending on how expensive your item is the more tokens it costs, beers were on average 3 tokens while mixed drinks were roughly 5 tokens. As many of us know, we're going to pay a premium price to drink at festivals and Mysteryland is no exception. The exchange rate was about $2.85 per token, so those drinks were roughly $9 and $15 each.
The one drawback to the token system is if you had any leftover at the end of the festival it was essentially wasted cash. So be mindful of how many you pull out and be sure to use them!
---
Solardo Presents: Higher. Along with a Gang of Legends
James Eliot and Mark Richards, both from Manchester U.K and better known as Solardo have been on a meteoric rise through the ranks of the bass-driven tech-house scene over the past few years. After falling in love with their high energy sound in early 2018, this was finally my chance to catch them live for the first time.
Mysteryland 2019 graced us with a headlining set from the duo as they also hosted a laundry list of absolute legends of house music. The blossoming duo blessed us with iconic support sets from Eric Morillo, Skream, and Groove Armada. All three were sets I have been trying to catch for years. Needless to say, I had found my home for the remainder of the evening.
Without a doubt, all three producers leading up to Solardo's take over were damn near flawless, however, there was one in particular that completely blew me away. Skream controlled the packed dance floor with a fiery tech house set. I even got the chance to ask him a few questions later on after his set. We discussed his transition to house and techno from dubstep and I went on to mention the B2B he did with Rusko at EDCLV earlier this year, to which he replied: "that was likely the last classic dubstep set I will ever play, to be honest with you."
Despite being one of the true originators of Dubstep, the days ahead look bright as he has just as much of a knack for four-on-the-floor as he did with bass music. Next time you see Skream on a lineup be prepared for more tech house than bass music. You're going to love it. Trust me.
---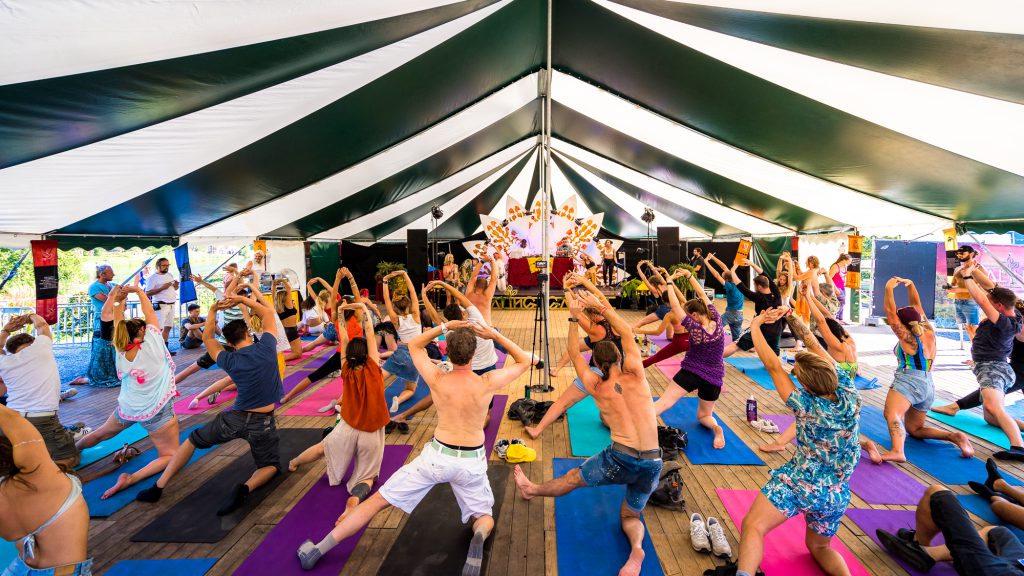 Drishti Beats Brings The Bliss 
A true gem nestled among the massive line up at Mysteryland 2019 is an act that is always a must-see. Drishti Beats. A downtempo chill-electronic band from the U.S fronted by a Vinyasa Flow yoga class. What more could you ask for among the chaotic moments at a large festival? Bringing together timeless elements of hip-hop, soothing vocals, and world dance. Drishti creates a vibe that is truly one-of-a-kind among EDM festivals.
However, their talents are not limited to just those three elements. Drishti has brought on live saxophone, as well as a live violinist to solidify their blissed-out vibe. Need a break from the madness of mainstage? Drishti is the answer. Is the bass stage just getting to be too much for your current vibe? Drishti has your back.
This year Drishti Beats was blessed with the perfect set time on the second day: sunset. As the sun's golden rays began to stretch long over the lush greenery surrounding Mysteryland, Drishti's sounds washed over the packed Healing Garden stage. As attendees found their zen amongst the madness, Drishti carried the vibe perfectly as day turned to night. Truly a beautiful set and the perfect way to re-center before welcoming the madness that would ensue that night.
---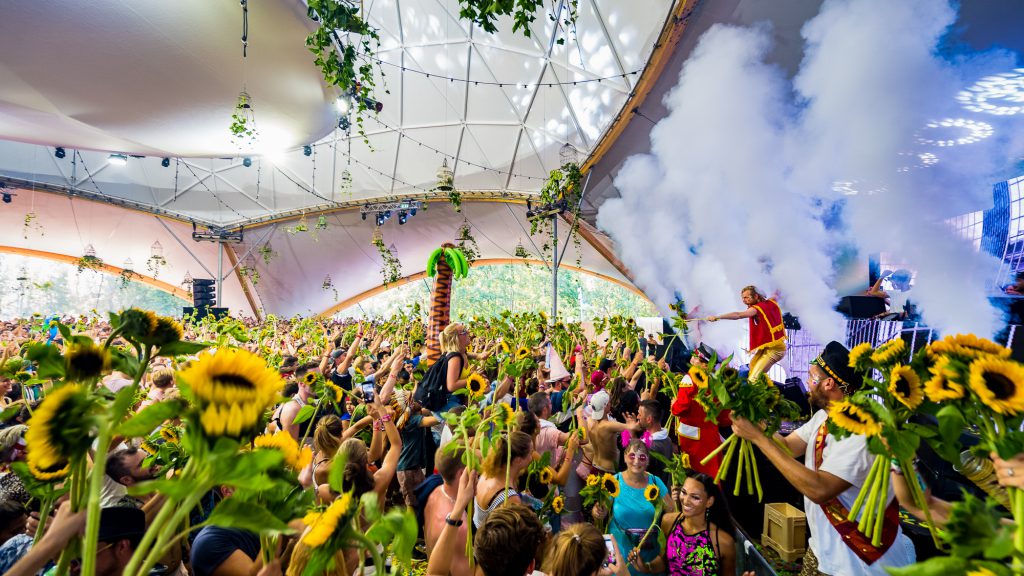 Kungs Delivers a Memorable Performance
The French phenom Kungs controlled the Sexy By Nature stage (hosted by Sunnery James and Ryan Marciano) with style as Mysteryland transformed the packed tent into a field of blooming, bouncing sunflowers. Rarely touring in the US,  I made sure to have a good spot for the illustrious deep house producer. After the smash success of his release of "This Girl" back in 2016, it was insane to finally catch his break out track live.
About halfway through his ravishing deep house set, stagehands came around from each side of the stage with dozens of baskets of live sunflowers and proceeded to unleash them into the crowd. As I watched the sea of hands turn into a field of flowers a wave of emotion came over me. This was one of those moments that reaffirmed the notion that I was exactly where I was meant to be in this moment in time.
Mysteryland truly does not miss a beat when it comes to curating an atmosphere of love and friendship through dance music. Kungs set was easily one of the best all weekend and a must-see next time he pops up on a lineup stateside.
---
Follow Mysteryland on Social Media:
Website | Facebook | Twitter | Instagram | YouTube | Spotify