Looking for some infectious house beats to groove the night away to? Eli Brown is set to deliver that prescription to a city near you this fall!
---
One of the hottest artists in the house scene right now is none other than UK-based artist Eli Brown. Making a name for himself with some truly infectious grooves like "Inside My Head" and "BS4B" along with a massive collaboration with Solardo in "XTC", his music has permeated dancefloors around the globe this year.
Adding to the mix have been his performances at nightclubs and festivals near and far as well with sets stateside at EDC Las Vegas, Paradiso, and Electric Zoo along with a smattering of dates in London, Berlin, and Amsterdam as well. Bringing some serious heat along with him wherever he goes, this fall he'll be keeping his biggest fans warm with today's news of his three-month Come Together World Tour.
Related: Want to get some extra insight into the world of Eli Brown? Check out our recent interview with him!
Kicking off with a flurry of dates in the United Kingdom this weekend, he'll make the jump to Ibiza for a date with Toolroom and Portugal at The BPM Festival before crossing the pond to land in Canada. With upcoming sets at festivals like Nocturnal Wonderland as well as nightclubs like Chicago's Spybar and Miami's Treehouse, he'll be traversing the globe from now until December 7 where he'll close things out properly in Bristol.
Tickets for select dates of Eli Brown's Come Together World Tour are available now via his website. Grab them now and pre-order his upcoming EP Come Together on Beatport!
---
Eli Brown – Come Together World Tour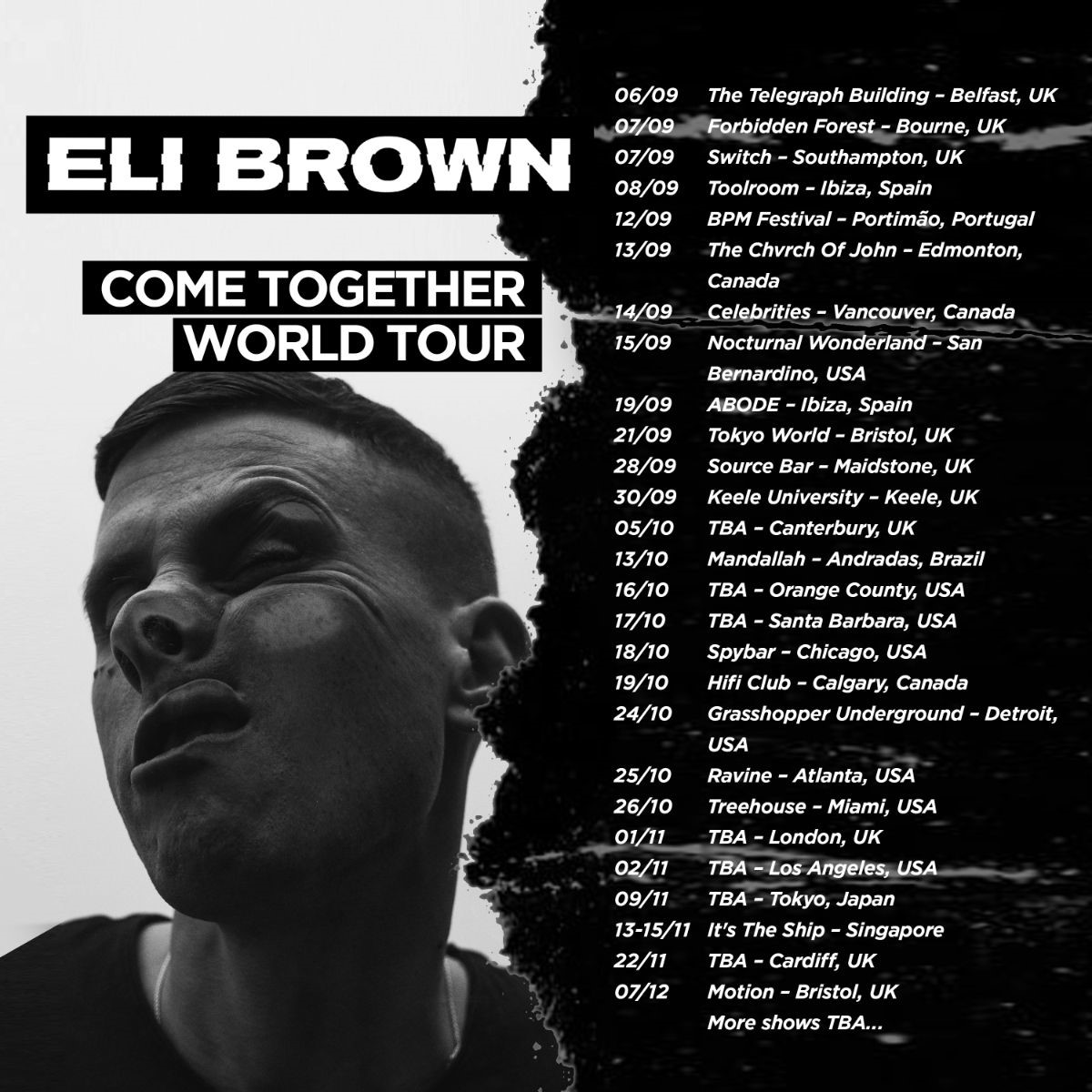 ---
Eli Brown – Come Together World Tour – Dates & Venues:
9/6 – Belfast, UK @ The Telegraph Building
9/7 – Bourne, UK @ Forbidden Forest
9/7 – Southampton, UK @ Switch
9/8 – Ibiza, Spain @ Toolroom
9/12 – Portimao, Portugal @ BPM Festival
9/13 – Edmonton, Canada @ The Chvrch of John
9/14 – Vancouver, Canada @ Celebrities
9/15 – San Bernardino, USA @ Nocturnal Wonderland
9/19 – Ibiza, Spain @ ABODE
9/21 – Bristol, UK @ Tokyo World
9/28 – Maidstone, UK @ Source Bar
9/30 – Keele, UK @ Keele University
10/5 – Canterbury, UK @ TBD
10/13 – Andradas, Brazil @ TBD
10/16 – Orange County, USA @ TBD
10/17 – Santa Barbara, USA @ TBD
10/18 – Chicago, USA @ Spybar
10/19 – Calgary, Canada @ Hifi Club
10/24 – Detroit, USA @ Grasshopper Underground
10/25 – Atlanta, USA @ Ravine
10/26 – Miami, USA @ Treehouse
11/1 – London, UK @ TBD
11/2 – Los Angeles, USA @ TBD
11/9 – Tokyo, Japan @ TBD
11/13-15 – Singapore @ It's The Ship
11/22 – Cardiff, UK @ TBD
12/7 – Bristol, UK @ Motion
---
Connect with Eli Brown on Social Media:
Facebook | Twitter | Instagram | SoundCloud | YouTube