Above & Beyond revealed a lineup boasting amazing artists including Gabriel & Dresden, Spencer Brown, and Ilan Bluestone for ABGT350 Prague!
---
There is only a little over a month left before we celebrate ABGT350 in Prague. The event sold out quickly because Transmission Prague and an Anjunadeep party will be taking place on the same weekend, creating an opportunity to spend a blissful weekend filled with Trance and Anjuna.
Anjuna fans all around the world eagerly awaited the lineup announcement after Above & Beyond revealed the location for ABGT350 months ago. After much teasing by Anjuna HQ, the lineup has finally arrived and includes Gabriel & Dresden, Genix, Ilan Bluestone, Qrion, Spencer Brown, and Tinlicker.
Over the last few months, Gabriel & Dresden have played snippets of songs in their live sets from their upcoming album, Remedy, and we can't wait to hear more! Genix has put out tons of new music in the last few months, and we hope to hear recent hits like "Open Your Eyes" and his remix of No Mana and Jess Ess' track, "Panic" during his set, which is sure to be nothing short of amazing. Ilan Bluestone always knows how to get the crowd dancing and singing in his sets, and he will definitely not disappoint!
Tinlicker are a newer addition to the Anjuna family, but they have become mainstays at their events and always bring a powerful dose of progressive to the stage. Spencer Brown is one of the label's most prolific artists, most recently putting out his Sapporo EP, and recently made an appearance at the Group Therapy Weekender with Qrion, so their sets are sure to be something special, as well.
Above & Beyond's Group Therapy set in Prague is going to be another beautiful healing experience.
For those coming to their first Group Therapy event, be sure to bring tissues and get ready to let your emotions out, because when they start playing, a wave of family love just washes over you. Group Therapy events are some of the best events in electronic music, because they offer attendees a chance to listen to music in a magical setting of peace and love all around.
We cannot wait for ABGT350 Prague. Tickets for ABGT350 are sold out but if you don't have your ticket yet, it isn't too late to join the re-sale waitlist. And if you plan on purchasing a ticket from a third-party, make sure to check out our guide on third-party ticket sales for some handy tips!
Watch the ABGT350 Trailer on YouTube:
---
ABGT350 Prague – Lineup: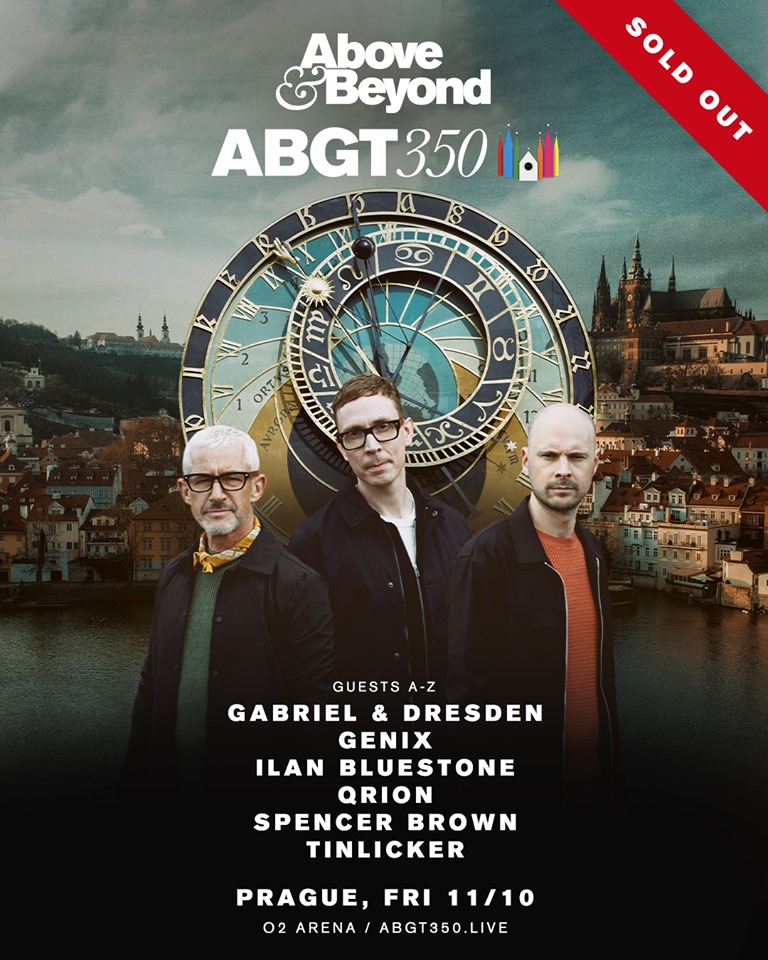 ---
ABGT350 Prague – Lineup By Artist:
Gabriel & Dresden
Genix
Ilan Bluestone
Qrion
Spencer Brown
Genix
---
Follow Above & Beyond on Social Media:
Website | Facebook | Twitter | Instagram | SoundCloud | YouTube