Every year, hundreds of festival attendees get scammed by third-party ticket purchases. Find out how to safely purchase tickets to events with our tips.
---
The increased interest worldwide in music events over the last few years makes it difficult to get tickets to big events such as Coachella, Burning Man, and Ultra Music Festival. This also means people will buy and sell tickets virtually anywhere, such as ticket marketplaces, social media, or Craigslist.
With these platforms comes the risk of buying a bad ticket, and that risk is higher than ever. People make fake profiles or even report tickets as lost or stolen. Not every seller is a scammer, but you should always be vigilant if you buy tickets from a third party or a stranger. Every time you purchase a ticket indirectly, you are at risk. What if the wristband fails or the ticket doesn't work? Will you be able to get a new one or will the buyer have to come help you out?
Given these concerns, what are the best ways to help protect you from fraudulent tickets or making a poor ticket transaction? In all honesty, that is dependent on where you buy your tickets. Here are some tips to help you better prepare to buy tickets from third parties.
---
Official Exchanges
Many events offer official ticket exchanges that allow you to purchase tickets from attendees who are no longer able to make it to the event. We won't go into the details of each event's official exchange here, but if an event offers an official exchange, this is always your best bet. Official ticket exchanges typically have some form of verification to ensure that you are purchasing a legitimate ticket, thereby ensuring that your purchase is protected and legitimate.

---
Ticket Marketplaces
Owned by eBay, StubHub serves as a direct ticket marketplace for ticket reselling. Tickets are often mailed from the ticket holders to ticket buyers directly. StubHub does not contact the event or festival to verify a ticket's legitimacy unless they are partnered with StubHub already for the event. The prices are often high due to additional fees tacked on by Stubhub, and people listing on Stubhub may be looking to profit more often than not. Their promise is that StubHub lets you buy and sell tickets safely and easily, worldwide.
With that said, StubHub does build in some guarantees to help you feel more at ease.

StubHub's FanProtect guarantees that:
• You will get your tickets in time for the event
• Your tickets will be valid for entry
• Your tickets will be the same as those you ordered
• If any of these things do not occur and you comply with applicable policies and timelines, StubHub will find you comparable or better tickets to the event, or offer you a refund or credit for use on a future purchase. If the event is canceled and not rescheduled, you will get a refund.
For most sold out events, Stubhub is a great and easy way to get tickets. Just remember you may not be given a new ticket or wristband for certain events if the ticket does not scan. Also, always look at the delivery date for the tickets to ensure they arrive before you leave for an event. So far, I have never had a problem buying with Stubhub, but there have been cases of unhappy buyers or sellers as reported on the Better Business Bureau website.
For more on Stubhub Policies for buyers or even sellers click here. 
---
Purchasing Tickets on Social Media
For the most part, every transaction done via social media is a virtual ticket exchange with a stranger, regardless of if you have mutual friends or not. You can find various ways to buy tickets through social media, like looking for sellers on Facebook event pages, finding people offloading tickets in a variety of Facebook Groups, or even buying tickets via Reddit through subreddits dedicated to particular artists or dedicated ticket exchange subreddits like /r/edctickets.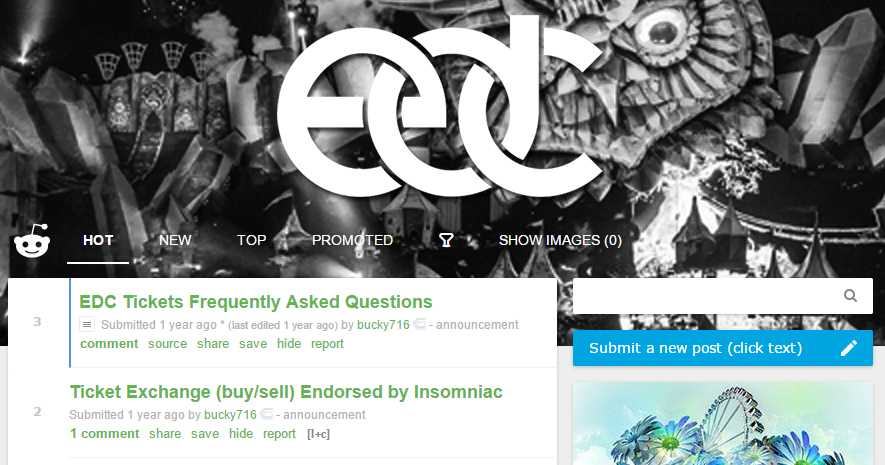 The popular RavExchange group on Facebook is a good example. There are over 30,000 members in the Southern California-specific RavExchange group alone. When put into this context, it is about the size of a small city. Subreddits can be of similar size.
Within these groups, you can find all sorts of people or pages constantly selling tickets and accepting a wide variety of payments. You could buy an EDC Las Vegas ticket from a stranger in the group and pay them any number options including Venmo, Google Wallet, Paypal, and of course hard cash.
However, almost none of those money exchange options offer you any protection when you are scammed. In all honesty, none of these monetary platforms are designed for the purchase of resold tickets, but they do allow you to transfer funds easily. Typically, the options above are used as an easy way to pay back friends or family for a dinner, to pay rent, groceries, etc.
Should you find yourself seeking to purchase a ticket from a stranger, check the following:
Look at their Facebook page and see if you have mutual friends
Look at their Facebook page for anything that says they have had their Facebook profile for a while and it was not created recently
Talk to them to see if they are willing to show their Driver's License and Proof of Purchase (order number, receipt, etc.) and, if possible, verify their ID matches the ticket information
Verify the general ticket information: does it display the correct date of the event, is it appropriately watermarked from the ticket distributor, and does it match up to the advertized ticket type (Loge, VIP, GA, etc.)
Verify the method of payment

I highly recommend using the PayPal Goods and Services option
Pay the PayPal fee yourself to protect your ticket purchase, especially if the tickets to the event are worth more than $100
Avoid the PayPal Friends and Family option that waives the PayPal fee but offers the purchase zero protection
If you wish to look more in-depth at other money exchange platform policies check out the following:
Typically, try to avoid anyone looking to get paid in cash or virtual currency like BitCoin. These options make it impossible to hold the person selling the ticket accountable.
---
If you buy a third-party ticket, it is your job to make sure you protect yourself from scammers. No one else is responsible for your transaction.
Be diligent. Ask questions. Add the seller on social media as a friend if you go that route. If a seller is not willing to give the necessary information or pay through PayPal Goods and Services, do not buy tickets from them. There will likely always be another seller. Do not become another victim and find yourself stranded at an event searching for another ticket. If it sounds too good to be true, it probably is.