Prepare for your epic Electric Zoo weekend by reviewing the set times, cashless info, codes of conduct, and other essential info! 
---
We're just days away from setting foot on Randall's Island for another exciting edition of Electric Zoo, the Evolved Edition! As you download the Electric Zoo app to prep your lineup for each day, look over our top picks to see if any new artists catch your eye. Additionally, be sure to keep monitoring New York weather reports. Over the last several years, Electric Zoo has experienced some challenges from rain and thunderstorms.
It may sound silly, but don't forget your wristband! Time and time again, many of out-of-town or out-of-state festival-goers forget to pack theirs, so make sure to pack your wristband if you are traveling to the event. As Electric Zoo is a cashless festival, remember to register your wristbands and add EZoo bucks (the cashless currency of Electric Zoo) to your wristband.
The full Electric Zoo experience doesn't stop once the festival shuts down. There are a plethora of after-parties and events to keep the party going well past 11! Make sure to check out our Electric Zoo after-party post and snag any additional tickets you may need.
Be sure to scroll down for additional information such as prohibited items, transportation tips, and acceptable forms of identification. Labor Day Weekend is just around the corner, and I can't wait to see you at the Zoo!
---
Electric Zoo: Evolved  2019 – Essential Info:
Date: Friday, August 30 – Sunday, September 1, 2019
Ages: 18+ for GA Attendees | +21 for VIP or Platinum Ticket Holders
Hours: Friday 3pm – 11pm | Saturday-Sunday 1pm – 11pm
Venue Address: 1 Randalls Island Park, New York, NY 10035
Tickets: Purchase HERE
Facebook Event Page: RSVP HERE
Will Call Info: Will Call opens at 2 pm Friday, August 30 and 12 pm on Saturday and Sunday. All international orders must be picked up at the Will Call check in area, located next to the Box Office at the festival main entrance on Randall's Island. You will need the credit card used to purchase your tickets and your valid photo ID.
Acceptable Forms of Identification:
Valid driver's license from any US state or Canada
Valid identification issued by the New York Department of Motor Vehicles (Non-Driver ID card)
Valid United States military identification
Valid passport or visa issued by your country's government
Everyone must show valid government-issued photo ID (photocopies will not be accepted).
---
Electric Zoo 2019 Set Times:
This slideshow requires JavaScript.
The set times by time, day, and stage are now available via mobile app for iOS and Android devices. Start planning out your Electric Zoo schedule by downloading the app today. You'll also receive push notifications about food, travel, weather, and event updates! Currently, set times are only available on the mobile app.
---
Electric Zoo 2019 Festival Map: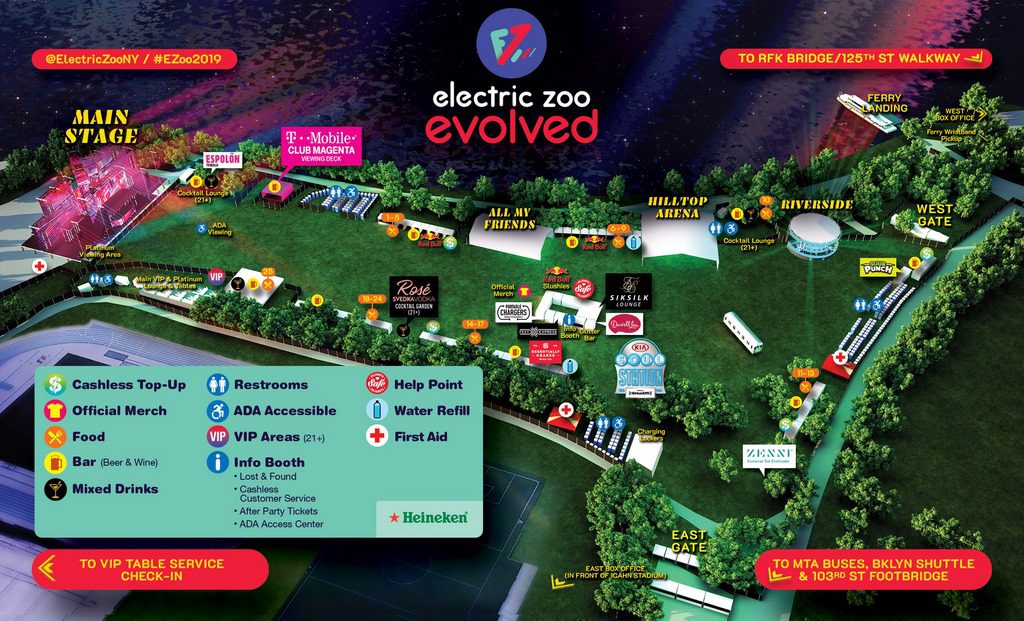 ---
Electric Zoo Transportation Options:
Electric Zoo strives to provide a variety of ways for you to get to and from the festival. Your options include MTA buses and subways, car service pick-ups and drop-offs, round-trip ferry rides, walking and biking routes, and direct-route Brooklyn shuttles. Ferry and shuttle tickets can be purchased now on Electric Zoo's website.
There is no parking at Randall's Island this year. There will be additional information on pick up and drop off locations coming soon. For more information on transportation, check out the FAQ section of Electric Zoo's website.
---
Electric Zoo Cashless Information:
Electric Zoo becomes fully cashless this year using high-tech, RFID-enabled wristbands that will act as your ticket and wallet all at once. All the vendors will be 100% cashless, as well.
You can "Top-Up" your wristband through the following methods:
By using your credit/debit card in advance of the festival – just register your wristband and click "Top-Up"
By using your credit/debit card on the Electric Zoo mobile app
On-site at the festival with cash/credit/debit
We recommend you Top-Up your wristband in advance of the festival to make for the easiest and most seamless experience. Just simply add money to your wristband now by registering your wristband and clicking Top-Up. Here you can "Top-Up" your wristband with US dollars using your credit/debit card! When you get to Electric Zoo just tap your wristband at any of our vendors to pay for anything at the festival!
Check out this video from Intellix with instructions:
For every $150 you put on your wristband before August 29 Electric Zoo will give you $5 as a bonus!
You can also turn on Auto Top-Up so you never have to worry about running out of funds at the festival! All funds left unredeemed by 11:59 PM EST September 3, 2019 will be refunded.
If you pay with a credit/debit card, the cash equivalent of remaining dollars will be automatically credited back to your credit/debit card subject to a $5 handling fee by September 30, 2019. Any bonus dollars remaining on your wristband are not eligible for refunds.
Visitors who Top-up using cash will be required to fill out the refund form within their Intellipay account with your banking info by 11:59 pm EST Sunday, September 10, 2019. Subject to accurate input of the online form, cash equivalent of remaining funds minus five dollar handling fee will be refunded via an online transfer by September 30, 2019.
To request a cash refund:
Register your wristband if you have not done so already
Click "Refund" at the top of the page
Fill out the information requested and click 'update'
Please note: Any complimentary/bonus dollars provided by the festival free of charge will not be eligible for refund.
For additional information on the cashless system, please visit My Wristband on the Electric Zoo website.
---
Acceptable Items:
Sunglasses
Sun block
Rain poncho
A small blanket or towel
A small backpack or utility bag
Chapstick (must be new and sealed)
Dancing shoes
Empty clear plastic water bottles up to 1 liter in capacity will be allowed
GoPro cameras are allowed however, GoPro attachments such as sticks, selfie sticks or monopods are NOT ALLOWED.
Prohibited Items:
No glass of any kind
No weapons of any kind (regardless of permit)
No paint of any kind (including paint markers and spray paint)
No fireworks
No illegal substances
No drugs or drug paraphernalia
No alcohol
No open or refillable e-cigarettes or vaporizers
No large chains
No laser pointers
No flags or totems with metal or wood pieces (flags or totem poles must be made with flexible materials and must have a diameter of 1.5 inches or less)
No large umbrellas
No spiked jewelry
No unsealed tampons
No stuffed animals/dolls
No inflatables (including balloons)
No pacifiers
No unsealed over the counter medications/vitamins (prescription drugs in non-approved containers must be turned over to medical)
No unsealed eye drop containers
No vending without permit
No bicycles, scooters, go karts, or ATVs
No pets – unless it is a service animal, and you are a person with disabilities, or service animals in-training and have appropriate apparel and have on your person credentials from an accredited school for which the dog is being raised. Please email your questions regarding service animals to the company at

[email protected]

or visit the official company website for details at electriczoofestival.com.
No hard or soft coolers (except for medical use with accompanying doctor's note)
No lawn chairs
No outside food or drinks (except for 1 factory sealed water bottle, no cans or bottles are permitted)
No open containers
No multi pocket backpacks larger than 24'' x 12'' x 10" (cinch packs are permitted)
No large backpacks or duffel bags
No luggage
No sealed packages
No push carts
No sports equipment (including frisbees)
No tents or camping gear
No soap, shampoo, conditioner, or other detergents
No flammable products
No aerosol cans or noise making devices
No professional cameras
No audio or video equipment
No musical instruments (including whistles)
No camera tripods
No massage devices
No projectiles or explosives
No knives or sharp objects
No open fires
No water guns or misters
No chairs
No flyers, stickers, posters
No hammocks
No grills of any kind (including propane and charcoal)
No generators
No masks of any kind (including dust or gas masks)
No tactical gear
No aerosol cans (including deodorant and perfume)
No Chinese lanterns
No drones or unmanned aerial vehicles
Any other items deemed as posing a threat to the safe enjoyment of the patrons
If you have prescription medication that you must bring with you, you must bring a copy of your prescription to be evaluated by the medical staff.
If you bring any of the items on the above prohibited items list into the festival, such items will be confiscated and discarded and you will be subject to removal from the festival based on the sole discretion of company. Under no circumstances will company hold any prohibited items for you.
Please respect your body and mind. All persons and property are subject to search and may be required to take off your shoes during search. Electric Zoo has a zero tolerance for illegal activities. The use of illegal drugs and underage drinking is not permitted. Anyone found with illegal drugs will be subject to removal from the festival and will not be allowed back in.
---
Electric Zoo Lockers Information:
Lockers will be available for purchase as an add-­on to your Electric Zoo pass and will remain available for purchase until the festival. There will be a limited quantity of lockers for purchase on­site and at higher rates; we recommend purchasing your locker ahead of time.
Lockers will be to your disposal Friday through Sunday. Each locker comes with a USB port, as well as your choice of the cord suited to fit your cell phones, tablets, or digital cameras so that you can remain charged and connected at all times throughout the weekend.
Purchase a locker at electriczoo.com/tickets.
---
Mind Your Belongings & Prepare for Weather 
Unfortunately, many people have reported pickpockets, bag slashings, and theft of wallets, smartphones, purses and other valuables during this festival season. While this small number of bad apples in the bunch doesn't define an entire crowd, there are opportunistic people who come to these events to take advantage of unsuspecting party goers and it's important to be mindful of your valuables while at Electric Zoo.
Pay attention to who's around you and what's going on around you. Keep your wallet and phone in your front pocket(s) if you can. Treat your phone the same way you would treat cash; don't set it down on a table or bar and look away. If a friend isn't standing behind you in a crowd, be careful of your backpack or purse, and don't put valuables in a pocket that could easily be unzipped by someone behind in a crowded spot without you realizing.
Weather reports are showing a possibility of rain coming to Electric Zoo. Please pack and dress accordingly. Electric Zoo is a rain or shine event. The rain or shine policy is subject to safety requirements and would never put you in harm's way in cases of dangerous weather.
---
Connect with Electric Zoo on Social Media:
Website | Facebook | Twitter | Instagram | SoundCloud