Dom Dolla has been taking the country by storm with his latest release of "Take It" but has no plans to stop there, with remixes and more music coming up!
---
House has been growing in popularity over the past few years and has created a thriving environment for artists like Dom Dolla. Having come from the Melbourne underground, the Australian DJ and producer has garnered a lot of attention internationally. Receiving support from big names like Pete Tong, Chris Lake, Duke Dumont, and Danny Howard, he's now playing main stages at festivals like HARD Summer.
Dom Dolla has really mastered control over the dance floor both in clubs and festivals. His latest release "Take It" has reached more than 25 million streams and become a staple of dance sets worldwide. With no signs of stopping any time soon, he continues to release music and is constantly on the go when it comes to the tour front. Check out his incredible performance at Tomorrowland Belgium below!
Although he was only running on an hour of sleep we were able to catch up with at HARD Summer discussing the music video for "Take It", his approach to remixes, and more!
Watch Dom Dolla at Tomorrowland Belgium on YouTube:
---
Hi Dom, thanks again for taking the time to chat with us. You're on quite the weekend travel schedule with shows in Dallas and Atlanta. Now you're here for HARD Summer; with a packed schedule like this how do you stay healthy while on the road?
You don't drink. You try to eat as best as you possibly can even though at airports it is so incredibly difficult. My job is like floating around airports trying to navigate all the stale sandwiches that they have. Actually, today I was getting on the plane and I saw this sandwich and it looked amazing. I literally bit into it and I reckon the bread was two weeks old. So the answer is – with difficulty, with lots of difficulty.
Your sets vary in size from club nights to major festivals like this one. Do you approach sets differently based on the type of crowd you're performing in front of?
100%, yeah. At festivals, there are shorter attention spans, the sets are a lot shorter, generally an hour. At clubs, I'll play anywhere from 90 minutes to sometimes three and a half hours, so I have a lot more flexibility and leeway to do what I like. Whereas I feel like a festival audience, because they have a bunch of acts they want to see, you've got to play a lot of your own music.
I suppose you can be a little bit more adventurous in the club but I love the festival crowds, they're like nothing else. They're there to party and they're all there because they love the music. They're not there because they just want to go out and meet girls. People are there for the music and it's awesome. It's both give and take, I love both but festivals are sick.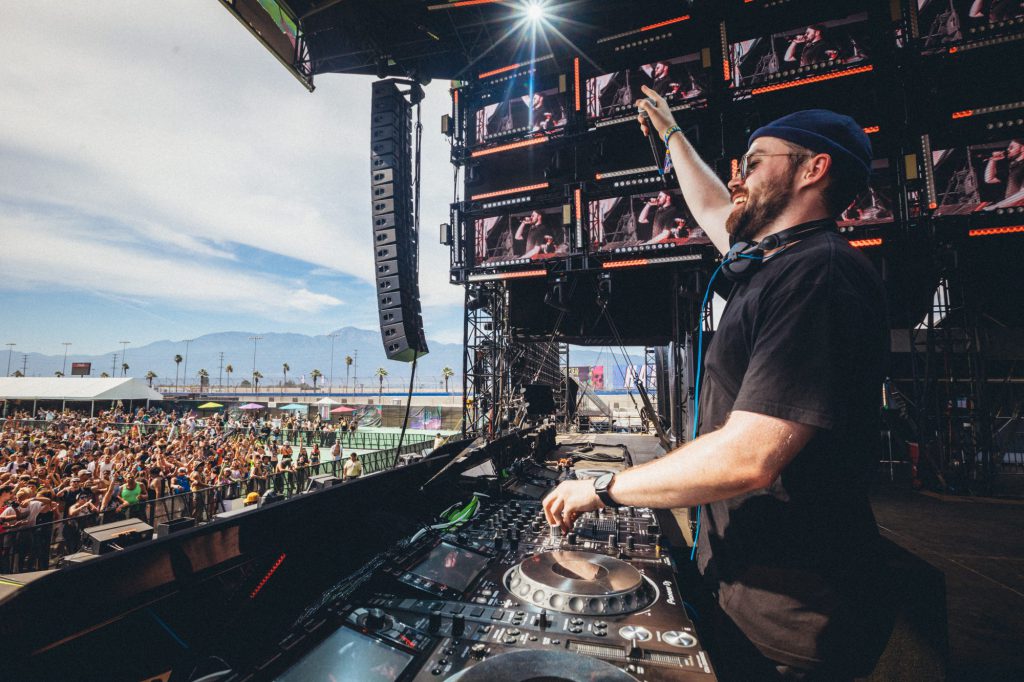 How would you describe your transition from the Melbourne underground to now playing EDC Las Vegas, Tomorrowland, and HARD Summer?
I think it's been a gradual transition. There hasn't been a really conscious, "Okay, I'm going to do this now." I feel like house music is really coming into its own in America and I've been playing house and writing house for a few years in Australia, but I think in the last two or three years it has reached its tipping point in the American mainstream. It's really exciting. I don't necessarily think I've had to do anything different. I think my sound's just naturally evolved and seems to work here.
As a follow-up, do you feel like playing an underground scene to playing main stages has been more of a transition?
I think it's awesome. The only thing that's changed is the audience. All the artists have stayed relatively the same. There have been more artists getting involved but it's really exciting. I was actually thinking about it at a club show I was playing the other night. When I first started DJing I would have been 15. I'm 27 now and I remember my first club show when I was 18, well club gig at least. I wasn't writing music yet and it was just about keeping the crowd happy with the hits.
It didn't matter what genre it was. It was about keeping the dance floor full, keeping the groove there, and reading the crowd. Whereas now, I can get crazy experimental because the crowd is so into the genre. It's a real blessing.
In September you have a new tune scheduled for release, "SanFranDisco". Can you tell us a little bit about what motivated that track?
Actually, I wrote that in San Francisco, believe it or not. I came home from a show I had at Audio and there were some really groovy, sort of house numbers that worked really well for that crowd. I've had that hook stuck in my head for a few years and I wanted to include something that revolved around those lyrics for a while. I felt it was pretty fitting.
I ended up finding this sample online of Justin Martin, who is an absolute legend. It was a sample of him doing an interview with Billboard talking about what he loved about San Francisco and I thought, this would work really well and added some nice mods. What I like to think is that the tracks that are done quickly are generally the good ones and I had that done in less than a day.
I hit up Justin and asked him, "Hey is it cool if I use your voice?" and he was like "Man, go for it," and didn't even bat an eyelid. I'm pretty excited to get it out there. It was supposed to come out in November last year, but "Take It" has just sort of been building and building and building. Dealing with labels, they wanna push things back and obviously I gotta take their advice but I'm excited to finally get it out there, man. Got some sick remixes coming for that as well.
Your track "Take It" is such a vibey song and the music video is super trippy. Can you talk a little bit about the inspiration behind the video itself and what the production process was like?
I like engaging people with the weirder side. I feel like video clips can often be pretty stale and I wanted the video to have a life of its own. Like even if you muted it and there was no music, you'd be like, "What the fuck am I watching?" They wanted me to cameo on the clip but I couldn't because I was touring in the states and the director is from the UK.
They still got your photo in there.
Solid. I also forced them to put a dog in there. I wanted the dog to almost be the only sane one in the room, so the dog is looking at her as she gets out of bed and is like, "What is wrong with this chick?" It was a long process to get the video done simply because we were just looking for the right director, but I'm so happy with how it turned out. I feel like it's relatable for a lot of people.
There are seven remixes to "Take It," including big names like Sonny Fodera, Billy Kenny, and Wongo. Was there a certain way you decided on who was going to put their spin on your track or did it just come up casually in conversation?
I hit up my friends really. A lot of those guys are really close friends of mine and the reason that we are good friends is that we have really similar taste in music. We play a lot of the same events. We love each other's music, we respect each other. I said, "Look, do you want to give this a go?" and they were all like, hell yeah!
Recently, Jesse Perez and Sonny Fodera, they're the last two remixes. We had the first remix earlier this year and everyone's put their own spin on it and it's been really cool to see how they turn out. I tell you, there's nothing more exciting than getting a remix of your song in your inbox, I always can't wait to listen.
You have an official remix with Hayden James, "Nowhere To Go." Can you talk about your process in choosing it and how do you approach these remixes differently than the original release?
Hayden is a really good friend of mine. He and I see each other all around Australia at different festivals and that sort of thing. He's one of the nicest guys in the music industry and he and I get along like a house on fire. We have very similar approaches to music writing. We don't necessarily write heaps and heaps and heaps of stuff but when we do, we sit down and try to conceive a track that is really hooky and strong. So we have a lot to relate on, but he hit me up and said, "I'd love for you to remix this."
The vocalist Nat Dunn from NAATIONS is one of my favorite writers in Australia as well, so before I even heard the record I knew it was going to be fire. I essentially just wrote something that would fit in my sets. Something that would work on the dance floor and I've been so happy with the reception. You think you know what the audience will like but you don't really know until it comes out and I get so many nice messages about that remix.
We love it too! So, if you could give one piece of advice to rising stars in the dance scene, what would it be?
Learn how to sleep sitting up because you're going to be spending a lot of time on airplanes if you decide to make this a career. It is something I haven't mastered and is why I'm swaying in the breeze right now.
When you're not producing beats or playing sets, what kind of music do you listen to, when you're not listening to house?
I listen to a lot of jazz music actually. I listen to a lot of chill R&B, bedroom pop sort of vibe. Just whatever is suiting the mood. I'm all about a curated mood. I think that's what drew me to being a DJ in the first place. It wasn't because I liked specific songs but because if there was a venue or a space that made it a particular sound I would think "OK, the music needs to be this volume and needs to sound like this and the party will be better if it sounds like this." Or even if you're just chilling out on a Sunday hungover in bed it will be improved with this sort of music. A bit of everything.
That's so interesting, I haven't heard anyone say setting the mood or using music as the mood.
Totally, you can 180 a mood just by changing the song. Whether it's in a romantic sense, whether you're watching… Actually, one of my jobs I hopefully one day get to do would be to do like Foley art for film or to do soundtrack work. I've got friends back in Australia that do some soundtrack work for Disney and Pixar and stuff and their jobs are incredible. Like writing music to fit a scene. I love the contrast, say you're watching a horror movie and it's got a really happy song in the background and someone's getting murdered and it's even more terrifying. It's difficult to explain but you could totally flip a scene depending on the music.
Finally, what is your guilty pleasure food while on the road while traveling?
Oh man, whatever is in the minibar of the hotel. I eat because I just need my stomach to be full. When I'm leaving I'm like, "I have no idea what's gonna happen with these stale sandwiches at LAX." So if there's a Kit-Kat in the minibar and it costs 11 dollars, I will close my eyes and just hope that they miss it when they go through it later. There's no planning.
Well, thanks again for taking some time to chat!
Thanks, my pleasure!
---
Connect with Dom Dolla on Social Media:
Website | Facebook | Twitter | Instagram | SoundCloud