Lollapalooza may not have the best reputation for its crowd, but it's easy to have a great time at this amazing festival if you know what to expect.
---
Love it or hate it, Lollapalooza is a staple of festival season and one of the most recognized festival brands in the world. The flagship event that started it all takes place every year in Chicago on the first weekend of August, bringing a mix of people from all ages and all walks of life to the event in Grant Park.
Although recognized as a top tier festival by many, it is just as often seen as an unruly party with teenagers taking advantage of the all-ages access to get away from their suburban homes for a weekend and indulge in any way they can find. If you're attending Lollapalooza, especially as an EDM fan, you have to be prepared for this aspect of the crowd. There's no doubt that you'll see teenagers crying, fighting, getting sick, pushing you around, and just generally acting belligerently. Is the festival experience good enough to overcome these issues and deliver a great weekend? My answer every year is yes.
The videos that instantly go viral (often for good reason) are a minority of the people that actually attend this festival. Unless you're going to the front of the EDM focused Perry's Stage to be surrounded by attendees between the ages of 16-20, you're not going to see those people falling backward in trash cans or wrestling in a mosh pit. Those things absolutely happen, but I stay far away from them, and as a result, I leave with an amazing weekend of music and lifelong memories with friends in my hometown of Chicago.
Rule #1 for Lollapalooza – which can be applied to any festival or any aspect of your life, really – is to bring a positive attitude.
If you walk into the festival gates expecting to be disappointed by a crowd that will kill your vibe, then chances are you'll let that preconceived negativity affect you. If you walk into the festival gates with a positive mindset knowing you'll be seeing some amazing acts over four days of a multi-genre festival, you can have an extremely special time here.
The most important aspect of Lollapalooza is the music. It's a different focus compared to something like Electric Forest, where the people, setting, and vibe are aspects that take more precedent. Starting as an alt-rock event in the nineties, the festival has grown to host a variety of rock, pop, rap, and electronic music that has something for everyone.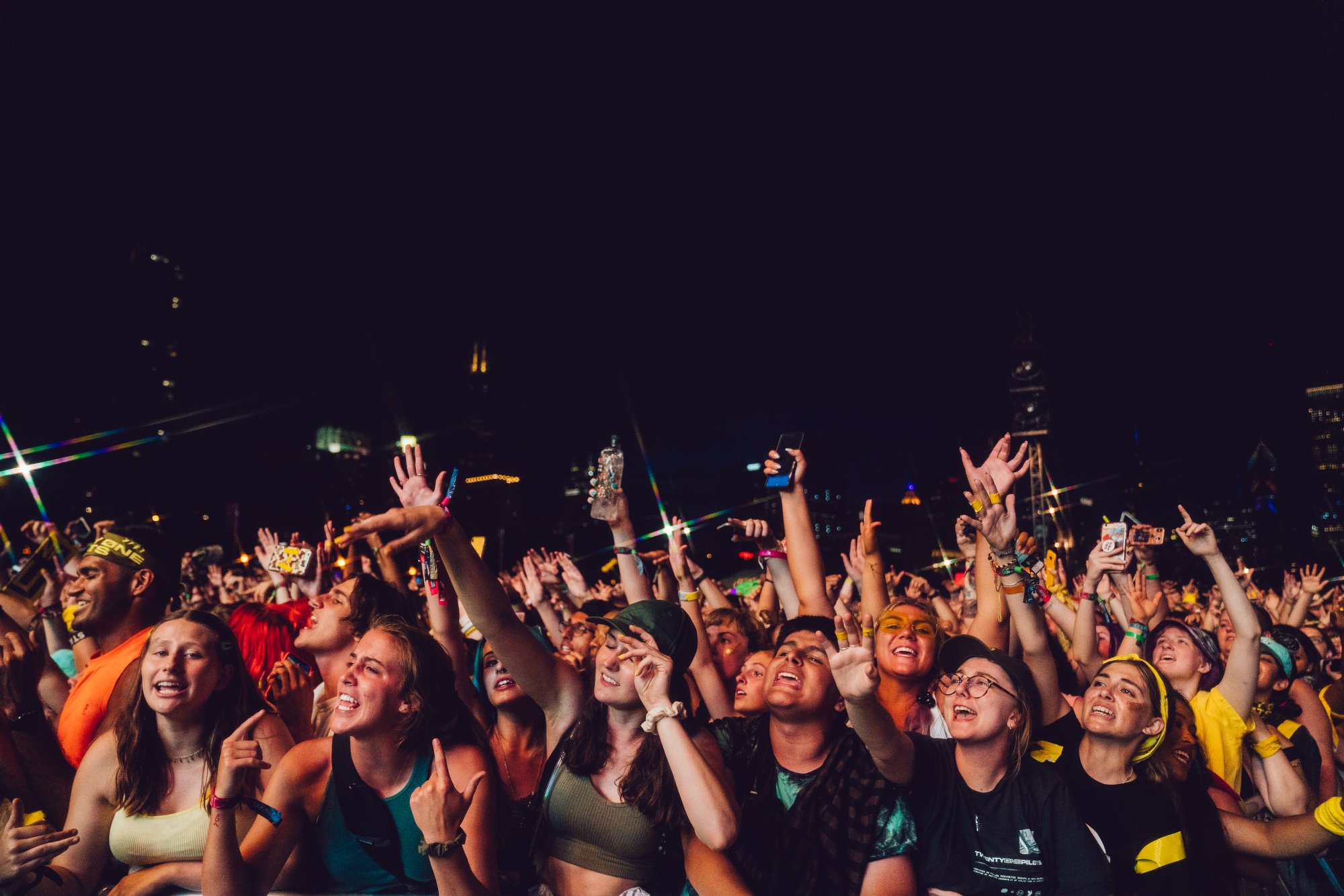 Rule #2 for Lollapalooza is you can't treat it like a strictly electronic music event. Be ready to walk, explore other stages, and go with the flow.
You need to take advantage of the diversity of this lineup, and see some things that you would never see otherwise. I'm usually attending festivals like Spring Awakening, EDC Las Vegas, or Ultra, which are some of my favorite events all year. However, Lollapalooza is up there too, but you have to treat it differently if you're used to all-EDM events.
Nearly every act at Perry's has a 15-minute changeover between sets and I almost always take this opportunity to walk over to the T-Mobile stage across the street to see some acts that I'm unfamiliar with. I had never heard of Ghostmane or Gary Clark Jr., but taking a seat on the hill next to the biggest stage at the festival to give these performers a try are some of my favorite memories of the weekend. Other highlights for me include Lil Wayne, Janelle Monae, and Tierra Whack.
Ask your non-EDM inclined music-loving friends who they would most be excited to see!
Although there are electronic acts at other stages, simply standing at Perry's the whole time will result in a boring experience. You wouldn't want to stand at just one stage at another festival either, so there's no reason to think that would work here. I listen almost exclusively to electronic music in my free time, but going to Lollapalooza will introduce you to new genres and performers that you would've never found otherwise.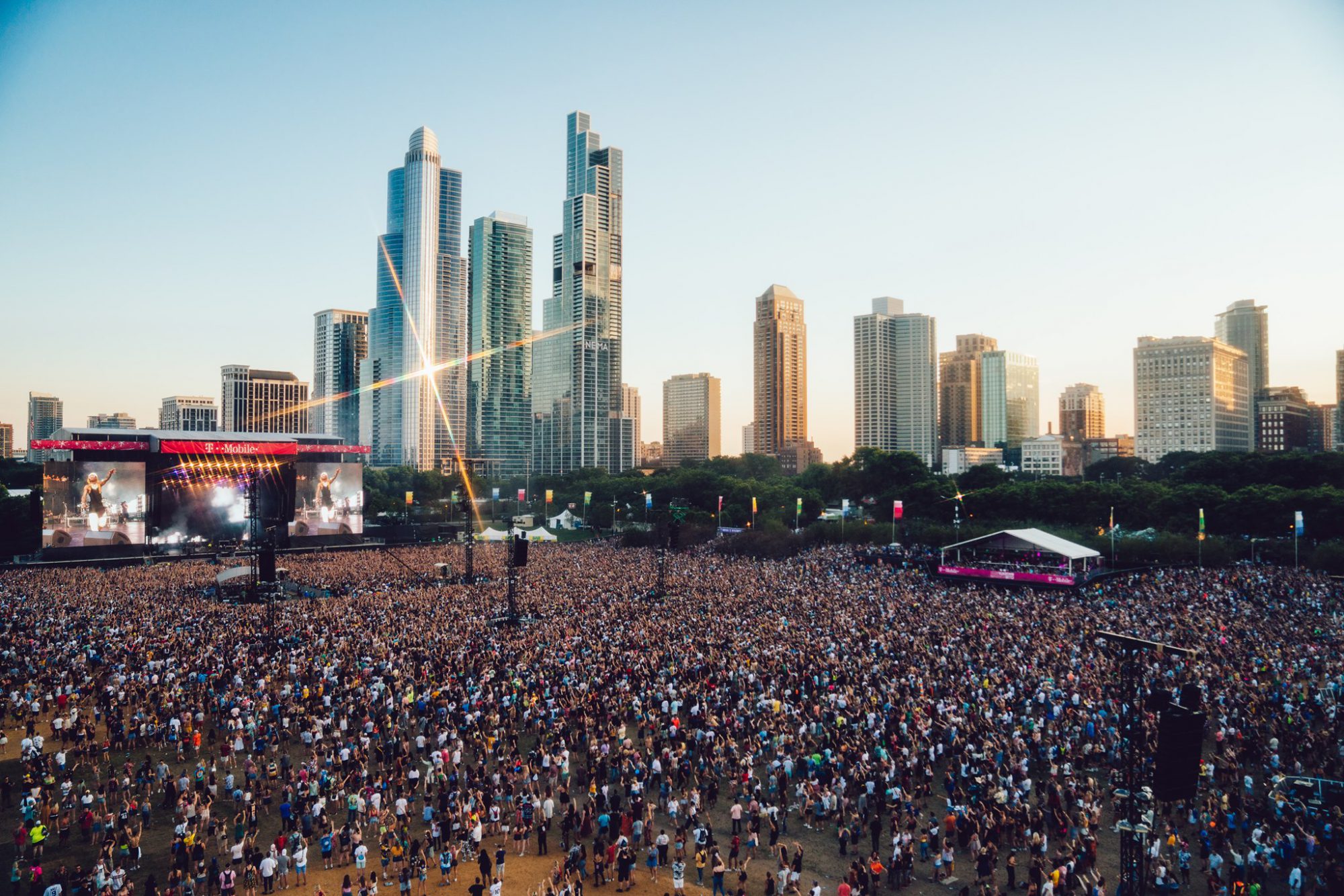 To get the full experience at Lollapalooza, you need to embrace the different stages and make these journeys across the festival.
The layout of Lollapalooza is massive, stretching all the way to 11th Street on the south end to Monroe Street on the north end, a total of ten city blocks. The festival spans the entirety of Chicago's famous Grant Park, and also takes over Columbus Drive as all traffic is rerouted to Lake Shore Drive and Michigan Avenue for the weekend. This means that you need to come to the festival ready to walk! Don't be fooled by the urban setting and think that the festival grounds are tiny like Ultra's Bayfront Park.
On the far south end of the festival lies the T-Mobile Stage (main stage) opposite the Lake Shore Stage. On the far north end of the festival grounds lies the Bud Light Stage (second main stage) with the Tito's Stage across from it. These two massive areas always have a performance happening at any given time, and this is where the bulk of attendees usually stay. In the middle of these stages lies Buckingham Fountain, which gives you some of the best views of the Chicago skyline you could ever ask for, along with an awesome selection of Lolla gear and artist merch in massive tents next to the fountain.
There are other stages throughout the festival, like the multi-genre, tree-covered American Eagle Stage, the tiny alternative-focused BMI Stage, and the family-oriented Kidzapalooza Stage. There are families all around Lollapalooza enjoying themselves and its founder Perry Farrell has always envisioned Lolla as a family event. Although many would argue that the festival should be at least 18+ because of the crowd it's grown to attract, that just won't happen unless the City of Chicago gets involved.
The electronic focused Perry's Stage, which has grown from a small tent in a corner to the third main stage, is the main attraction for many.
When I first started attending in 2010, Perry's was a tiny rendezvous in a corner of the festival hosting acts like Chiddy Bang and Empire of the Sun. It's since grown exponentially to become a massive main stage with amazing sound quality and production. It hosts some of the biggest and trendiest names in electronic music, and they always bring impressive diversity within the acts that are selected.
EDM Twitter and social media commentators love to share their opinion on Perry's that definitely isn't always positive. My response to those people that focus on these negative aspects is to be the change you want to see. Be the festival attendee that you would want to run into. Bring your positive attitude, good vibes, and love of music, and you can tune out all the negativity, find a spot in the crowd that's right for you, and see amazing sets just like you can at any other festival.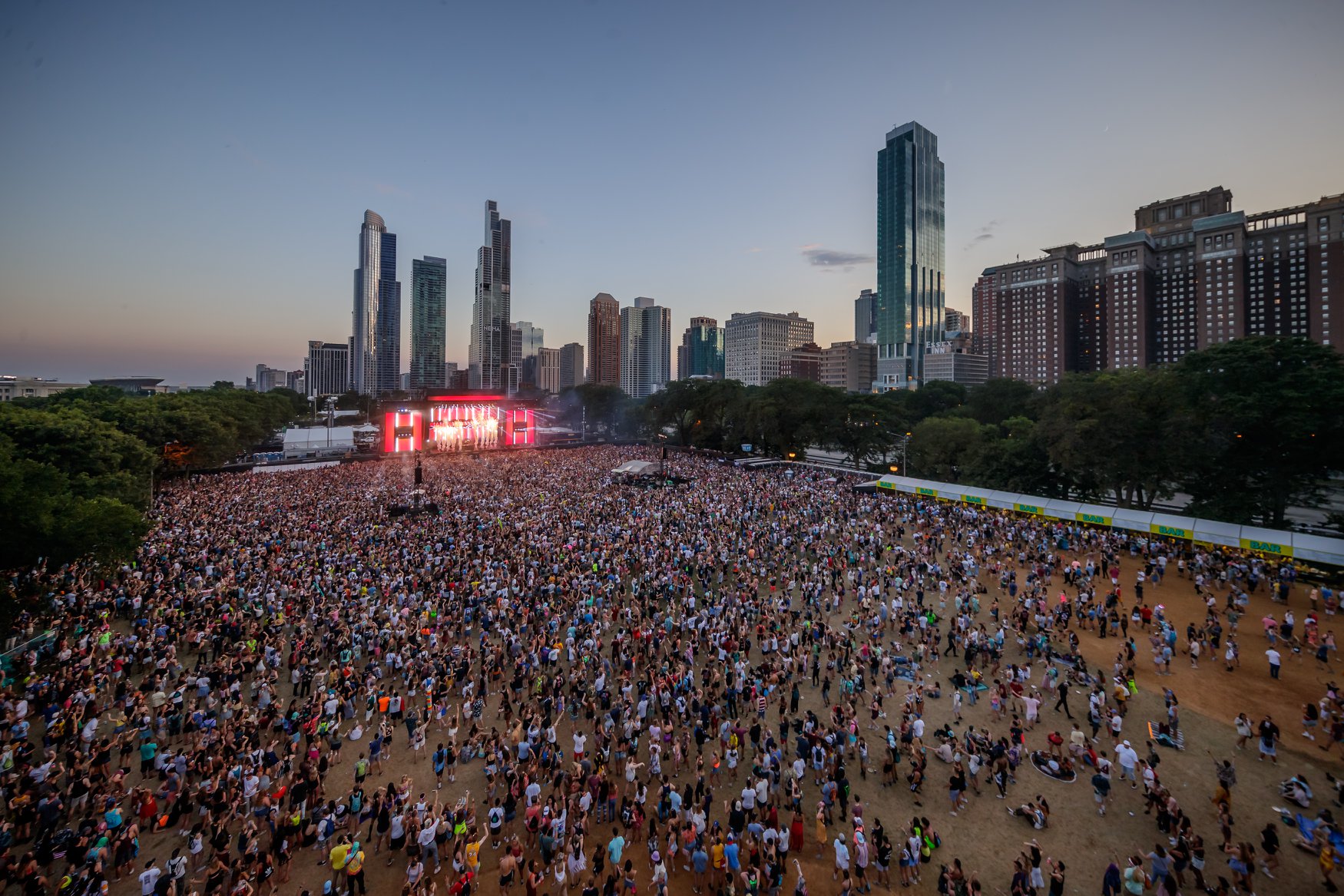 Rule #3 of Lollapalooza is that it's important to find an appropriate spot in the crowd and not let a few groups of undesirable attendees bring you down.
As mentioned before, you absolutely will see people inebriated at this festival just like any other you attend. You will also see groups of attendees who make no effort to dance or appreciate the electronic music at Perry's. If you see those people in the crowd, and you're dancing and struggling with catching a vibe, just move. Don't let it get you down, let those people have the experience they want, and move towards the back of the crowd to find a space that you feel comfortable in.
The double rows of speakers at Perry's sound unbelievably crisp and high quality, and you can literally sit in the far back under the trees and still hear the music nicely. Back middle at Perry's is my preference, whether that means close to the back speakers between the sound booth earlier in the day or all the way in the back of the crowd when the headliner is on. The crowds always bunch up on the right and left sides, leaving the middle wide open for dancing and good vibes. With such a huge area to work with, I recommend moving around until you find a spot that feels right to you.
Rule #4 of Lollapalooza is to embrace the Chicago setting and massive group energy.
Although you couldn't find me in more than one mosh pit this weekend, I really appreciate the energy that every single attendee brings to this festival. There's no denying the sheer awesomeness of the huge crowd constantly jumping up and down at Perry's. From the back of the crowd, you have an awesome view of the craziness going on in the front, and combined with the fun, more mature crowd around you, the experience is honestly fantastic.
When you're an attendee facing Perry's Stage, you have a view of the south side of downtown that has only recently begun to develop with massive skyscrapers and apartment buildings. However, from the performer's perspective, Perry's Stage supplies a perfect view of the Chicago skyline, with historic buildings like the Aon Center and Prudential Building lighting up the sky.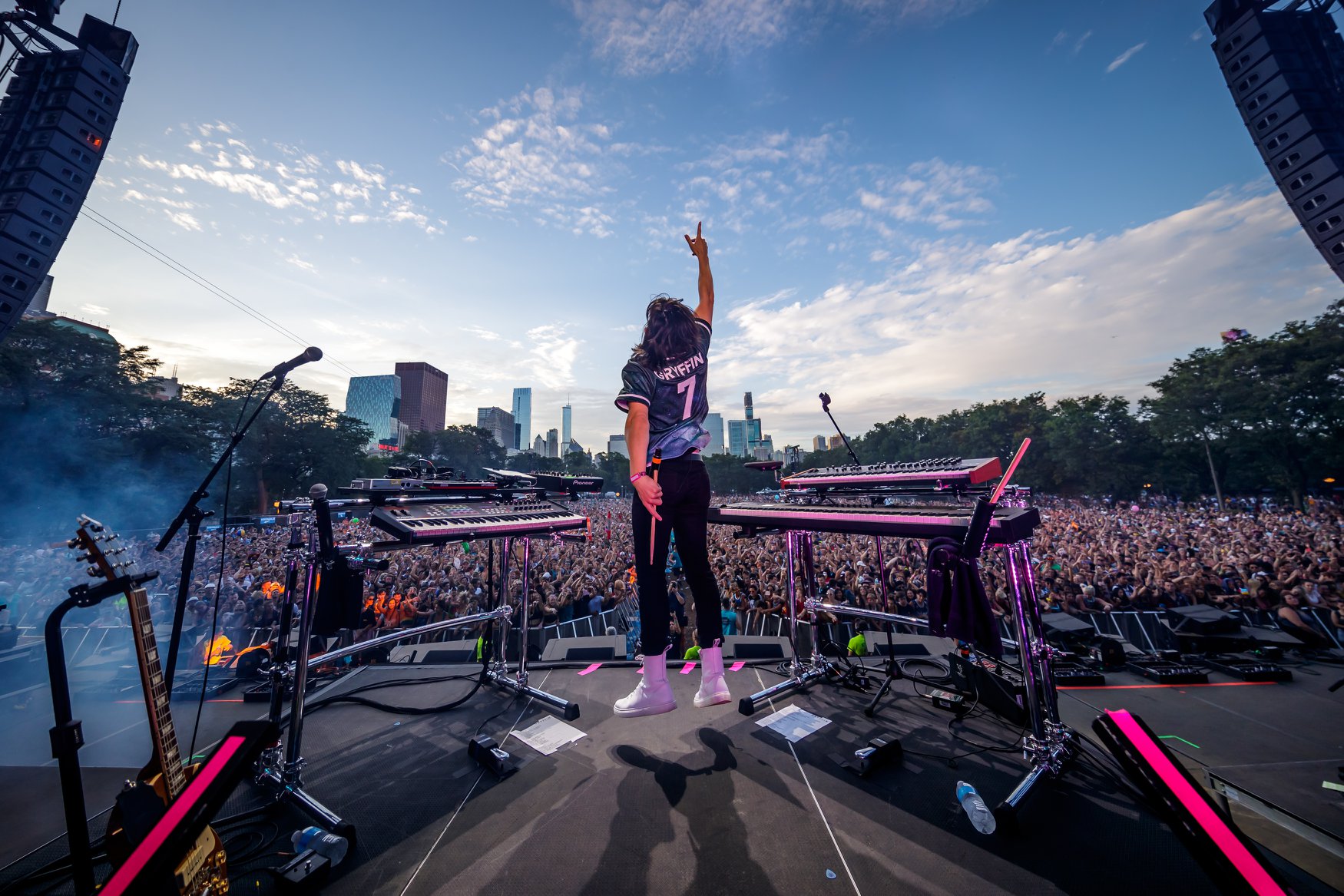 I would argue that the crowd at Perry's is one of the biggest of the year for many of these performers and even a dream come true.
This is reflected in the artists' tone on the microphone when talking to the crowd, as well as the amazing quality of the sets that these artists play. For many of the artists I saw there, I can honestly say that it was the best set I've seen from them in years, if not THE best.
Thursday was an incredible start to the weekend, with memorable sets from Elephante and Fisher and a crazy, banging electro set from Deorro. The "Gud Vibrations vs. Slugz Music" headliner featuring NGHTMRE, Slander, and Snails significantly exceeded my expectations. Instead of playing a typical back-to-back, which I'm generally not a fan of, they chose to have a true DJ battle where each individual performer had a short set to show off their sound, bringing out multiple special guests and providing fans with a very unique set.
Friday kept the good vibes going, as I chose to get in near the start of the day to see CharlesTheFirst, Cray, and Yultron. Although I only attended a bit of Said the Sky's set, his live piano performance was awesome, and he continuously thanked the crowd for their undeniable energy. As the day at Perry's went on, I definitely enjoyed Party Favor, Snails, and Alesso, but day two was dominated by other genres for me. Sigrid, Janelle Monae, Death Cab for Cutie, and an epic performance from Childish Gambino stole the show.
Saturday was the one day of the weekend I had trouble enjoying. Since it always seems to sell out instantly the crowd that day can just be too much.
The music was great as always, but it's hard to navigate the massive crowd that shows up on Saturday. I arrived around 3 PM to catch Jonas Blue, and Perry's was already slammed with people. His performance was great, and he played an excellent set at his afterparty later that night as well.
The theme on Saturday for me was just trying to enjoy myself on a day that felt overcrowded, but there were still highlights. Lil Wayne played an awesome set to arguably one of the biggest Lolla crowds ever, while RL Grime played one of the heaviest and best sets I've heard from him in years. Personally, the Madeon live show didn't do it for me, but I know fans of the iconic French artist loved his set.
Sunday is always my favorite day of the weekend, not just at Lollapalooza, but at any festival.
Something about Sundays at a festival always feel different to me. Everyone knows this is our last day to have fun and make memories at the event, and the positivity and friendliness I feel are always at its highest on that day of the festival. After having a lackluster experience on Saturday, Sunday blew me away and solidified my love for Lollapalooza.
Starting with CamelPhat at 4 PM at Perry's, my Sunday definitely started off on a high note. Not afraid to play deeper tracks like Adana Twins' remix of Patrice Baumel's "Roar" or Eli Brown and Solardo's newest song "XTC", Camelphat played a proper house set at Perry's that felt just right. The vibe in the back middle of the crowd was perfect, with plenty of people clearly feeling the music. The result was my favorite CamelPhat set I've seen yet.
Shaquille O'Neal played his set as DJ Diesel next. I could go on and on about why I love Shaq's role in the EDM scene, but this video summarizes it nicely. Watching an NBA player I grew up watching on TV throw down dubstep was surreal, and after attending his afterparty and being just a few feet from the booth, I can confirm that the man can actually DJ.
I chose to venture over to the American Eagle stage for a quick set from Lane 8, who played a beautiful set that provided us with a perfect, shady break from the brutal Perry's sun. Next I wandered over to Meek Mill at the Bud Light stage, who played a great show after being released from jail just last year.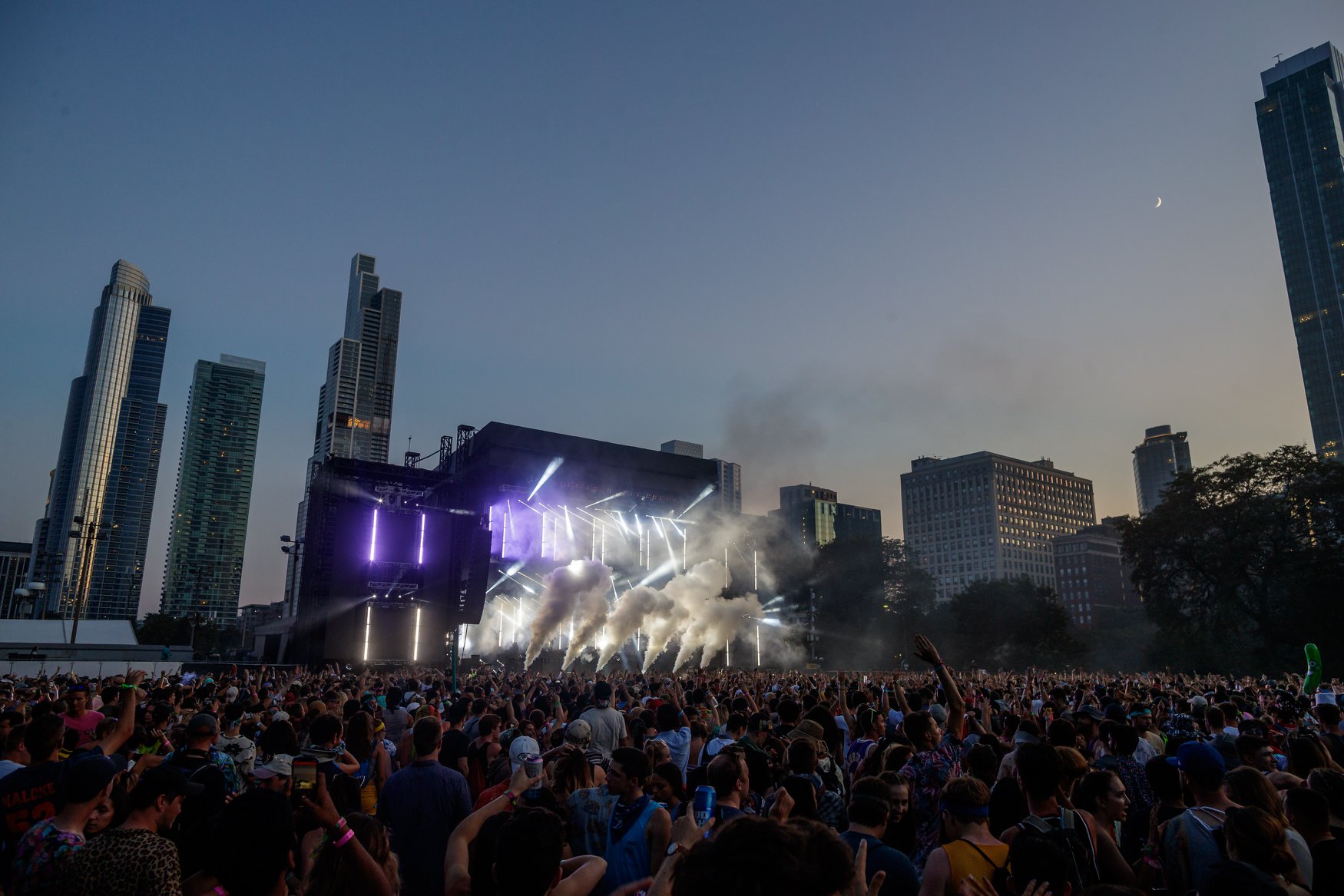 I wandered over to Perry's one last time for San Holo, who played the most beautiful set of the weekend.
Must-see acts on Sunday were relatively scarce, and I ended up at Perry's to see a set from San Holo. The stage was absolutely packed at first, but the beginning of the set caught my attention and I decided to stay. Playing some of my favorite songs of his like "We Rise" and "Fly", I was totally mesmerized by this set. Jumping on the mic to share positive messages and his appreciation for this moment and crowd between songs, San Holo's set provided me with a totally awe-inspiring experience that I never imagined I would have at Lolla.
As the sun went down and the crowd emptied out in favor of Flume and Ariana Grande, the remaining crowd was a perfect group of people with beautiful energy to close another weekend at Perry's. I honestly can't believe how amazing this set was; it was definitely something that had to be seen to be understood.
Similar to Madeon's set, Flume's live performance didn't satisfy me either. I know I'm in the minority in that opinion, but I quickly chose to head to Ariana instead. Walking by Buckingham Fountain and hearing the entirety of Grant Park quietly sing along to "Thank U, Next" was a unique moment that I won't forget.
In conclusion, it was another amazing weekend at Chicago's iconic worldwide attraction that is Lollapalooza.
Every year, Lollapalooza provides us with an awesome festival in the middle of a beautiful city. The amenities are amazing; I never had to wait for water and every single bathroom I used had running, flushable toilets that were rather clean. Long lines at general admission entrances could be improved, though.
There's something for everyone here, whether that be the EDM party at Perry's, getting down to The Strokes and Death Cab for Cutie, seeing rappers like Lil Skies and 6lack, spending time with your family, playing Fortnite with Ninja (yes, he was there), or enjoying a lineup of restaurants that rival Taste of Chicago.
There's nothing like Chicago in the summertime, and Lollapalooza will always be a highlight of festival season for many of us. You can see bands and rappers you've always wanted to see live, enjoy some of the best DJ sets you'll see all summer as festival season is wrapping up, and enjoy one of the best venues in the festival scene.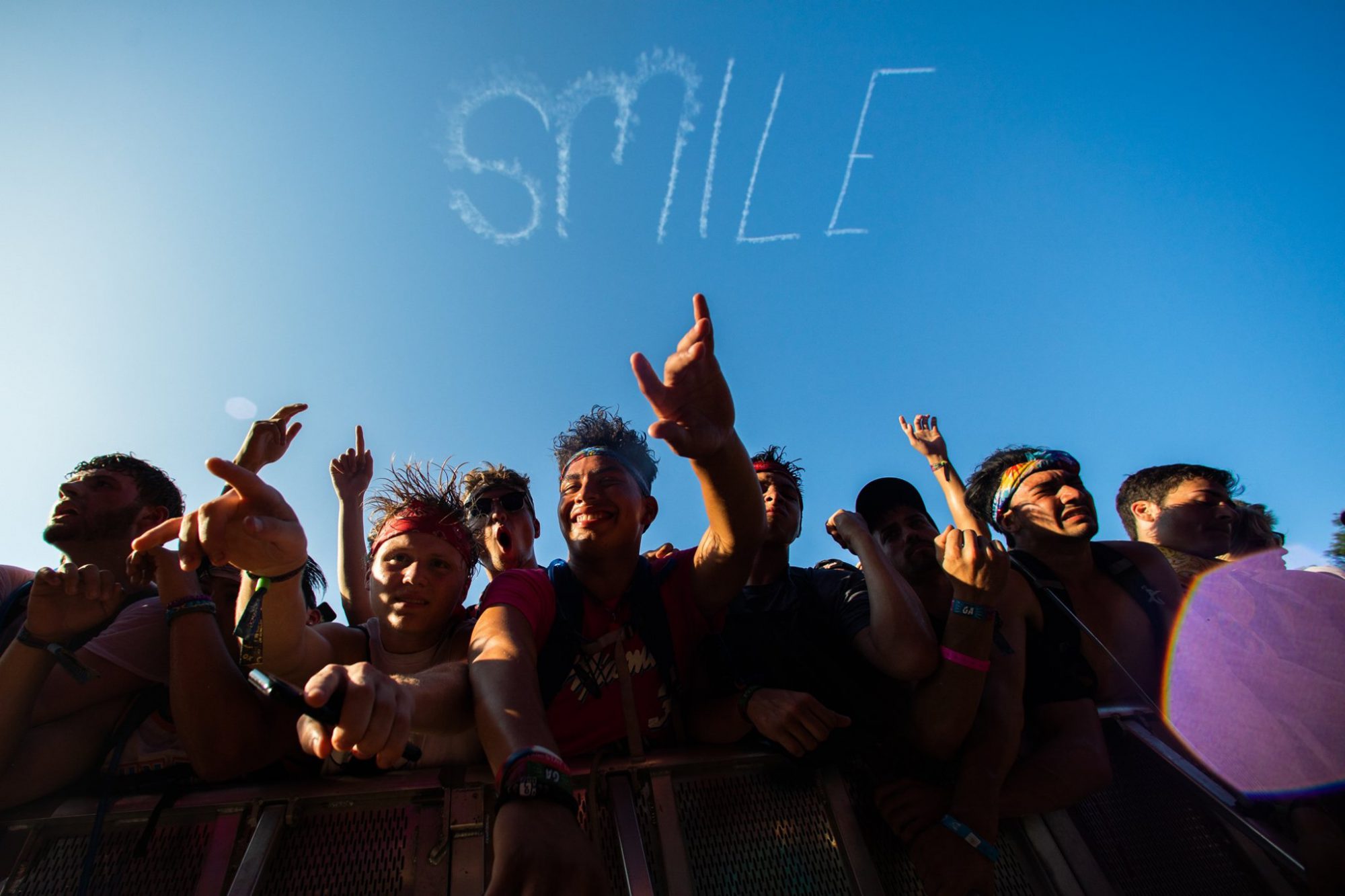 Where will you be next year when Lollapalooza weekend rolls around?
I encourage everyone that's been silently judging this festival to give it a chance and be the festival attendee that you want to see. Come in with a realistic expectation and positive attitude and make some epic memories in the great city of Chicago. Honestly, you're missing out if you're giving in to the negative reputation and not giving this festival a chance. If you can't make it, I highly recommend checking out the live stream, too.
As years go on in the festival scene and we grow further and further away from the initial EDM boom, these events always come down to what YOU make of it. Will you decide to have a good time, or will you struggle with the negative aspects? Lollapalooza is an example of a place you can choose to manifest a great experience, and I'm leaving Lolla weekend with the same level of satisfaction that I get from something like Electric Forest.
Although four days of Lolla is definitely a lot to handle, I'm already looking forward to next year and the memories we'll make in Grant Park.
Lollapalooza was my introduction to the festival world in 2010. Although there's a ton of young people in this crowd that will attend for a few years as a teenager and never touch Lolla again, there's also a few in this all-ages crowd that are experiencing something they've always dreamed of on a weekend they've been looking forward to all year.
It's their introduction to a beautiful lifestyle and music scene that they didn't know existed before. Lollapalooza is a place where multiple generations of passionate music fans thrive, and I encourage you to come out next year to keep the tradition going and see what it's all about.
---
Follow Lollapalooza on Social Media: