As many prepare for another massive edition of Camp Bisco, take some time to dive deep and explore the history of the festival founders, The Disco Biscuits!
---
Contrary to popular belief, Scranton, Pennsylvania holds more than just an abundance of references to The Office. Deep within their mystical mountains lies one of the most sensational music festivals of the year has been brewing, waiting for its moment to shine again: Camp Bisco. On the weekend of July 18-20, the festival will once again be drawing in thousands of electronic and jam-band enthusiasts to Montage Mountain.
This year, Camp Bisco will be blessing the masses once again with a weird and wonky lineup featuring the likes of Tipper, Bassnectar, Space Jesus, Odesza, Umphrey's McGee, STS9 and of course the legendary Disco Biscuits and their six set run. In the midst of all the excitement, we wanted to take some time to spotlight the group that made this gathering possible.
Related: Want to know how last year's edition of Camp Bisco went down? Check out our review!
The Disco Biscuits were founded in 1995 by Marc Brownstein, Jon Gutwillig, Aron Magner and Samuel "Sammy" Altman at the University of Pennsylvania. These four musicians brought to life their love of psychedelic rock, blues, soul and electronic music and created a unique and eclectic sound that traveled all around the Philadelphia music scene.
In 2005 Sammy Altman left the band to pursue a medical career, which led to a two-night drum off in Atlantic City that culminated with the group adding new drummer Allen Aucoin. It was just a year after that they settled into the old studio of DJ Jazzy Jeff and began working away once again in the studio. This space allowed local musicians to gather and produce, birthing the many collaborations recorded in their Planet Anthem sessions.
Alongside The Disco Biscuits expansive musical repertoire, the group is involved in countless charitable efforts.
Charitable actions taken by the group have ranged from raising money for hurricane relief to collecting goods for food drives, and in the early 2000s, they went a step further. In 2004, Marc Brownstein and Andy Bernstein (Author of The Pharmer's Almanac) founded the national, nonpartisan, non-profit organization HeadCount that is centered around promoting democracy and registering US voters at concerts and festivals. Their efforts have sparked waves of social activism and awareness for the hundreds of communities they have touched over the years.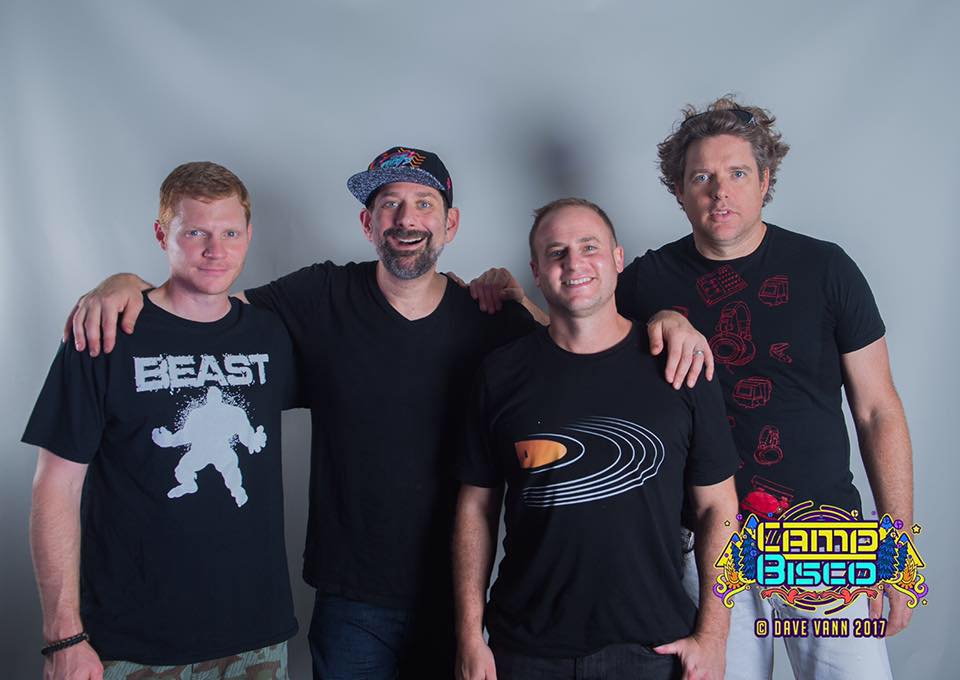 As if the music and activism were not enough to tackle, The Disco Biscuits then gifted the festival community with a special gathering of their own in 1999: Camp Bisco.
First taking place in Cherrytree, Pennslyvania, this was their first attempt at a live collaboration of electronic DJs and improvisational rock and it has grown beyond belief over the past 18 years. After increasing demand, larger lineups, and the growth of a dedicated fan base, they decided to expand to their new venue that has been their home ever since.
Maintaining affordable pricing and bringing in a diverse spectrum of artists allowed Camp Bisco to remain high on the rankings of big-time music events. With multiple sets coming from the foursome along with a range of experimental, bass, and jam band sounds, there is always something groovy to get down to at the festival each year.
Today, Camp Bisco continues to draw a massive number of dedicated attendees. Many have found a home on the mountain, a family within the crowds, and most importantly a place to live freely and appreciate all forms of music and we hope this is the year that you will join us!
Thinking about making a last minute trip to Camp Bisco? Grab your tickets on their website before it's too late!
---
Follow Camp Bisco on Social Media: