With the scenic backdrop of Montage Mountain and an unbeatable lineup, Camp Bisco combined everything I've ever wanted in a festival! 
---
I had no idea what to expect for Camp Bisco. All that dominated Twitter were horror stories of hiking up Montage Mountain to set up camp, so even after booking a hotel to preserve my leg strength, Camp Bisco remained a mystery to me. Upon passing through security on the first day, I immediately became overwhelmed with excitement and admiration. Within my first few steps onto Camp Bisco's grounds, I fell in love.
Everything from the stage setup to the water park and zipline, to the impeccable lineup and festival community was absolutely perfect. I typically leave a festival with more than a couple of suggestions on how it could have enhanced my experience, but everything about Camp Bisco felt like a vacation I never wanted to end.
The Camp Bisco App made it incredibly easy to navigate the festival and offsite parking lots.
Aside from the usual set times, map, and general festival information, the Camp Bisco App had specific addresses for each offsite parking lot as well as for the box office, making it extremely easy to find each location. Once arriving at one of the offsite lots to be shuttled to the venue, we passed through a preliminary security check which was probably the most thorough security I have ever encountered.
I expected to wait at least 45 minutes for one of the school buses to arrive to transport us to Bisco, but each day we didn't wait any longer than five minutes. From my prior experience with festival shuttles, I was shocked to basically not have to wait at all, and I applaud Bisco for that.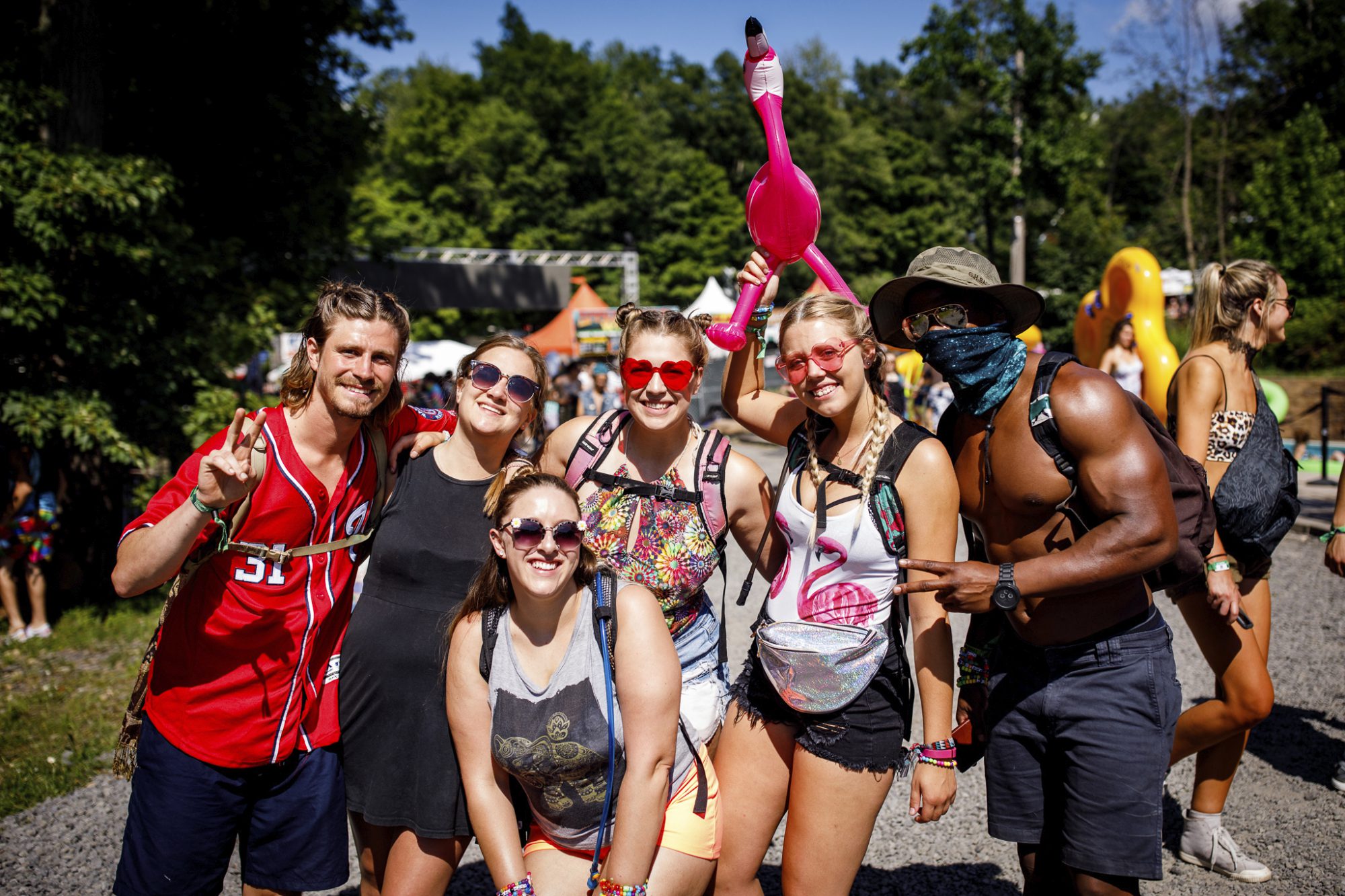 Walking into the festival, we were met with the waterpark that featured a lazy river, wave pool, two slides, and a tube funnel ride adorned Bisco's grounds amongst string lights and clothing vendors of all kinds.
I felt the food vending was lacking a bit as far as where food vendors were located, since there weren't many vendors around the Electric City stage. There was also no Spicy Pie, which I was more than a little upset about, but I appreciated the vast array of vegan and vegetarian options.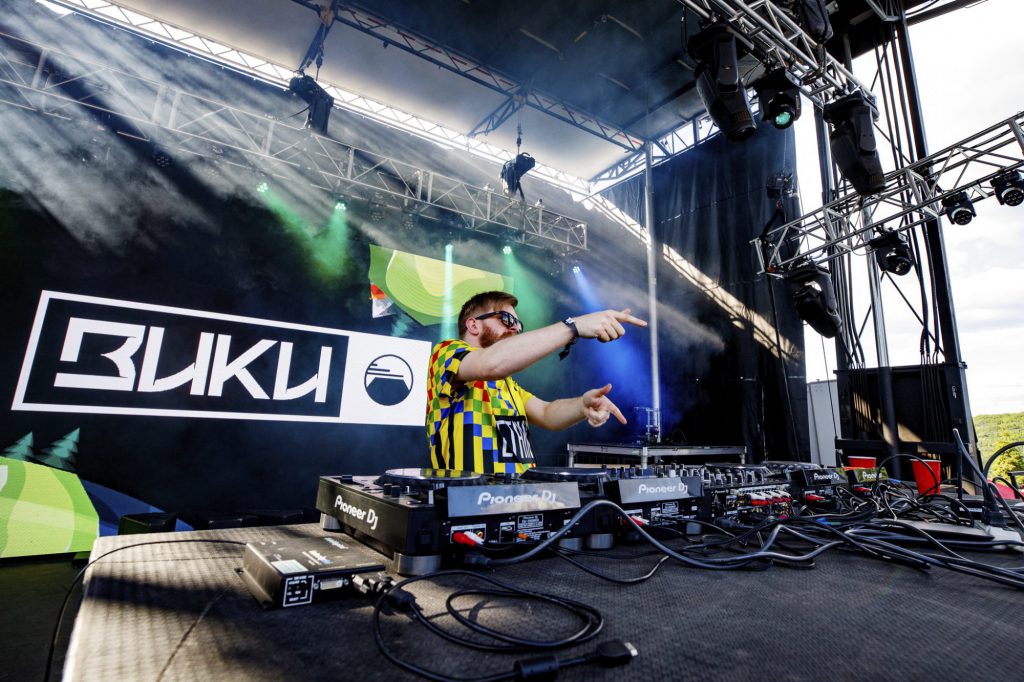 We ventured to the Above The Waves stage to catch the tail end of Buku's set, which was phenomenal.
After getting down to Buku, I reunited with an old friend and secured spots close to the stage for SQUNTO, who annihilated my ears despite having earplugs in. The crowd for SQUNTO had to be the most intense crowd I've ever witnessed – bodies slammed into each other vigorously and heads banged harder than ever to each chopped riddim squelch. It was a great warm-up to the day, but I couldn't wait to cool down to Bonobo's chill vibes at Electric City.
Initially, I wasn't a fan of the Electric City stage.
A large canopy drapes the stage and underneath it are rows of seats like an auditorium. We remained in the lawn behind the stage, where it was a little difficult to catch the full effect of the lights and screen visuals. Once it got dark outside though, Electric City was a hypnotic explosion of color, especially during STS9 and their funky swells of blissful electronica.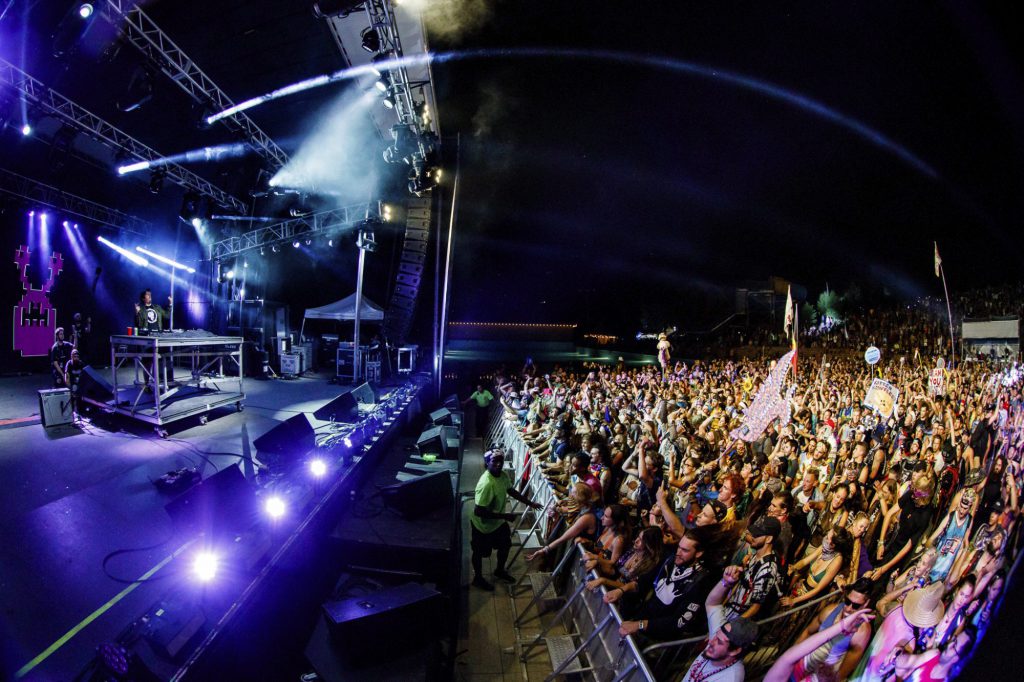 We ended up leaving their set a little early for Snails at Above The Waves, where we sat on a ledge overlooking the grounds of the stage.
I've never felt more proud than watching so many people headbang in unison and go absolutely crazy. I didn't anticipate Snails being one of my favorite heavy bass sets of the weekend, but he was. He played a great mix of his signature vomitstep as well as some heavy-hitting dubstep and big room to get the crowd jumping.
Nothing in the world will ever compare to one of my favorite sets of the entire weekend: Jai Wolf. I have never seen Jai Wolf live before and only knew a few of his songs prior to this performance, but I was completely enthralled by his set. We were able to get rail for his performance, which was good since I needed something to support my body while I bawled my eyes out. Following Jai Wolf, I was lost in the ambient electronic blips of Tipper, where everyone's arms and bodies wriggled and writhed to each alien-like bass tremble.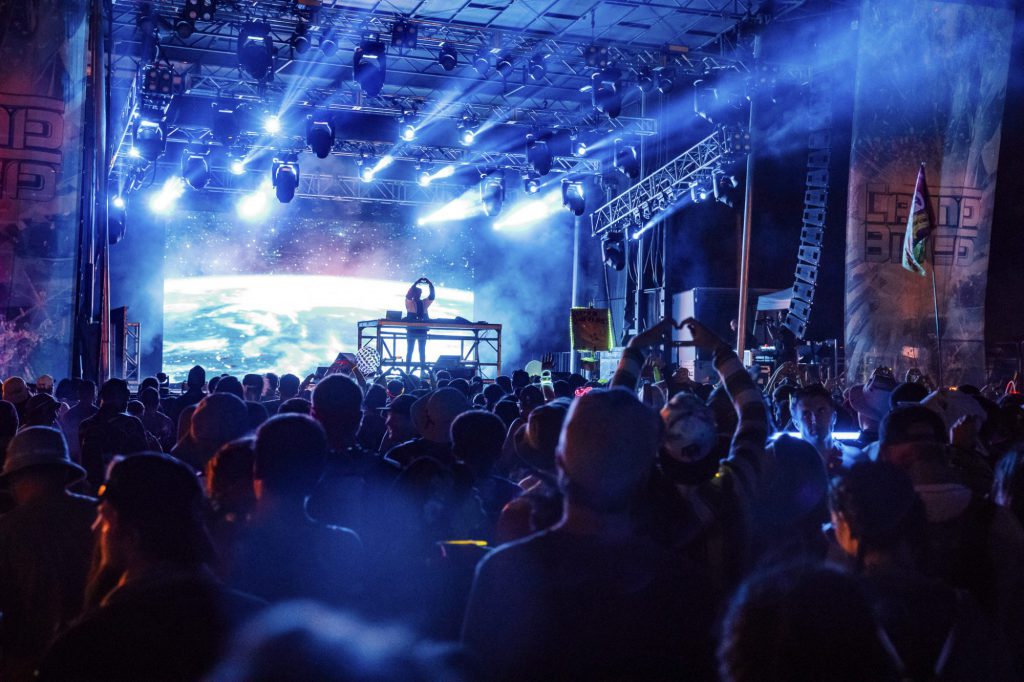 The night was coming to a close and I was excited to see the first of three Space Jesus sets, until I saw what stage it was at.
I had every intention of attending the Space Jesus b2b, even though it wasn't with Liquid Stranger like we all hoped, but instead with Boogie T and Buku. Unfortunately, the set took place at the Renegade Stage, which was a stage all the way on the other side of the campgrounds in the RV Lot.
I wish the set would have taken place at one of the stages onsite and I know I wasn't the only one who had the same thought. Feeling the weight of the ten-hour drive I endured and the day's events, I made the decision to pass on the b2b and call it a night.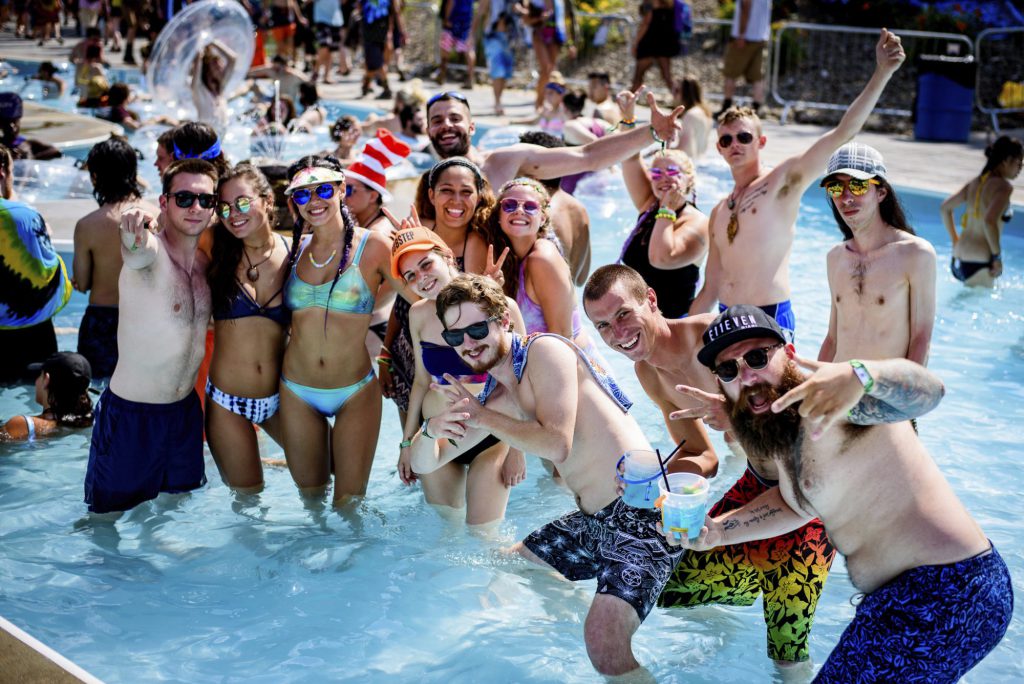 Since it was a sweltering Day Two, we decided to explore the water park to cool off before heading into 12th Planet.
After lounging in the lazy river and taking a few rides on the funnel water ride, we ventured over to 12th Planet's set at Above The Waves. He threw a massive bass-heavy set featuring some of my favorite tracks to date, including Phiso's remix of "Nothing On Me". It's always a pleasure seeing 12th Planet, as he's one of the most respected and versatile bass artists in the scene, and this set had all the heavy bass my heart desired.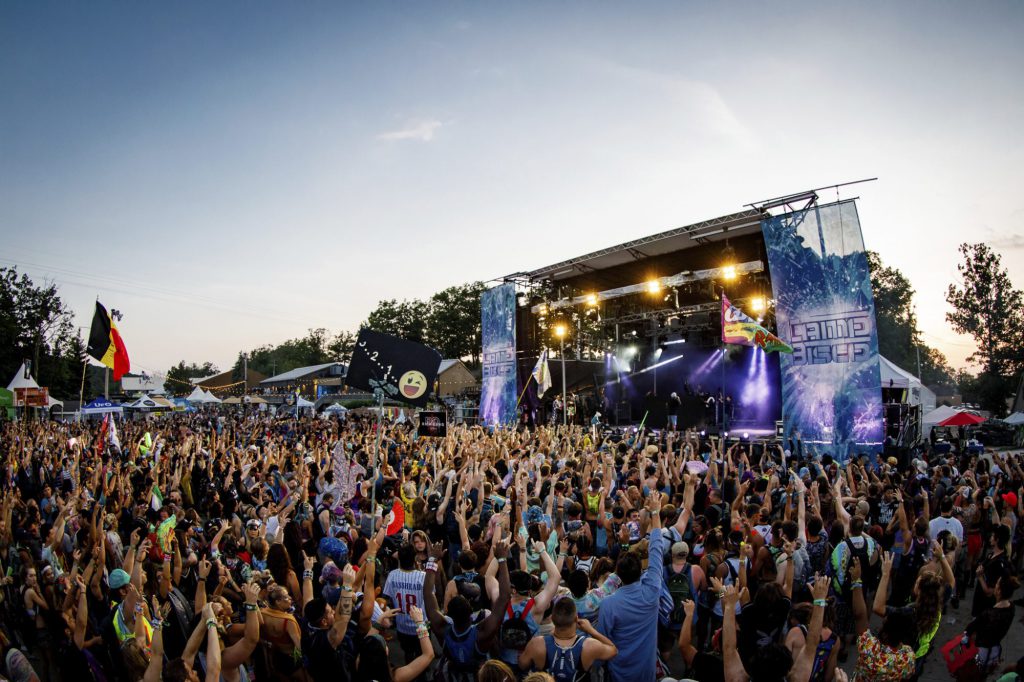 Next up was Yheti, but the crowd made it impossible to get anywhere near the stage.
After headbanging nonstop, I wanted to get low to some weird bass at Yheti over at The Office stage. Sadly, the crowd going into and coming out of Yheti's set was nearly impossible to get through, with even security and medical cars struggling to get people to move out-of-the-way to pass through. I realized that there was only one way in and out of The Office stage, making it incredibly packed and uncomfortable.
We ended up turning around and leaving early to get to Space Jesus, which was the best decision we could've made. What made this set in particular so great was that a majority of people had left early to get good seats for Bassnectar at Electric City, so there was plenty of room to dance and get weird. Space Jesus dropped plenty of music we had never heard before, as well as some of my favorites such as his unreleased "Brass Knuckles" and his collaboration with Esseks, "HMU". It was easily my favorite set of the entire weekend!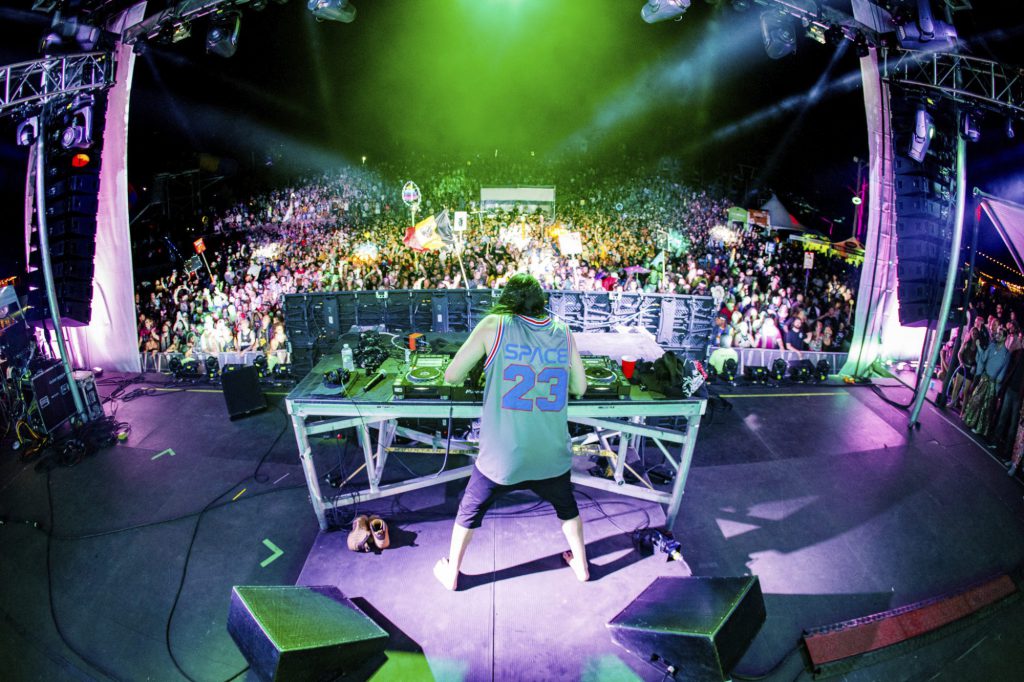 Immediately after Space Jesus ended, I nearly rolled my ankle sprinting to Bassnectar.
I saw a little bit of Nectar for my first time at the First Weekend of Electric Forest and I wasn't too impressed, so I was a little apprehensive about his Bisco set. Knowing that it was his tenth anniversary at Bisco, I could only imagine just how special this set would be. Right when he began, I knew this time would be different than my first time seeing him.
The energy at Electric City could be felt miles away as Nectar dropped Zeds Dead's "Out For Blood", Gentlemens Club's "Little John", and Rusko's classic "Woo Boost". At one point I was overcome with emotion and began sobbing, feeling that connection to Nectar and his music I've heard so many people talk about. It was a beautiful set and a wonderful ending to Day Two.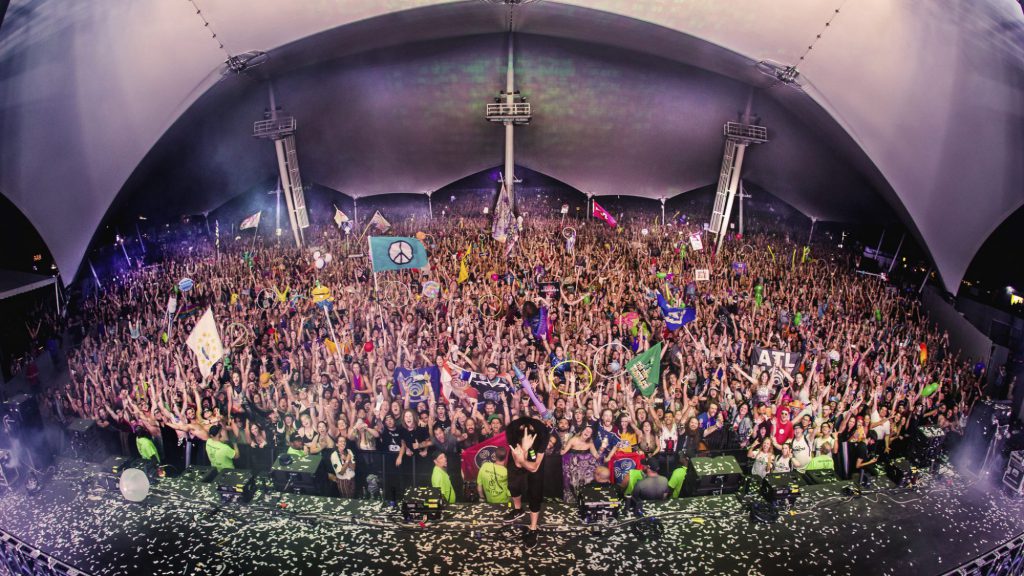 Day Three brought Space Jesus' saucy downtempo set, Zeke Beats, Illenium, Liquid Stranger, and Excision.
Space Jesus killed his set and hypnotized the crowd with his slow and sensual bass, and even played "Exist" which I had been wanting to hear live for a while. Illenium's set comprised of him playing most of his old songs with a sprinkling of dubstep, and though it was a good set, I wasn't able to vibe with it as much as I would've hoped. I ended up leaving early to head to Liquid Stranger, where Space Jesus joined the Wakaan founder on stage.
Seeing as how Liquid Stranger has been relatively absent from lineups this year (hopefully a Wakaan curated event is in the making?), I was more than excited for this particular set. He played the weirdest experimental bass and got the whole crowd getting low to the ground. When he played "Spaceboss", everyone screamed the lyrics and chopped and diced the air with their hands, hitting every freeform bass slap with beautiful precision.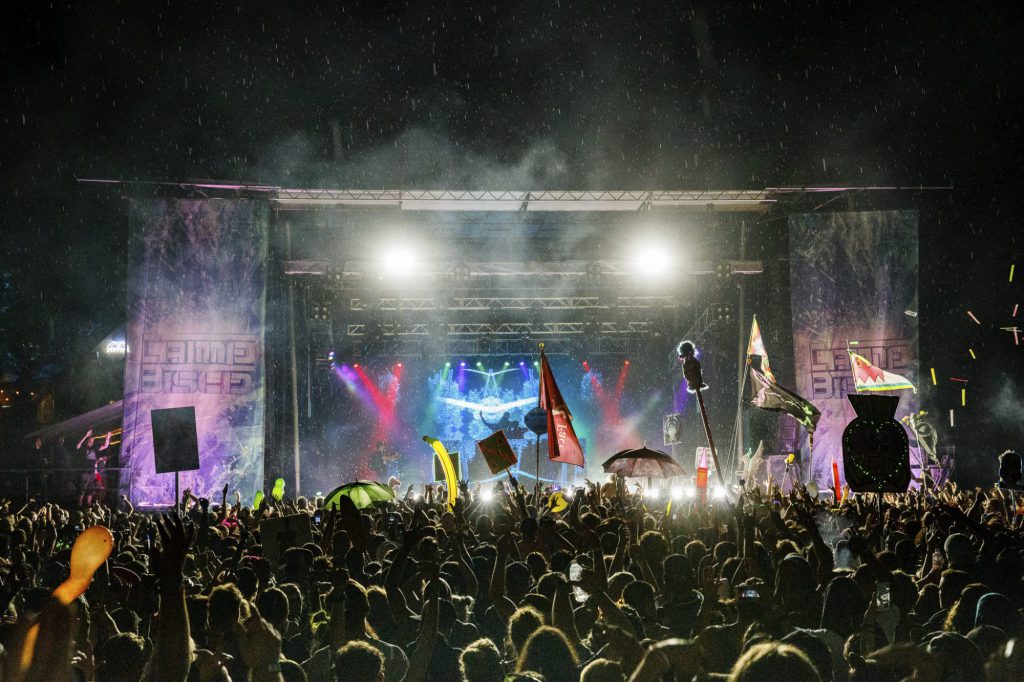 Even though it started raining, Liquid Stranger's set was nothing short of amazing and I was devastated that it was forced to end early because of severe weather.
Everyone was instructed to take shelter under the pavilion at Electric City, where Excision would be playing next. Fearful that we wouldn't get good seats, we sprinted in the pouring rain to the stage. Music had stopped at all other stages and I was scared Excision would be forced to cancel and we'd all be instructed to go home, but sure enough, the rain cleared just in time for Excision to throw down a massively heavy set featuring some of my favorites like Dion Timmer's VIP edit of "Down With Me" and PhaseOne's metalstep banger, "Welcome to Mayhem".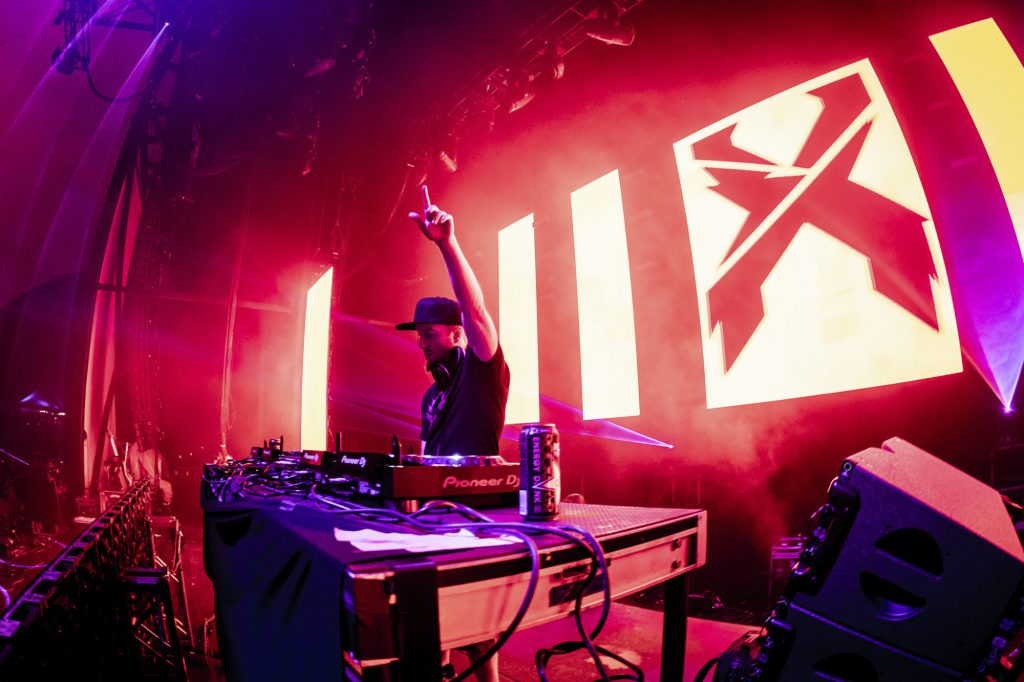 Aside from the music, Camp Bisco was supremely organized and made for an easy festival experience.
I can't speak for those who camped, but I loved how easy it was to find parking in the offsite lots and not have to worry about waiting in line for upwards of thirty minutes to be shuttled into the festival. Another amenity I experienced that I've never had before at any festival was the cell service, which made it easy for me to communicate with my friends when I was separated from them, as well as backup my photos and videos to make room for more.
When the weather got nasty, Bisco did a great job of getting everyone under the safety of Electric City's canopy and kept us all updated via megaphone announcements as well as notifications sent by the app. People who attended Bisco in previous years said 2018 was a massive improvement from where the festival started, and I'm excited to see what changes the festival makes in the future.
Camp Bisco really made me feel like I was at home, and I rarely get that feeling at festivals.
The only other festival I have attended that made me feel like I belonged was Lost Lands, and I was convinced that would be the only festival I would return to year after year. After embarking on my long ten-hour drive, I was pretty sure Camp Bisco would be a one-time thing. Every single day of this festival brought me ultimate happiness, and between the stacked lineup and the most wonderful community of campers, I can definitely say I will return to Camp Bisco every year.
A huge thanks to Camp Bisco for having me, and I can't wait to see you again in 2019!
---
Follow Camp Bisco on Social Media: